Emojis take the standard text smiley face and bring it to the next level. For any reaction, whether you're happy , crying laughing , or relieved , emojis allow you to express how you're feeling. And email marketers are feeling it. In the past year, emoji use in email has increased by 7,100%, according to Appboy.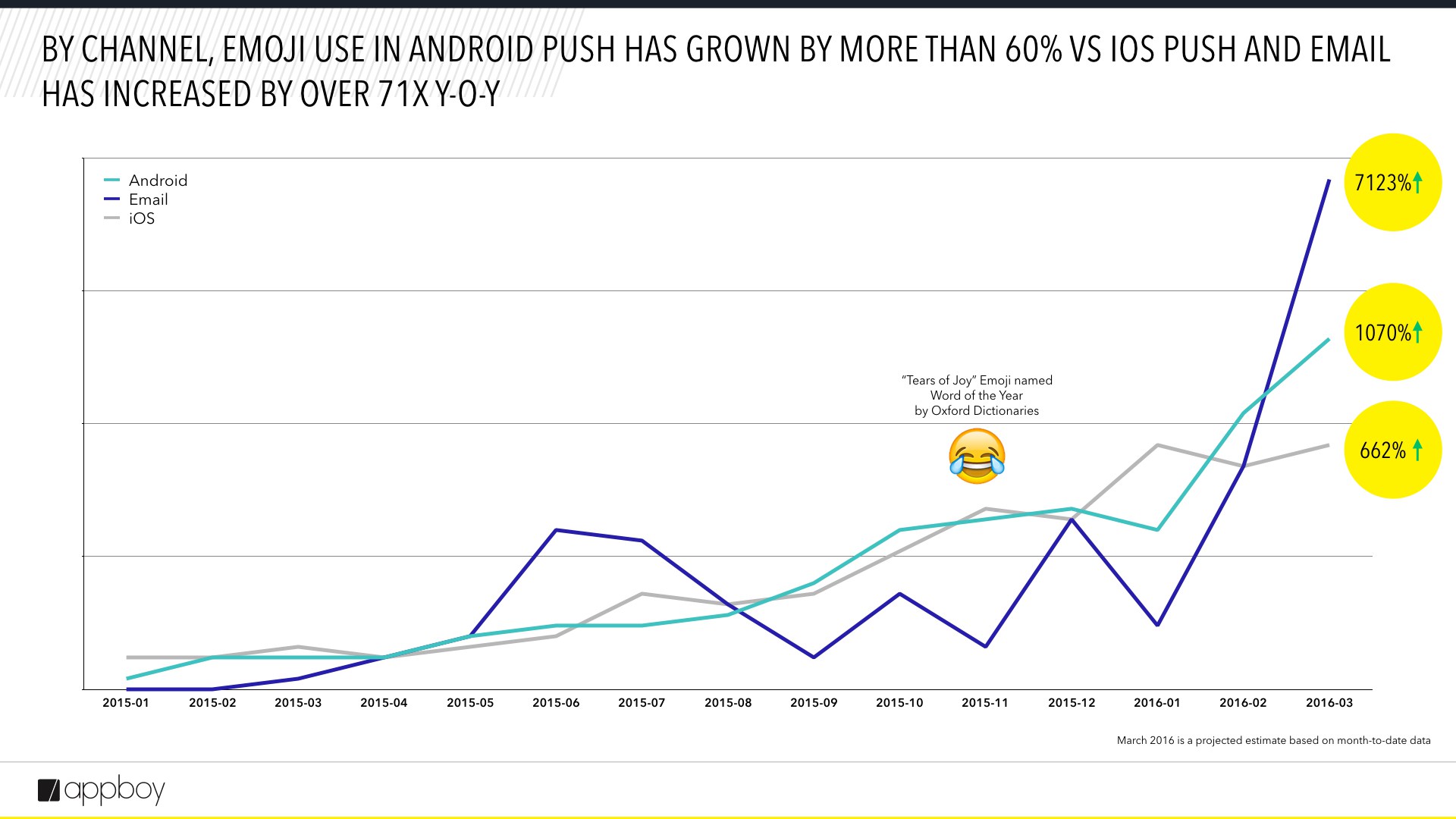 Done right, emojis can help make your email stand out in a crowded inbox. But thanks to inconsistent support across clients and operating systems, not all of your subscribers might be able to see emojis in their inbox.
Here are the stumbling blocks you should be aware of.
Can your subscribers see your emojis?
The fact that emails render differently across clients and devices is nothing new, but emojis add a whole new layer of complexity.
Emojis are based on Unicode characters, a computing industry standard that aims for a consistent encoding and representation of text and symbols across all digital devices. This standard makes sure that whenever you use the Unicode symbol U+2600, everybody else will know that you're referring to the much-loved emoji sun ☀️.
However, your subscribers' devices will likely interpret those Unicode characters in different ways—and some of them might not be able to 'read' emoji Unicode at all.
TEST EMOJI SUPPORT FOR YOUR SUBJECT LINE

Emojis in subject lines can help make your email stand out in the inbox. See where they're supported with Subject Line Checker.
Emoji support is limited for older operating systems
If you're sending an email with emojis to people who open on a desktop computer or laptop, your emojis will look very different depending on what operating systems is in use.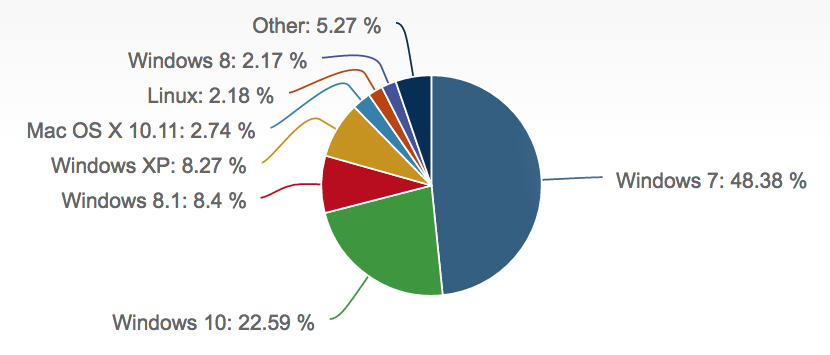 If your subscribers belong to the 8.2% of users who still use Windows XP, they won't see any emojis at all. Instead of smiley faces, all they'll see is a ☐. For example, this subject line won't make much sense for your subscribers who use Windows XP.

Windows 7, which holds a major market share of 48.4%, offers very limited support for emojis, displaying in black and white or not at all.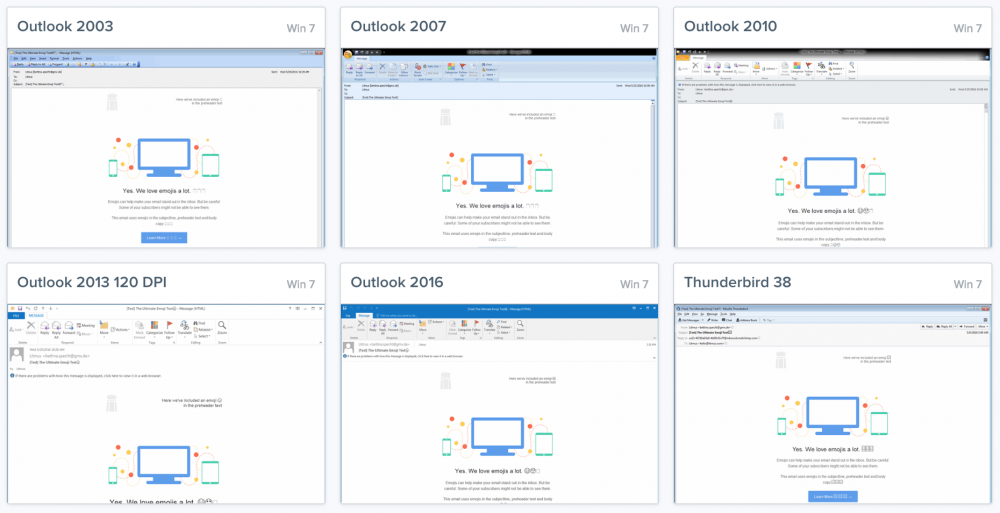 Windows 8.1 is the first Windows operating system to support all emojis and to display them in color instead of black and white only.
Apple's OS X supports emoji on 10.7 Lion (launched in 2011) and above. Given the low popularity of Apple operating systems below 10.7 Lion, it's fair to assume that people who are reading your email on a Mac are likely to see your emojis.
Here's how our favorite emoji renders in Windows XP, Windows 7, Windows 8.1 and OS X 10.11.

The comparison above also shows another important point: Just because operating systems offer full emoji support (like Windows 8.1 or OS X 10.11 do) this doesn't mean the emojis will look exactly the same. Both operating systems are able to read the Unicode and interpret them as a tears of joy emoji, but each uses a unique style to display them.
Depending on the operating system, subscribers can see very different rendering results, even though they are using the same email client. In the example below, both readers use Outlook 2016, but one opens on a OS X 10.10 machine while the other opens on a computer that runs on Windows 7.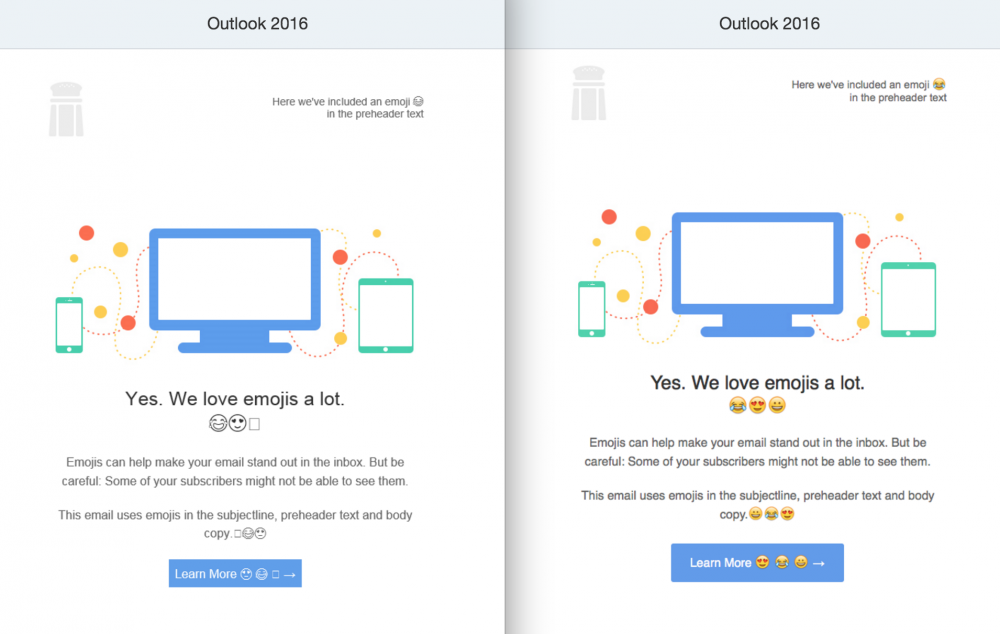 Exception for web clients: Gmail always displays emojis
The Gmail web client renders emojis no matter what operating system your subscribers use.
Typically, it's the operating system that takes care of reading the Unicode and translating it into an emoji. Within Gmail, however, Google does this job and replaces the Unicode characters with its own set of emojis.
Regardless of whether your readers open your message on a Mac or a laptop running Windows 7, within Gmail's web client, emojis are always displayed.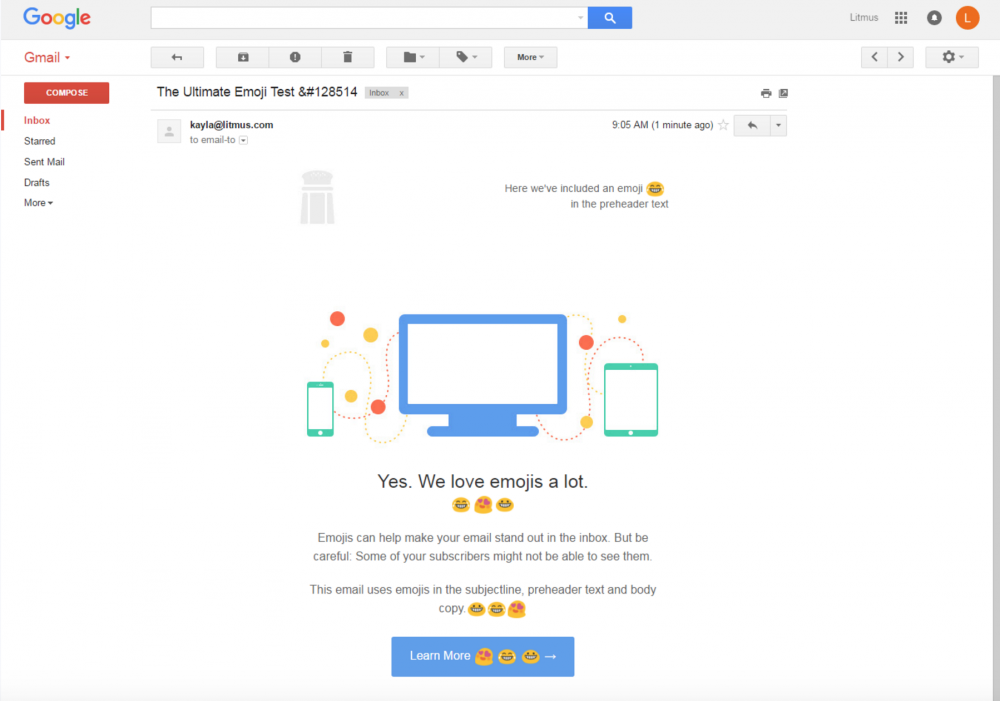 However, it is important to know that Google's emoji set looks different from those used by Windows and Apple.

Emoji support on mobile devices
Mobile devices in general are more emoji-friendly.
iOS has supported emojis since iOS 4 (2010). Android first started to support emojis with 4.1 Jelly Bean in 2012 and offers full-color emoji support for 4.4 Kitkat and above. With that, the majority of people who read on mobile devices are able to see emojis in your emails.
On mobile devices, too, emojis will look different, depending on the underlying technology. Here is how emojis look on Android (and in all Gmail Apps), on Windows Phone, iPhone, and Samsung phones.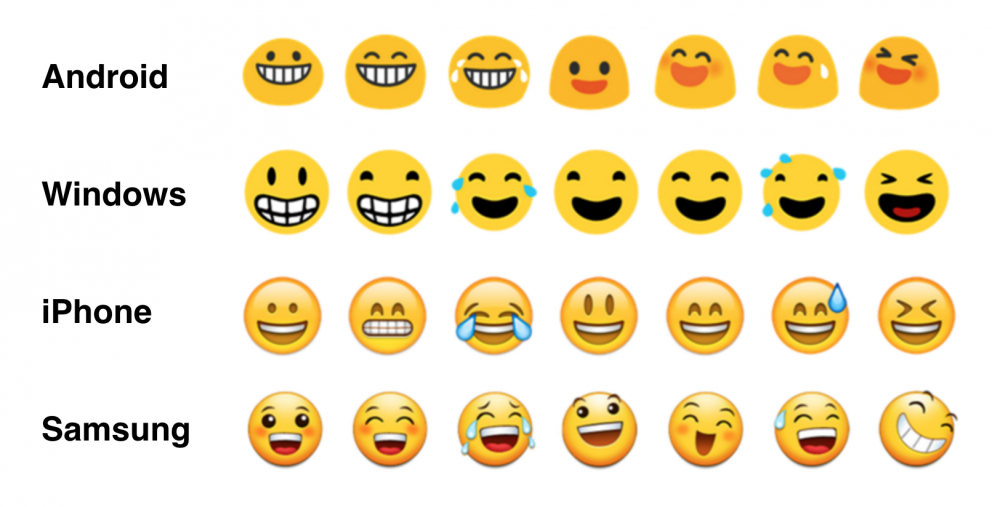 Are you confident you can handle the stumbling blocks of emojis in email and are ready to build your first emoji campaign?
Here's how you get emojis into your email.
Adding Emojis through your ESP
Even though emojis in email have become more popular in the past few years, very few email service providers offer in-app emoji support.
Mailchimp is one of the exceptions and has emojis integrated into their subject line tool.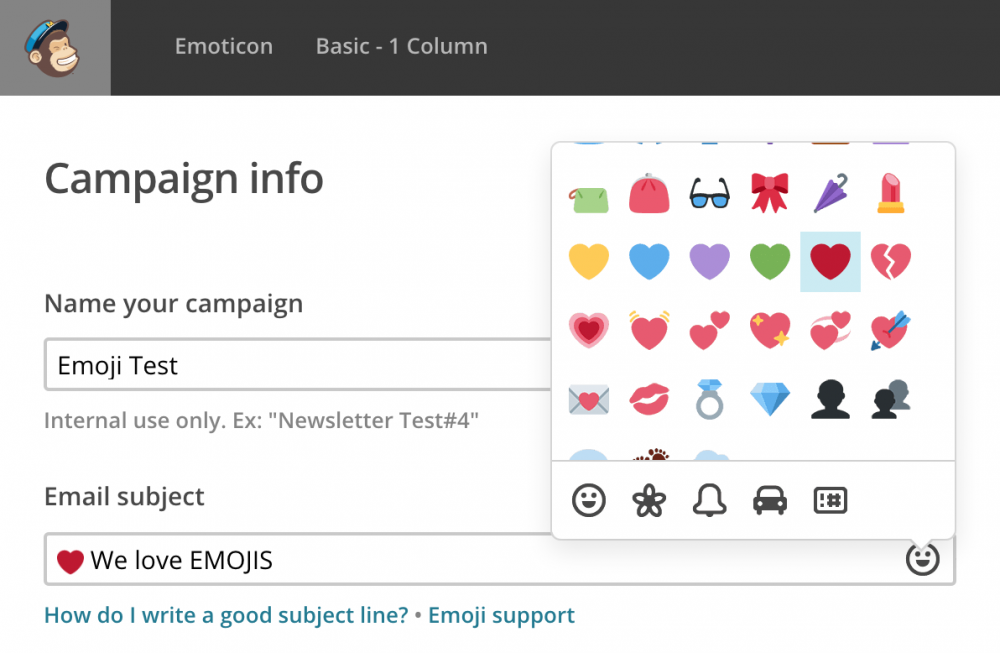 If your ESP does not support emojis in-app, don't worry—there are other ways to add them to your message.
Copy and paste emojis into your email
If you're using a WYSIWYG editor, adding emojis to your emails is as easy as copy and paste. Simply copy emojis from one of the many emoji collections available online and paste them into your subject line, preview text, or body copy.
Here are some of our favorite emoji collections: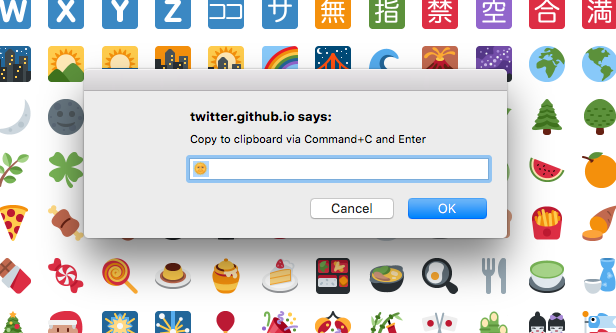 Get Emoji
In this searchable emoji collection, you can mark and copy the emoji of your choice right from the overview.
Emojipedia
Use the search bar to find the emoji of your choice. In the detail view, copy the emoji from the text field below the emoji description.
Adding emojis to your HTML code
If you're building your email in HTML, you might also be able to simply copy emojis from one of the collections mentioned above and paste them right into your HTML code.

However, even though this strategy worked for HTML editors and ESPs we tested, there is a chance that your ESP cannot process the emoji correctly and breaks it when sending the email. To eliminate this risk, we recommend using HTML entities instead of copying the emoji itself.
The face with tears of joy emoji, for example, translates into the HTML decimal code 😂.
Again, there are great websites like iEmoji or Character Code that help you find the HTML values for the emoji you'd like to use.  

Here's when using emojis makes sense
When using emojis in your email, be aware that they might not look the same for all your readers. When you decide to use an emoji, use Emojipedia to check how it displays across popular platforms to ensure it really supports the message you want to bring across.
Using emojis in email makes sense if the majority of your subscribers:
Use up-to-date Windows operating systems (above Windows 8.1)
Use OS X operating systems (above OS X 10.7 Lion)
Use mobile devices
Will your readers see emojis?

What operating systems and devices do your subscribers use to read email? Find out with detailed reports in Litmus Email Analytics.