Looking for email marketing jobs in the US? Then California, Massachusetts, Georgia, Illinois, and New York are the top states for you. In Canada? Then Ontario is tops. In the United Kingdom? London is king.
Those are the top locations that were listed in the highest number of email marketing jobs posted to the Litmus Community Job Board between August 2016 and August 2017, when there were 256 total job postings.
Continuing to live up to its reputation as a high-tech hub, California was by far the state with the most job postings for email marketers. It had at least twice as many email marketing jobs listed as any other state, with the exception of Massachusetts.
While the United States had considerably more email marketing jobs posted than the United Kingdom, the city of London had more postings than any US state except for California.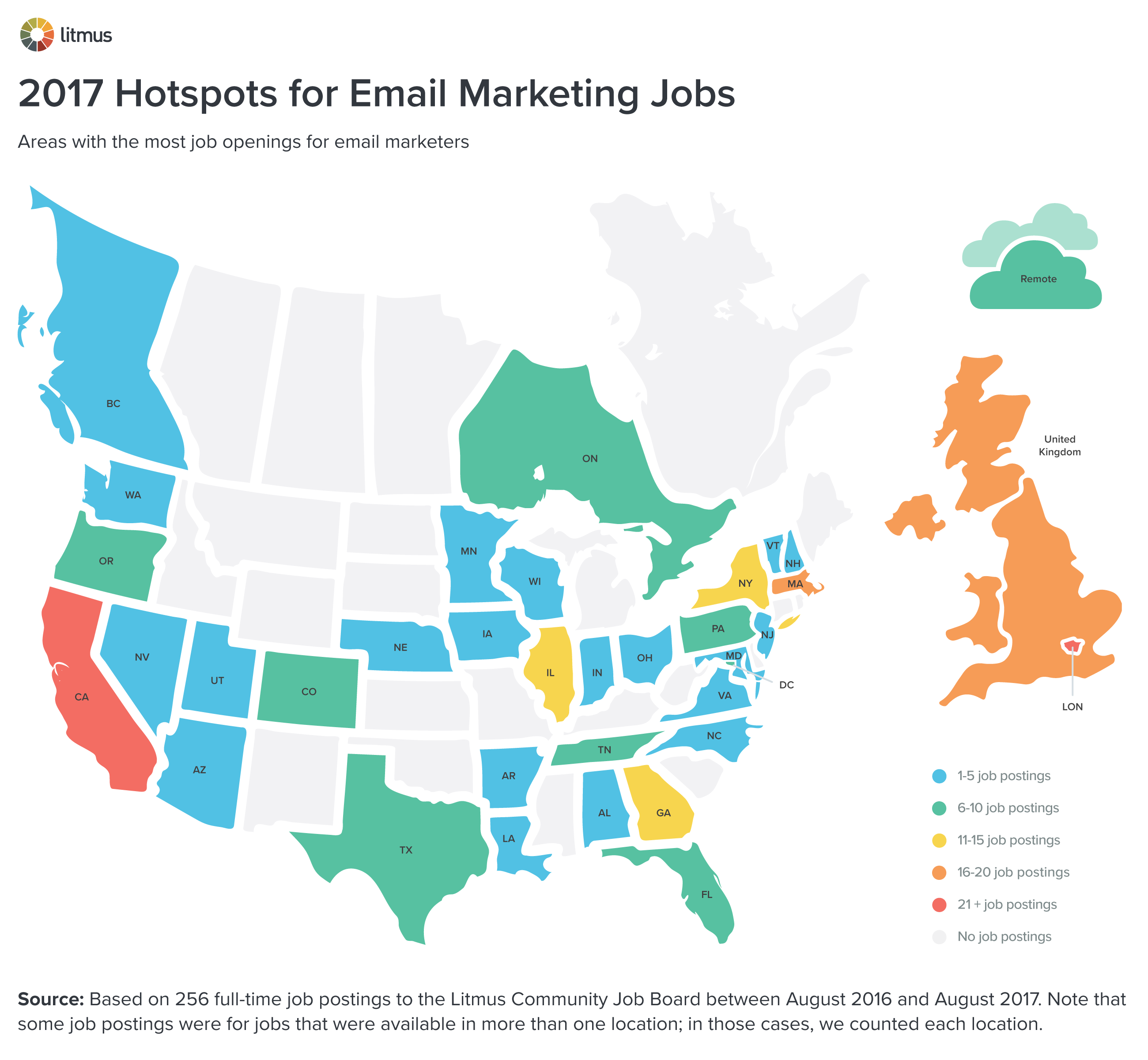 Warming and Cooling Markets
Between 2017 and 2015, when we last looked at US job posting trends in our State of Email Salaries & Jobs in the US, some parts of the country have warmed up and others cooled down.
Among those states notably gaining email marketing jobs were Massachusetts and Tennessee. In terms of regions, the South was strong, with the exception of Florida.
Among those states cooling the most were Texas, Florida, and California—which still held the No. 1 spot despite having significantly fewer email marketing jobs posted on the Litmus Community Job Board when compared to 2015. In terms of regions, the Midwest slowed, with weakness in Indiana, Ohio, Michigan, and Missouri.
Another big loser was remote work. Since Litmus is a remote-friendly company, we were sad to see that.
Here are the email marketing job hotspots from 2015: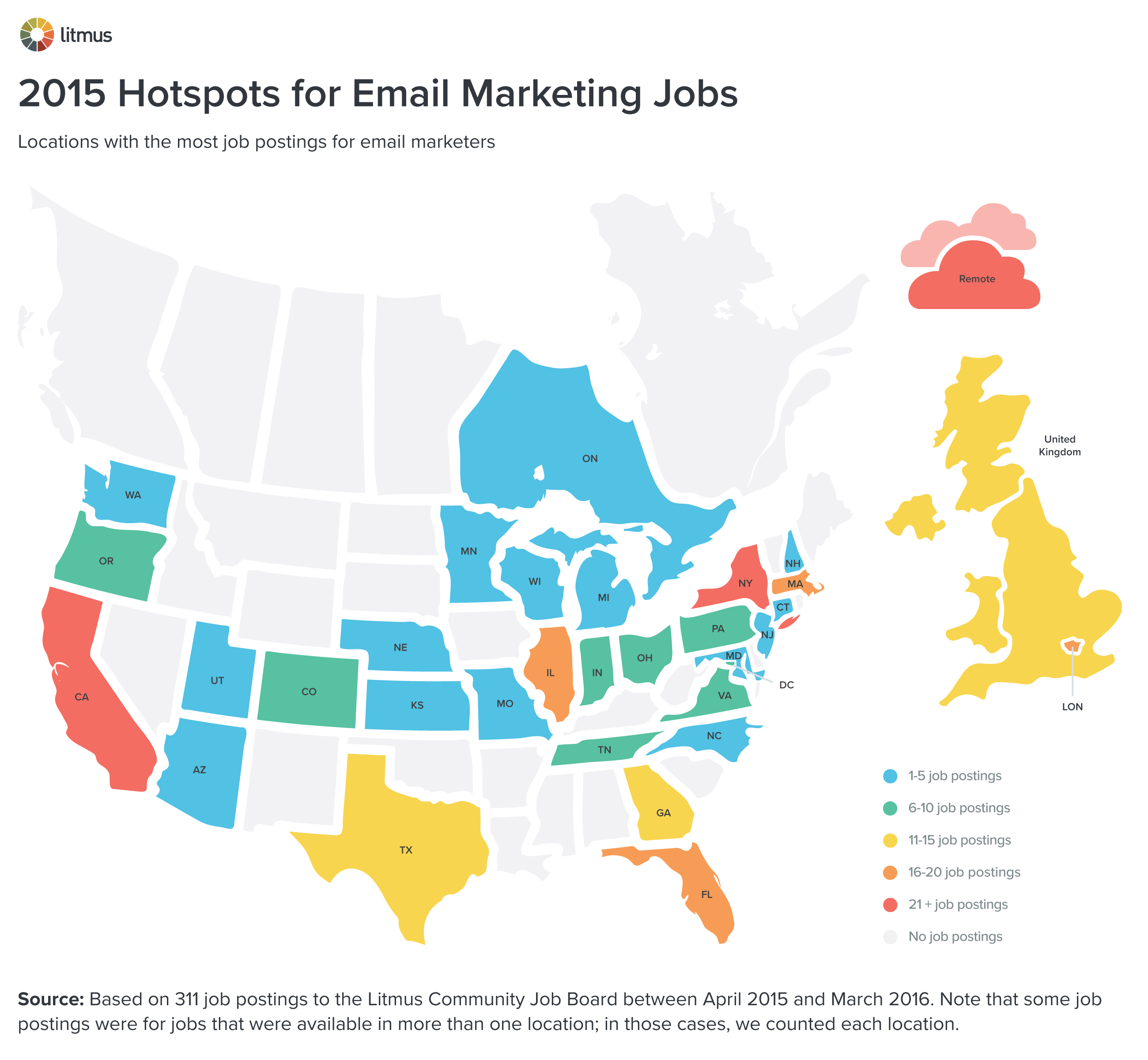 Litmus Community Job Board

This is the best place for email-specific jobs for marketers, designers, developers, and more. Post a job for free or take the next step in your career.
In-Demand Email Skills
Over the past couple of years, job postings on the Litmus Community Job Board have shifted considerably. Most notably, job postings have shifted away from design jobs and to development and marketing jobs.
The shift in demand from design to development reflects the fact that email development is increasingly being recognized as a distinct skill set from web development. That's a good thing, because email rendering is so much more complex than web rendering.
"AN EMAIL ROLE IS PRETTY SIMILAR TO A FRONT-END-DEVELOPER—BUT WITH A MILLION RESTRICTIONS AND CHANGING RULES. SO IF YOU HIRE A FRONT-END DEVELOPER FOR THIS JOB, THEY ARE GONNA GET BORED, ANNOYED, EVENTUALLY RESENT IT AND MOVE ON." —Andrew S., Litmus Community Member
The shift in demand for email marketing skills is explained by two trends. First, many email marketers work on small teams or are solo operators, which means they have to wear many hats. On average, email professionals perform 4.4 of the 10 tasks we asked about, according to our Snapshot of the Email Professional in 2017. Multi-talented email marketers are clearly in demand.
But more importantly, email marketing is increasingly seen as a valuable and serious channel that needs its own leader, especially at larger companies. Many companies used to be satisfied having staff with just the tactical email marketing skills. Now, brands want strategic email marketing leadership that understand how email works with other channels to create overall brand success.
"A nicely filled out skill set should touch web design & dev, web marketing, email design & dev, marketing automation and database architecture. Want more? Copywriting and marketing strategy can be the icing on the cake 🙂 That skill set will be relevant for a long time to come." —Dan Piotrowski, Litmus Community Member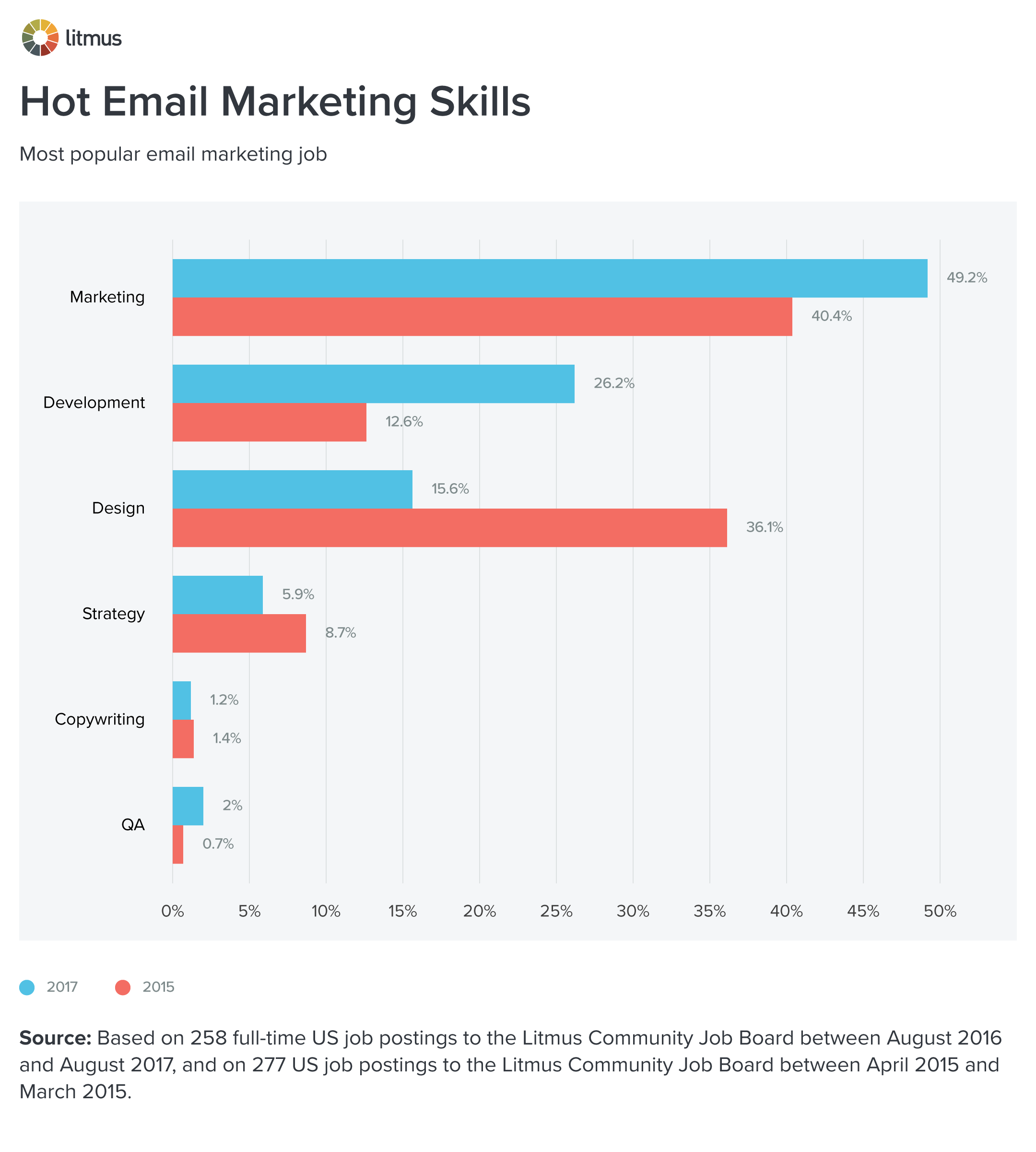 Take these trends into consideration as you plan your career development. For instance, email designers might do well to become competent email developers. And, in general, becoming a more well-rounded email marketer seems wise.
Learning how to wear some additional email marketing hats can help in the near-term. And even if you're able to retire some of those hats in the long-term, you will have still gained an appreciation of the big picture, which will make you a better channel manager.
Other Job-Related Content from Litmus