Litmus users run the gamut. Everyone from freelancers to huge companies, agencies to non-profits, use Litmus to send better email campaigns every day. And every user has their own needs when it comes to managing who has access to their account.
This is especially true for enterprise organizations, which typically have multiple people, teams, departments, and clients involved, to varying degrees, in the email production process. Plus, these organizations may have specific, company-wide requirements for managing team access and security settings. Fortunately, Litmus makes it easy to set up different user permissions, groups, and subaccounts, as well as secure your account using the latest in verification and single sign-on protocols.
See how Litmus for Enterprise makes user control and team management easy, regardless of how your team, company, or clients are structured.
Using user roles and groups
The most basic way to manage access is by utilizing Litmus' user roles and groups. User roles allow you to define permissions for three types of users, as shown in the image below.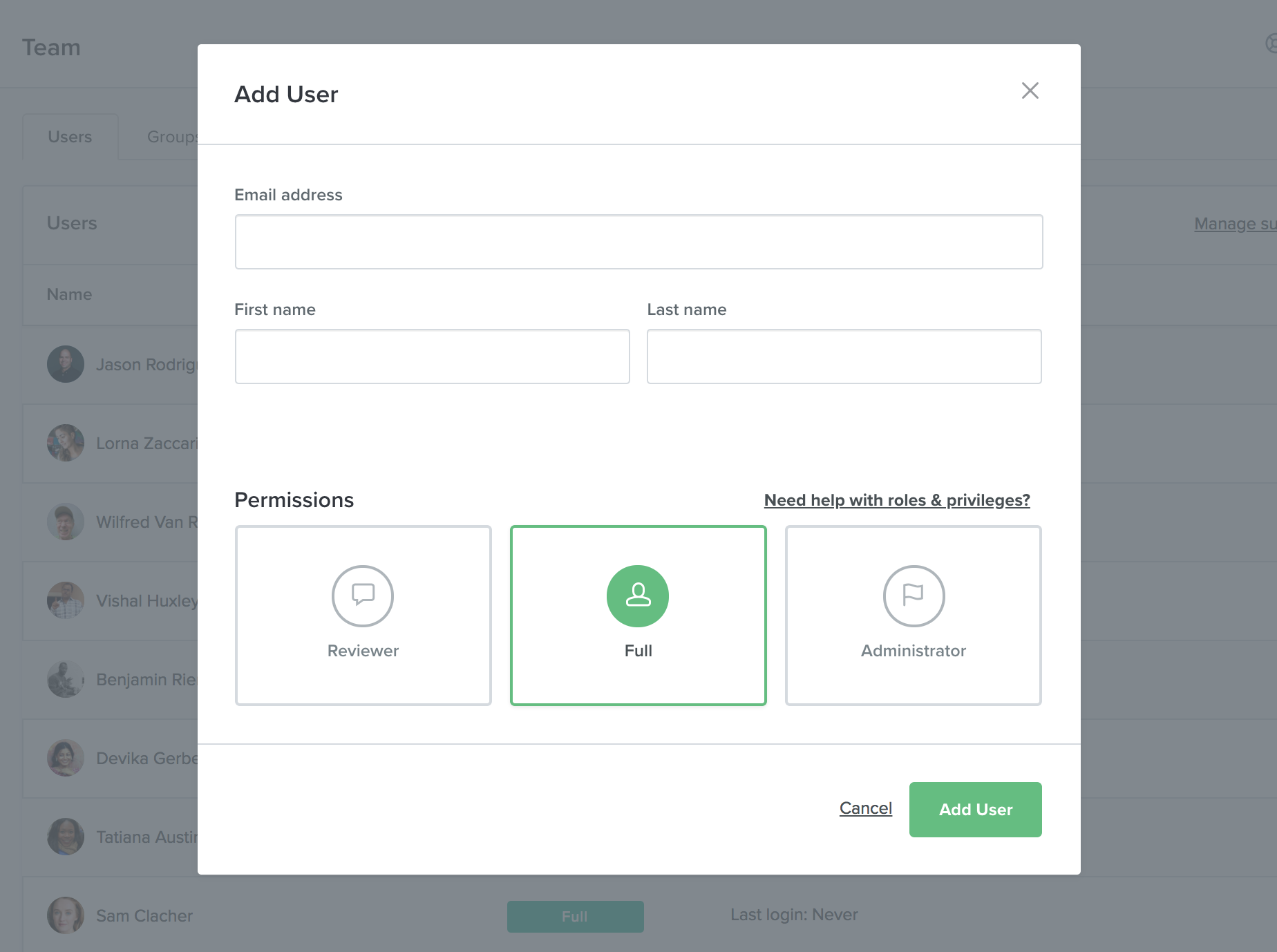 Administrators have full access to the account, including setting up new users and groups and accessing billing information for that account.
Full users have access to all the features within Litmus (Proof, Builder, Checklist, Email Analytics, etc.). However, they cannot manage users and groups and don't have access to your account's billing information.
Reviewers are the most restricted, with read-only access to Checklist and Email Analytics reports, as well as comment-only access to Litmus Proof. Reviewers cannot create or edit Builder documents or Spam Tests.
Many companies utilize the full user role for most team members. Marketers, designers, developers, and QA folks all need access to Litmus features. The full user role allows them to quickly start new tests, Builder projects, Proofs, and Email Analytics reports.
Team leads are often set up as administrators so that they can update billing information as necessary, make changes to your plan type, and add new users as team members come onboard.
Stakeholders—folks that provide input on a campaign but don't execute it directly—are typically assigned reviewer roles. They can be invited to view test and report results, as well as comment on email Proofs, without getting bogged down in the technical aspects of setting up those reports or the underlying code behind preview tests and Proofs.
Additionally, you can use groups within Litmus to further define roles.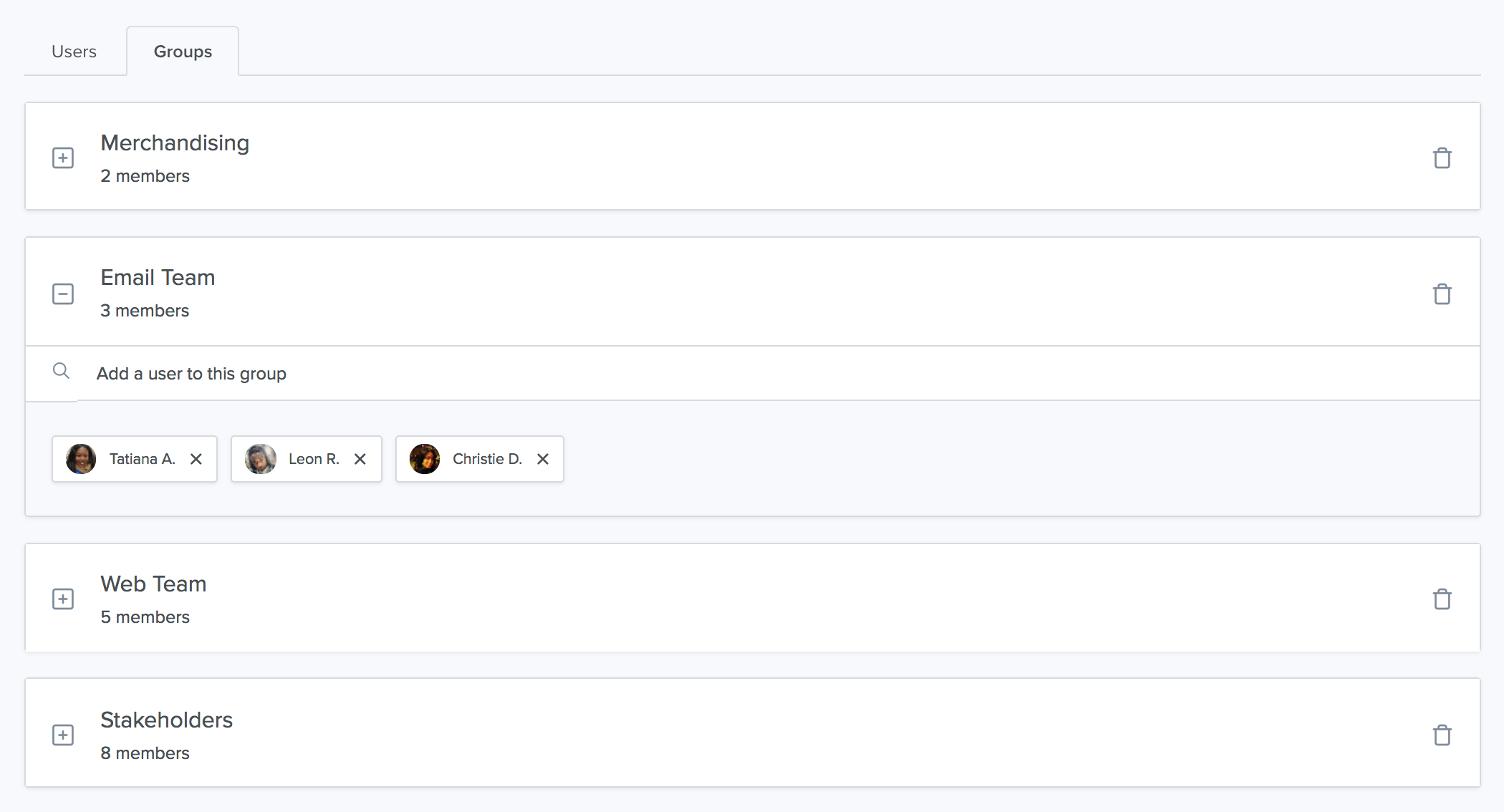 Litmus allows you to organize individual users into groups. For example, you can group users by department, client, or project. Groups are especially useful when you start using Litmus Proof. Proof allows you to quickly invite individuals or groups to review an email campaign.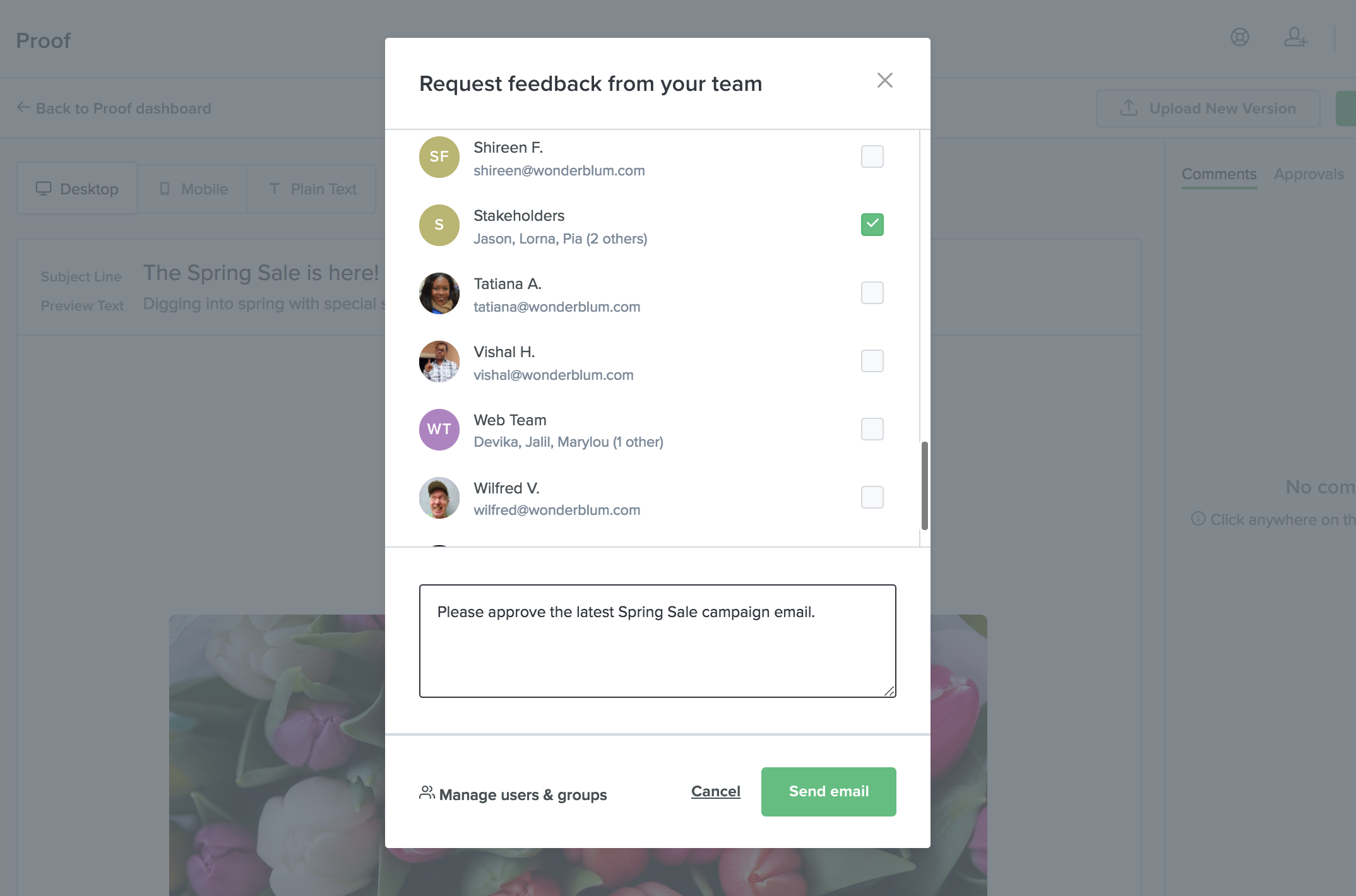 If you want your QA team to review each email, set up a "QA Team" group and check them in the request feedback screen. Need sign-off from your regular stakeholders? Add them to your "Stakeholders" group and send them all a notification at once instead of emailing each one individually.
Groups are a great way to speed up the email production and review process and, combined with user roles, allows you to easily manage team control within Litmus for Enterprise.
Understanding subaccounts
For teams that need even more control, Litmus for Enterprise allows you to set up subaccounts. Think of subaccounts as individual Litmus silos, each with their own set of users, groups, and permissions.
Subaccounts are helpful if you have multiple departments that need access to Litmus but each department works on different campaigns. They are also extremely helpful for agencies dealing with multiple clients. You rarely want clients looking at each other's work. Subaccounts allow you to set up an account for each client, complete with users and groups for those client stakeholders, ensuring that campaigns are kept safe from prying eyes.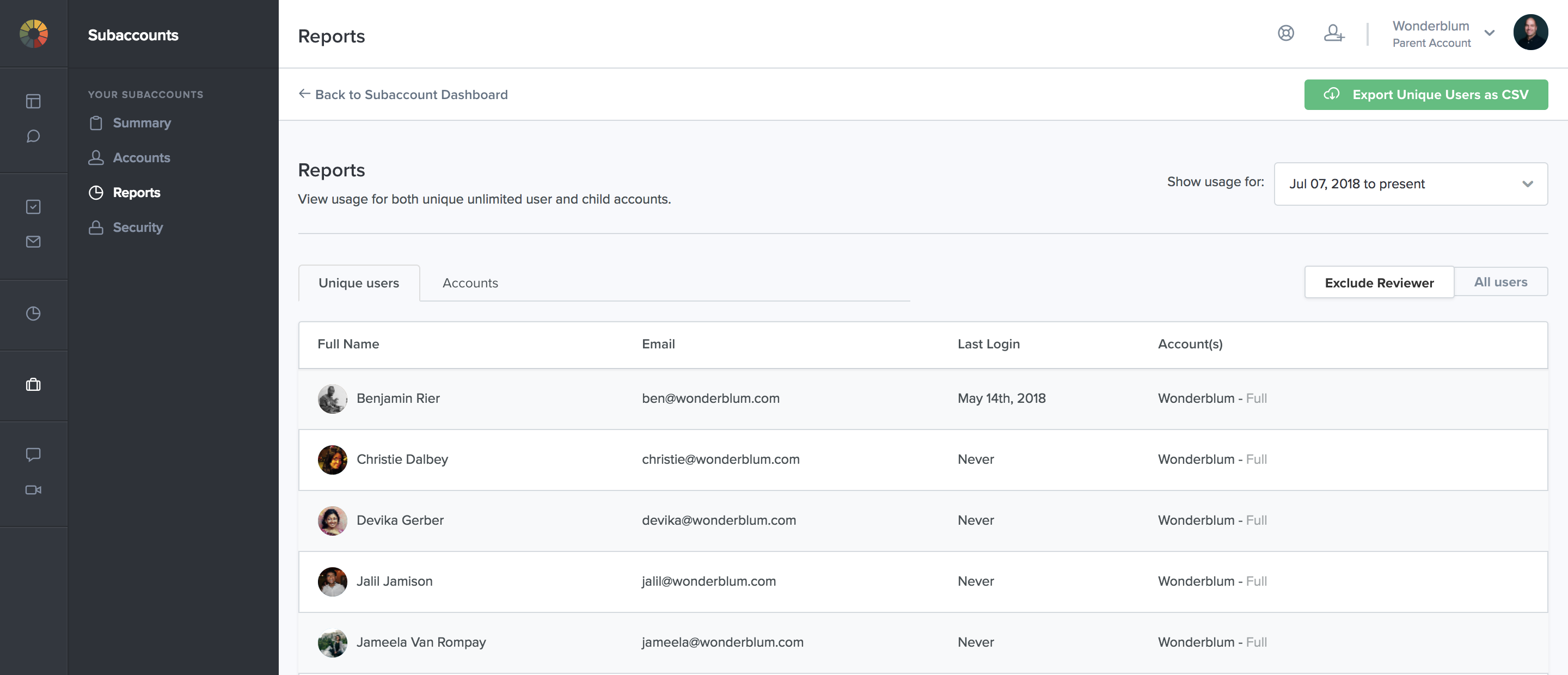 Subaccounts also offer in-depth reporting and security features. Account holders can audit who has access to what, when they last logged in, and usage information on a per-subaccount basis. Reports can be exported as a CSV, allowing you to provide detailed Litmus usage information when audit time rolls around.
Adding and managing new subaccounts is easy. On the Subaccounts Summary page, click the "Create Subaccount" button, add a subaccount name, and click the "Create Account" button. You can then add and manage subaccount users, keeping departments, clients, and work safe and separate.
Keeping your Litmus account secure
We know that when your team grows, security becomes more and more important. That's why on top restricting access via user roles and subaccounts, we give you the tools you need to help you better protect your account and your data, and fulfill even your most unique security requirements. Accounts can also enable two-step authentication, password and session restrictions, and single sign-on with SAML.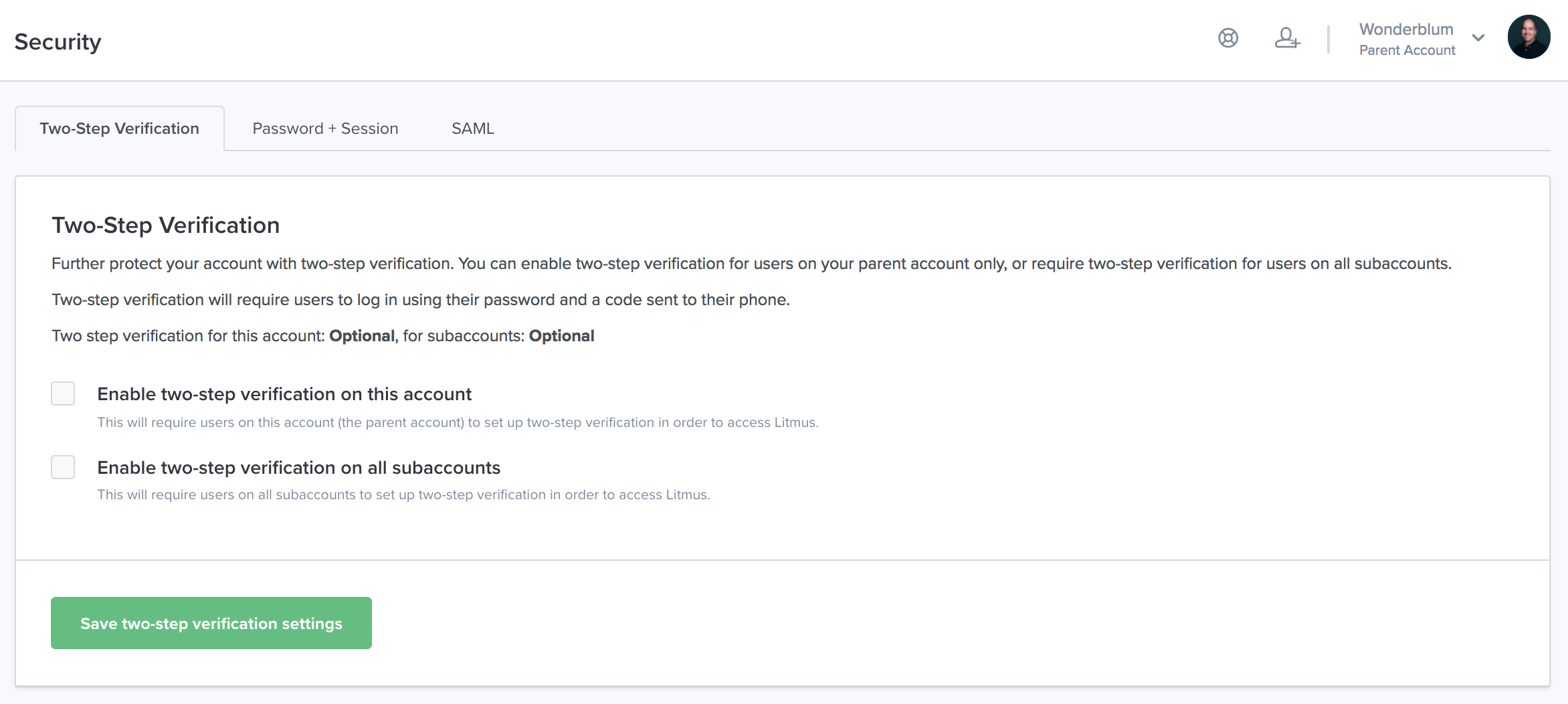 Two-step verification can be enabled on both the parent account and subaccounts, requiring all users on either to sign in with both their password and a private code sent to their phones. When set to optional, users can set up two-step verification on their individual accounts.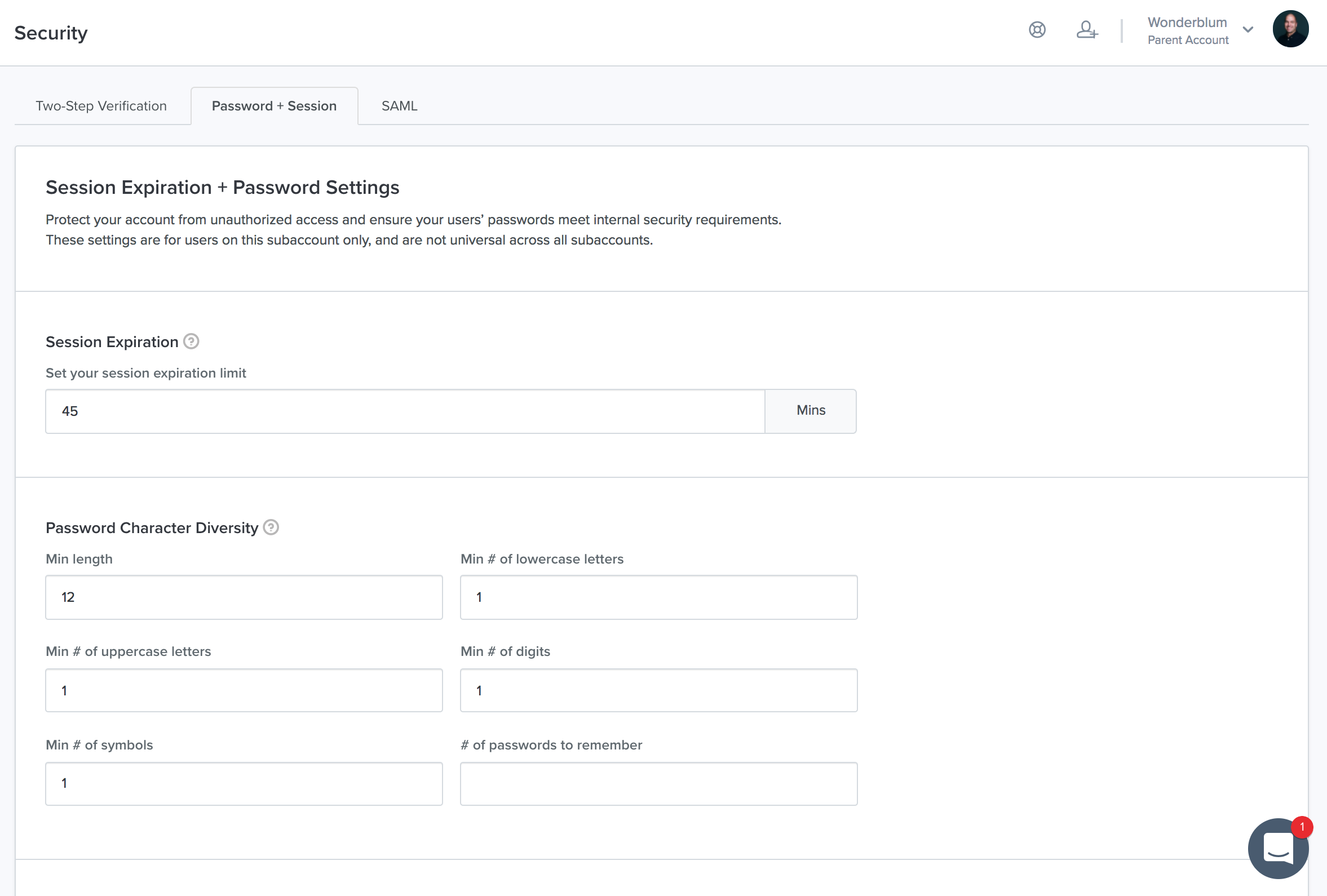 Password and session restrictions provide further security for your users. You can set session expiration times, which will force users to log back in after a set amount of time, as well as rules for determining password strength. Password strength can be enforced with minimum length and character settings and you can even blacklist prefixes or phrases within password, stopping a user from setting up the dreaded "password123" login. Passwords can also be set to expire after a certain amount of time, requiring users to periodically update their password. Naturally, you can limit password reuse, too.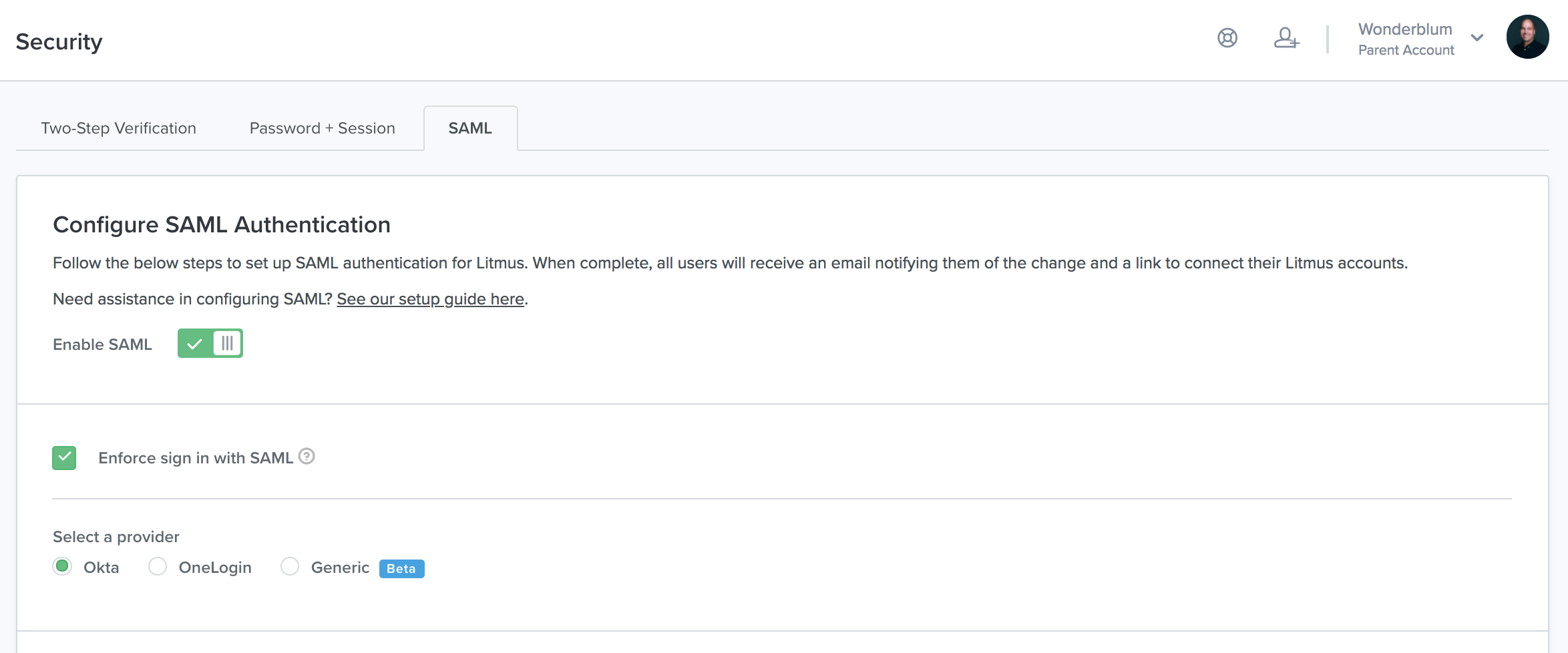 Finally, you can allow users to sign into Litmus using single sign-on with SAML. Instead of entering a password every time users log into Litmus, SAML allows you to use an authentication provider with a single set of credentials instead. Litmus currently supports, Okta, OneLogin, and custom identity providers.
Manage your team with Litmus for Enterprise
Litmus for Enterprise provides the control and security you need. Give your teams access to industry-leading email creation, testing, and reporting tools without compromising access and security.