When we think about email marketing opportunities, we focus on promotional and transactional emails. These emails are usually designed and executed by a company's marketing team, obsessing over subject lines, copy, and design.
But what about your company's everyday 1:1 communications with each other, prospects, customers, and partners? The thousands of emails sent every day from your employees represent a huge opportunity. Whether that's part of sales outreach, customer service communications, or an internal announcement, an email signature is prime real estate ready to be optimized—and so often is overlooked.
We sat down with Dan Hanrahan, founder and CEO of Sigstr, to talk about how email marketers can optimize every email, not just ones from the marketing department.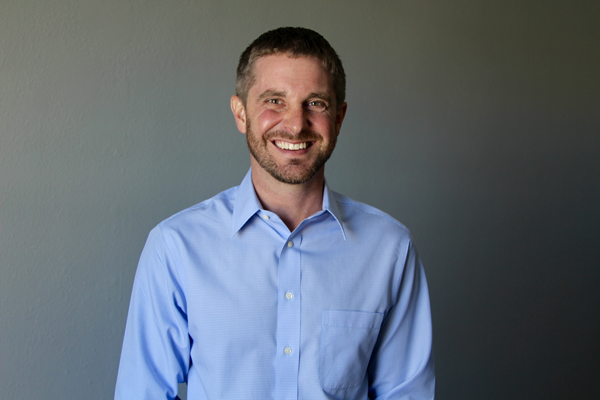 How can you use employee emails as a branding and engagement opportunity? What role do email signatures play?
Marketers pour their hearts into content and invest in events to help the business. SiriusDecisions says that 65% of content goes unused. That's a big problem.
At the same time, each employee will open up Gmail or Outlook and hit send 10,000 times per year. 10,000! When you stop and consider that the audience is hand-picked and includes your most important customers, prospects, and partners, it's the same audience we strive to reach with our marketing investments.
For a B2B company, the brand impressions racked up from employee sends dwarf the number of impressions generated from the website. Traditional marketing email sent from an email service provider will continue to be a cornerstone of marketing programs. But your employees are your brand, too. They interact with the most important stakeholders for your business. A consistent and always on-brand signature coupled with a subtle call-to-action (CTA) can drive tremendous value for the business.
Are there different opportunities with email signatures depending on what department the employee is in?
Absolutely! HR should promote the Careers page or culture content, while Customer Service promotes the support portal, and Sales links to a recent case study. We recently wrote a blog post about this.
A signature should also change depending on the recipient reading the email. We often hear that certain people or teams only send email to others in the company. If the only recipients of an email are internal to my company, the signature should promote internal communications. Think benefits changes, health and wellness, compliance, change management, or the famed Hawaiian Shirt Day. The signature is a chance to communicate whatever is most important without requiring an additional send.
What are some of the challenges around companies creating consistent email signatures across all employees?
Typically, when marketing departments are trying to launch a new email signature design, they have to send a company-wide email containing the format of the new signature, as well as a 10-step guide on how to update the signature. It's often a one-size-fits all signature, and success is impossible to measure. Adoption is impossible to track, and the result is a mess of inconsistent signatures with old logos and links to the old blog!
One of our clients recently told us that in the past, they would host contests with prizes for which groups of the company all updated their email signatures first. You should not have to resort to bribery to try and have consistently branded email signatures!
Is including an email signature that promotes marketing messages in your customer service responses a good idea? You get in front of your customers, but is the context right?
This circles back to the question on different opportunities within different departments for the email signatures. If you're engaged with customer service, the focus should be on helping you as quickly as possible. Signatures for Customer Service Reps should contain helpful content around the knowledge base or FAQ's. It should also contain my direct phone number along with a link to the support app / portal to see the status of my request or ticket.
What are some common pitfalls with using email signatures for marketing?
To be effective with signature marketing, the company needs to first have a solid marketing plan and great content marketing. Once you have content and events to promote, then it's time to drive awareness and engagement via signature marketing. The next step is creating a well-designed CTA for the signature.
Does sending an email signature graphic mean that emails sent by employees are converted from plain text to HTML?
Nope! An email cannot be converted, but if you wish to send an email with a signature graphic you will need to be sending that email in HTML form. You can change your default format in your email settings.
What kinds of A/B testing should you run with email signature campaigns? Any examples of experiments marketers should try with their signatures?
We have tested different sizes, shapes, colors, placements, etc. Through Sigstr's platform we can measure the results through clicks and click through rates. In our own use of Sigstr, we tested two versions of a campaign, and the first had a click-through rate that doubled the second, likely attributed to a clearer CTA: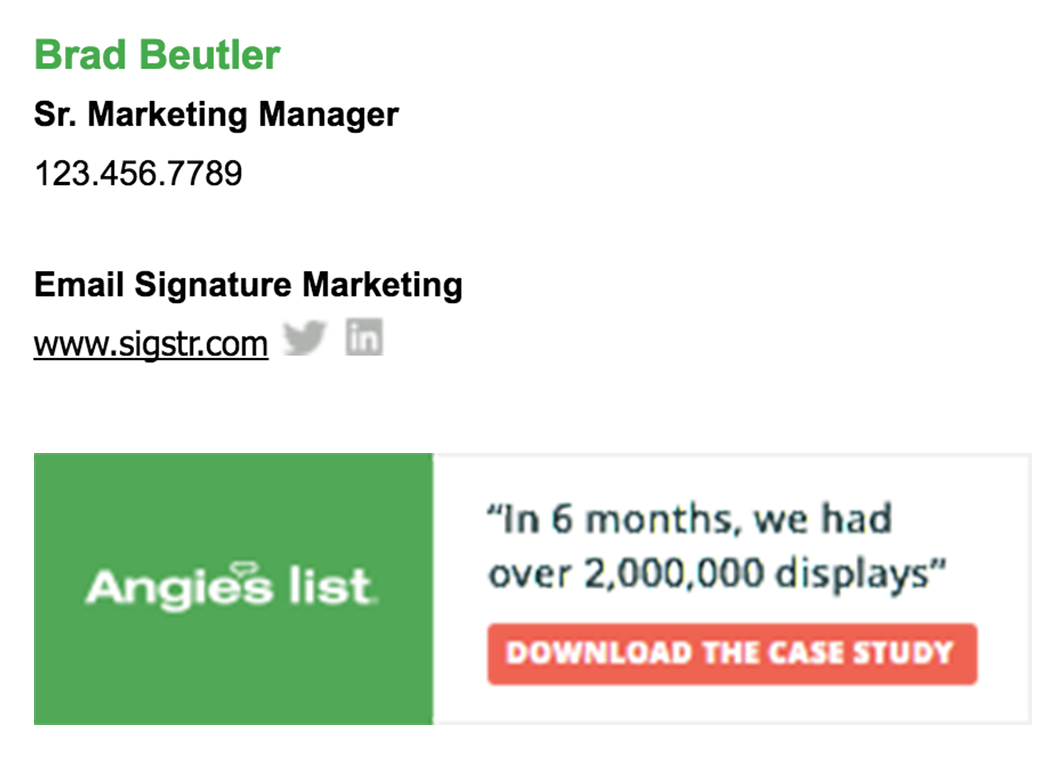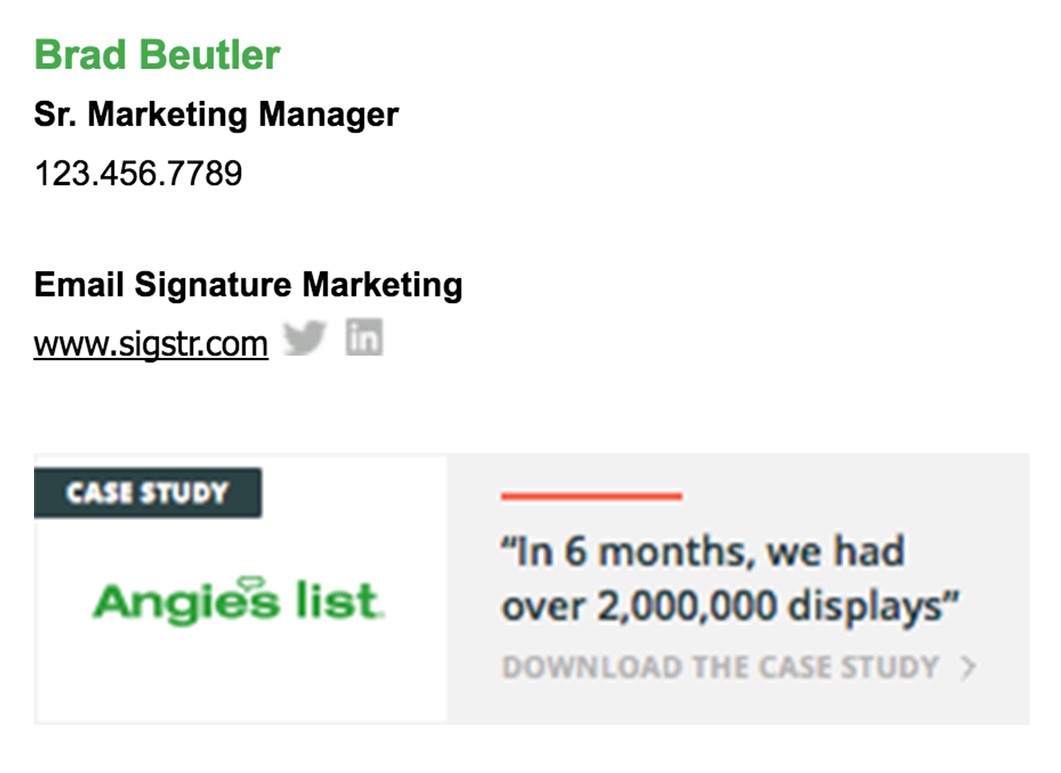 What are some ways that you can measure if an email signature is influencing conversions? How can you track a conversion back to an email signature?
Marketers love to measure. We have a metrics obsession! But so many avenues are unreliable in proving the impact on a company's bottom line. There are a ton of ways we, as an industry, have mastered tracking analytics—like Bitly and Google UTMs to name a few.
WHAT TO INCLUDE IN AN EMAIL SIGNATURE
What constitutes a "great" email signature? What should it include and what should it leave out? Any good examples or best practices? Any shortcuts or templates you'd recommend?
We have spent a great amount of time building, testing, re-configuring and perfecting the formula for a great email signature. We found success in simplicity. Keep the text short and easy to read. You want your most relevant information in your email signature.
You want it to be as easy as possible for people to reach you, so be sure to include your phone number! In terms of including social icons, it's better to link to the two most important social profiles in your signature. Here is a template we (shamelessly) recommend: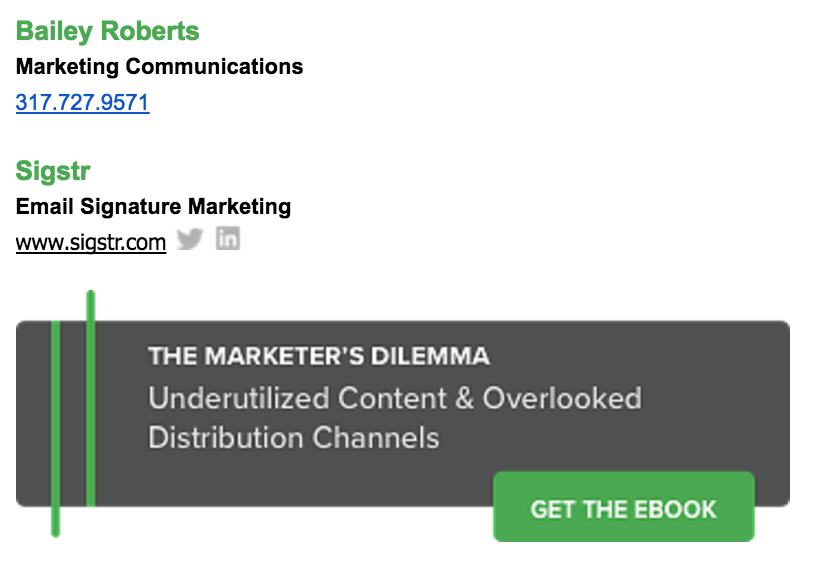 How can you stand out with an email signature? Are there situations where you wouldn't want to stand out?
We might suggest that the best email signatures should not be overbearing. Consistency and simplicity = success. Images and links are used wisely to draw attention to the 3-4 most important areas. The best signatures are those requiring as little real estate, images, text, links, etc. to accomplish two goals:
Convey key information to learn more about me and my company.
Engage the recipient with a crisply designed and relevant campaign.
RENDERING ISSUES
Should you add social follow buttons into your email signature, and if so, how do you make sure they look good everywhere?
We recommend having no more than four links in your signature, so it is important to only include your most impactful social profiles. If social is an important part of your strategy, we encourage customers to select the one or two most important and to promote those social buttons in the signature.
To ensure the social buttons look good, use the following guidelines:
Use a uniform file size for all social icons
Use a PNG file format
Consider matching icon colors with your company brand guidelines
Banners or graphics in email signatures often appear as attachments or embedded images. Are there any workarounds to this problem? Which email clients does this work in?
Don't embed images. Host them instead. For example, the campaign and signature images generated by Sigstr are never attached to user emails. The HTML anchor and image tags are appended to the user signature, and both the 'anchor href' and 'image src attributes' resolve to a web service. Upon open by a recipient, the web service is called and returns the appropriate images for each sender / recipient.
How does image blocking come into play with email signatures?
Email recipients have to have images enabled to see graphic email signatures, like Sigstr's CTA campaigns. By and large, most recipients have images enabled by default. But just in case they don't, it's important to test your campaigns!
Check out how your signature looks with blocked images to make sure key info is still available through text, and make sure all images include compelling alt text to encourage images to be enabled by the recipient. Adding a witty line, calling your reader out for missing some awesome image in the ALT text is fun. If you're sending more corporate-centric messaging, stick with the basics of who the text is from and where the link ends up.
Are there any email clients that are known for supporting (or not supporting) email signatures?
If an email client supports HTML, then it can support the email signature. The lion's share of companies in today's marketplace use either Gmail or Outlook as their default email client. Emails sent from marketing automation templates (think Hubspot or Pardot), support tools, and accounting systems support the email signature marketing channel, too.
What types of "fallbacks" can you put in place for when an email signature doesn't work in an email client?
Email clients that support HTML should support email signature marketing. If for some reason, the email client doesn't support HTML, it's still important to create consistent branding among the employee email signature. Sigstr does that by offering a uniform template for the signature space.
If an email client doesn't support HTML, but does support rich text, you can direct recipients to a specified landing page using a text campaign with an associated link rather than an image or graphic.
What do you need to keep in mind when optimizing email signatures for mobile, especially if your email itself isn't responsive?
When optimizing for mobile, it's important to consider the size of the campaign you are serving. The best practice is to create a campaign that is no wider than 295 pixels wide. Additionally, we recommend a signature template that considers the width of the device. It is important to test to ensure all text, links and images render as expected.
GET THE LATEST DELIVERED STRAIGHT TO YOUR INBOX
Want to get more tips and advice like this? Subscribe to our weekly newsletter and get the latest content for email design pros delivered straight to your inbox. Every week.