An age-old debate was recently sparked here at Litmus: Do plain text style emails or HTML emails perform better? But first, let's clarify what we mean when we say HTML and plain text for the purposes of this blog post.
HTML emails are designed with visual elements and a clear marketing or promotional feel. These typically show up in your inbox from a brand name.
Plain text emails include emails that are literally plain text only as well as HTML emails that mimic the plain text style with maybe a logo or headshot added. They usually say they're from a person.
While we know the answer to every email debate is almost always, "It depends," we wanted to stoke the fire and dig a little deeper. If you had to pick one based on your experience, which would it be? So we turned to the expertise of the email community on Twitter and LinkedIn.
❓Calling all #EmailGeeks! Which do you think performs better: HTML/designed or plain-text "personal letter" emails? 🤔 And why?

— Litmus (@litmusapp) August 20, 2020
There were 68.3% of Twitter votes for HTML emails and 31.7% for plain text. Okay, what about LinkedIn?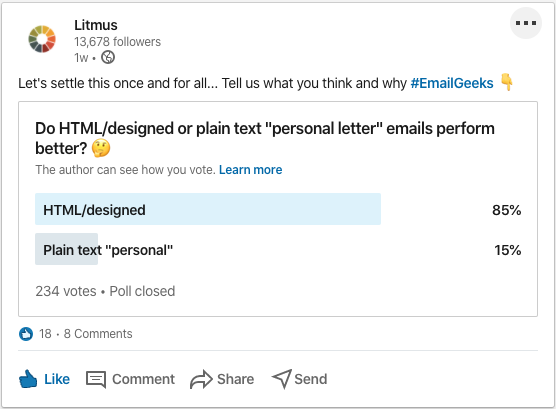 Wow, LinkedIn had an even higher majority voting for HTML emails at 85% versus 15% for plain text.
So it seems most of the email community think HTML emails tend to perform better than plain text ones. Now don't go pouring all your money into HTML emails! We're going to circle back to our favorite "It depends" answer because—you guessed it—there's a place for each type in your email marketing program. And many of you agree.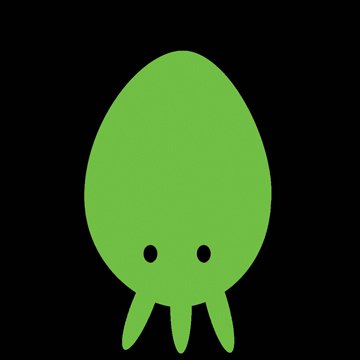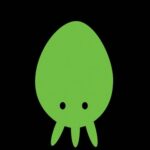 "Depends on the purpose of the email & what point the recipient is in the purchasing journey."
– @thirdmanuk
Why HTML emails are better
HTML emails are very visual and attention-grabbing, so it's no wonder most email marketers are drawn to it. How else can you show off your products and services?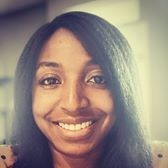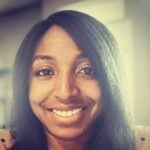 "Using colors and graphics capture attention, can engage the recipient or produce an emotional connection with the reader that often leaves a lasting impression of the brand. Graphics also help deliver the message when a consumer does not want to read."
– Shina H.
People are visual by nature. The human brain can process images 60,000 times faster than text. And with subscribers' short email attention span, you need to make sure they understand what your email's all about in just a few seconds. Designed emails let you:
Visually sell your product or service. For example, pictures of a new clothing line or animated GIFs of how to use a piece of software do wonders to get subscribers to take action. You can engage your subscribers with interactive elements like quizzes and forms and take advantage of real-time dynamic content like countdown timers and store locations. All the things that enrich your subscribers' email experience and give them the kind of information they couldn't get from text alone.
Reinforce your brand and increase familiarity. It's easy for subscribers to see who you are at a glance and to continue to recognize your brand. It takes 5-7 brand impressions to be remembered, which in turn can increase revenue by up to 23% when presented consistently. This also builds trust and credibility, which is especially important for emails with important or sensitive info.
All this being said, HTML email isn't without its faults.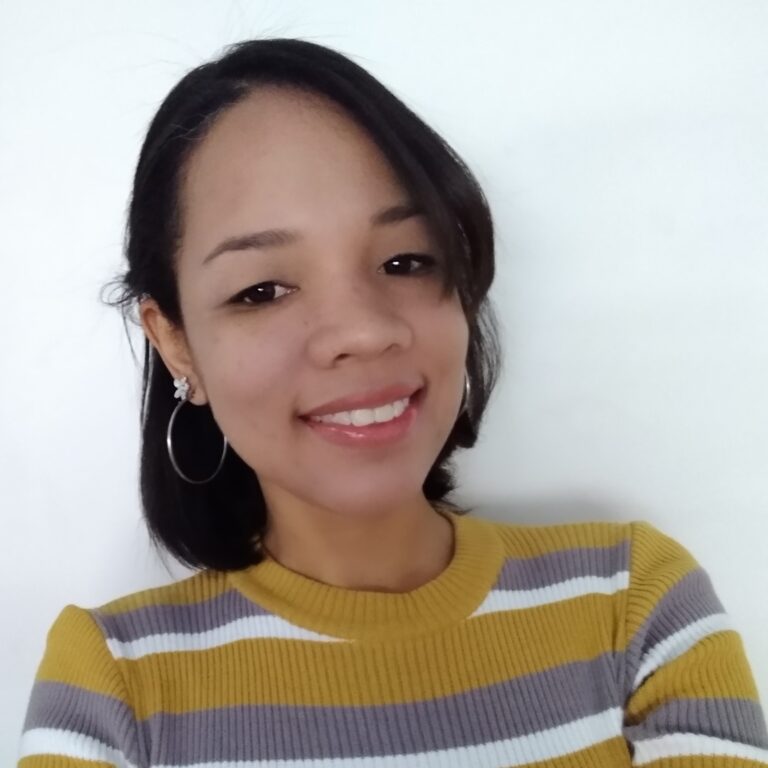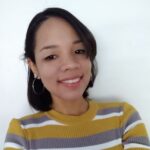 "I think plain text is the future. Many people have grown tired of overloaded HTML designs."
– Liz Sojo
If you don't do it right, HTML emails can be troublesome. Load times can be long, and impatient subscribers might just click away or delete before actually seeing your email. If file sizes are too big, inbox providers like Gmail will clip your email.
And because there are no universal email development standards, you're at the mercy of how each email client and device renders and displays your email (and they all do it differently). This means you're more likely to have broken emails, making them harder to troubleshoot and fix. Worse, subscribers may view broken emails as spam and mark it accordingly, hurting your chances of getting into the inbox at all.
Fortunately, there are easy ways to avoid these pitfalls if you use a tool like Litmus to build pixel-perfect emails without code and preview emails across multiple email clients.
Why plain text emails are better
Still, plain text style emails have their place and offer the kind of personal feel you don't get with designed HTML emails, which can set you apart in the cluttered inbox.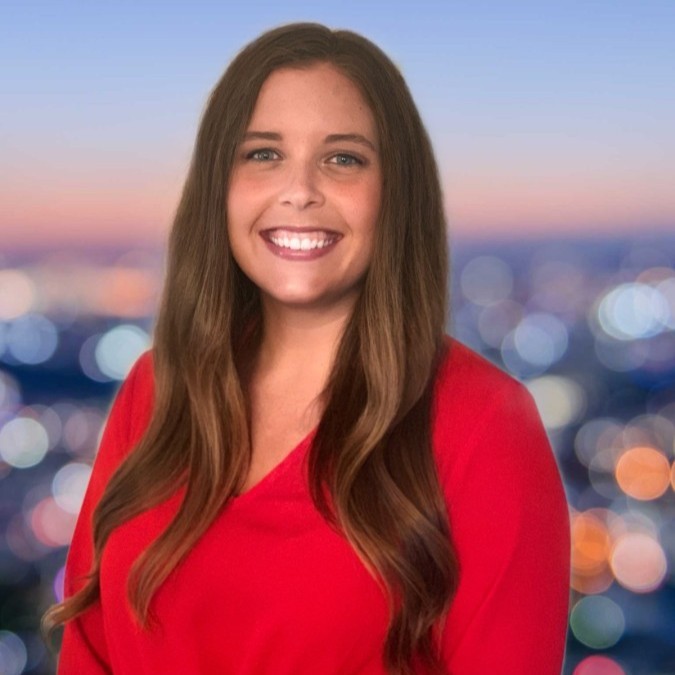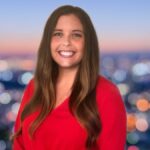 "I think that HTML emails can sometimes get lost in a sea of other promotional emails. I think it also depends on your audience too – I've found for my audience at least, a relevant plain-text email always outperforms HTML and they're more inclined to respond to a personal note."
– Samantha Kiley
The biggest reason plain text emails do so well is because of the human connection. The key is authenticity. This goes back to the roots of email as a one-to-one communication channel. Plain text emails allow you to:
Have a conversation with your subscribers. People buy from people, so it's important to establish a relationship, even if it's just a simple "hello" to welcome new customers. A lot of B2B brands do this, but it works for B2C brands, too. One way to do this is through exclusivity. You break through the noise of designed marketing emails, and it feels extra special when a person reaches out with an offer or invitation. And with no distractions, you can really focus on your audience's needs instead of how your emails look.
Produce accessible emails faster. Because of its simplicity, plain text emails are easier and faster to get out the door. No complicated HTML to deal with. Which also means it's easier for screen readers, smart watches, and voice assistants—in other words, email accessibility for the win!
However, overdoing this personal approach can lose its effectiveness over time, especially if it's not actually an email personally sent by an individual.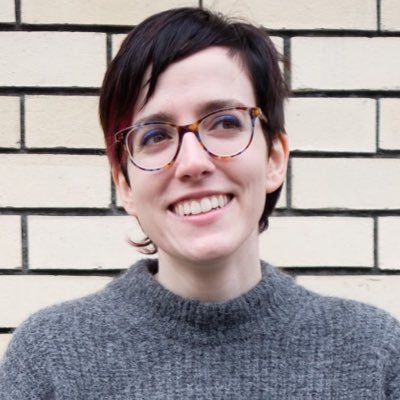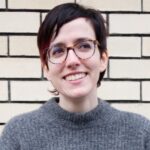 "I personally don't like when emails from brands or companies take a 'personal letter' approach when I know they're not personal letters, because it feels like they're trying to trick me into [thinking] it's more personal than it is."
– @SarahEsterman
If you don't do it right, plain text emails can feel… fake. Or even spammy. Subscribers may not recognize the sender's name or the brand they're associated with. So while you can build trust by connecting people to people, you can also lose trust in much the same way. Think of emails about financial or security issues. Coming as a plain text email from a person can make it feel like a scam.
And if you're sending truly plain text emails (instead of HTML emails designed to look like plain text), you lose out on tracking email opens and clicks that could help you hone in on what to optimize.
Why not both?
There's room for both HTML and plain text emails. When done right, a solid nurturing strategy has a good mix of compelling visuals, valuable takeaways, and more personal and direct connections with a human.

"Although good design certainly is key, creating a 1:1 connection and relevance with the reader will always bring in higher engagement rates in any format. humanize your brand"
– Lori Stedman
There's no one-size-fits-all approach, so consider what your objectives and goals are. Even a single drip series can have a mix of HTML and plain text. Our second favorite phrase in the email marketing world? "Test it!"
HubSpot did some testing of their own, but we won't spoil the results for you here. Because despite what any company or person finds works best for them, you still need to find what works best for your audience.
Even in our own A/B tests, sometimes HTML wins, and sometimes plain text wins. Maybe we'll share our findings in a later blog post…
So what do you think?
In your experience, do HTML or plain text emails typically perform better? Have any tips on how to do them right? Give us your hot take below. 👇
And hear more experts weigh in during Litmus Live Week (it's free!). We'll have a fireside chat and friendly debate with Cynthia Price, VP of Marketing at Litmus, and Harmony Anderson, Senior Director of Demand Generation at Outreach, on September 15th at 1pm ET. Don't miss out!