Testing is one of your fastest routes to achieve #NoFailMail. But, every day, we see emails in our inboxes with fails that are so obvious, it's clear nobody took a second look before hitting "send."
Whenever you touch a live email, you introduce the chance that something could break. Plus, email clients drop or change support for HTML, CSS, and other key components without notice. That's why every email deserves to be tested, even if you use a template that you just tested yesterday.
Testing helps you spot and fix problems in your email messages before they go out to your subscribers. It's something you should build into your email workflow so that it's part of your regular process, not something you do haphazardly or if time allows.
Anatomy of a Broken Email

Email issues that make marketers shudder—and how email testing helps you catch and fix them before you send.
Here are five potential trouble spots to test for:
Email Fail #1: Broken links
Don't miss out on a conversion opportunity by sending your subscribers to a 404 page or an outdated landing page. The broken link that sent your customers to no-man's-land is one of the most obvious errors to spot and fix through careful testing.
Unlike URLs in plain-text emails, the URLs in HTML messages usually hide behind hyperlinks within your copy, images, or call-to-action buttons, so they can't just be checked with a scan of the eye. You'll have to click each one of them to ensure they're sending the subscriber to the intended destination—and to ensure that click-throughs are being tracked so you can measure your campaign's performance.
Automate your link checks with Litmus Checklist
Manually checking each link can be a cumbersome process, especially when you're sending complex campaigns with many links. Litmus Checklist automates this step for you.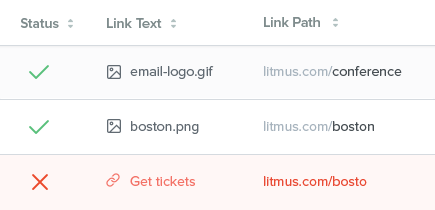 Our link check feature automatically checks all of the links in your email to make sure that they are valid and lead to the right landing pages, and runs the link against the Google Safe Browsing database to check for suspected phishing and malware pages. Plus, Checklist verifies that click-throughs are being tracked and makes it easy for you to double-check your Google UTM parameters in case you're using them for performance tracking.
Learn more about Litmus Checklist →
Email fail #2: Broken dynamic content
Ah, yes–the "Hello, %%first_name%%" fail. Dynamic content is great when it works. When it doesn't, you look silly, and you've lost a great conversion opportunity.
Don't operate on faith that your data integrations are working in emails with dynamic content. Always test your emails to ensure that your ESP's merge or personalization tags are working properly and pulling in the correct information. Also, make sure you have a good fallback to cover instances where you are lacking subscriber data.
If you have switched ESPs, it's especially important to test. ESPs often have different merge tags, so you'll have to verify that your dynamic content is still working.
Email Fail #3: Email not rendering correctly
Every email client, whether it's a desktop, webmail or mobile version, displays the same email contest a little—or a lot—differently from the others. Plus, email clients can modify or drop their support for HTML and CSS without notifying anyone beforehand. The template that looked so great last week (or yesterday) can be a broken mess today.
Testing your message across different devices and email clients will help you spot and correct rendering issues before you hit send, and ensures that your email looks great and works well everywhere.
Fail-proof your email designs with Litmus Email Previews
Sending your email to a whole list of test accounts—or to your colleagues' smartphones—and manually checking each one can easily take hours. Litmus Email Previews can help you get the job done, faster.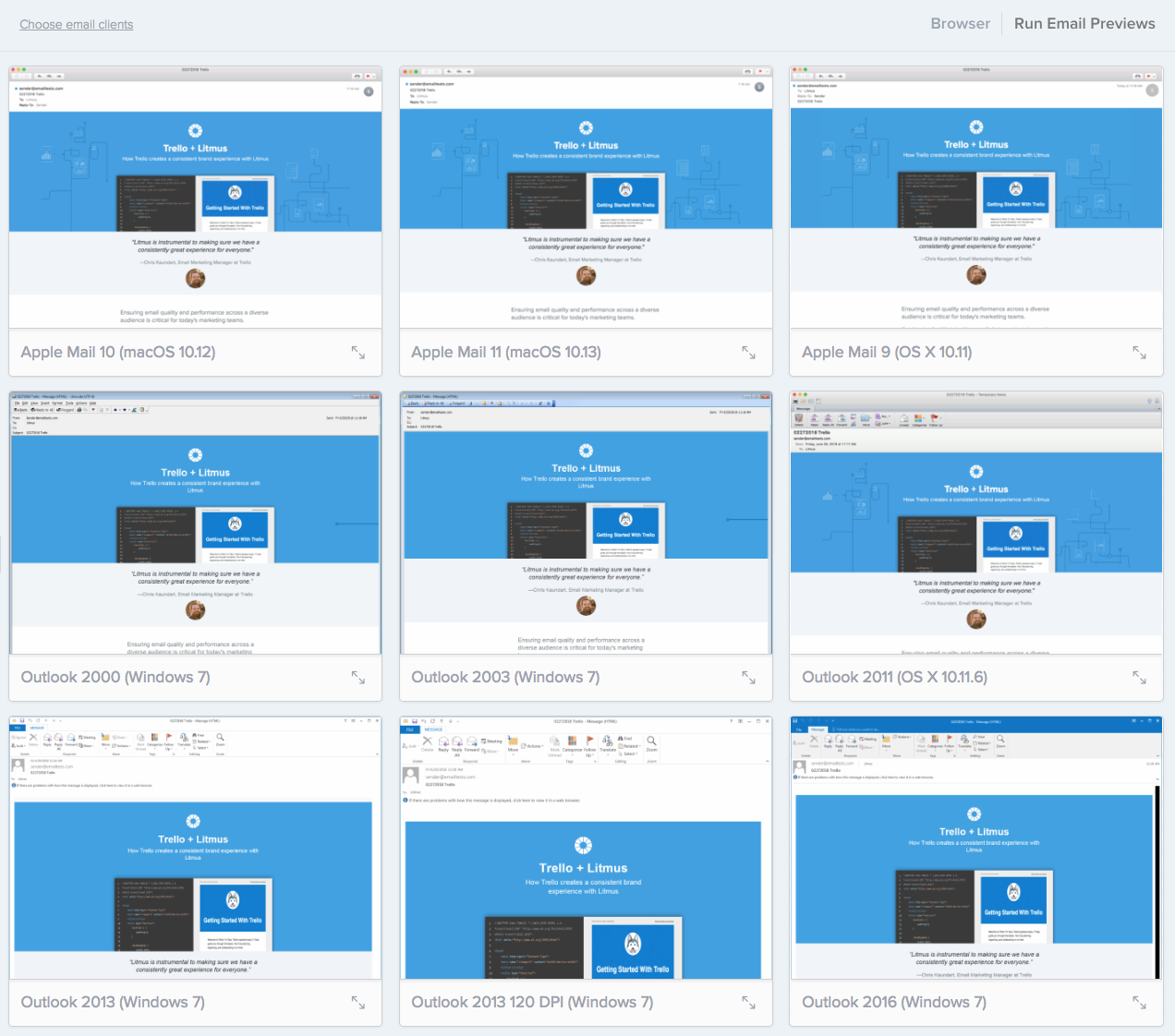 Imagine Litmus as your very own device testing lab, filled with over 90 popular clients and devices, including Gmail, iPhone, and key international web clients—all available to you whenever you need them. As soon as we receive your test, Litmus takes lightning-fast screenshots of your email that represent exactly what your recipients see so you can quickly identify and fix problems with your campaign.
Learn more about Litmus Email Previews →
Email Fail #4: Emails caught in a spam filter
Once again, this is an area where something can change without warning and without any action on your part. The domain you use to send email could end up on a blocklist—even though you're a legit sender. If you share a server with other senders at an ESP, anything sketchy they do could end up hurting your ability to reach the inbox. Though your template might not be changing, any changes to your IP address, email authentication methods, or your content can affect your deliverability.
Make it to the inbox, not the spam folder, with Litmus Spam Testing
Litmus Spam Filter Testing can help you spot and fix potential trouble spots so all the hard work you put into optimizing and double-checking your content won't go to waste.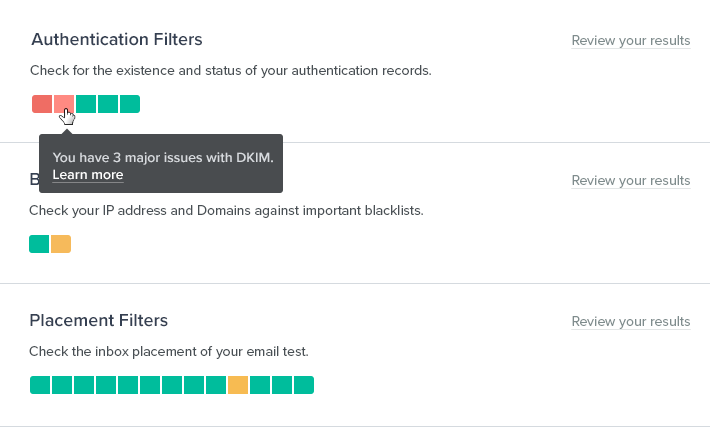 Spam Testing will check your IP addresses and domain names against common blocklists, check whether your email is being properly authenticated using DKIM, SPF, and DMARC, and pre-screen your messages across major spam filters. Plus, we'll give you actionable advice to help you troubleshoot problems and provide you with best practices and resources so you can improve your next campaign.
Fail-proof your email with Spam Testing →
Email Fail #5: Broken images and incorrect ALT text
Great visuals can elevate your email's design and strengthen your message, but image fails can cause the exact opposite: a jarring subscriber experience. The good news is that most image errors can easily be caught through proper testing.
Test to be sure you have replaced default, outdated or placeholder images with the correct images, that the images are in the right places in the emails, and that the URLs pointing back to the image sources on your site are correct.
Even if you use a template, test your emails every time to catch potential mix-ups. Someone could have moved files around and broken the link to the image source. Anything is possible!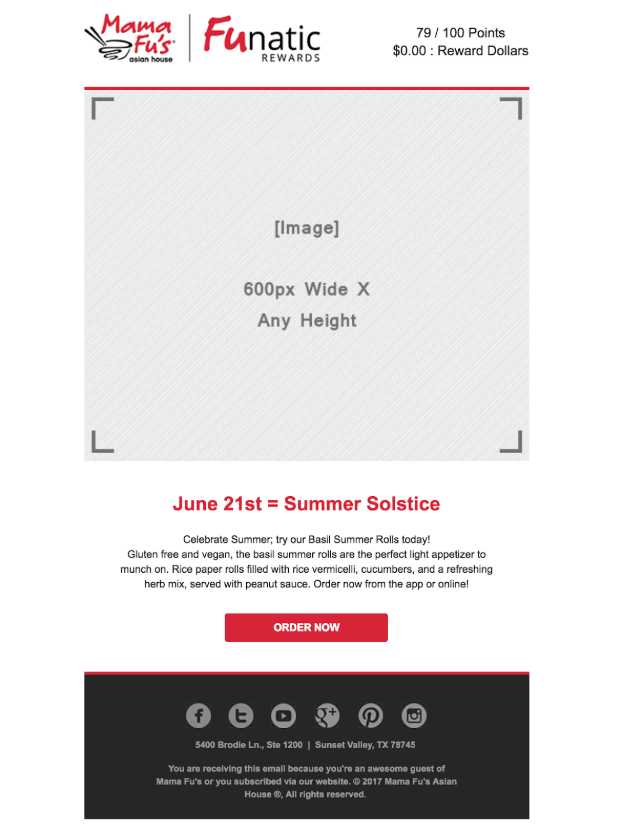 Another key part of image testing is making sure that your email looks good in case images are not supported. ALT text (short for alternative text) are the words that show up in the email client to describe an image that's broken or blocked. A description with well-chosen words can encourage your recipient to turn on images or click a linked image to check it out on your site. Always test your emails with images disabled to ensure that you've replaced placeholder ALT text, it's spelled correctly, and it's appropriate for the image it's representing.
Make your images fail-proof with Litmus Checklist
With Litmus Checklist, you can preview your email in popular email clients to ensure that your images render as intended. Plus, you'll get previews of your emails with images off, and we'll notify you if any of your images are missing ALT text.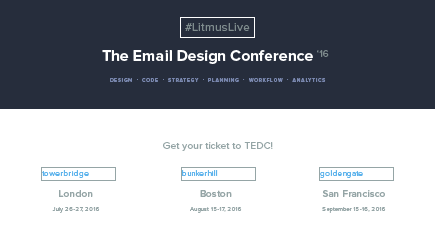 That makes Checklist a real time-saver, especially when compared to manually checking each image tag in your email's HTML.
Get ready to send #NoFailMail
For more tips and resources to help you send error-free email check out these resources: