Every industry does email marketing a little differently. They have different goals, different business models, different conversion channels, different offers, and on and on. That's definitely the case with nonprofits.
Nonprofits tend to be fairly small compared to businesses in other industries. Their organizations are usually driven primarily by donations, and therefore the end of the year is a key time period for them.
As with other organizations, email marketing is critical for nonprofits. Nearly 79% of nonprofits say email marketing is important to the overall success of their organization.
However, nonprofits are especially challenged when it comes to email resourcing in terms of staffing and tools. That has led to major challenges and only 44% of nonprofits saying their email program is successful.
In this Industry Spotlight on Email Marketing at Nonprofits, we'll look at a range of email marketing issues, including…
List size
Send frequency
Revenue from automation
Campaign planning
Email creation workflow & QA
Email deliverability
Along the way, we'll be sharing tips and research from our State of Email Survey Research Series. We'll also be sharing advice from Brady Josephson, Vice President of Innovation & Optimization at NextAfter, an online fundraising research lab that has performed over 1,200 experiments and analyzed more than 204 million donor interactions. We're grateful to NextAfter for sharing their insights and for partnering with us to promote our 2018 State of Email Survey to its community of nonprofits.
Let's get started…
List Size
Nonprofits generally have smaller email subscriber bases than companies in other industries. For instance, 81% of nonprofits have an active email list size of less than 500,000, compared with 56% for all industries, according to 3,000 responses to Litmus' 2018 State of Email Survey, which included 241 marketers at nonprofits.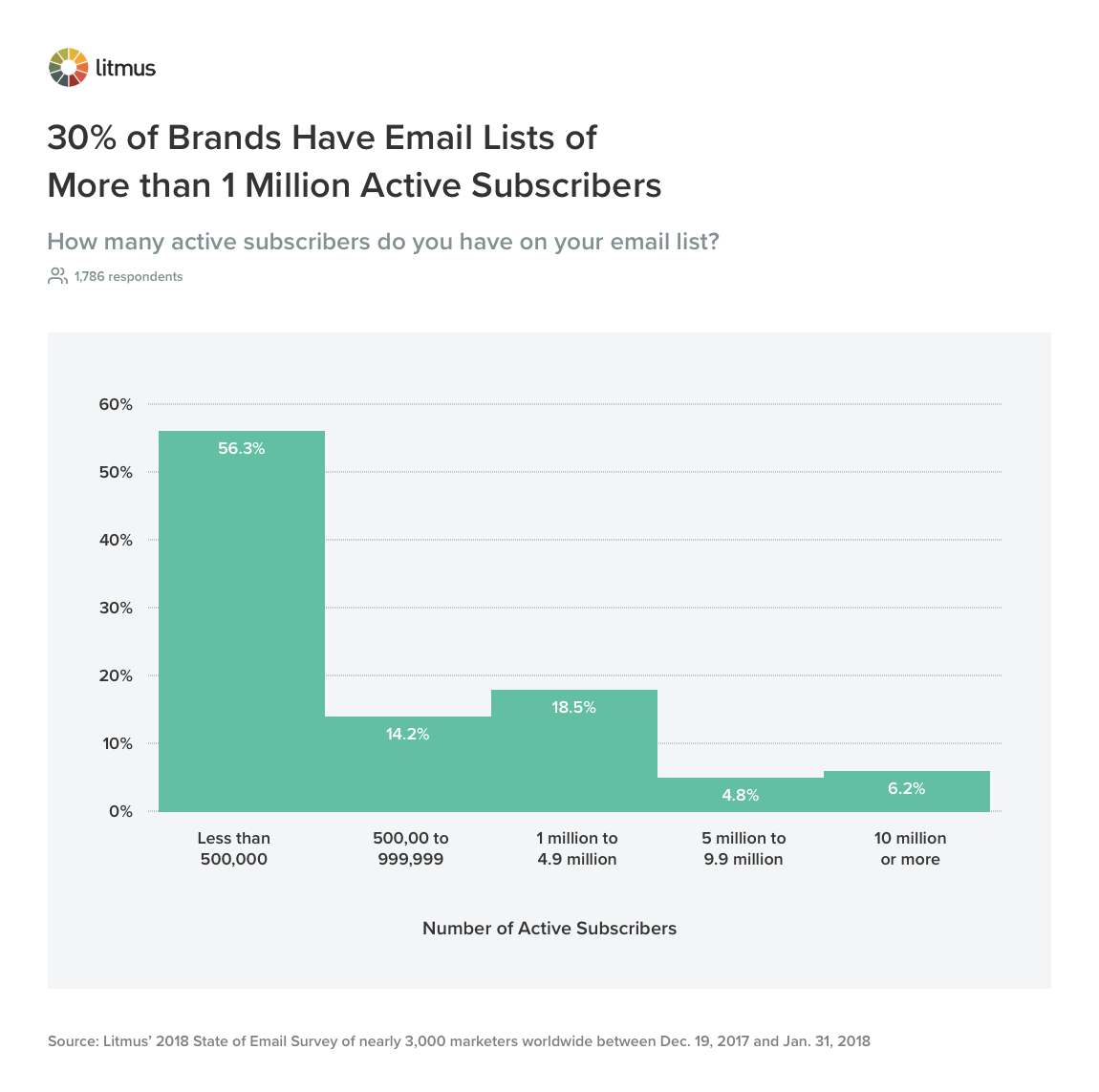 Of course, sheer list size isn't very meaningful. Brands want their subscribers to be engaged and converting. That's both good for business success and for email deliverability. But everything else being equal, a larger list is a more productive list.
"The size and quality of your email list is an indicator of how much money you can raise online, so growing your email list is key," says Brady Josephson of NextAfter.
ACTION ITEMS
Optimize your website so people can easily find your email subscription form. Can you have it above the fold? If your homepage is long, having it at the bottom of the page may make it effectively invisible. Consider experimenting with popovers, but set controls on them so you're not harassing the same disinterested visitors over and over.
Keep your signup forms short. Ask yourself: What information do I absolutely need now? What information will I be able to get later when the person donates, registers for an event, or takes some other action?
Clearly articulate why someone should sign up for your emails and what they should expect when they do. Answer their burning question: "What's in it for me?"
Having a specific content offer (ebook, online course, exclusive opportunity, etc.) to help incentivize signups.
Make it easy for people who donate or sign petitions to also subscribe.
Consider promoting your email signup via social media ads, search ads, and more.
Avoid the temptation to buy lists and be wary of co-registration and list rental, as those are the three most problematic subscriber acquisition methods.
Check out NextAfter's 6 Ways to Grow Your File ebook and learn how to write effective email acquisition copy, choose the right signup incentives, craft a high-converting acquisition form, and more.
Send Frequency
Nonprofits send their subscribers fewer emails than many other companies do. Nonprofits send each of their subscribers 6.2 emails each month on average, compared to 7.9 emails among companies across all industries. Nearly 60% of nonprofits send their subscribers four or fewer emails a month, versus 49% for all industries.
Higher email frequencies are a double-edged sword: They can bring in more revenue, but they can also lead to costly deliverability problems if brands send too many emails, which is the No. 1 reason that consumers report spam, according to Litmus and Fluent's Adapting to Consumers' New Definition of Spam research. So brands should increase frequency slowly and monitor engagement and complaints closely.
"As long as organizations are sending valuable, good, subscriber-focused content, they can feel comfortable increasing the number of emails they send to further engage their supporters," says Josephson.
ACTION ITEMS:
Read your emails out loud to see if they sound good and feel like they are coming from a person.
Focus on how your emails can add value to your donors, not just how you can get value from them.
Increase your use of personalization and dynamic content so your emails contain more content that's tailored to the individual subscriber.
Increase your use of segmentation so your emails go to just those subscribers who are likely to be interested in the content of those emails.
Download NextAfter's 7 Proven Ways to Optimize Your Email Appeals ebook and learn how to capture the attention of your donor, humanize your email appeals, and lift your email fundraising revenue.
Take NextAfter's free course on Email Fundraising Optimization to help you write and design better email fundraising campaigns.
Revenue from Automation
Part of the lower email frequency send by nonprofits is the fact that they don't use automated emails to the same extent as other industries. Only 19% of nonprofits generate 25% or more of their email marketing revenue from automated emails, according to Litmus' State of Email Survey. That's compared to 37% for all industries.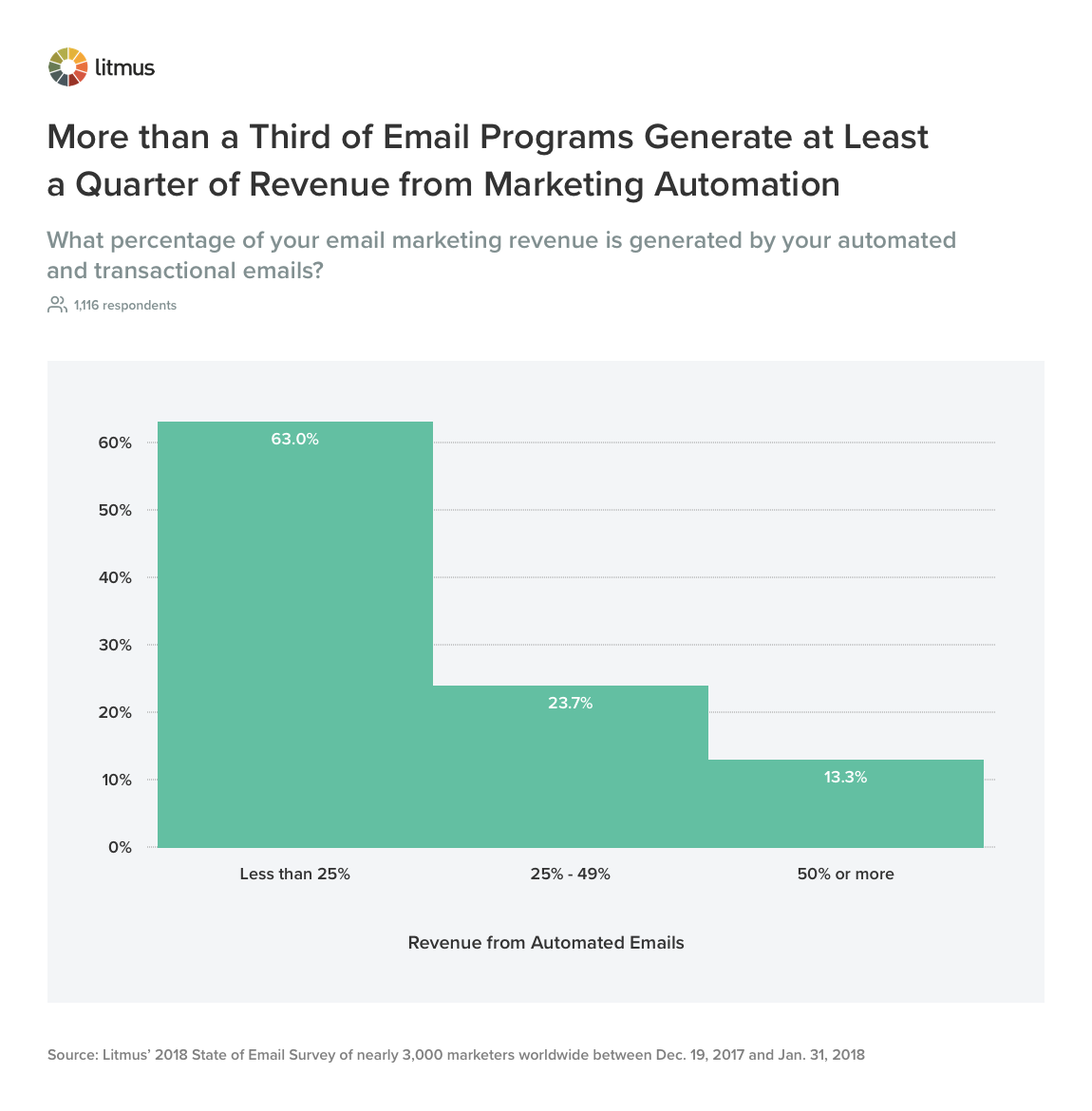 That's a huge gap, and one that nonprofits need to close. Because automated emails get the right content to the right person at the right time, they generally produce response rates that are multiple times higher than a typical broadcast email, plus unsubscribe and spam complaint rates are incredibly low. Automated emails are simply too effective for nonprofits to continue to under-utilize them.
"Thankfully, it's increasingly easy to set up automated campaigns and processes that can increase email volume and personalization without taking more valuable time," says Josephson.
ACTION ITEMS:
Develop a welcome series after someone signs up to receive your emails.
Create an automated "Thank you" email that's sent to everyone who makes a donation—and consider creating a special "Thank you" series of emails that's sent to all first-time donors.
Create a triggered email that's sent to everyone who signs one of your petitions and have that email ask them to take the next step and donate. These emails are popular among political organizations and could be effective for nonprofits as well.
Consider creating automated emails around additional actions and events, such as a member or donation anniversary email.
Integrate your email signup forms, CRM, and ESP to reduce human time managing that data interchange.
Campaign Planning
Nonprofits value planning and do a better job of planning out their email campaigns than many companies in other industries. More than 57% maintain an email marketing content calendar year-round, compared with 56% of companies across all industries.
Moreover, nonprofits plan their peak season email content 3.1 months in advance on average, compared to 2.8 months for all industries. Nearly 16% plan their peak season content 6 or more months in advance, compared to 11% of companies across all industries.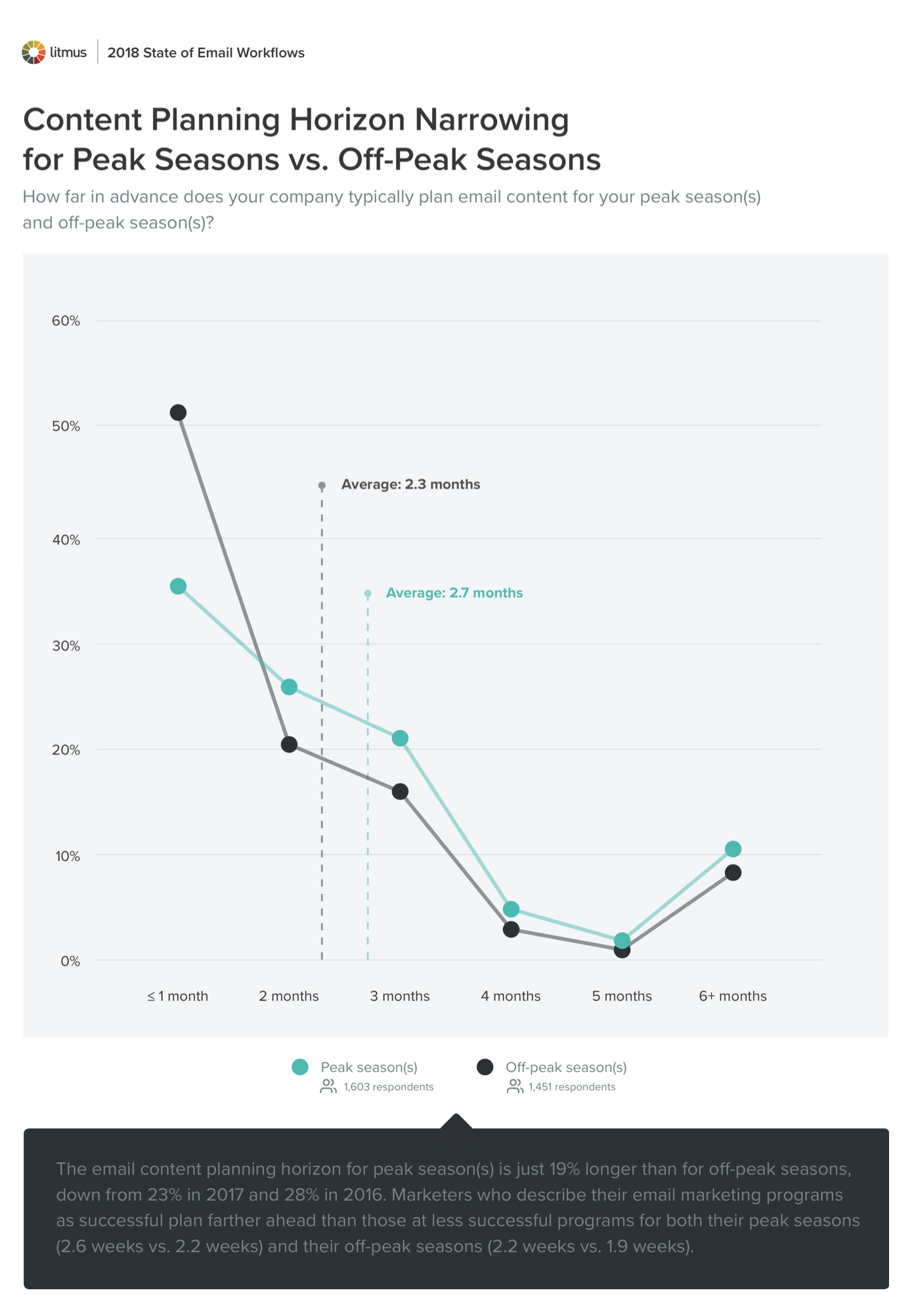 "Many organizations plan their email campaigns around their direct mail campaigns, which often need to be planned out 3 to 6 months in advance," says Josephson, "so that need is helping organizations plan a bit earlier around their email campaigns."
"Also, with peak season, generally the fourth quarter, being so incredibly important and competitive for them, it's not too surprising to see the extra planning," he says. "Some organizations will raise 50% or more of their entire online revenue in the last quarter, so not planning for that time period and missing the mark would have dire consequences."
ACTION ITEMS:
Give appropriate attention to the planning for your peak season campaigns like Giving Tuesday and the end of the calendar year period. But also…
Plan for the full year. "Plan your stewardship, reporting, and in-between campaigns as much as you can," says Josephson.
Maintain a year-round email content calendar. More than 57% of nonprofits already do.
Include work-back timing into your campaigns. For example, if the campaign launches in Month 5, what do you need to do in Month 4? Month 3? Month 1?
Plan the launch of automated campaigns, template redesigns, A/B testing, and other elements of your email program so you can see the full picture of what your team is planning.
Learn how to Cut Through the Clutter with Your Year-End Fundraising with this NextAfter ebook which is based on insights from 17,263 emails sent by 150 nonprofits.
Email Creation Workflow & QA
Whether it's a lack of budget, time, or knowledge, nonprofits aren't investing enough to ensure they create and deliver quality emails to subscribers across all the popular inbox providers.
This was the primary focus of our 6 Ways Nonprofits Can Improve Their Email Creation Process infographic, which highlights that, compared to companies across all industries, nonprofits are…
47% less likely to use partials
43% less likely to use preprocessing
59% less likely to use postprocessors
23% less likely to inline CSS
41% less likely to use an extensive pre-send checklist
16% less likely to use responsive design for their broadcast and segmented emails
18% less likely to use responsive design for their transactional emails
27% less likely to use responsive design for their automated emails
343% more likely to never test the rendering and functionality of their emails or templates across all the popular inbox providers and devices
With better tools and training, the email teams at nonprofits can increase email production and increase quality at the same time.
"That nonprofits spend more time planning and executing but on fewer emails seems to show the inefficiency many nonprofits deal with," says Josephson. "With some better tools—in particular—they should be able to produce high-quality emails in less time. This is particularly true with appeal emails, which our research has shown should be simpler design-wise, more personal, and more text-heavy."
ACTION ITEMS:
Email Deliverability
Nonprofits tend to have better deliverability than the average company. For instance, only 26% of nonprofits have been blocked one or more times in the past 12 months, according to Litmus' 2018 State of Email Survey. That compares to an average of 33% of brands across all industries.
Even more striking is that only 7% of nonprofits have been blacklisted in the past 12 months, compared to 18% of companies across all industries.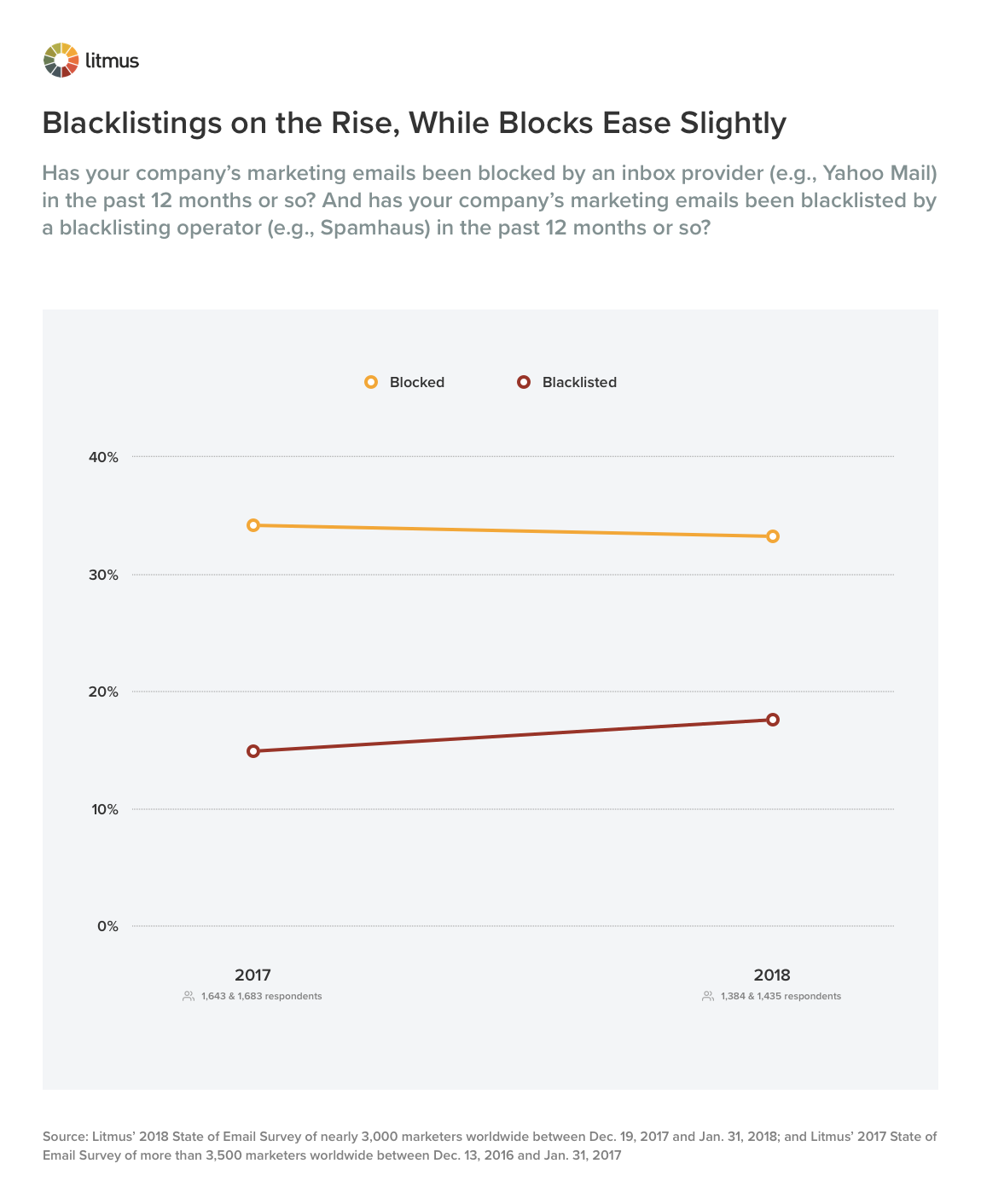 There are lots of explanations for this sizeable gap, including that…
Nonprofits generally have smaller email lists and send fewer emails, making them less likely to attract negative attention from inbox providers.
Nonprofits are less likely to acquire new subscribers using list purchases, list rental, and co-registration, according to our research, and all three of those top the list of the most problematic list growth tactics.
Consumers might be less likely to report a nonprofit's emails as spam and more likely to unsubscribe, which is much better.
Nonprofits may be under-reporting how often they're blocked and blacklisted due to a lack of sophistication in their deliverability monitoring.
So deliverability may be a mixed bag for nonprofits. Josephson sees it as an important issue for nonprofits to address.
"This is often a huge area of growth and opportunity," he says. "If 5% more people can receive and read your emails, then you have a 5% better chance of raising more money. Multiple that by every time you send a fundraising email and that can really add up over time. There is an ROI of deliverability that nonprofits need to pay more attention to."
ACTION ITEMS:
Do spam filter testing to catch potential deliverability issues before you send your email. Nonprofits are 11% less likely than the average company to run spam filter tests before sending an email.
Authenticate your emails using SPF, DKIM, and DMARC. Nonprofits are less likely than companies in other industries to authenticate their emails.
We Want to Help
To help nonprofits get the most from their email marketing, Litmus is proud to offer a discount to eligible organizations. Email billing@litmus.com for more details.