Email marketing is about more than just, well, email. And marketing. Like any other profession or pursuit, most of what we do in the email industry comes down to our relationships with others. Whether it's our subscribers or stakeholders, how we communicate with people, our daily interactions, and what we learn from each other is what really matters.
Our own research has shown that email marketers are working with more people than ever to get emails out the door. Most email marketers deal with at least 2 departments and an average of 3 or more people to get an email reviewed and approved.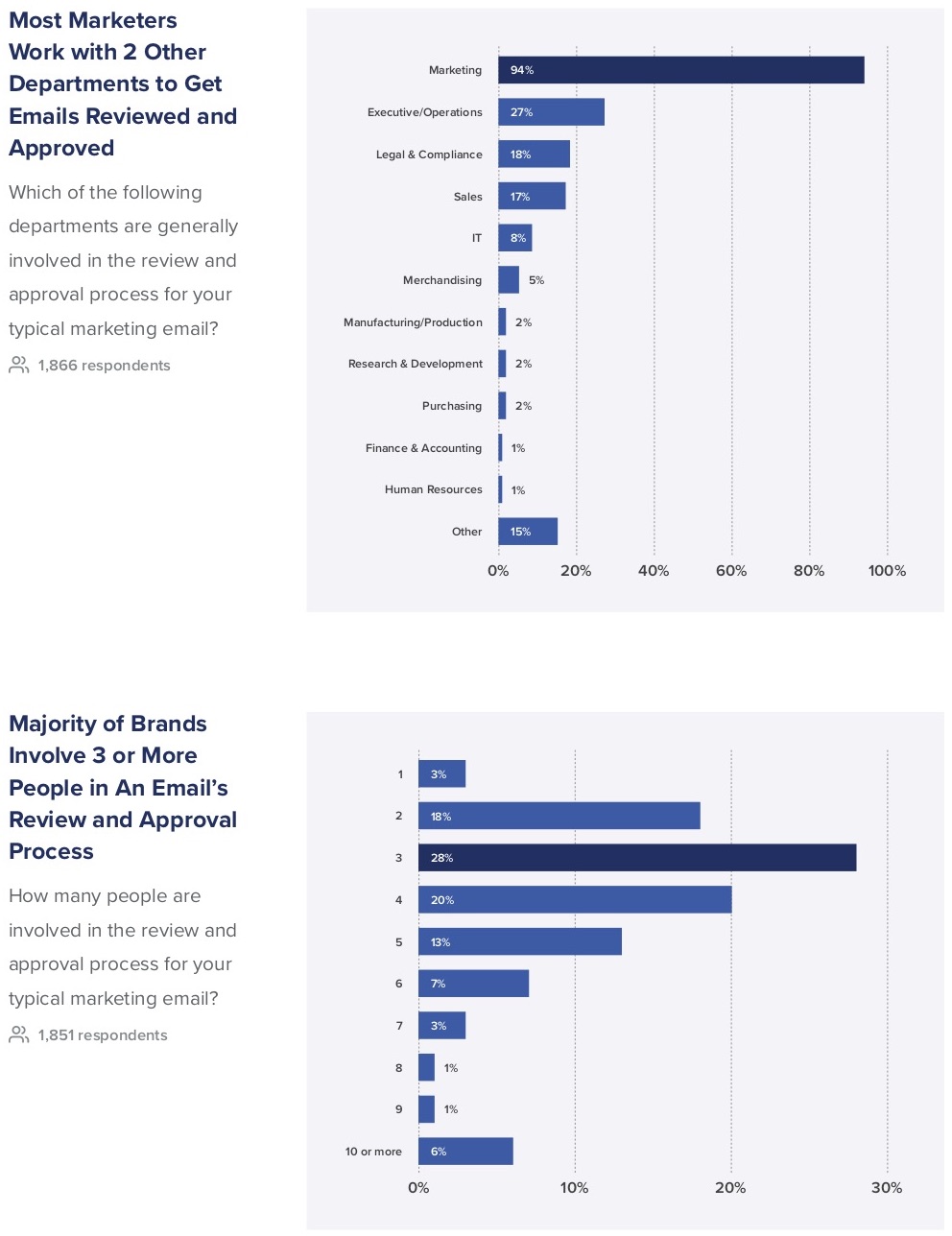 One talk from Litmus Live 2019 really highlighted our need for better communication and more thoughtful relationships in the email world. In this post, we'll look at Sarah Esterman's excellent closing keynote, How to Work With People, which you can view in its entirety below.
CONTENT WARNING: During her talk, Sarah shares her own personal health experiences, including talking about food and weight loss.
Through the lens of her own personal experiences, Sarah—a lifecycle marketing manager at Webflow—identifies key ways that we can work with one another and create more resilient and respectful relationships, both in our work and everyday life.
Get Litmus Live Updates

Be the first to hear about this year's premier conference for email marketing professionals.
Working With People is Hard
Even good team situations have problems, especially under the stress of email deadlines and scant resources. Even in the best situations, different experiences and abilities can lead to friction and stress.
In her own life, Sarah's health has impacted her relationship with co-workers and the typical team bonding experiences most of us take for granted. Managing symptoms and weight loss means that traditional office experiences, offsites, team meals and drinks, and even regular conversations with colleagues can be very stressful and difficult to manage.
Although not everyone is in a situation like Sarah's, we all regularly encounter issues with co-workers, bosses, customers, and subscribers that make identifying the right way forward hard, if not impossible. The first step to better working with people is understanding that it's hard for everyone. And, as Sarah notes towards the end of her talk, figuring out what makes work hard for you can lead to insights that make it easier for others to work with you.
It's All About Communication
While researching her talk, Sarah identified four ways in which people communicate with one another:
Passive: Avoids expressing feelings and conflicts at any cost.
Aggressive: Demands their own needs to be met at the expense of others.
Passive-aggressive: Appears passive but isn't, has built up anger or resentment.
Assertive: Sets clear boundaries, asks questions instead of assumptions, and is honest, direct, and respectful.
While most of us use all four forms of communication, more often we default to one. Understanding how we communicate—and how those we work with communicate—can help alleviate issues on both sides of the table.
Many professionals have dealt with aggressive or passive-aggressive stakeholders, bosses, or colleagues. While resentment can build when we default to passive roles when dealing with others, practicing being assertive can help prevent issues—or remedy existing ones—instead.
Sarah has a great example of being assertive.
As we all know, last-minute changes can come in for an email campaign, destroying well-honed processes and deadlines in the process. Imagine your boss asks you to stay late a few nights this week to get a campaign out the door.
While most of us default to one of the first three responses below, the fourth option will almost always be a better choice.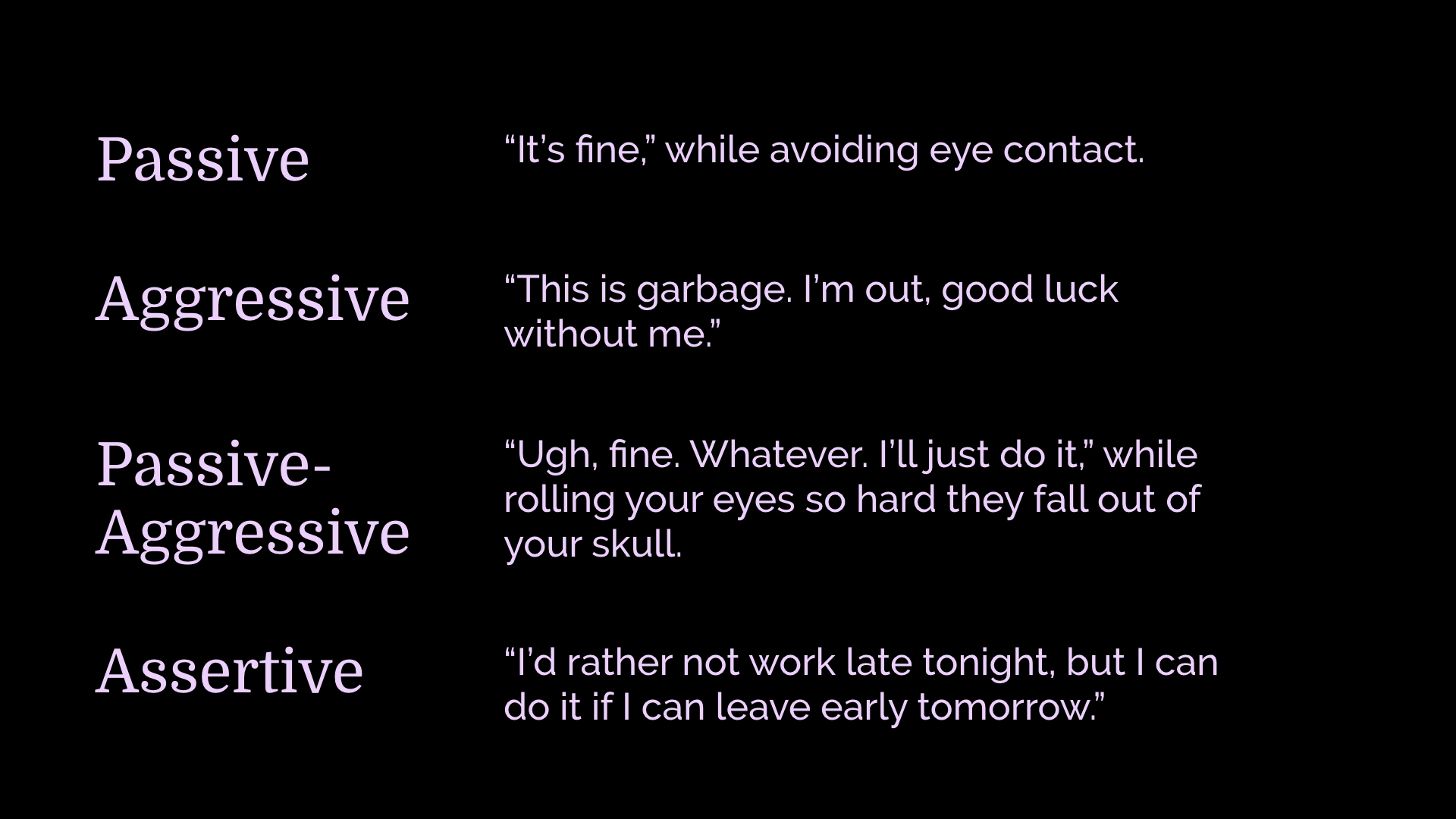 By showing you understand the business's needs, and asserting your own needs, a healthy compromise can be worked out—one that prevents anger and resentment from seeping into a good working relationship.
Understand Power and Privilege
A lot of work issues arise through power struggles or our inability to recognize privilege in ourselves and others. Think about the power relationships at work in your own job:
Managers have power—including the power to hire and fire—over their direct reports. They can impact their livelihood and health, for better and worse.
More tenured colleagues can have power over others, regardless of whether or not they are managers.
Clients have power over freelancers, who have few protections or recourse in abusive relationships.
Marketers have power over subscribers by dictating what emails are delivered when, and what kind of content is in those emails (often based on assumptions, not data).
On top of power dynamics, privilege—what Tatiana Mac defines as, "a special right, advantage, or immunity granted to only a particular person or group"—plays heavily into our working relationships and the work we do on behalf of subscribers.
Sarah is right to point out that it's very easy for anyone to forget or not notice their own privilege and power, and how that privilege far too often puts them at the center of their work. But it's important to recognize that our experiences are not the same as those we work with and the subscribers we send to. Identifying power dynamics and our own privilege, as well as recognizing the experiences of others, will lead to better communication and all around better working relationships, with our stakeholders and subscribers alike.
Practice
No one is going it alone in the email industry. Even freelancers or solo business owners are working with subscribers and customers. And working with people is hard.
Sarah makes it clear that all of this can be messy and confusing, but there are key ways in which we can make working with others better. Beyond understanding different communication styles, power, and privilege, the best way to get better at working with others is to practice.
Practice being assertive instead of passive, aggressive, or a mix of the two. Practice recognizing your own privilege and educate yourself on the experiences of those who are different from you. And practice being open, honest, vulnerable, and respectful.
If we can all take Sarah's advice, then the future of work doesn't have to be stressful. Even as we work with more people, and more departments, to get emails delivered, we can do so in a healthier, more productive way.
Get Litmus Live Updates
Did you miss Litmus Live 2019? Eager to learn how to put email first in your marketing mix, from pre- to post-send? Want to learn how to create an email marketing program that truly performs from the Litmus team and industry leaders?
Sign up for Litmus Live updates and be the first to know when we announce dates, tickets, and the lineup for Litmus Live 2020—the premier event for email marketing professionals.