Read Time: 6 min
Maintain Full Control Over Your Email Marketing Program with Litmus Custom Controls
Running a successful email marketing program means delivering incredible email experiences for your subscribers, while getting the best results in return. This is no easy feat, and becomes increasingly more complicated as teams grow and more brands are managed by a team.
Discover how Custom Controls on Litmus Enterprise plans can give you full visibility into your email marketing program—and equip your team with advanced email tools so they can spend less time fixing problems and more time optimizing email performance.
Manage Litmus access + monitor usage
Control user permissions
Maintain full control over who has access to your Litmus account—and your sensitive data. Manage user access so you can designate who can add and delete users, run tests, view reports, and more. Learn more about user access in Litmus Enterprise.
Also available exclusively on Litmus Enterprise plans, Account Holders and Admins can designate the level of access a user has to Email Analytics. Email Analytics gives you deep insights into your subscribers reading behavior, their geolocation, what devices they use to read email, and more.
Depending on how you set up your Email Analytics tracking, the data you collect can also contain personally identifiable information (PII)—and you might not want to give everyone on your Litmus account access to this sensitive data. That's why we give Account Holders and Admins on Litmus Enterprise plans full power over their team's access to Email Analytics.
There are three different levels of Email Analytics access:
Full access to Email Analytics
Partial access, which restricts viewing any personally identifiable information (PII) data or exporting reports
No access, which completely removes Email Analytics from the app

Organize your account into private Litmus teams
As your email marketing team expands, different members may focus on completely different product lines, brand experiences, or business units—and organizing the variety of campaigns that comes with that can become a challenge. With Litmus' subaccounts (available on Litmus Pro and Litmus Enterprise), you can organize your account by department, product line, or client, and manage users and permissions for each subaccount.
That way, each individual team has all of their assets in one place, along with team-specific processes like their own Custom Checklist (we'll get to this later!).
And if you're an agency marketer, you can easily create subaccounts for each of your clients, allowing them access to their email campaigns without giving them visibility into other clients' emails.
Ensure every email is on-brand and error-free
Between fonts, color schemes, footer copy, and more, there are seemingly countless elements that go into ensuring a campaign is on-brand. And then, there is the added element of rigorous testing to ensure that everything is working as intended and error-free.
To help you maintain control over your branding and approval process—and give your team the tools they need to send great emails—we've created Global Email Client Settings, Custom Checklist, Templates, Partials, and Snippets.
All of these features are available on the subaccount level for Litmus Enterprise, so you can have different settings for every client, department, region, and more.
Global Email Client Settings
Testing the rendering and functionality of your emails across email clients is critical, but not every email client may be critical for every brand. Account Holders and Admins on Litmus Enterprise can use Global Email Client Settings to require that a brand's emails be tested only in certain email clients.

So, if your audience primarily opens on Gmail and iPhone, then you can require variations of those clients. And, if they never open on Lotus Notes or Outlook 2000, then you can hide those from testing. Use Global Email Client Settings to ensure your team doesn't waste time optimizing for email clients that don't affect your brand experience.
Custom Checklist
While we believe that there are some aspects that belong in every thorough testing process, we also know that when it comes to the details, every team has their very own.
Whether you need to double-check dynamic content in your message, or your CEO wants to see every email before you send—Custom Checklist gives you the ability to customize Litmus Checklist by tailoring Checklist to your unique email creation and review process. You can even track when custom rules are completed, and more specifically, who completed them for full visibility into every approval process.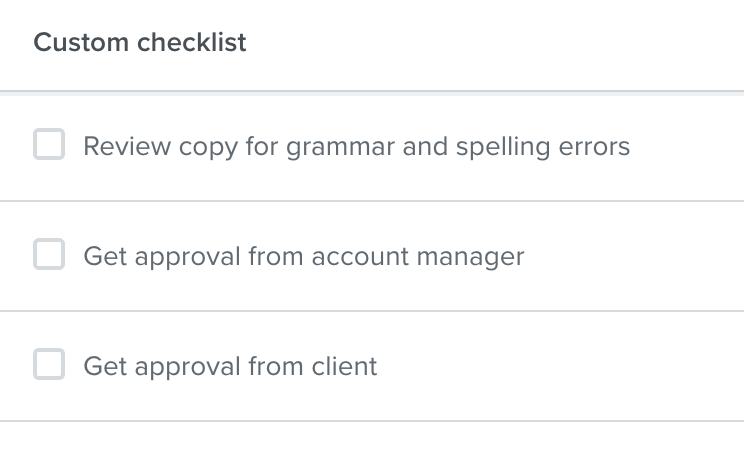 Templates
When relying on well-designed and thoroughly tested email templates, your team can easily save hours of email development time and focus on the most important part of the email—the content.
While we have dozens of free, pre-tested email templates, you can also build your own or upload your email templates. Templates are accessible in Litmus Builder to all users on your account, so you can easily add content and see previews in real-time while you edit.
Snippets + Partials
To help maintain brand consistency and save time, nearly 21% of email marketers say that when building a new email, they reuse the same header and footer and largely build emails using snippets of code from previous emails, according to Litmus' State of Email Workflows. Tools like snippets and partials can speed up your email development workflow, allowing your team to focus more on other parts of email creation.
Snippets
Much of your code from email to email will be the same, because you're creating the same header, footer, content blocks, buttons, and more. Rather than laboriously re-coding each of those element every time and inviting errors, create a library of code snippets that you can quickly copy-and-paste into your emails.
Snippets work in Litmus Builder, Sublime Text, Atom, Dreamweaver, and Coda. Dive deeper into how to use Snippets.
Partials
Litmus Builder's Partials are global, dynamic, reusable blocks of code that can be used across multiple emails. Partials live globally and any change made to a partial will apply to every single email where that partial is referenced.
Partials work well for items such as headers, footers, reset CSS, and commonly used CTAs—anything that you need to reuse across multiple emails, but the content does not change for those individual components.
Accelerate your business with Litmus Enterprise
Maintain full control over access and monitor your Litmus account while protecting your sensitive data with more advanced and customizable security rules. The Email Creative Platform provides full visibility into every aspect of your email program so you can give your customers an incredible, on-brand email experience while delivering the best results.