Microsoft Outlook has been around for decades. Although it's gone through countless iterations, it remains one of the most popular email clients around, currently placing #4 in our email client market share. The latest update to Outlook on desktop, made available to users of Microsoft's Office 365 subscription, continues in the same vein as prior versions but introduces a few challenges for email marketers, especially around Dark Mode.
Curious what Outlook for Office 365 has in store? Read on to learn more about Microsoft's latest release or start testing your campaigns in Litmus today.
A Brief History of Outlook
Microsoft's product lines cause a lot of confusion. With legacy versions of Outlook still in wide use, various types of subscription-based products, and opaque naming, it's hard to know where different clients fit in.
Office 365 is Microsoft's subscription model for using Office. First introduced in 2011, it differentiated itself from other versions of Office by allowing subscribers to keep up-to-date with new releases without the need to purchase new licenses on a yearly basis. Office 365 users can access their email in a variety of ways, including on the Outlook.com website and different versions of the Outlook desktop app.
Litmus supports a lot of versions of Microsoft Outlook, but the one we'll be focusing on today is the desktop version of Outlook for Office 365 subscribers running on Windows. Within Litmus, it's labeled Outlook Office 365 and Outlook Office 365 Dark. Keep in mind that this is different from Outlook 2019 and Outlook 2019 Dark, which use volume licensing instead of a subscription model and, as a result, don't receive rolling updates.
Phew! With that out of the way, let's dig into the latest release of Outlook for Office 365 subscribers…
What's New in Outlook for Office 365
When Outlook 2019 was released in 2018, we noted a number of new features. The Outlook team devoted a ton of time into making email more accessible with their Read Aloud feature as well as keeping your inbox clutter-free with the Focused Inbox (kinda like the Primary Tab in Gmail).
The latest release of Outlook 365 maintains these features as well as some email designer fan favorites, like better fallback font support and SVG image support.
Animated GIF Support
Early last year, Microsoft enabled animated GIF support for Office 365 customers using the desktop version of Outlook. Although we've heard a few random reports of animated GIF support dropping, our own testing revealed that animated GIFs still work with the new update.
This is great news for email marketers as animated GIFs are an amazing tool for creating more engaging campaigns. We'll keep our ear to the ground, though, in case we hear of more issues with animated GIF support in Outlook for Office 365.
Dark Mode
Everyone is talking about Dark Mode, including us. In keeping with the trend, Microsoft introduced Dark Mode for Outlook back in June, giving users the ability to swap a lighter interface for—you guessed it—a dark one. Unlike Outlook 2019 for Mac and Apple Mail, Outlook for Office 365 doesn't give email marketers the full Dark Mode experience.
The application interface is updated but, in our testing, we noticed some odd behavior in Outlook's attempts to "Dark Mode-ify" an email. While the Mac version of Outlook and Apple Mail both support the prefers-color-scheme property—which allows designers to add dark mode-specific CSS—Outlook for Office 365 instead does a full-color invert, changing the colors in an email to be Dark Mode-friendly.
Let's look at a few examples to see what's going on.
Here's an example of the original, light version of the Litmus Newsletter in Outlook for Office 365: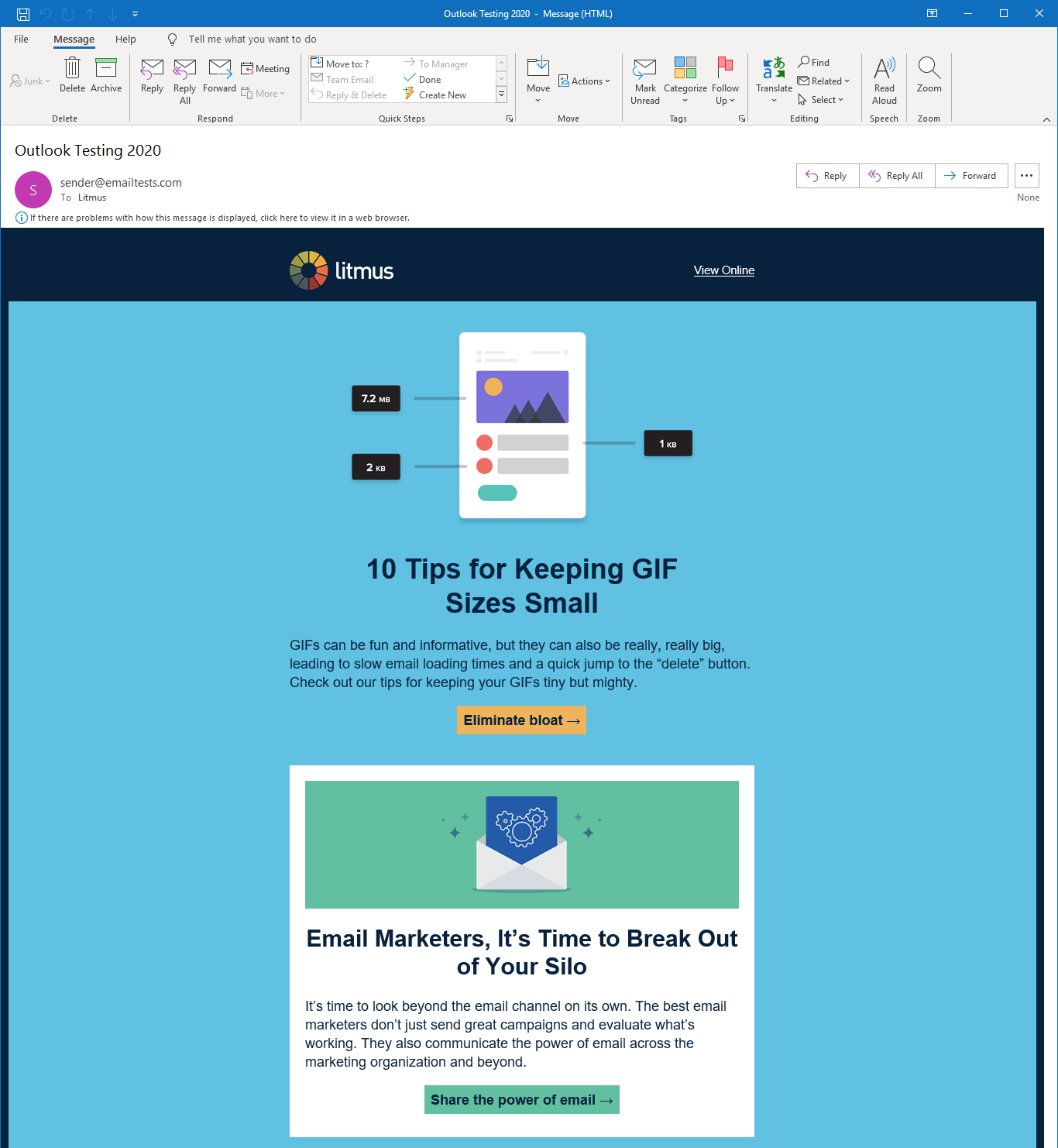 And here's the same email with Dark Mode-specific CSS in Outlook 2019 for Mac with Dark Mode enabled: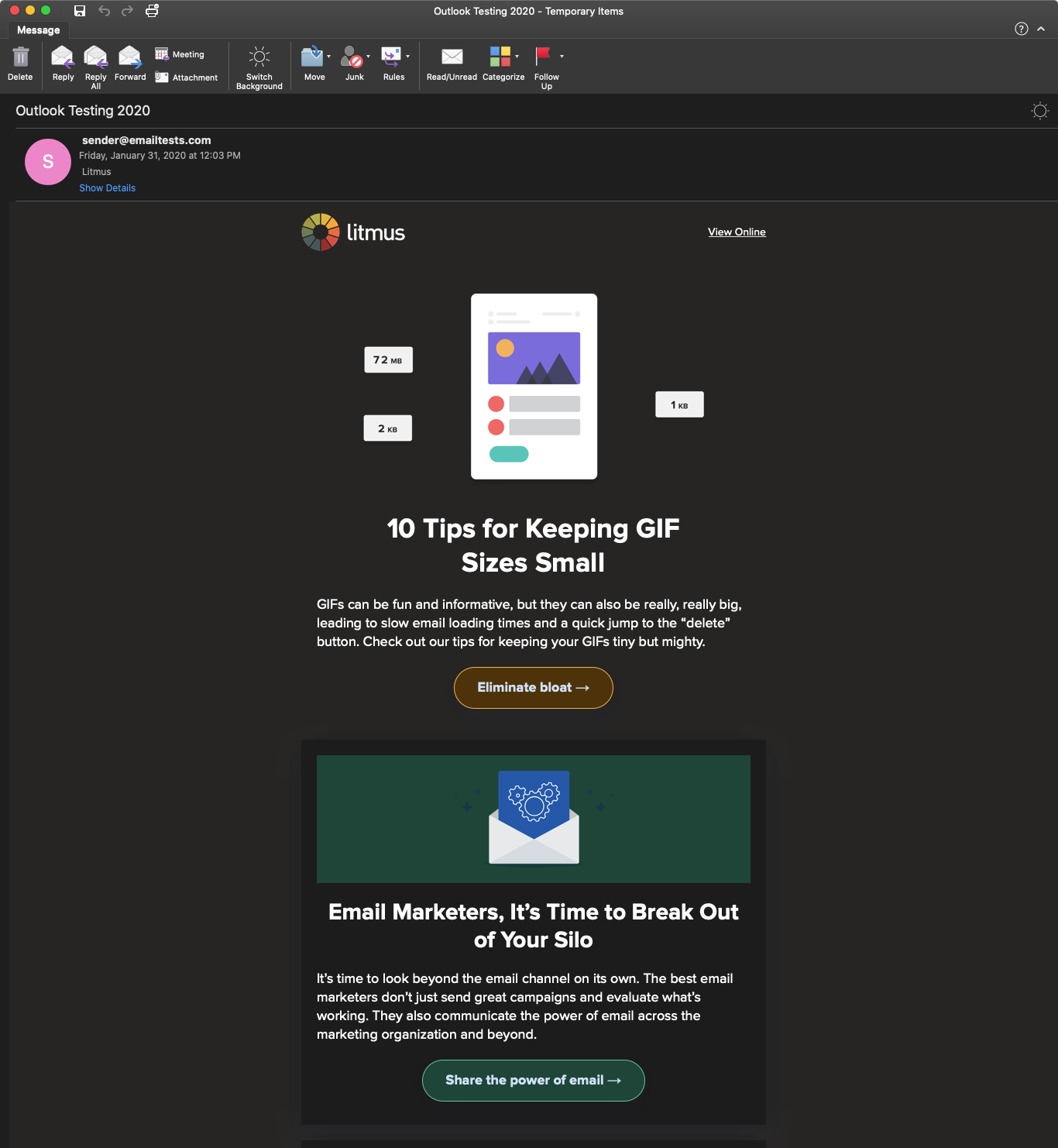 You can see that we're using CSS to specify a dark theme for our email—but we are controlling those CSS styles. However, in Outlook for Office 365, Microsoft tries to control things for us by partially inverting colors: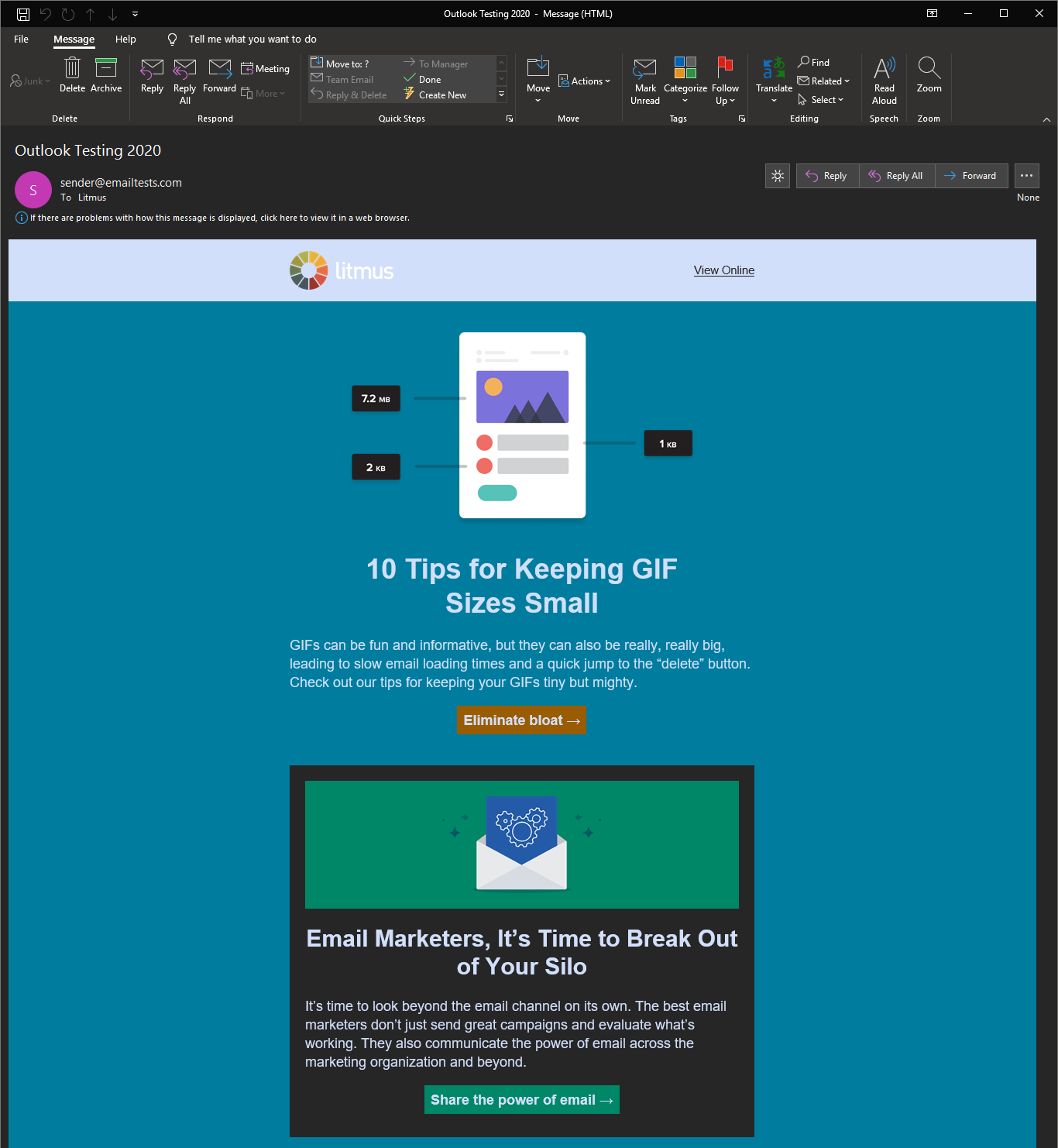 Instead of switching to the dark theme we provide, Outlook tries to darken some colors while inverting others to approximate a Dark Mode experience. The results leave a lot to be desired.
Hopefully, Outlook for Office 365 will add prefers-color-scheme support in a future update, giving email marketers full control over the dark versions of their campaigns.
Curious about Dark Mode and what it means for email designers? We've got a guide for you!
Email Feature Support
Outside of what's outlined above, Outlook for Office 365 largely remains the same for users. The latest release still lacks support for some important styling tools like:
Box model-related CSS like border-radius, box-shadow, widths and heights via CSS, and the max-width property
CSS positioning properties like floats and clears
CSS pseudo selectors like ::before and ::after
And some handy font properties like web fonts and text-shadow
There is something to be said for consistency, though. Outlook for Office 365 has well-documented issues (as do most Outlook clients), so there aren't really any major surprises for email designers. Folks can stick with the tried-and-true table-based templates they're already using or embrace something like hybrid coding to build emails that work across clients, including Outlook for Office 365.
Start Testing Today
Litmus Email Previews for the updated Outlook for Office 365 and its Dark Mode version are now available in your Litmus account, so you can start testing right away. Not a Litmus customer yet?