In this webinar, Kaela Mazzola (Product Marketing Manager at Litmus), and Shannon Howard (Customer Marketing Manager at Litmus) share four trends slated to email teams in 2022—and how you can use Litmus to prepare for the New Year.
Didn't make the live webinar? That's OK. We recorded the whole thing. Watch the recording here:
Plus, we've got a handout with resources for all of these things—check it out here.
Q&A
We answered a lot of questions during the webinar but weren't able to get to them all. Check them out here, and let us know if there's anything else you're wondering about.
What do I do with reliable opens in Litmus?
Reliable opens in Litmus remove Apple Privacy-Impacted Opens from your total opens count.
If you're running tests where open rates or click-to-open rates (CTORs) are a vital victory metric, reliable opens can help. This audience isn't impacted by inflated open rates, so you can perform these A/B tests the way you usually would.
What data should I track other than opens, now that Mail Privacy Protection is in play?
The introduction of Mail Privacy Protection doesn't mean you have to do away with open rates altogether. Instead, focus on your reliable opens audience for anything you'd traditionally look at open rates for.
In addition to open and click-through rates (CTR), consider tracking Email Quality Score, which gives you an idea of how subscribers engaged with your email. This is also a time to start incorporating non-email engagement metrics—like purchases, website activity, and account activity—to under the full customer journey.
If you're looking for more comprehensive email metrics to track, check out this matrix: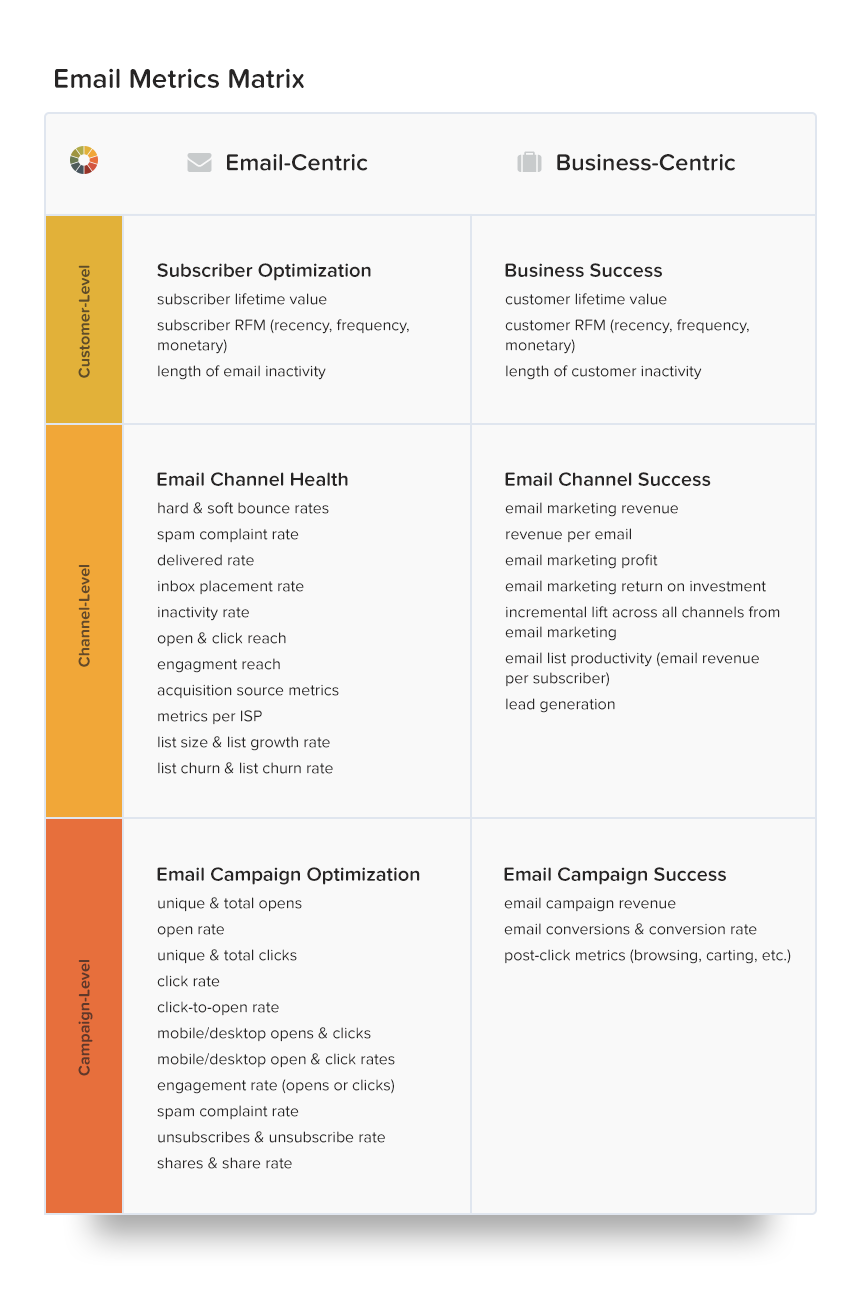 How should I adapt to Mail Privacy Protection?
The main effect Apple's Mail Privacy Protection (MPP) has on email marketers is inflated opens. By segmenting out Apple Privacy-Impacted Opens, you can focus on a more reliable opens audience.
But beyond MPP, data privacy is becoming more and more central to how we do marketing. We recently released a blog on how to privacy-proof your email programs—a must-read for the future of email.
What are best practices for testing dynamic content?
Great question! We asked our team and our customers, and here are their words of wisdom.
Prepare your data. Set up and work with your data or CRM team partners to create good sets of test data to simulate different scenarios you want to test on a regular basis.
Don't try to test everything.

If you're doing a lot of complex segmentation and dynamic content, you can end up with hundreds of possible variations of an email, which isn't practical to test. Instead, look at your audience data and choose some of the most common or high-visibility scenarios—and make sure you test those.
Take the time to learn the tools for producing test variations. Many email service providers (ESPs) will provide tools for producing test variations. Get familiar with these. If you're looking at switching ESPs

, make sure to dig into not just how they can support creation of dynamic content, but also what they offer to help you preview and test different variations. Some ESPs offer

much better tools for doing this and can, for example, make it fairly easy (with good test data) to send multiple dynamic variations for testing and proofing.
Make sure you have appropriate fallbacks. You need fallbacks for dynamic content and personalization. This will keep you from sending anyone a "blank" email.
Create test seed lists. We often create test seed lists of about 10 email addresses with sample data that we can use to preview the variations in our ESP.