Transactional emails are some of the most important emails a company sends—64% of consumers consider transaction confirmations the most valuable messages in their inbox.
Despite their value, these emails aren't paid the same attention as commercial marketing messages. In fact, transactional emails are usually controlled by IT or development teams, rather than marketing teams. These departments typically lack the tools marketers use to optimize their messages and ensure they are performing well and providing users with a positive experience.
In addition, transactional emails have a reputation for being "set it and forget it" programs, where they are tested once, placed into production, and forgotten about. However, these emails need to be tested frequently to catch errors that might go unnoticed and impact performance. Updates to email applications may mean that support for HTML and CSS changes without notice, branding changes may lead to outdated graphics, and broken links and images are all too common.
A SOLUTION FOR TRANSACTIONAL EMAIL TESTING
Sendwithus has solved the problem of testing emails and catching these errors. Starting today, paying Sendwithus users can test their emails instantly using Litmus technology. Through an integration with Litmus' Instant Previews API, developers and IT teams can now instantly preview their transactional messages in 50+ email clients and apps on a regular basis, enabling them to quickly spot necessary changes and ensure their emails are optimized for performance.
The integration leverages Litmus' Instant Previews API—one of the only email preview integrations available in the marketplace that delivers screenshots in seconds (rather than minutes), giving customers instant feedback about their emails. The Instant API works alongside the Advanced Editor in Sendwithus, providing users with an iterative workflow for building and testing their transactional messages.
Matt Harris, CEO and Co-founder of Sendwithus, said:
"We started Sendwithus to make transactional email easy for marketers, designers, and developers. Integrating the Litmus Instant API gives our users full control of their customer experience: an instant preview while editing, and a view of the email exactly as it appeared on the device the customer used."
This integration was initially released to a small set of beta users—and the feedback was amazing. Fabio Fleitas, Sendwithus user and Co-founder of Tesorio, stated, "Designing and coding emails that work across all email clients (especially Outlook) is not easy. Being able to code and render previews from several email clients at once makes it MUCH easier."
With today's launch, now all Sendwithus users will be able to spend less time building and troubleshooting email, and more time creating better subscriber experiences.
A LOOK AT THE INTEGRATION
Litmus Instant Previews are now available in all paying Sendwithus accounts. Using the integration is simple: after choosing a template, users can click "edit" and navigate to the "Device Tests" tab to access Instant Previews.
From there, you'll be able to select which devices you'd like to test for your campaign.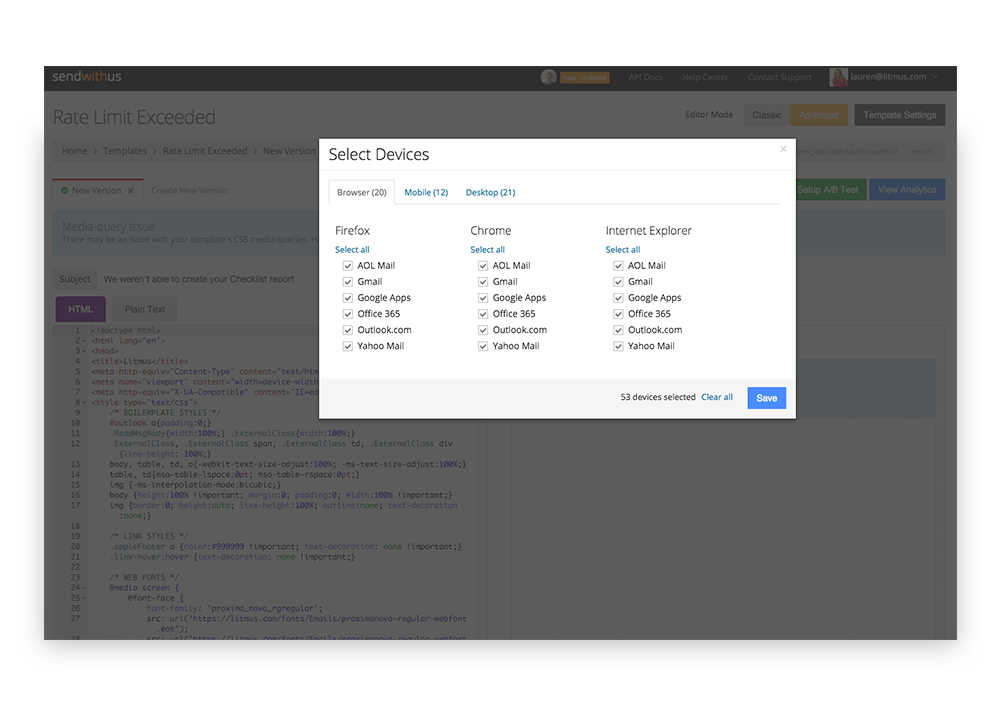 Once you click "Run Device Test," your previews will appear instantly.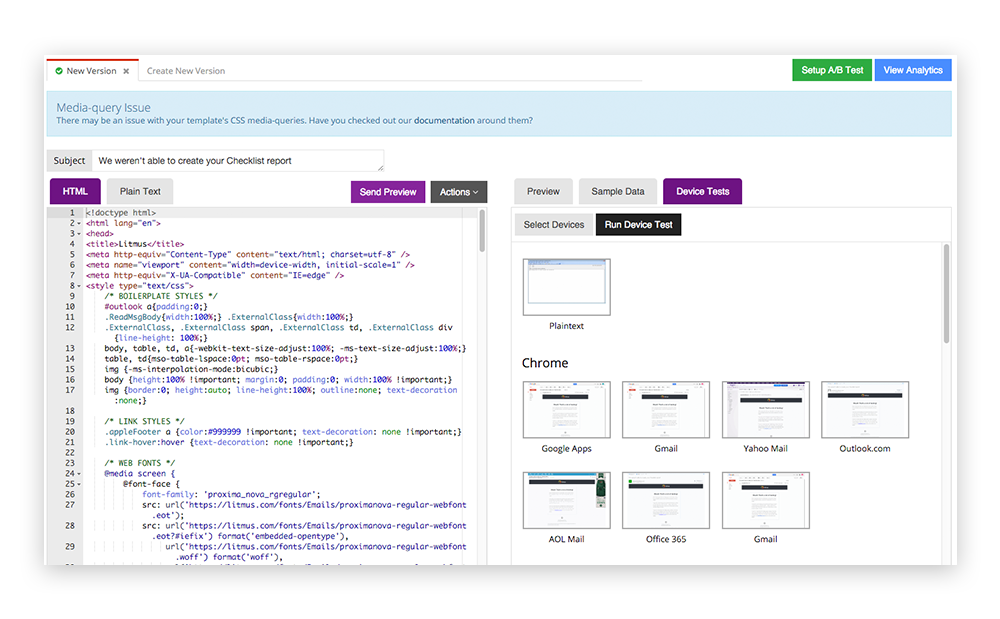 See a rendering error in one of your previews? Simply update the code in Sendwithus' editor and re-test.
Check out the documentation or start using it today.
Learn more + get started today →
EXPAND YOUR PRODUCT OFFERING WITH A LITMUS PARTNER API
Litmus' Partner APIs allow the flexibility to seamlessly integrate Litmus features (just like Sendwithus!) within your own app. Give your users the functionality to build, test, and monitor their emails with confidence.
We currently offer three APIs:
The Litmus Instant API: Designed to work perfectly within your editor, the Litmus Instant API delivers screenshots in 40+ clients in just seconds.
The Litmus Previews API: Provide your customers with the most comprehensive pre-send test with the Litmus Previews API. Alongside email previews, ensure links are working and your email isn't getting caught in spam filters.
The Litmus Analytics API: Measure the gap between opens and clicks with the Litmus Email Analytics API. Your users can see who opens their email in Outlook, Gmail, and iPhone—and how long they spent reading each message; identify fans and evangelists with insight into who forwards or prints; and pinpoint where in the world their subscribers opened with geolocation data.
Interested in expanding your toolset? Check out the documentation, or shoot us an email.