A positive online shopping experience is just as critical as one in a brick-and-mortar storefront. With eCommerce shopping continuing to experience double-digit growth that's expected to outlast the pandemic, understanding ways to connect with your subscribers can be a huge attribute to your business, and your bottom line.
It's no mystery that the more you know about your audience, the better the results of your efforts. Relying on data can help guide your email strategies for maximum success. Whether it's using the right imagery, creating urgency, or guiding shopping decisions, achieving an exceptional brand experience separates your business from the competition and keeps satisfied shoppers coming back.
What you may not know is there is a wealth of customer data available that you may not be utilizing to its fullest potential. Every user has their own journey, from products they view, items added to their cart, purchases, and even abandoned cart history which can tell you more about how to refine your approach and improve your strategy.
By combining your CRM data with online behavior, you can craft a shopping experience tailor made for any audience or shopper. But it all starts with knowing where to focus and how to put the data to work.
Showcase your best sellers
Your most purchased products are best sellers for a reason. Bestsellers are identified as the most purchased products on-site and can be collective (e.g. the most sold products overall) or top in category (e.g. the most sold dresses). By showcasing these items in your emails, you appeal to audiences who are looking for what's most coveted.
Improve your product discoverability by providing your customers with inspiration in your messaging. Making cart addition suggestions or simply letting subscribers know what's most popular right now piques their interest and may even create a sense of urgency.
Bestselling, or trending products, can help boost total purchase value, but it's important to remember to leverage your data feed to show only items that are in stock with accurate pricing for the best success.
Here's a great example that includes low in stock badges: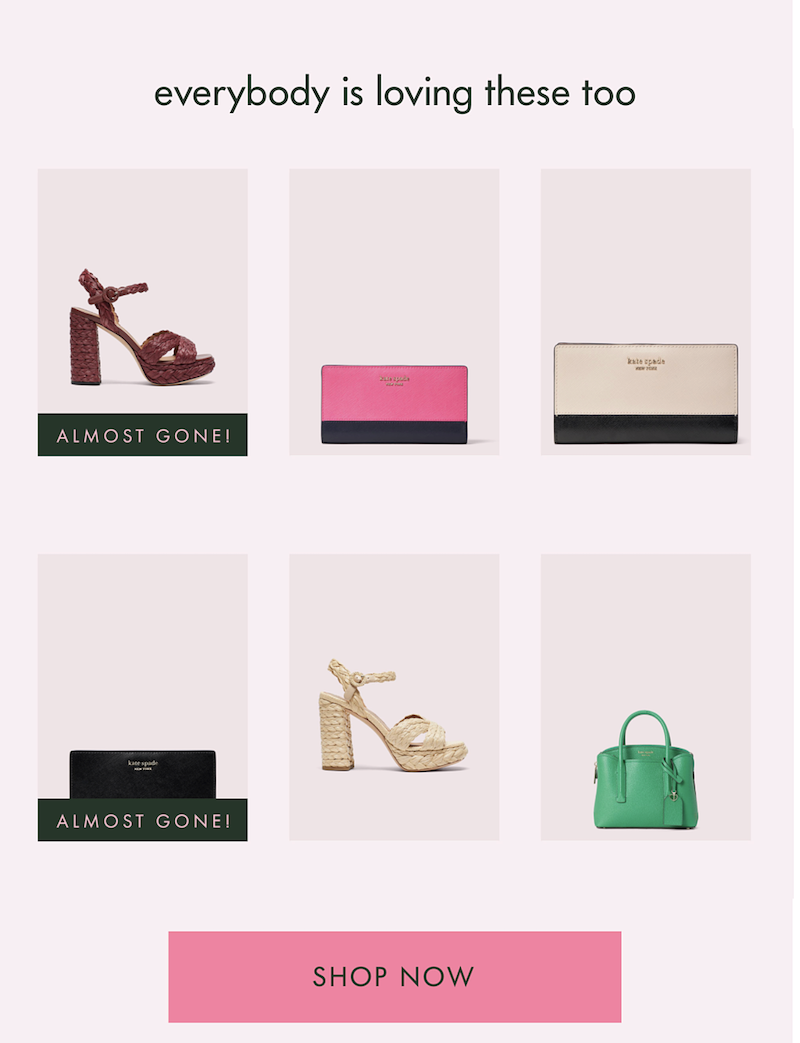 Putting your best product into view
Using data to determine the most viewed products is a great way to add value to your communication—specifically when broken down more granularly by layering shopper data. By including the most viewed products in your emails, you can create interest and drive more subscribers to your site, improving purchase potential.
This technique works particularly well for "themed" emails. For example, if a fashion retailer has a promotion on dresses, adding the most viewed dresses into the email with discounts prominently displayed catches the subscriber's attention.
You may also want to consider creating a regular round up with the most viewed products on-site. By leveraging dynamic content to fully automate the process, this light touch is an easy lift and a quick win to drive sales revenue.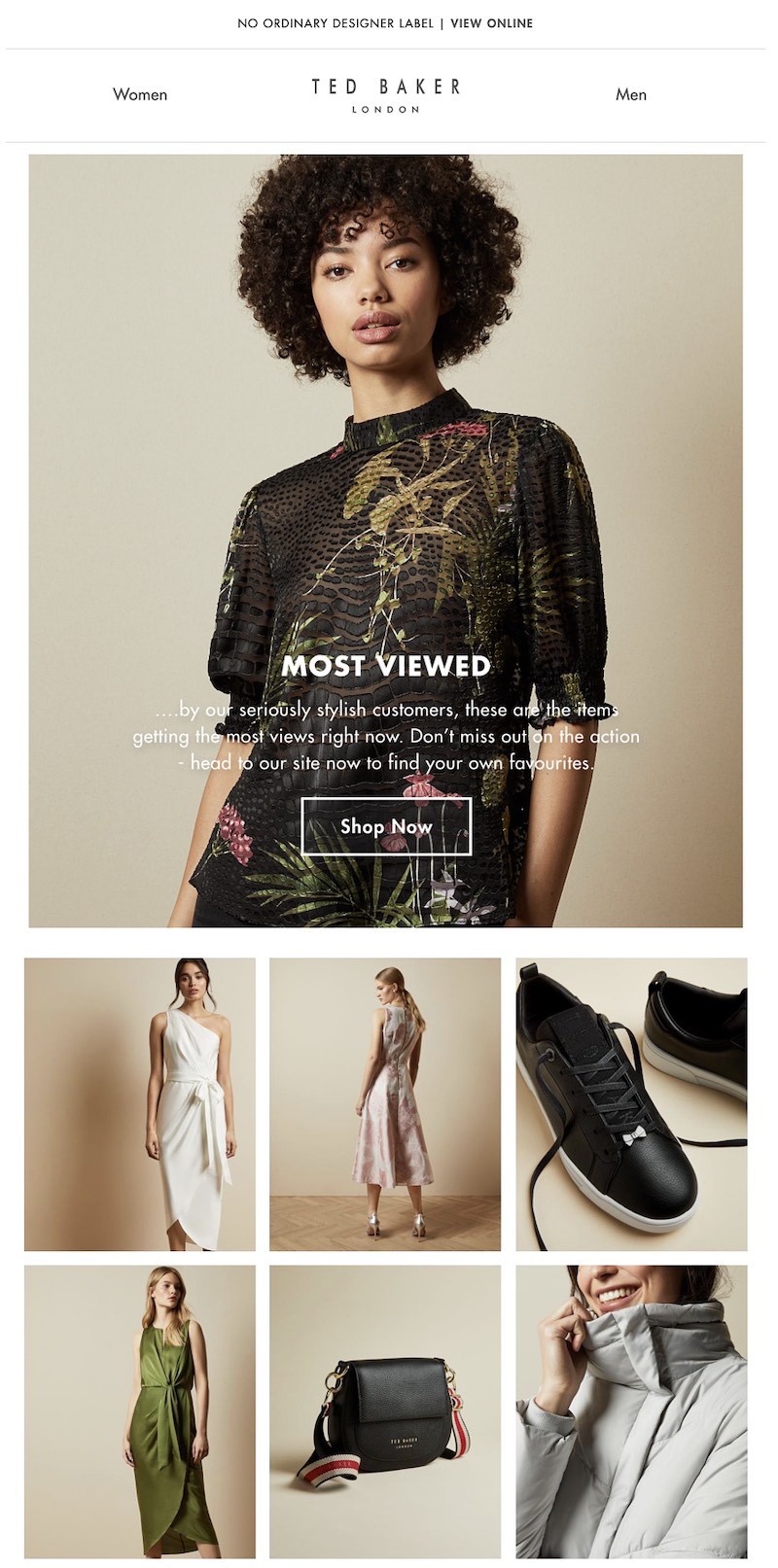 Use new products to boost engagement
Shoppers like the thought of getting an item first and being ahead of the crowd. New products are especially powerful for fashion, beauty, and eCommerce retailers where newness is important. Appealing to this desire starts with the subject line. In the email body, prominently display new products with phrases like "just added" or "early access" to quickly catch attention and create a sense of excitement.
When creating these email campaigns, add a row of featured products through automation or triggered email campaigns. By connecting to the latest products from your data feed and displaying them when an email is opened, it eliminates the need for manual updates and removes the risk of displaying incorrect pricing or items that are no longer in stock. Also, combining the newest products from a selection of categories or with CRM data to display the recipient's preferences shows attention to detail and quickly wins over shoppers.
Show them what they want to see
Sending emails based on the data you've collected—such as showing shoppers items similar to what they have viewed or recently purchased— is a great way to increase transaction value. This works particularly well in post-purchase email messages. By leveraging your data feed to suggest a similar item based on a recent purchase, or maybe a different variation of the one they liked enough to buy, you can regain site traffic and increase revenue potential. Also, recommendations are useful if you have a large product catalog with additional options they may not have viewed.
Example of similar items can include a shirt in a color the shopper viewed that was not available in their size, or additional colors of a style of pants they purchased. Taking the extra step to make the shopping experience more personalized by showing a range of similar alternatives can help increase engagement and brand loyalty.
Give strategic recommendations
Shoppers are eager for suggestions. They look forward to seeing products that match their style or are complementary to their other purchases sent straight to their inbox. In fact, 62% of shoppers say recommendations are important to them when deciding where to shop. With that information, you are doing your brand a huge disservice by not giving them what they want.
Sending personalized emails to segmented audiences with products frequently bought together is a great way to re-engage, build trust, and capture more dollars. By bundling products that are frequently purchased together or complementary of past purchases or creating add-on suggestions, you can dramatically boost sales and loyal shoppers.
Data feeds can help incorporate these suggestions seamlessly and with the most current inventory in mind. Including product details, such as how items work together or look if apparel gives a full visual, work to expedite the process. This also shows you are trying to add value to the purchase, which customers will remember in the future.
As data privacy regulations continue to evolve, personalization will continue to be crucial for brand messaging to attract and retain customers. Shoppers don't just want a tailored online experience—they prefer it and make brand decisions based on them. Getting product recommendations right creates huge opportunities for eCommerce businesses to set themselves apart from the competition. By leveraging shopper data, CRM information, and product feeds collaboratively to improve the subscriber experience, personalization at scale is achievable and will drive noticeable lift in total sales for businesses of all sizes and verticals.
Click here to see how Litmus Personalize, powered by Kickdynamic, empowers you to  use email personalization to create individualized experiences at scale.