Read Time: 7 min
The Art of Adjusting Your Email Program in Uncertain Times: An Interview with Shreyas Mecheri
One of my favorite parts about attending Litmus Live is learning from gifted email marketers willing to get on stage and share their ideas, tips, and insights. I also wonder, after their presentation, how those topics evolve: what's happened since their session that would be relevant to current times and changed since they stepped off stage?
I'm excited to kick off a new way to hear from our past presenters with Litmus Live Interviews. Each month, we'll be connecting for a catch-up visit to see what's changed from their topics and find new ideas or pieces of advice. We'll be adding interviews here on the blog, recorded sessions on the Litmus Live Everywhere site, and more.
---
COVID-19, natural disasters, local emergencies: How to pivot your email program around unplanned events
With COVID-19 still being top of mind for marketers around the world, I was wondering about strategies that companies can take when it comes to communicating with their subscribers around unplanned events, be it a global pandemic, natural disaster, or even things like supply chain disruptions.
I sat down with Shreyas Mecheri, who presented at Litmus Live Boston in 2019 about email marketing during natural disasters. Shreyas works at the Association of International Certified Professional Accountants, and with a global subscriber base she's well-versed in needing to be on top of situations for her audience at any given time. Her presentation featured tons of ways to be an empathetic sender in times of crisis, and many of these tips can apply to plans and strategies for all organizations. In our chat, she mentioned one thing that rings true globally:
"It's COVID-19 now, but unfortunately there will be more unplanned events—and marketers will have to continue to adjust their email marketing programs." — Shreyas Mecheri
You can watch Shreyas's entire presentation from Litmus Live 2019 below:
As marketers, we need to shift our messaging for any number of unplanned reasons – natural disasters and pandemics are just a couple of examples. How do you craft messaging that informs your customers without sounding insincere?
Shreyas: Such situations are extremely emotional, and it is hard for people in distress to verbalize their needs. Simple choices are best, so ask this of yourself: does the customer need comfort or space? Do you have useful, critical, relevant, helpful information that will comfort them now? If not, hold off your emails until your customers have had some breathing room and may actually want to read them.
In my talk, I had shared a timeline for planning around such events—there are messages that can help people prepare for, during, and after. Mapping out your messages like that and possibly developing new offerings around these timelines is a good idea.
And don't forget those automated journeys—take a good look at what may need to be paused or adjusted during such times.
How has your company changed its content and sending strategy during this global pandemic?
Shreyas: Our strategy has been tailored for the global markets we operate in. We lead with what is most urgent and useful; in our case, that is changes in exam testing schedules for students, important resources and legislative news to enable our members to support their clients, and new ways of working. We also amplified our content formats, with quick video updates from our leadership published at a higher frequency than usual and chat features to support technical questions. We supplemented our print magazines with an email because of the uncertainty in knowing where and when our members would be receiving their print mail.
One of the easiest ways to pivot for unplanned circumstances is to have a plan in place long before you need it. What items would be a good idea for companies to make sure are covered?
Shreyas: It's the basics: what you will send when to whom, and how. The how must cover scenario planning for your email operations because it's quite likely your own team will be working through tough situations.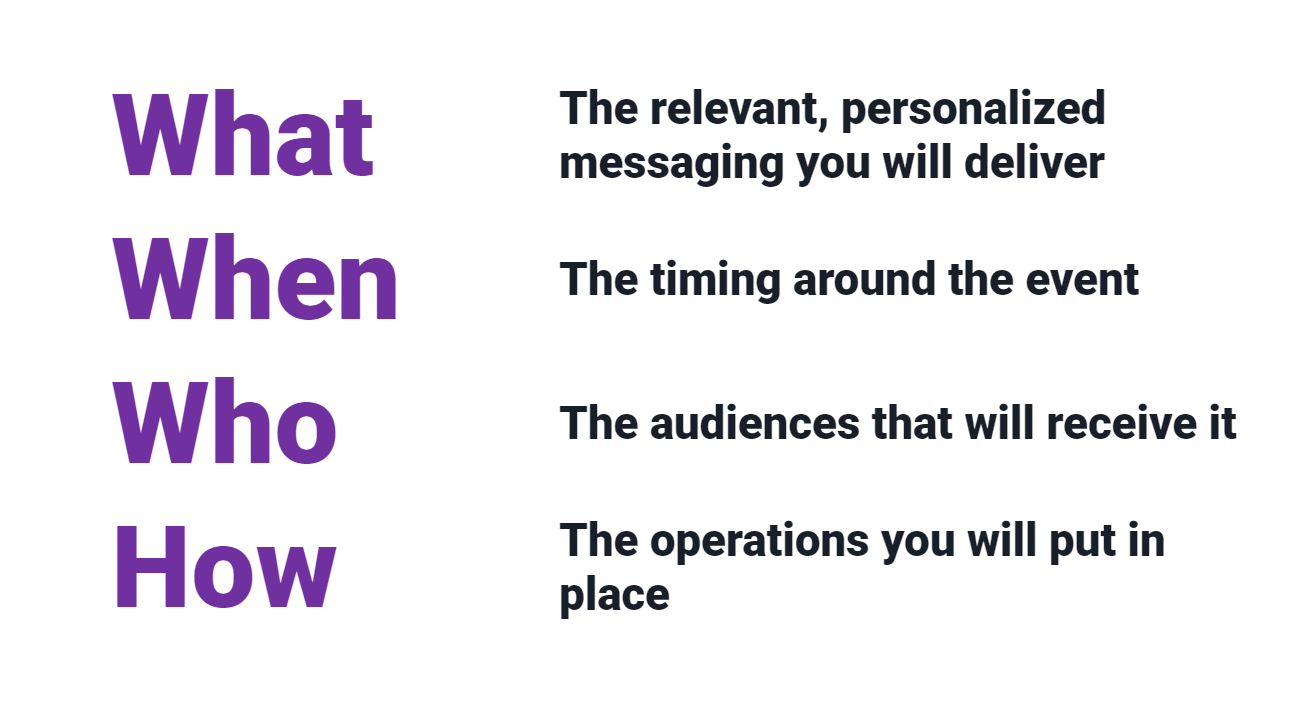 If only a certain subset of a subscriber list is affected, what changes should someone consider making to their segmentation to help decide when to send an email?
Shreyas: Ideally, you want to geographically target your messages by only sending to affected groups or suppressing them from your lists, depending on the situation. Over time you would have collected location information from your email recipients, but if you don't have this, try inferring their location based on where they opened the email (information your email service provider may have or by using a tool like Litmus Email Analytics) or using creative solutions like Live Images which use the same concept, looking at the IP address for where the email was opened.
What tips do you have for organizations that had paused their messaging plans? How would you recommend getting back into the swing of things?
Shreyas: Take the long view. Holding off unless you have something of value to communicate will be better in the long run. You will need to make adjustments in your goals, but it will be worth it. Whether it is through a quick squad, customer service, or social listening, stay connected with your audience as much as possible. Use the time to plan for what you can do now to email about later. Are there sincere social good activities you can engage in now and mention in your future emails to build brand loyalty? Does the current situation lead to future opportunities that you should plan for now?
When you are ready to start emailing, put geo-targeting and other data to use. For example, we heard from our teams in certain countries in Asia that business was slowly coming back. So, it was appropriate for me to send a promotional email that did not rise to the level of urgency that we used for UK and US audiences. We're not all in the same boat, and for some subscribers it's not insensitive to send an email.
What's an example of an email you've received recently that is related to the current pandemic, and what made that message resonate with you?
Shreyas: I am a WW (WeightWatchers) member and was impressed by the quick pivots and relevant messaging that has come through their emails. They took their physical weekly meetings to Zoom and immediately started "health from home" focused content, weaving in humor and messaging from their communities in their emails. The most thoughtful message was one where they acknowledged what an impact the pandemic has on members' lives and recommended members consider a shift from weight loss to weight maintenance where appropriate. This is a change to the core of the program but it took reality head on and felt sincere.
---
I really enjoyed catching up with Shreyas and hearing a bit on how AICPA has maintained trust and relevancy with their customers and her tips for staying ahead of what's to come (even though none of us can predict what exactly that might be). If you're looking to start or update a process for the unplanned events that will certainly come up in the future, you'll definitely want to review Shreyas' presentation.
If you're looking for more insights on how to adjust your email program during the global health pandemic, check out these resources: