The majority of US adults—72%—prefer to interact with companies through email over any other method of communication. Email is direct, personal, and builds a connection with your audience.
Video is another fantastic way to engage with your audience. Wistia found that using video can increase traffic to your site by 200-300%. They also discovered that because video deepens the emotional connection and makes your content more memorable, it can deliver the best ROI of any content type.
Put email and video together, and that's where the magic happens.
Some benefits of using video + email:
Add personal and emotional connection to show off your brand's human side
Grow your list and improve open and click rates
Engage your audience and retain subscribers
We hosted a webinar with Wistia to discuss the power of video and email together. Justine Jordan, Kevin Mandeville, and Kristen Craft discussed best practices for designing great video campaigns in your email—without losing functionality.
Didn't have a chance to make the webinar? Don't worry—our friends at Wistia recorded the whole thing! View the recording, or check out the slides below.
We didn't have time to get to all of the questions during the webinar, but we've answered them here on our blog. Have any additional questions? Leave them in the comments, we'd love to help you.
If my emails include video formats that are not supported in the inboxes my subscribers read in, will my sender reputation be affected at all?
If you're using video formats that are not supported in your subscribers' inboxes, it may not have an immediate impact on your deliverability. However, if your subscribers can't properly interact or take action on your email, it could lead to lower click and conversion rates, as well as negatively impact your brand reputation.
It could also lead to your subscribers to delete your email or even mark it as spam—both of which can impact your deliverability and sender reputation.
In addition, many ISPs take engagement levels into consideration when it comes to determining whether your email will reach the inbox or not. If you're providing your subscribers with a consistently poor email experience, and they aren't engaging with your emails, then it could negatively affect your sender reputation.
Are you able to segment and detect which email clients your subscribers are using to determine if they are using email clients that support video? If so, how?
You bet! Many email service providers, like Pardot and dotMailer, and other tools, like Litmus Email Analytics, provide email client breakdown reports. You can use this data to discover which email clients are most popular with your subscribers. This information helps inform your design decisions, such as whether to use video in your email or not.
Where is HTML5 video supported?
HTML5 video has very limited supported in email. Currently, it only works in Outlook for Mac, but does comes with some quirks. It autoplays, and controls—like pause and stop—do not work. Apple Mail previously supported HTML5 video, but no longer does.
How do you use an animated GIF video as a thumbnail? Does it have better engagement than just a static video thumbnail?
Since HTML5 video has limited support in email, we recommend embedding the video on a landing page instead. Use a thumbnail or an animated GIF in your email with a play button overlay that links off to the landing page. Wistia does a great job of this in their email campaigns.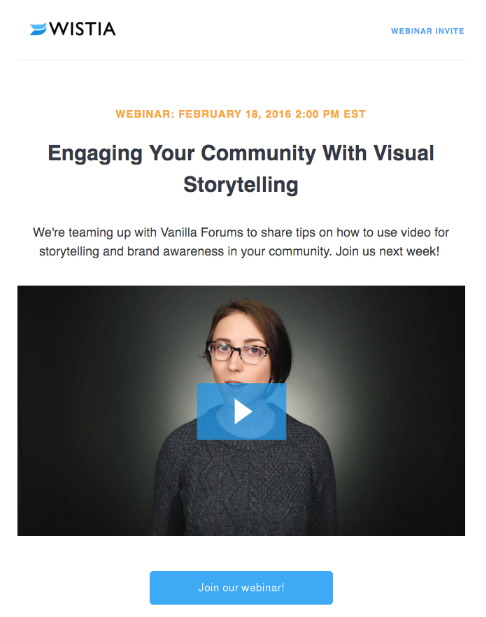 Animated GIFs are a great way to add interactivity to the email—and they have much better support than HTML5 video. While we don't have any data on using a static vs. animated GIF thumbnails for video calls-to-action, there are many case studies that show the benefits of using GIFs in email.
If you choose to use an animated GIF, keep in mind that they aren't supported everywhere. For example, newer versions of Outlook won't show the animation. Instead, they will show the first frame of the animation. To overcome this, ensure that vital information—perhaps a call-to-action to view the video or a play button—is included in the first frame of the GIF.
GET THE LATEST DELIVERED STRAIGHT TO YOUR INBOX
Want to get more tips and advice like this? Subscribe to our newsletter and get the latest content for email marketing pros delivered straight to your inbox.