There's a lot going on over in the Litmus Community. Between coding contests, breaking news, and helping each other troubleshoot email problems, Community members are hard at work building a better industry.
So, what exactly has been going on in the Litmus Community? We'll take a look in this first post in our new monthly series cleverly titled, "This Month in Community."
Community Contest
We wrapped up our second Community Contest this past month. We challenged Community members to show off interesting and creative concepts for email navigation. Along with our friends from Code School, we awarded the prizes to Justin Khoo for his amazing Reader Mode email concept.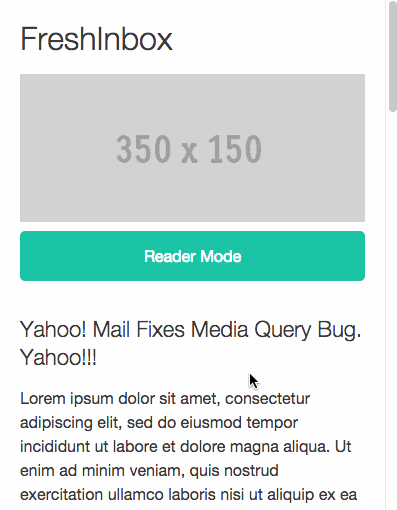 You can learn more about Justin's email in the blog post announcing his winning entry or you can hop over to the Community thread and check out all of the amazing entries.
Paragraphs and Outlook
Community member BD posed a question about using paragraph tags in Outlook and the ensuing madness of Outlook's rendering of margins. While a few solutions to the problem surfaced, the more interesting takeaway is this comment from Peter Brown:
Do you have a use case that requires using paragraph tags?
Although BD mentions that paragraph tags are uncommon in most emails, and they were finally removed from the template in question, Peter brings up a great point. When are paragraph tags, or any other semantic elements, required for an email campaign?
While accessibility is a vital component of the web, the realities of designing email campaigns that work well across dozens of email clients means that accessibility is an afterthought for most designers (if it's considered at all).
What are your thoughts on semantic markup and accessibility in email design? Join the discussion and let us know.
Favicons in Email
Finally, an interesting question from Chris Goldson: Does anyone use favicons in email campaigns?

While not a huge concern for most, favicons can add a nice visual touch for subscribers that like to view campaigns in the browser. As an added benefit, it can make finding your email amidst a sea of browser tabs that much easier.
So, are you using favicons? Have you seen any solid results from incorporating them into a campaign? Let Chris and the rest of the Community know!
Join the Community Today
There is a ton more happening in the Community than what's described here. Keep up with the latest news, techniques, and tools by joining the Litmus Community today. It's free to join and filled with the best minds in email marketing.