The success of a business boils down to whether customers buy what you're selling. In marketing terms: whether they're converting. And since email marketing programs exist to support the business, email conversions are a critical metric for most programs.
However, in part because email programs have many secondary goals that are unique from the business's goals, the definition of a conversion has become more than a little hazy, creating misalignments at some brands. To bring some focus to this issue, we asked five experts two simple questions:
What is a conversion? Is an email conversion different from conversions in other channels?
Everyone had a fairly similar definition of a conversion (which we've highlighted in their responses below). However, as they expanded on that, things got blurry quickly. Interestingly, everyone agrees that there are a couple of different kinds of conversions—but they don't agree on what those two kinds are or what to call them. The possibilities include:
micro-conversions and macro-conversions
email conversions and website conversions
direct conversions and indirect conversions
conversions and conversions to sale
Our experts make great points about why each of these distinctions is important.
Alex Birkett, Growth Marketer at ConversionXL, says:
A conversion can be many things—it's simply "the completion of a desired action." That said, there are two general types of conversions: micro-conversions (opens, CTR) and macro-conversions (end-goal conversions like sales and signups). In general, I think many marketers are optimizing for the wrong type of conversions (micro-conversions) because it's easier and you can see bigger uplifts.
So for example, if you send a bunch of people an email promising them free beer and pizza, you'll probably get a sky high open rate and quite a lot of clicks. But then when they hit your landing page and find out you only sell socks, be prepared for a massive bounce rate—and lots of burned trust resulting in an eroded brand reputation. That's why landing page optimization is such a large part of email marketing—if you maintain message match and keep the conversion scent through the funnel, the results are generally better at every stage.
Don't get me wrong, measure micro-conversions. They can provide tons of insights. But play the long game and optimize for the macro-conversions. In other words, keep your eye on the sales, not the clicks.
Steve Linney, Founder of eMRKTNG, says:
A conversion is simply an action taking place on your landing page—or any other area of your website—that triggers an outcome you want to track. You define what the conversion is you are looking to measure, such as a new subscriber or a purchase.
For me, conversions don't take place within the email, but on the website. However, website conversion rate is only one part of the story and you need to make sure that all parts of your email marketing funnel are rocking:
Targeting your audience | measurement: send number
Subject line | measurement: open rate
Quality of message and offering | measurement: click-through rate
Potential customers on your website | measurement: visitor numbers
Visitors don't like what they see and leave | measurement: bounce rate
Visitors do what you want them to | measurement: conversion rate
A/B testing, refining, and tweaking should be always be happening to ensure you have the best user experience and offering you can possibly give. Keep in mind that testing is never ending as there is always something you can improve to ensure you give the customer the experience they are looking for and you stay ahead of the competition.
Erin King, Sr. Email Marketing Manager at Litmus, says:
Marketers often wrestle with determining the value of conversions if they're not tied to sales, which can lead to the thinking that if a campaign isn't making money directly and immediately, it's a failure. The thing about conversions, for any channel, is that they don't always have to happen immediately, and they don't always have to follow a straight line.
Basically, an email conversion can be defined as when a subscriber takes the path you point them toward in your message. For example, if your email promotes an event, a click through to the registration page is progress, but a completed registration is a conversion. If you're sending a monthly newsletter with links to your blog content, the conversion can be measured by how many of the featured posts are read, or how long your subscribers spend on the blog post-click.
Some emails lend themselves to direct conversions (I promote a product, you buy it). But there's also value in "indirect" conversions, where your email inspires some other interaction with your site or product.
For example, say I send an email promoting a report download. My subscriber opens the email—and then does nothing. But my email reminds them that there's other content on my blog that they want to check out. Later on, they visit and read some posts, see a promotion for a weekly email they're interested in, and decide to sign up for it. Is this conversion the one that the original email intended? No, but the email was still the catalyst that started the subscriber down the path to signing up for a new email list, so it's an indirect conversion.
April Mullen, Sr. Marketing Strategist at Selligent, says:
Very simply, an email conversion is when a desired action takes place as a result of a customer receiving an email from your brand. Many marketers, though, consider an email conversion taking place when email is attributed as the source after a customer makes a purchase or some other action such as registering for a webinar or signing up for a contest. That view is fairly myopic, though. Email is so much more than the final conversion event. It has a critical hand in the revenue-driving process by moving your customers down the funnel toward the website through a series of micro-conversions.
What's a micro-conversion, you ask? They are all the smaller, desired actions that your customers go through to reach the end goal you had in mind for the campaign. Everything from delivered, opened, clicked, etc. should be considered as conversion events or micro-conversions that all have a hand in a campaign's success.
In fact, if we really consider where the sale/registration/contest entry takes place, which is on a website, then email's ultimate conversion event is really a click that passes a customer on to the website. I believe email's ultimate goal is to sell a click because email isn't actually the place where the final conversion event takes place (that is, unless you are one of those exceptionally innovative brands that has figured out a good experience to sell right from email without driving customers to your website).
The next time you see an email campaign that has incredible click-throughs, but low conversions, don't blame email. Unless it over-promised something that the website couldn't deliver, the email did its job.
John Caldwell, President of Red Pill Email, says:
Broadly speaking, conversion means any desired, measurable action taken by prospects and/or customers, irrespective of channel. That was the definition of conversion in pre-internet direct marketing. It's the broad definition of conversion in email, as well.
A conversion doesn't always involve money changing hands. A conversion can be filling out a form or downloading a report. This is especially true with high-consideration, high-ticket, long-sales-cycle purchases, such as the business-to-business prospecting that marketing-services providers typically engage in. However, for some organizations, conversion always means a sale. Those are called conversions to sale.
Whether or not conversions involve immediate sales, it is important to measure the value of those conversions on a rolling monthly and quarterly basis. Measure the number of sales that result from the period's conversions and divide the number of sales by the number of conversions to get the conversion-to-sale percentage.
But remember, any of these desired actions cannot be considered conversions unless they're a result of some action taken by the organization. You want to be able to accurately gauge your marketing efforts without artificially inflating them with serendipitous leads and sales.
The Risk of Conversion Inflation
Our experts make great points and the distinctions they make are valuable ones. But at the same time, it's easy to see how confusion can arise and conversion inflation can occur.
The risk is that email marketing programs become out of alignment with business goals and objectives so that you may have a "successful" email program that doesn't contribute to the success of the business. While the conversions associated with a campaign or email can vary from top of the funnel to the bottom of the funnel, the conversions that business leaders talk about and care about exist primarily at the bottom of the funnel.
The easiest way to avoid fuzzy metrics, definition creep, and false equivalencies is to keep track of campaign goals and metrics, but then also translate those results so they match up with the business's goals and metrics. Keeping your email-centric metrics separate and distinct from your business-centric metrics will ensure that your email marketing will be a success in the eyes of your business's leaders.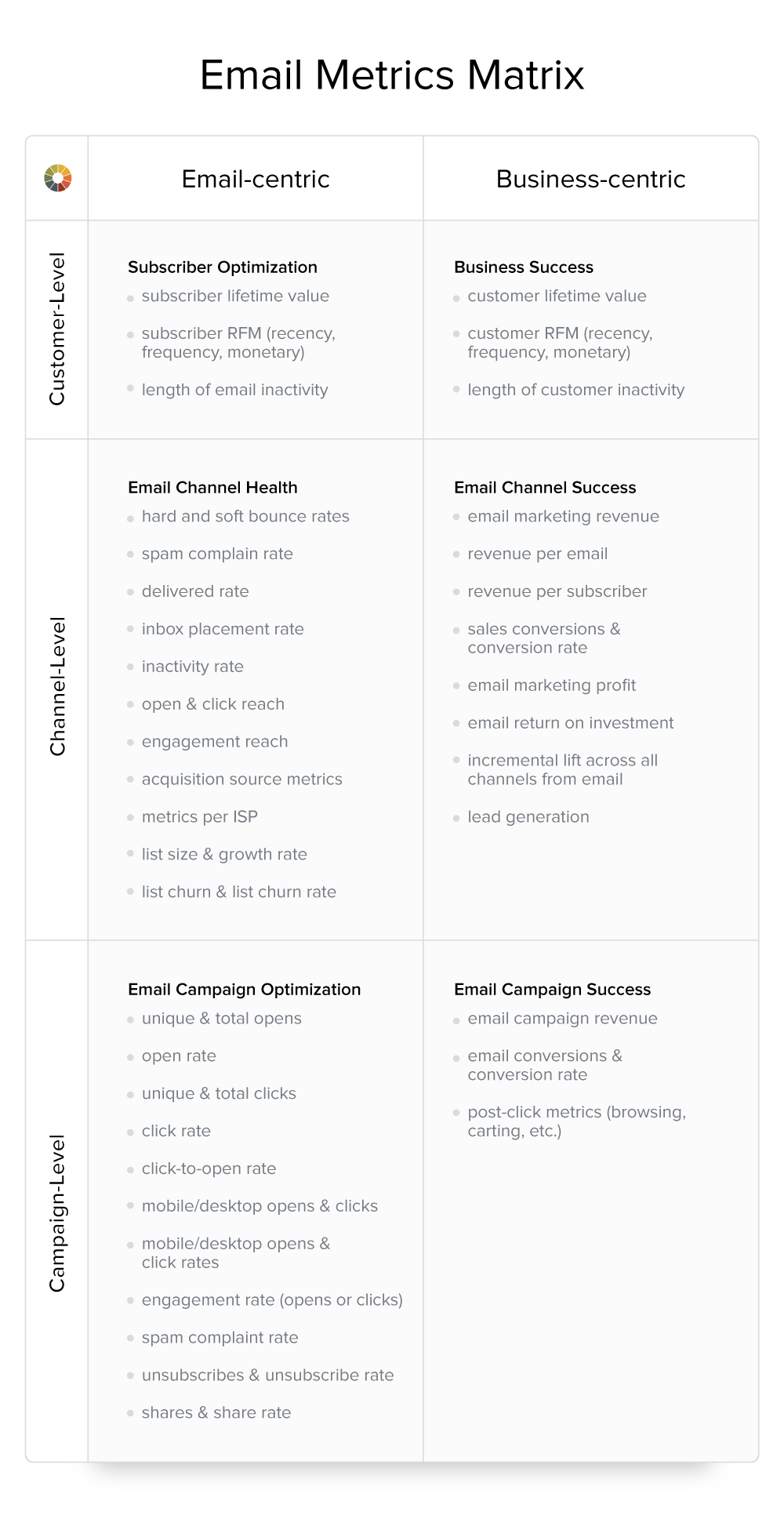 GET THE LATEST DELIVERED STRAIGHT TO YOUR INBOX
Want to get more tips and advice like this? Subscribe to our weekly newsletter and get the latest content for email marketing pros delivered straight to your inbox. Every week.