Who owns the email inbox?
This question came up during a recent panel discussion on deliverability at Salesforce Connections and interestingly each of the three panelists had a different answer. The first said, Senders own the inbox. The second, Subscribers. And the third, Inbox Providers.
We were intrigued, so we asked the Litmus community what they thought. They came down heavily on the side of subscribers, with inbox providers in second place, and senders in a distant third place.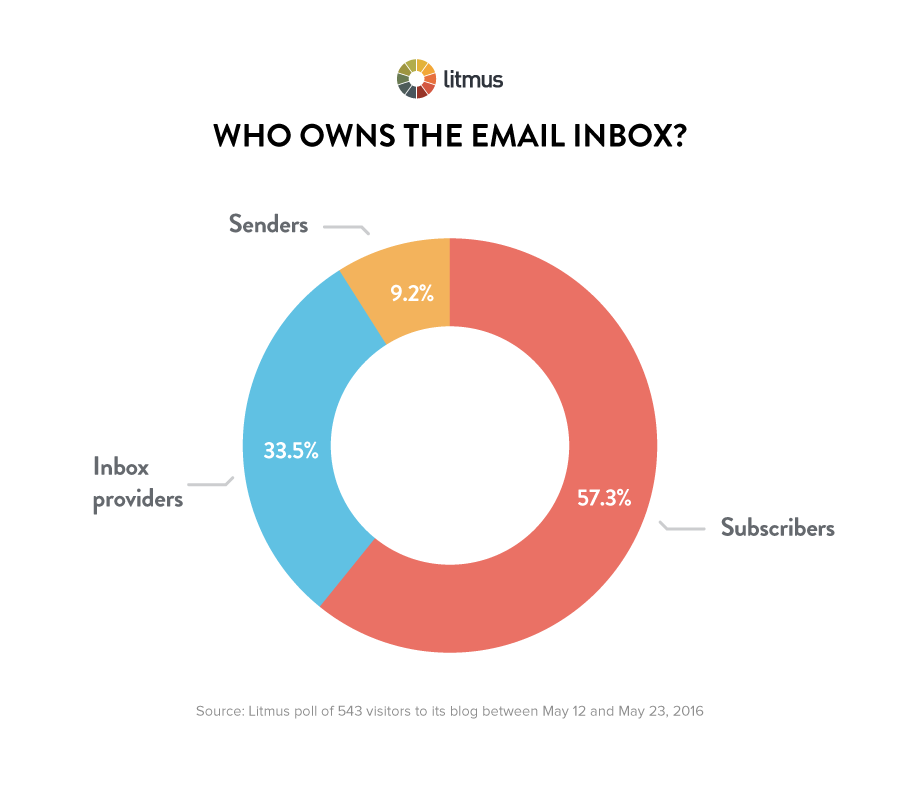 We think that breakdown is a great representation of the ownership of the email inbox, which is shared space. While the format of an email address—Subscriber@InboxProvider.com—tells you who's in charge, it's undeniable that all three parties have an important role to play in the inbox and that each have their own kind of control.
Why Subscribers Own the Email Inbox
Subscribers control permission, which is the foundation of email marketing. And armed by inbox providers with the "report spam" button, subscribers are able to enforce that permission. If a subscriber doesn't want you in their inbox, they can permanently boot you with a single click.
To stay in subscribers' good graces, marketers need to send emails that are…
Respectful. Marketers need to secure permission properly, set the right expectations, and honor unsubscribe requests quickly.
Functional. Marketers need to send emails that are legible and render appropriately across all email clients and devices, have links that work and connect with appropriate landing pages, and otherwise live up to their quality assurance expectations.
Valuable. Marketers need to deliver content that subscribers want. Thankfully, brands have many tools at their disposal, including personalization, dynamic content, triggered messaging, predictive intelligence, and good old A/B testing.
Remarkable. And lastly, marketers need to create emails that are (at least occasionally) worth sharing and talking about.
We sum all of this up—along with how marketers can measure how they're doing—in our Hierarchy of Subscriber Needs chart from The Viral Email report.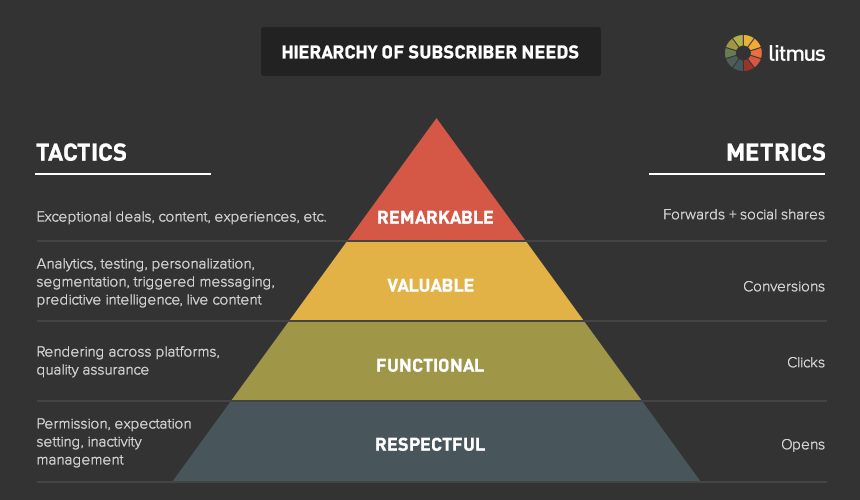 Why Inbox Providers Own the Email Inbox
One of the main jobs of inbox providers is to protect their users from spam—everything from the traditional malicious spam to the nouveau "I no longer want it so it's spam" spam. If you tick off too many of an inbox provider's users or don't follow the rules of being a good sender, then an inbox provider can junk or block all of your emails to their users.
To stay in inbox providers' good graces, marketers need to…