Email marketing is becoming more and more data-driven. But when dashboards and stats dominate decision making, it's easy to forget that behind every open there is an individual—behind every click there is a human.
Don't get us wrong. Utilizing the power of data is crucial for every email marketer. But marketers who've truly mastered their art combine a data-driven mindset with another crucial skill: empathy.
Always be aware that behind every open there is an individual—behind every click there is a human. Empathy matters in email marketing.
Empathy as the key to email marketing success
You can't be a great communicator if you aren't empathetic. Empathetic communicators are able to take the perspective of others to understand how they think, feel, and act. But it's not just about listening and understanding. Most importantly, empathetic communicators can use those insights to adjust their language in a way that resonates with their audiences.
It's no different in email marketing. The best email marketing puts your subscriber's needs before your own. Marketers who put themselves in their audiences' shoes, who listen, reflect, and respond appropriately—rather than just tell—are the better communicators. And in marketing, that means you'll build a more powerful, personal relationship with your audience and get your message across in a way that truly resonates with your subscribers.
A supreme example of empathetic email marketing: Bloom & Wild's Mother's Day opt-out campaign
For the British Flower delivery company Bloom & Wild Mother's Day is a busy time, with plenty of email campaigns leading up to the day. But while Mother's Day is a joyful time for some, it can be a very sensitive period for others. For those who have lost a loved one or had trials around motherhood, every Mother's Day email can be a painful reminder of loss.
Empathy means knowing that your audience isn't homogenous. Your email list is a collection of individuals with unique stories and feelings—and the same message will not be perceived the same way by everyone. A Mother's Day promotion that many will perceive as a friendly reminder to spoil their moms will feel like a punch in the gut to others.
That's why the Bloom & Wild team allowed their subscribers to opt out of Mother's Day reminders: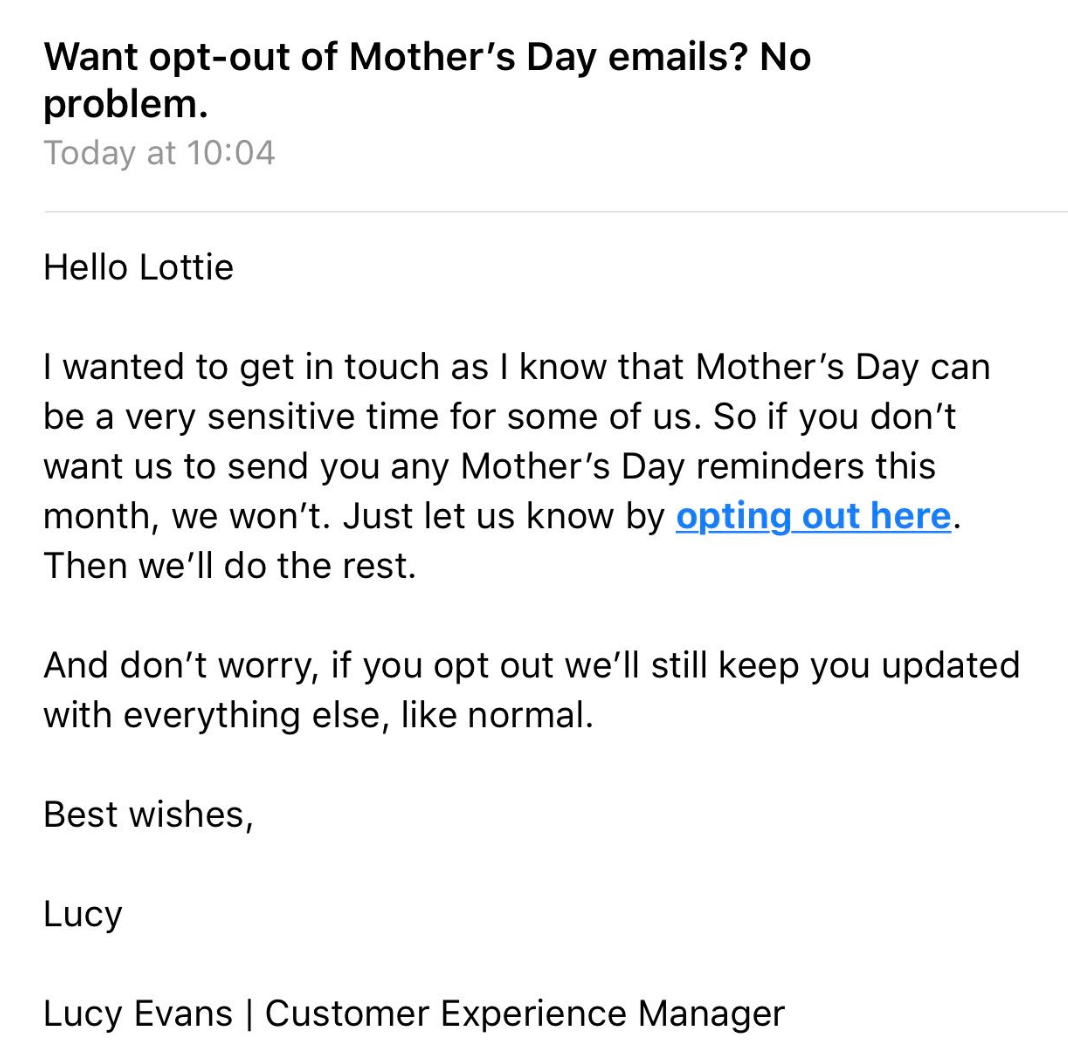 We absolutely love this thoughtful approach—and Bloom & Wild's audience did, too. Here are just a few examples of the praise the Bloom & Wild team has received in response to their opt-out campaign: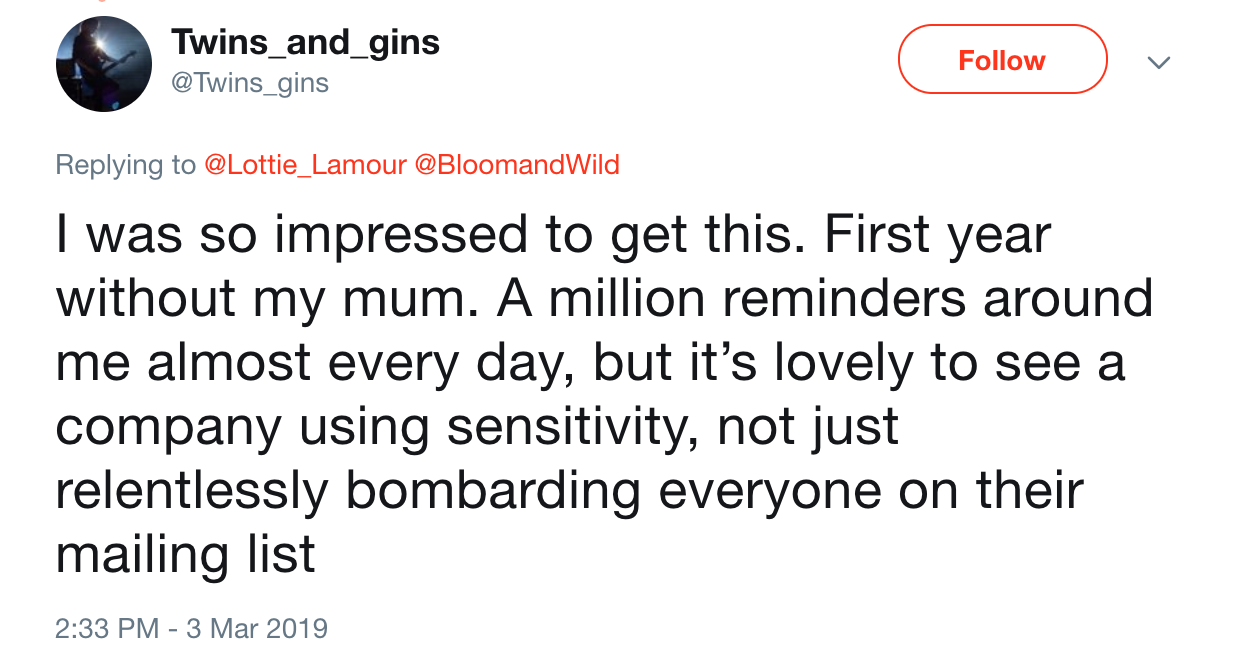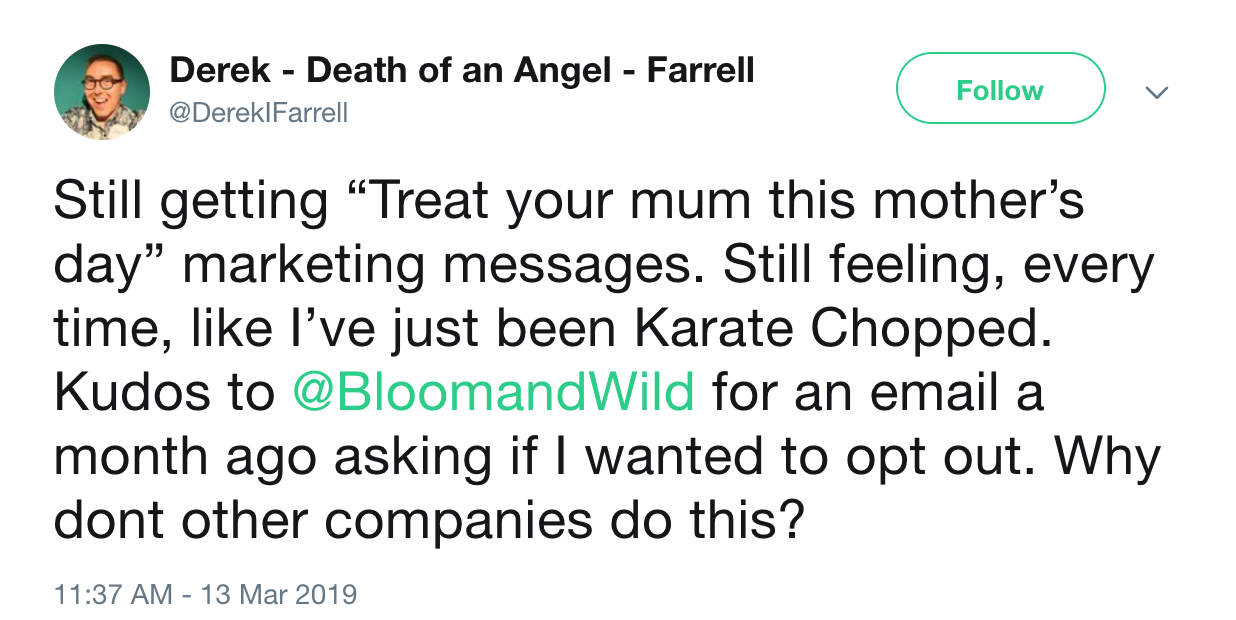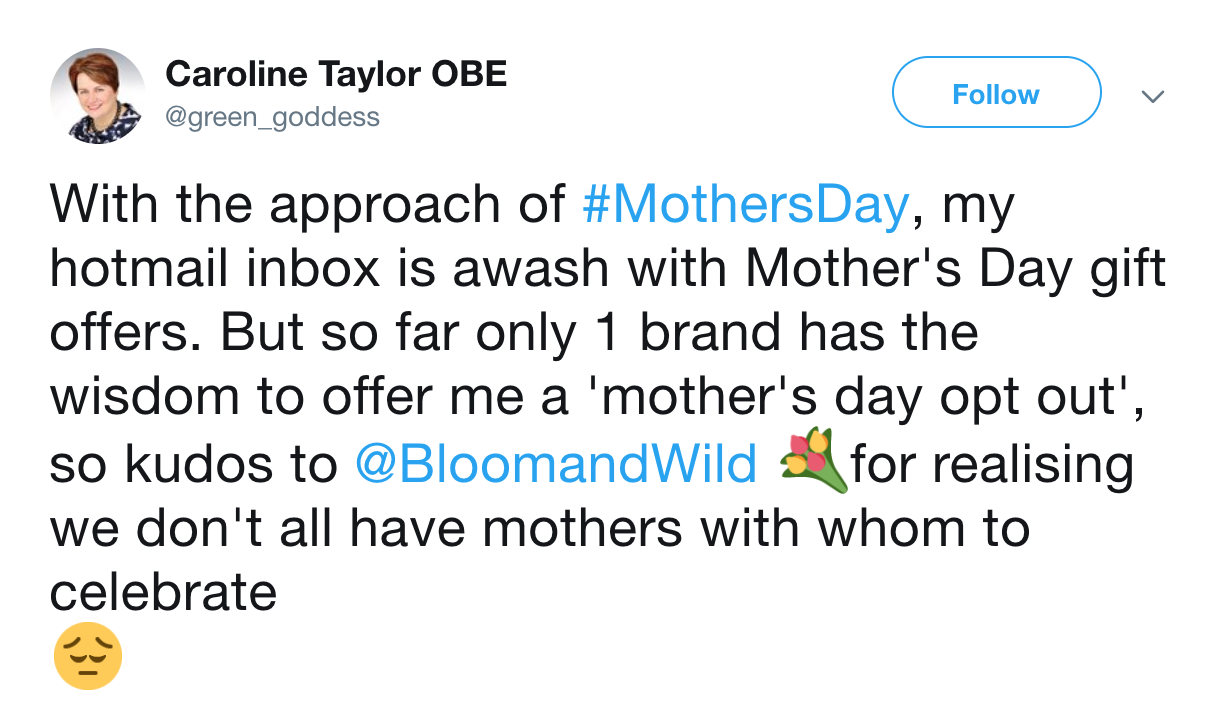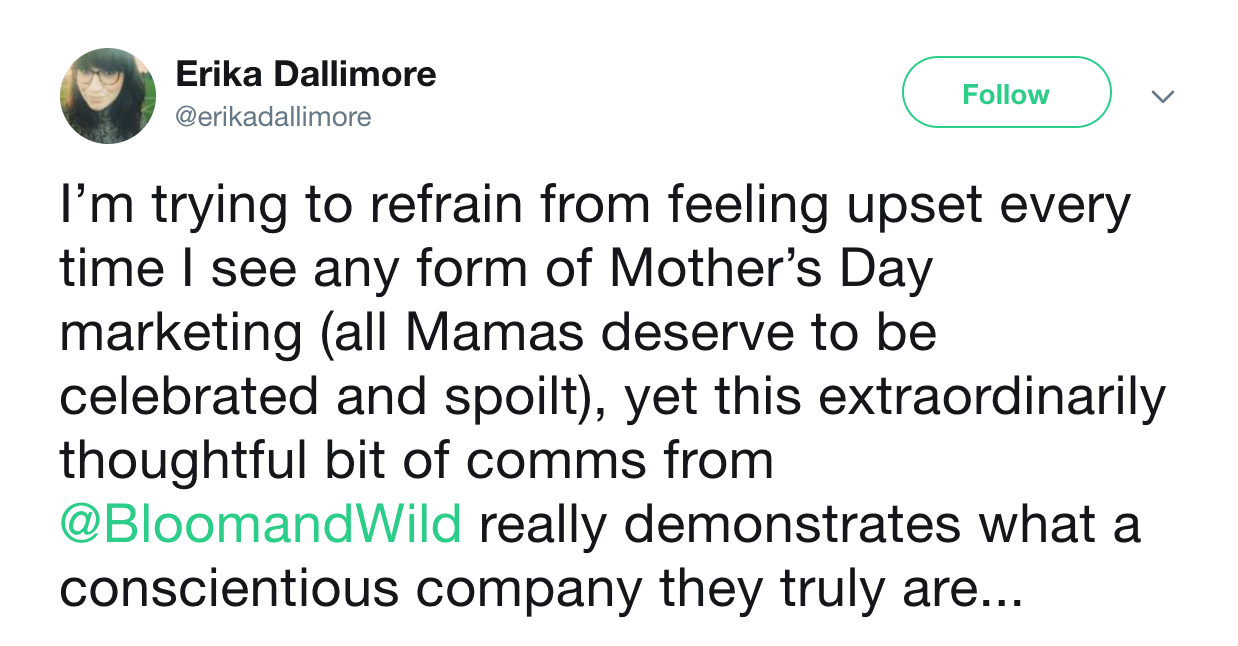 An interview with the Bloom & Wild team
We sat down with the Customer Experience team at Bloom & Wild to learn how they came up with this thoughtful idea, how they made it happen, and what results they have seen.
How did you come up with the idea to send a Mother's Day opt-out campaign?
We've got really core customer values so every decision we make is based on what's best for our customer. Last Mother's Day, some of our customers told us it was a really hard time for them, either because their mums were no longer around or because they'd had trials around motherhood themselves. So we wanted to take that on board for this year. It was a mix of genius from our teams; our tech team for working out how to exclude peak occasion-focused emails and our customer relationship management team, who wanted to start this initiative.
How did this campaign perform?
We've been overwhelmed by the positive result of this campaign! We knew there was a need for it, but we had no idea how successful it would be.
We sent our email on a Sunday, when we know our customers have a little more time to read through their inboxes. By Monday morning, our Customer Delight team was inundated with emails of thanks and praise. Since then, we've seen the number of people opting out of Mother's Day emails increase as word spread and we've also put the opt-out link in all our newsletters for anyone who may have missed the first email.
It seems obvious to us to implement this for other potentially sensitive occasions throughout the year, like Father's Day and Valentine's Day.
The logistics: Once a subscriber indicated that they'd like to opt out from Mother's Day emails, how do you ensure they're getting excluded from those emails but not other campaigns?
When subscribers click on the opt-out button via our opt-out landing page, we capture their IDs and then remove them from our Mother's Day email segments. To start with this was a bit of a manual job, but we have an amazing tech team who automated this process, making it really easy to manage.
We also created separate versions of our newsletters so even though they opted out of Mother's Day comms, we were still able to send them emails. This was really important as we didn't want to exclude them entirely. Subscribers who opted out of Mother's Day emails are temporarily opted out, so we'll be adding them back into our weekly newsletters from April 1st. They will be able to stay on the list for the future too.
This thoughtful opt-out campaign gathered a lot of attention on social media and in the press. Did you see an increase in new customers or subscribers after running the campaign?
The response was incredible! Mother's Day is a time when we acquire a lot of new customers, so this campaign definitely helped to spread the word and reach people that may not have heard of us before. It had a particularly positive result on social media, where we saw a large increase in followers across all channels.
What did you learn from this campaign?
It has really reinforced the importance of being customer-first. This is one of Bloom & Wild's core values so it's literally in everything we do. As mentioned, we will be implementing this opt-out strategy for other key occasions in the year. And we're currently working on making this type of opt-out more of a self-serve option for people, so they'll be able to manage their preferences themselves via their account.
Based on your learnings and the feedback you've received from subscribers and others, is there any advice you'd like to give to fellow email marketers?
Plan ahead. We had this planned months before Mother's Day because we wanted to make sure we had separate emails in place for those opting out. So planning ahead hugely helped.
Listen to your audience. There was also a really clear need for this from listening to our customers. These are the people who should be at the center of every campaign, so knowing what they want (or don't want!) is so important.
---
Do you have more examples of empathetic email marketing?
Bloom and Wild's opt-out campaign is a great example of empathetic email marketing. Do you know any other brands that have mastered the art of human email marketing? Let us know your favorites in the comments below.