Back to templates
Free Multiple Columns Email Template
Take your emails to the next level with our versatile Multiple Columns email template, designed for multi-purpose use with the goal to captivate—and engage.
How to use this template
To access the template, click "Get this template" and sign in or register for a Litmus Community account.
The template will open in Litmus Builder.
Customize the template in our code editor or copy and paste it into your ESP.
Update the logos, brand colors, fonts, and content to make it your own!
Start using multiple column emails today today
Our Multiple Columns email template is a game-changer in simplifying the creation of multi-column emails. No need to deal with complex coding or design challenges. We've crafted this template with your convenience in mind, so you can effortlessly create engaging, multi-column emails that impress your subscribers. Download it today!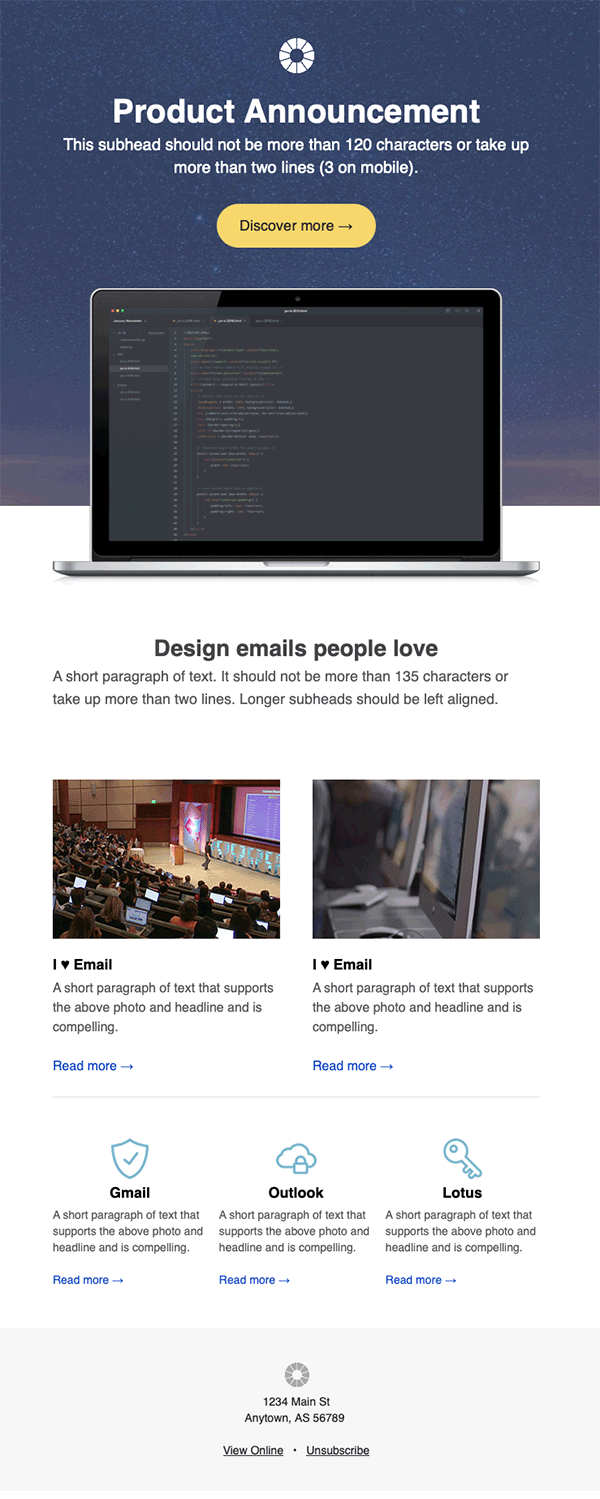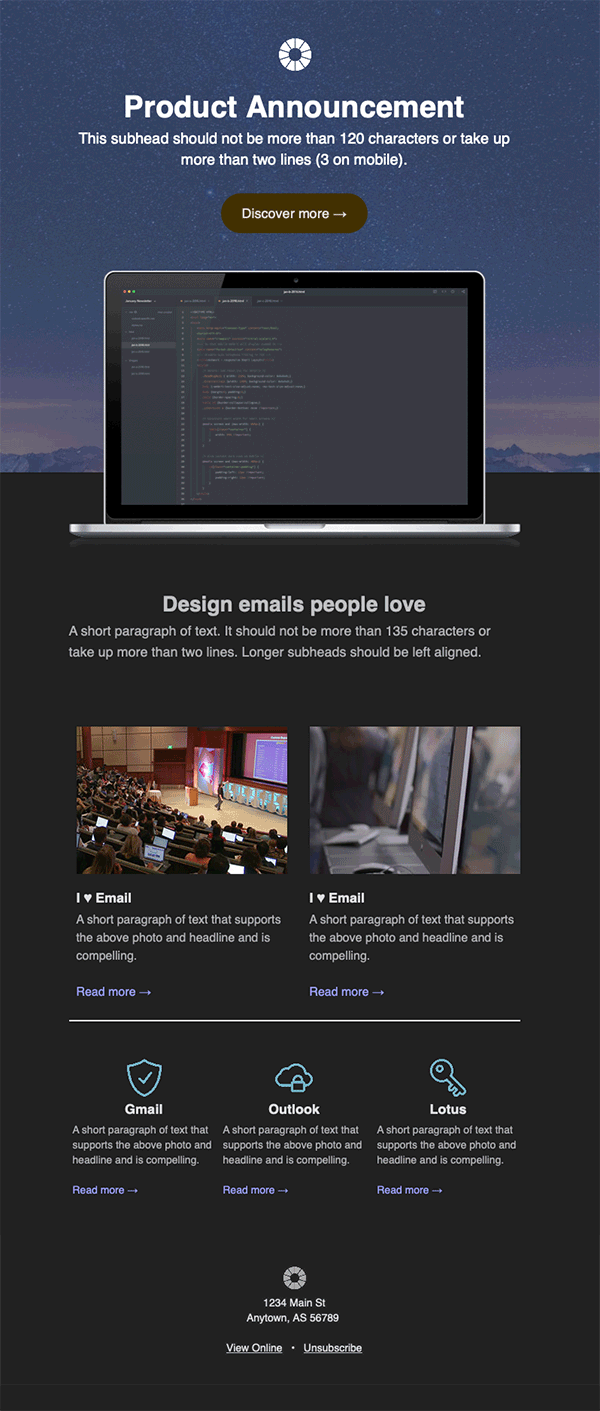 Litmus Previews
Frequently Asked Questions
Have a question about our templates not answered here?
Ask the community
What is a Multiple Columns Email Template?
Unlike traditional single-column email templates, this template is designed to support multiple columns, allowing you to organize content side-by-side. This layout can be particularly useful for presenting various pieces of content, such as images, text, or links, together in a cohesive way.
This template uses nested tables to create the multiple columns, which effortlessly stack into a single column on a mobile device.
Multiple Columns Email Templates are often used for a variety of purposes, including newsletters, marketing emails, product announcements, and more.
Who should use a Multiple Columns Email Template?
Multiple Columns Email Templates can be beneficial for various individuals and organizations that want to create visually appealing and organized email communications, including:
E-commerce stores: Online retailers can use multiple columns to create visually appealing product catalogs, displaying images, product details, prices, and links to individual product pages.
Newsletter creators: Newsletters often contain various sections like featured articles, event updates, and announcements. Multiple columns can help organize these sections and make the newsletter more engaging.
Event organizers: Promoting events with multiple details such as dates, locations, schedules, and ticket links can be simplified using multiple columns.
What are the benefits of using a Multiple Columns Email Template?
Using a Multiple Columns Email Template can offer several benefits for your email marketing and communication efforts:
Enhanced visual appeal
Multiple columns allow you to create visually engaging emails that are more visually appealing than traditional single-column layouts. You can use columns to display images, text, and other content side by side, making your emails more attractive and engaging. And by using media queries to adapt the multiple column layout into a single column for mobile devices (with the right column stacking under the left column) , that visual appeal won't be lost on those subscribers who choose to view your emails a smaller screen.
Improved content organization
Multiple columns make it easier to organize and present your content in a structured manner. You can use columns to segment different sections of your email, such as product listings, headlines, descriptions, and calls to action, making it easier for recipients to navigate and understand your message.
Increased information density
With multiple columns, you can convey more information in a smaller space, which can be particularly useful when you have a lot of content to share allowing  you to provide recipients with a comprehensive overview of your message without overwhelming them with a long, single-column email.
Increased engagement
The visually appealing and organized layout of multiple columns can capture recipients' attention and encourage them to read your emails thoroughly leading  to higher engagement rates and better results for your email marketing campaigns.
Versatility
Multiple Columns Email Templates are versatile and can be used for various purposes, such as newsletters, product announcements, event invitations, and more. The options are endless.
What changes can I make to the Multiple Columns Email Template?
Avoid excessive column nesting, intricate HTML and CSS code, and overly large images, as these can lead to complicated rendering issues on different email clients and devices.
You can edit the images, text, font, logo of the template to ensure it matches your brand's identity. 
Which A/B tests could I run on the Multiple Columns Email Template?
A/B testing, also known as split testing, is a valuable technique for optimizing your Multiple Columns Email Template. Here are some A/B tests you can run to improve the effectiveness of your emails:
Layout and design
Column number: Test different numbers of columns (e.g., two columns vs. three columns) to determine which layout resonates better with your audience.
Column width: Experiment with various column widths to find the optimal balance between content presentation and readability.
Content variation
Headlines: A/B test different headlines to determine which one encourages more click-throughs.
Product/service order: Change the order in which you present products or services to see if it impacts conversion rates.
Content length: Test shorter vs. longer content in the columns to gauge how it affects engagement.
Is the Multiple Columns Email Template compatible with major email marketing platforms?
Yes, the Multiple Columns Email Template is compatible with major email marketing platforms such as MailChimp, Constant Contact, HubSpot, and more.
Is it optimized for different email clients and devices?
Of course! The Multiple Columns Email Template has been Litmus tested in 100+ email clients and desktop, webmail, and mobile devices. Plus, it's proactively monitored with Litmus Email Guardian to ensure it continues to look pixel perfect and ready to perform.
Does the Multiple Columns Email Template meet email accessibility best practices?