Back to templates
Free Pyramid Design Email Template
Use a tried-and-tested design technique with the Pyramid Design Email Template, that is literally designed to increase email conversion rates.
How to use this template
To access the template, click "Get this template" and sign in or register for a Litmus Community account.
The template will open in Litmus Builder.
Customize the template in our code editor or copy and paste it into your ESP.
Update the logos, brand colors, fonts, and content to make it your own!
Start using the Pyramid Design Email Template today
This email template helps you effortlessly draw attention to your email's call-to-action button to encourage your subscribers or customers to make that click. Not by using any trickery, but using the subtle art of design to draw the eye down to where you want folks to take action.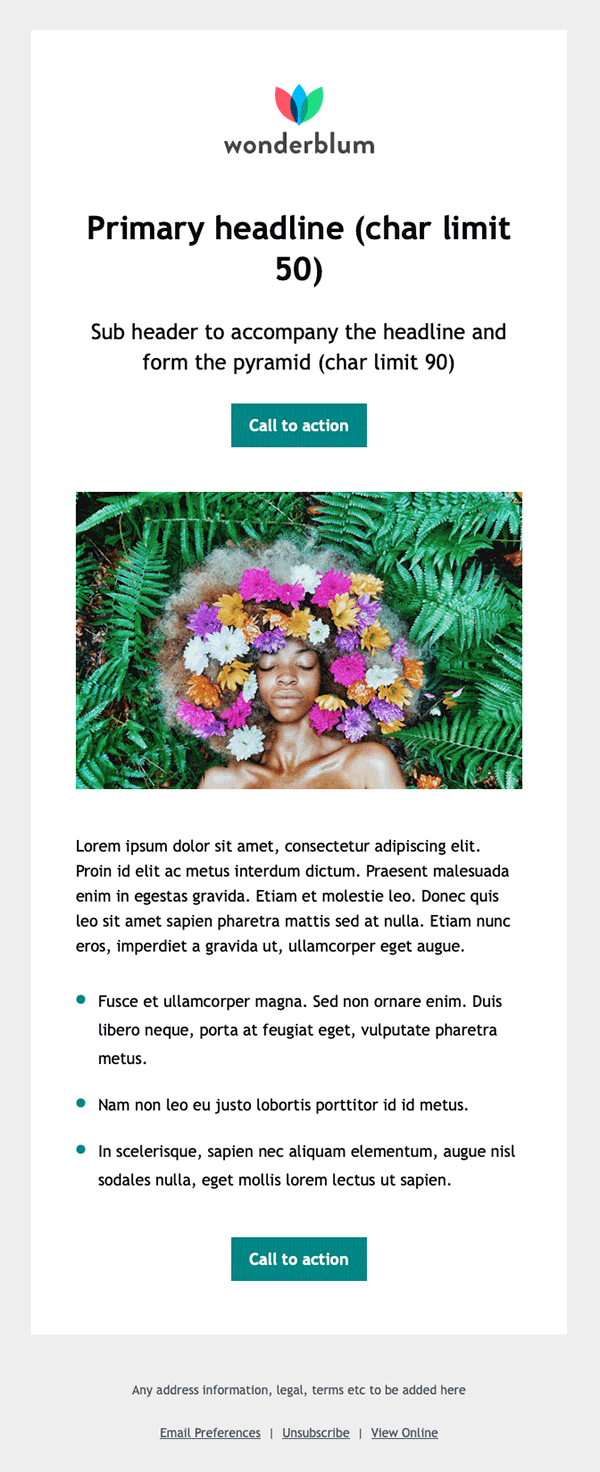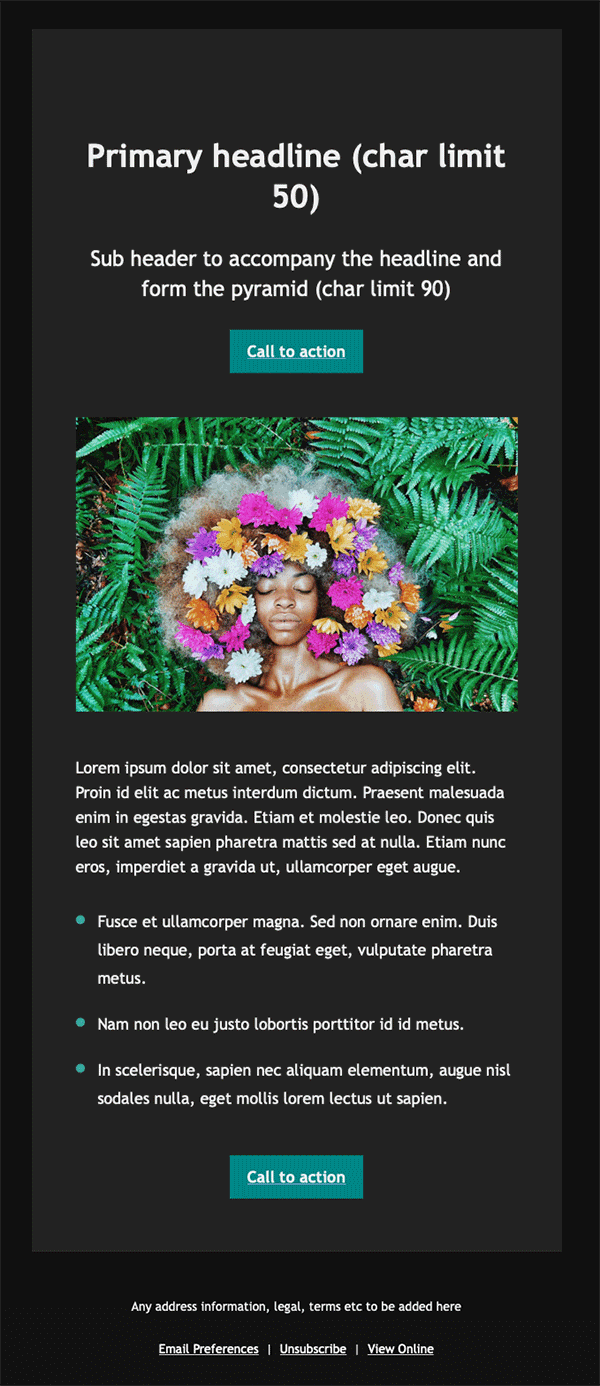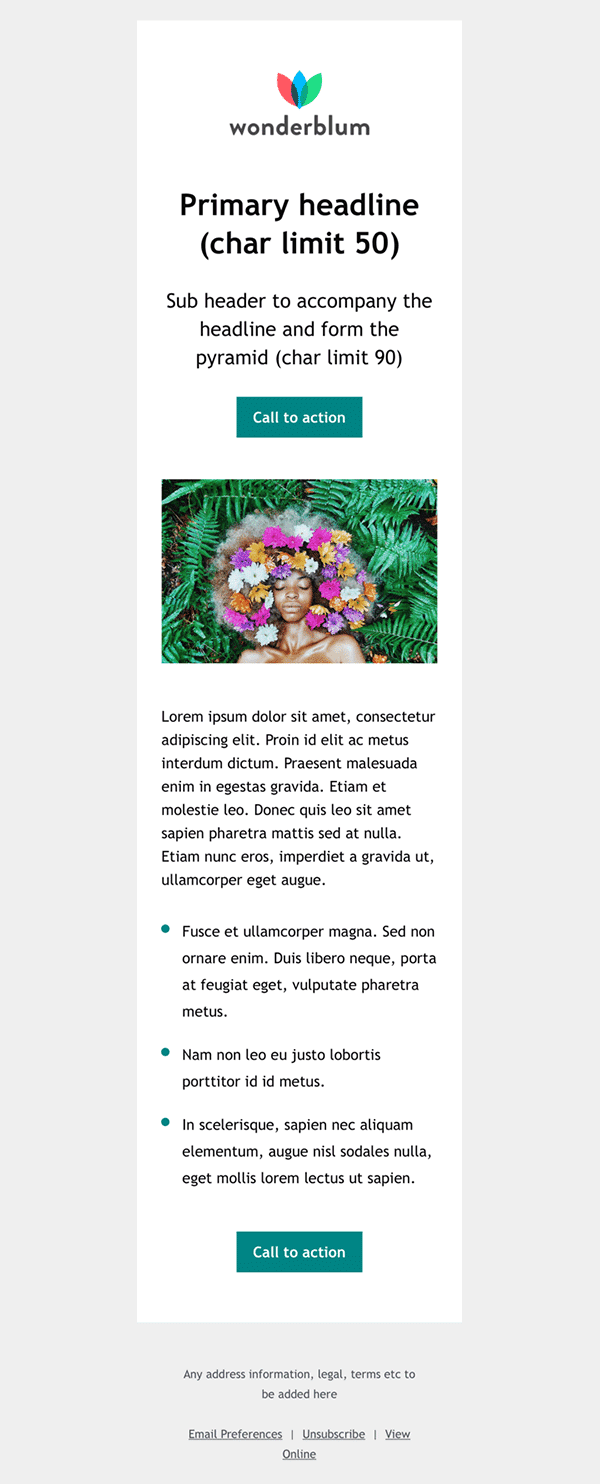 Litmus Previews
Frequently Asked Questions
Have a question about our templates not answered here?
Ask the community
What is the Pyramid Design Email Template?
The Pyramid Design Email Template is crafted to guide the reader's attention toward a specific call-to-action (CTA) in an email. The layout takes the form of an inverted pyramid, starting with a broad, attention-grabbing header and progressively narrowing down to the primary CTA. This design ensures that recipients naturally flow through the email content, with their focus ultimately landing on the most critical element—the CTA. The power of this template lies in its simplicity and its ability to direct attention effectively, minimizing distractions and prompting readers to take the desired action.
What are the benefits of using a Pyramid Design Email Template?
Enhanced Visual Appeal:
The Pyramid Design Email Template is crafted with a strong emphasis on aesthetics and visual appeal to immediately capture the recipient's attention, increasing the likelihood of engagement to drive the best results.
Consistent branding:
This template allows for consistent branding across email campaigns. You can easily incorporate your logo, colors, and design elements, to match your brand's identity.
Fully responsive:
The Pyramid Design Email Template is designed with responsiveness as a priority and displays perfectly across desktops, mobile devices, and even tablets.
Increased engagement:
The visually engaging nature of the Pyramid Design Email Template can lead to higher click-through rates by pulling the reader towards the main call-to-action through the visual hierarchy.
What changes can I make to the Pyramid Design Email Template?
Avoid making any changes that alter the visual look of the "pyramid". Ensure your headline and subheading lead into the call-to-action button featured in the header of the email design.
Is the Pyramid Design Email Template compatible with major email marketing platforms?
Yes! This email template is completely platform-agnostic, meaning you can use it in your email marketing platform of choice. That could be MailChimp, HubSpot, Constant Contact, or any other.
Is it optimized for different email clients and devices?
You betcha! This email template is Litmus-tested in over 100+ email clients and devices, and proactively monitored with Litmus Email Guardian to ensure it continues to look pixel-perfect and ready to drive results.
Does the Pyramid Design Email Template meet email accessibility best practices?
Absolutely. We've taken into account everything from ensuring the HTML code is semantic to enable subscribers who use a screen readers can read—and take action—on the email, to color contrast, and providing alt text for the image.