Litmus Research Finds that Email Marketing's ROI Is 38-to-1
Its high return on investment likely signals email marketing program mismanagement, report concludes
CAMBRIDGE, Mass., & SAN MATEO, Calif., October 11, 2018 — Litmus, the industry's leading platform for email creation, testing, and analytics, has released new research, "Email Marketing ROI: The Factors That Lead to Better Returns," based on data from nearly 400 marketers worldwide. The report's key finding is that brands generate returns equal to 38 times what they invest in their email marketing programs.
Other insights from the report, which is part of Litmus' State of Email Survey Research Series, include:
High ROIs are providing a false sense of security. While email marketing's return on investment is 38:1 on average, brands only achieve the highest total returns after their email marketing ROI crests.
Brands are under-measuring their ROI. Brands that can measure their email marketing ROI very well report returns of 46:1, compared to only 33:1 for brands that can measure their ROI adequately.
Few brands can measure their email marketing ROI well. Despite all the attention given to performance-driven decision-making, 70% of brands admit they can't measure their email marketing ROI well.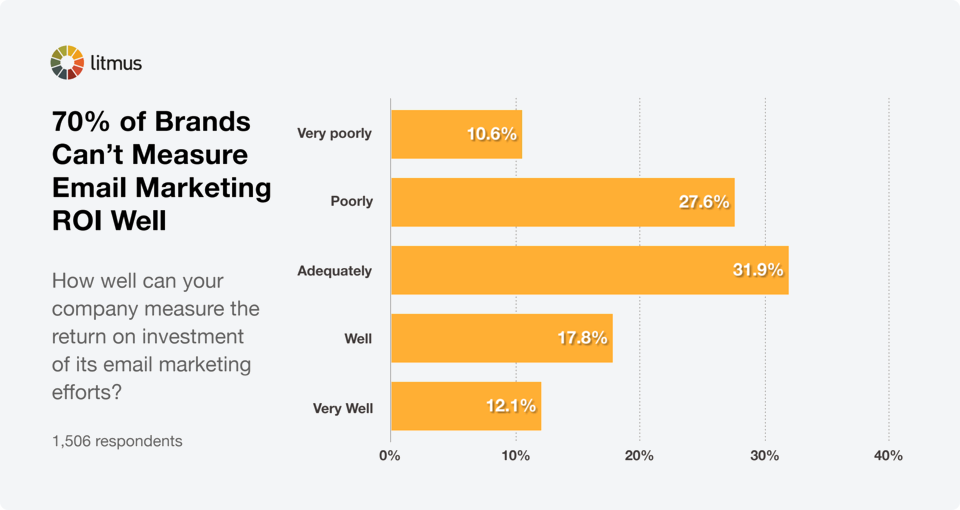 "Email consistently and undisputedly provides the biggest returns in digital marketing, and is leaps and bounds more effective than traditional advertising channels like TV and radio," said Chad S. White, Director of Research at Litmus and author of Email Marketing Rules. "But these sky-high ROIs are actually a sign of mismanagement. Companies should be investing so much more in their email marketing programs that they drive their ROIs down to somewhere closer to 20:1, if not lower."
David Rich, Chief Marketing Officer at Litmus, said, "Our findings paint a picture of email marketers as being complacent with high return rates rather than pursuing high absolute returns. Email marketing can perform even better if companies invest more in the sophistication of their email marketing tools and tactics."
For example, Litmus' research found that users of Litmus Builder, a code editor that's built to streamline the email development workflow, generate an email marketing ROI that's 40% higher than non-users (49:1 vs. 35:1). And users of Litmus Email Analytics, which gives brands the most complete performance and engagement data available for email professionals, generate an email marketing ROI that's 19% higher than non-users (44:1 vs. 37:1).
Additional insights on how marketers can improve their email marketing programs can be found in Litmus' State of Email Survey Research Series, which includes the 2018 State of Email Service Providers and 2018 State of Email Workflows reports. Garnering responses from 3,000 marketing professionals worldwide, Litmus' third annual State of Email Survey provides insights into every facet of running a successful email marketing program.
Media Contact: Justine Jordan at press@litmus.com
About Litmus
Litmus provides powerful tools for email creation, testing, analytics, and collaboration, empowering marketing teams to confidently deliver increased subscriber engagement and campaign ROI while ensuring brand consistency. Litmus is used by major global brands across every industry that trust its Email Creative Platform to make their email better, including 9 of the top 10 ecommerce brands, 7 of the top 10 technology companies, and 23 of the top 25 US ad agencies. Learn more about Litmus at litmus.com, subscribe to the Litmus blog, or follow us on Twitter.