Litmus + Pardot
Combine the power of Litmus + Pardot to create more error-free emails, faster.
Access the power of Litmus & Pardot
Preview the subscriber experience across 90+ email clients and check other critical pre-send elements as you build in Pardot without the hassle of switching between tools. Test your way to more conversions and gain access to tools to help you streamline your review & approval process and gain advanced email insights.
Create emails that result in exceptional subscriber experiences by testing as you build in Pardot
Resolve delivery issues with Litmus Tests, including Spam Testing
Gain the insights that matter most with subscriber-level Email Analytics

COLLABORATE
Streamline your email creation, review, and testing workflow to enable your team to deliver high-quality campaigns, faster.

INTEGRATE
Catch and fix costly errors by testing with Litmus Extension as you build in Pardot, without having to switch between applications.

GAIN GREATER INSIGHT
Get the insights you need to improve personalization and segmentation so you can boost marketing effectiveness on all channels.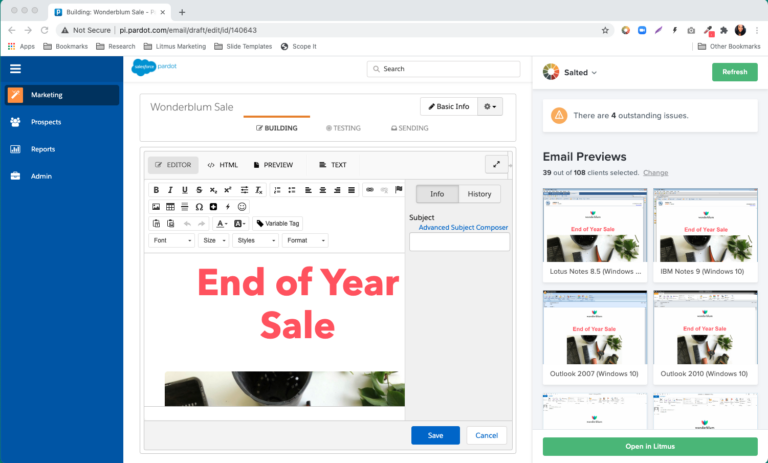 Streamline pre-send testing
Test emails as you build in Pardot with the Litmus Chrome Extension to see how each email renders on popular email clients and devices and check critical pre-send elements, without having to switch between tools.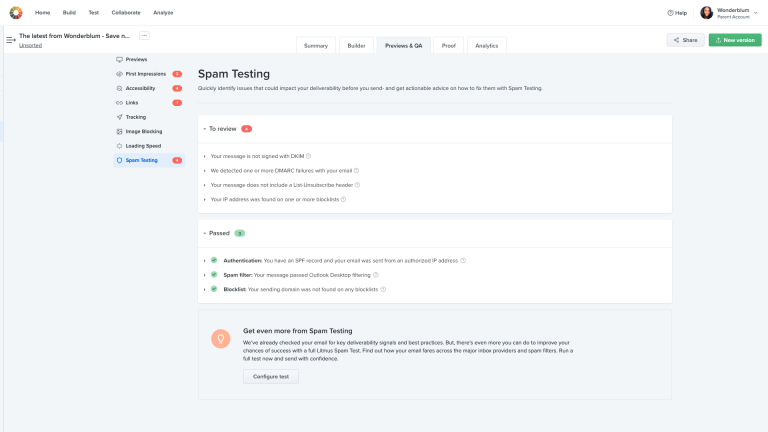 Deliver exceptional experiences to every inbox on your list
Run a thorough Litmus Test, including a Spam Test, to identify and fix any issues that could prevent your email from reaching your subscribers… error-free and on-brand.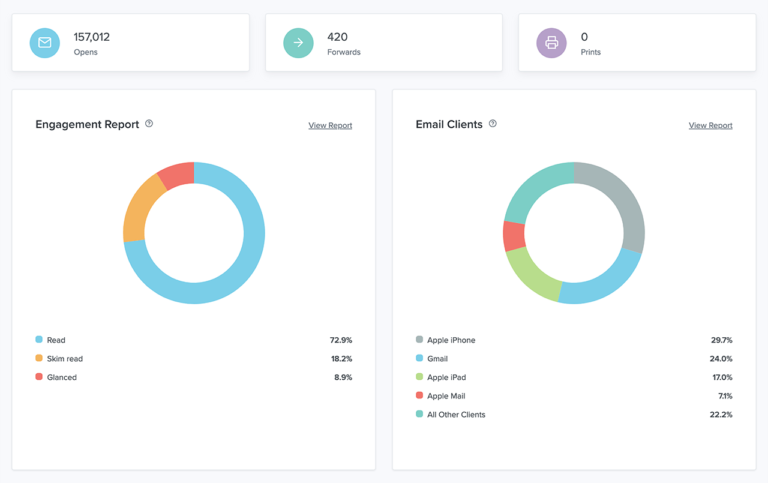 Improve performance everywhere
Litmus empowers you to get more from your Pardot campaigns. Litmus Email Analytics lets you understand which messages resonate best, so you can apply those insights across your marketing portfolio.
Interested in pricing for Litmus?
We just need some quick details so that one of our specialists can follow up with you on pricing. We will be in touch shortly!