Read Time: 3 min
[Report] 2019 State of Email Workflows: From Pre-Send Planning to Cross-Channel Integration
Email is your most effective and measurable channel—so long as you set it up for success through every phase of the production process. Creating a high-performing email takes time and resources—and your workflow can make or break your team's productivity and campaign quality. A watertight email process keeps projects moving quickly, helps keep stakeholders in the loop, and ensures high-quality output. A broken process, on the other hand, can be damaging to your program and your team.
Email is your most effective and measurable channel—so long as you set it up for success through every phase of the production process.
But what does the ideal email workflow look like?
In our fourth annual State of Email Workflows report, we use insights from 3,000+ email marketers to take a detailed look at how teams get email campaigns out the door at every step.
How Email Marketers Plan Campaigns and Manage Production Cycles
Nearly every email marketer has been asked if they can "just send out another email." But it's rarely that simple.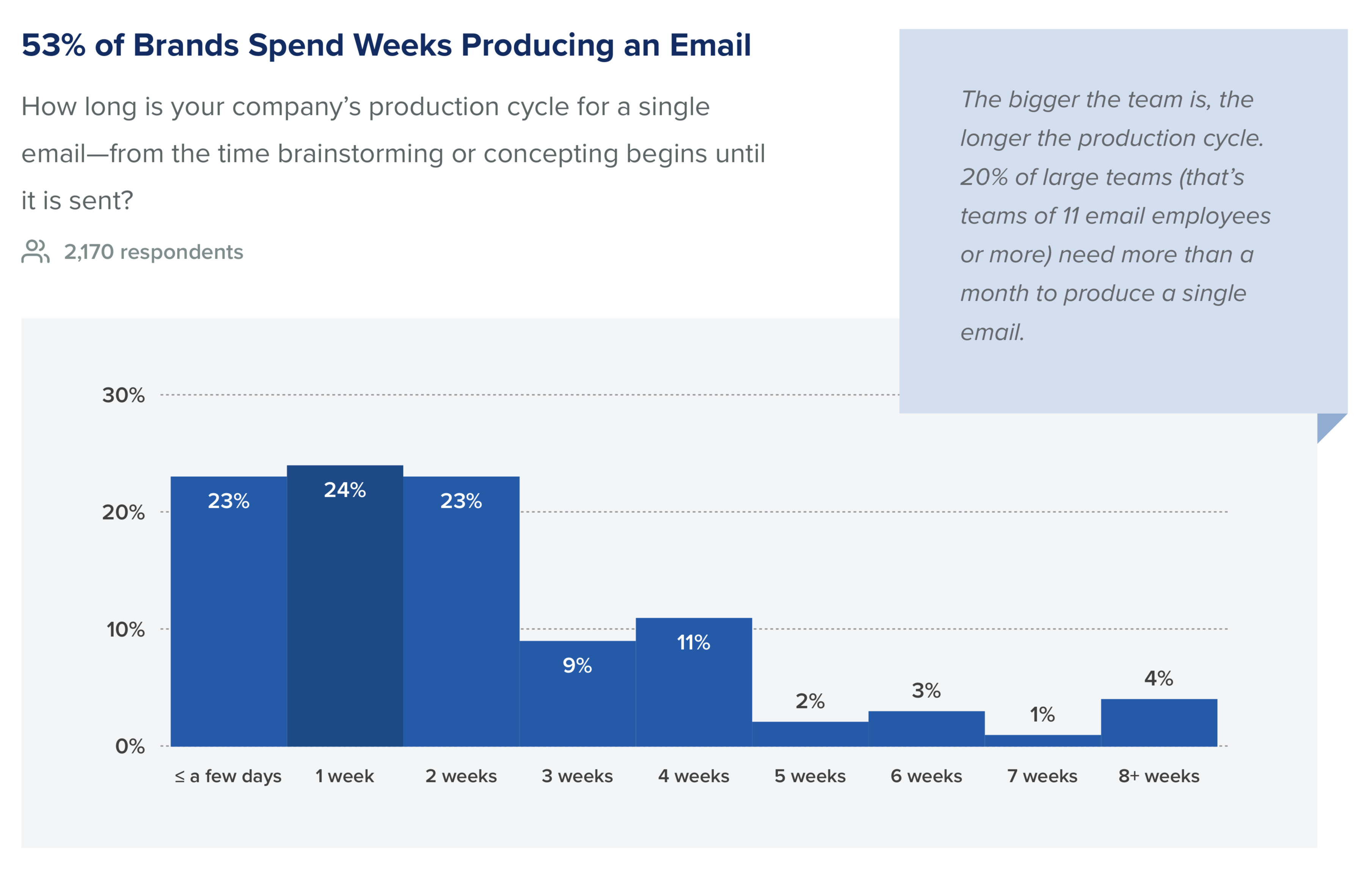 53% of brands need 2 weeks more to produce a single email.
Tweet this →
And do you know what part of the email workflow is taking the longest? It's not copywriting. Do you think it's design or email coding? You'd be wrong. Download your report copy to learn what step of the process is the biggest time drain.
Learn where email teams waste the most time →
How Email Marketers Handle Crucial Pre-Send Processes
Every year, it's getting increasingly more difficult for a brand to be heard through the sea of ads and messages. What's going to make you stand out from the hundreds of emails in your subscribers' inboxes? If you want your email campaigns to drive action, you must send campaigns that are targeted and effective. And to do that at scale, you need a bulletproof pre-send process.
We walk through how your peers handle the pre-send email workflow and what tools they use to get it done.
For example, nearly half of email marketers use Adobe Dreamweaver for email development. Litmus Builder is the second most popular environment with 26% of all marketers using Builder to code their emails.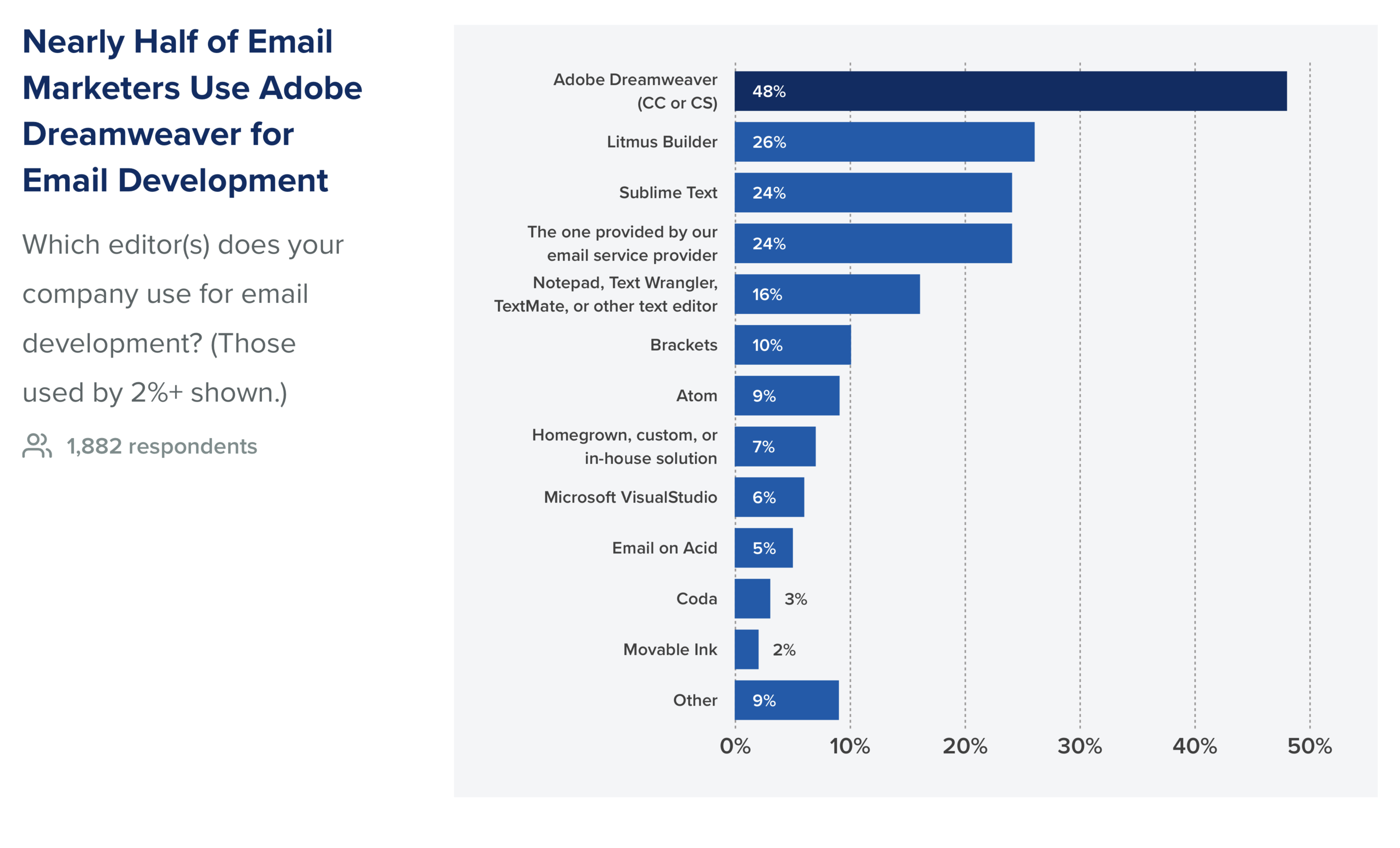 Download the full report to also learn:
What content planning tools email marketers rely on

How marketers design and code their emails (and what tools and tricks can speed up the process)

How brands handle testing and QA

And more!
How Email Marketers Analyze Campaigns Post-Send
Arguably some of the most important work you can do in email marketing is analyzing the results of your campaigns to make your emails even better.
You can only craft and target personalized messages to your audience if you understand them—who they are, their behavior, their engagement. So it's no surprise that 63% of marketers use third-party tools to enhance the insights they get from their ESPs.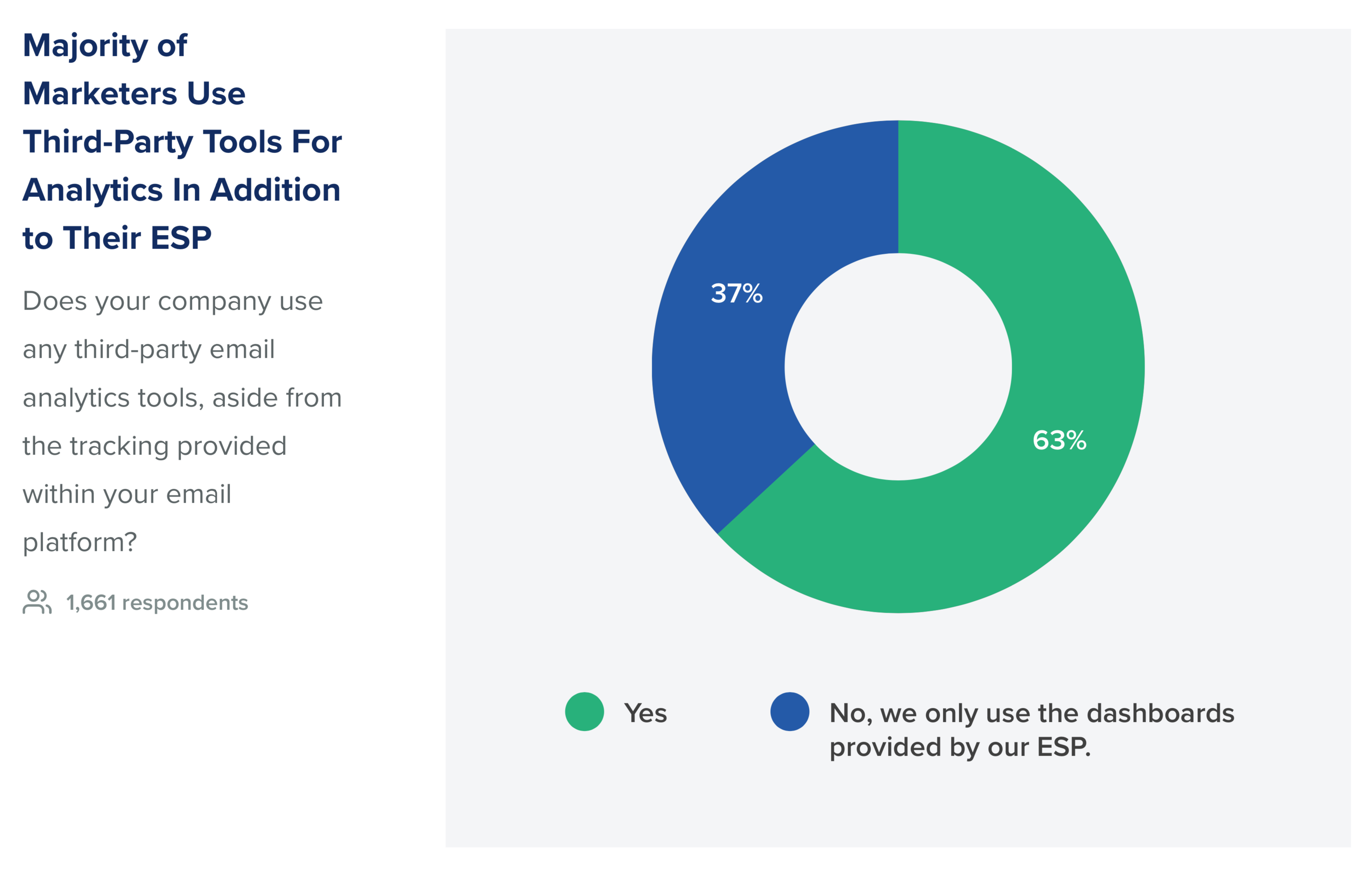 Curious to learn what tools your peers use and what metrics they measure? Download the report for a full overview of how brands measure the effectiveness of their campaigns.
How Email Marketers Integrate Email With Their Other Marketing Channels
It's time to look beyond the email channel on its own. The best email marketers don't just send great campaigns and evaluate what's working. They also communicate the power of the email channel across the marketing organization and beyond. The best brands know that their email subscribers are the most closely aligned to their prospect audience and best able to show what they most want to hear about. Curious how well your peers integrate email with the rest of their marketing mix?