Google's Android operating system currently holds over 60% of the market share of mobile and tablet devices. That's a lot! The second most popular mobile operating system is Apple's iOS, which has 33% of the market.
But understand Android is hard, even for the savviest email geek. That's why many marketers feel uncomfortable troubleshooting email and talking through Android strategies with clients or developers. To help you facilitate those conversations, here are three keys to understanding email rendering on Android.
1. Android is fragmented
While Apple's iOS enjoys high adoption rates as soon as Apple releases a new version, Android doesn't. Many older Android devices are not eligible to upgrade to newer OS releases, leading to massive fragmentation of Android. The most recent Android operating system is often not the most popular among Android users.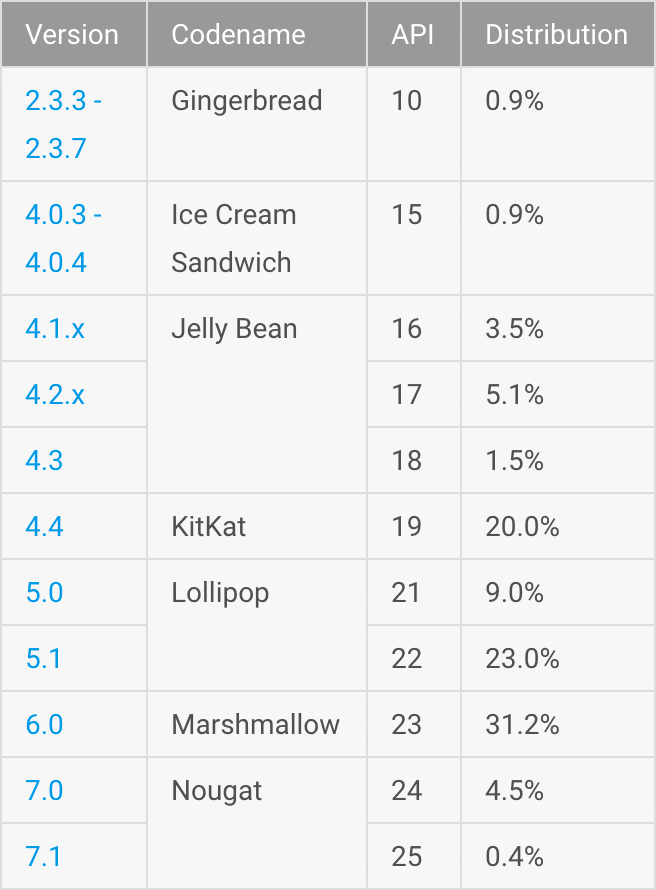 Android 6 (Marshmallow), first released in October 2015, is still the most popular Android OS with over 31% of Android devices running this version. The latest version of Android, released in 2016—Android 7.0 or Nougat—is found on just under 5% of Android devices, placing it as the fifth most popular Android OS.
See Android Opens

Use Litmus Email Analytics to see exactly which Android version your email subscribers are using.
2. Android devices come in many screen sizes—and that makes it hard to build the perfect email
In 2015, OpenSignal reported there were over 18,000 distinct Android devices in circulation, all with a multitude of screen sizes. Why does that matter to email marketers? Screen size gives you an indication of which media queries to use to optimize your email for certain devices.

Developers can use the hybrid coding technique to combat Android's screen size fragmentation. Hybrid coding doesn't rely on media queries to resize and change the email width for different device sizes—a perfect approach if you have to support a broad range of Android device dimensions.
3. The 'one' Android mail app doesn't exist any more
Before Android 5.0 (Lollipop), all Android devices used Android's default mail app. No matter if you had a Samsung, Sony, or LG device—if your device was running on Android 4.4 (Kitkat) or earlier versions, your device had the Android default app pre-installed.
With Android 5.0, however, things changed. Google nixed out-of-the-box support for its native email app, making it possible for vendors to use the Android OS without being forced to integrate the default apps, too.
While the native email app is no longer installed by default on all Android devices, apps developed by Google remain available as open source to vendors and the public. Vendors like Samsung and Sony are free to use Google's so-called "vanilla" version—Google's open source mail app—and make any changes they like, or develop their very own email app from scratch. With that, many email apps that come pre-installed on Android devices are based on Google's vanilla mail app, but with the vendors making changes, all those apps just aren't quite the same.
If you compare the same email on a Sony and a Samsung device, you might spot differences in rendering, even though both devices run on Android 5. Yes, both devices might use Google's vanilla mail app as a base, but your email can render differently based on the individual changes each vendor has made to the mail app.
For example, the vanilla app doesn't support background images or responsive design. However, Samsung has made changes to the vanilla mail app for their devices which includes support for responsive design and background images.
The good news is you can now see how many of your subscribers are using a Samsung device (The most popular Android vendor reported in April 2017) to open your email in Litmus Email Analytics.

Litmus Email Previews and Android
Litmus Email Previews cover the Android 4.4 default app that runs on all KitKat devices, which is still about 20% of the Android market share.
Litmus also offers Email Previews in the vanilla version of the mail app that runs on Android 5.1 and 6. Because many vendors use Google's vanilla version of the mail app as a base to build their own mail app, you can see many different variations of the default mail app on Android 5.1 or 6.0. Neither of these two vanilla mail apps support responsive design or background images. However, since vendor specific-versions typically offer improved support, if your email looks good in the vanilla mail apps, chances are they will look good in vendor specific versions, too.
Android poses a lot of problems for email marketers due to its fragmentation and popularity. However, using data from your subscribers and learning which version of Android your subscribers use can make it easier for you to see where to focus your email optimization efforts.
Test Your Emails in Android
See what your emails look like in Android with our suite of Android mail apps, available in Builder and Checklist:
Android 4.4 Native Email Client
Android 5.1 (Vanilla)
Android 6.0 (Vanilla)
Android Gmail App (Gmail accounts)
Android Gmail App (IMAP accounts)
With more Android mail apps on the way.
Test Your Email Rendering in Android
Want to see how your emails look in 60+ desktop, mobile, and webmail clients, including Android? Give Litmus a try free!