The email industry is constantly changing, but how will the ever-changing industry impact what email teams look like in 2020 and beyond? Which skills will be in hot demand in the future, and how can managers set up their email teams for future success?
We asked leading industry experts how they see email teams change in the years to come. Here are their predictions.
1. Demand for emails—and the talent to support them—will increase
The creative and managerial skills that made email an essential marketing and revenue channel at the turn of the 20th century aren't the only ones that will move email into the core of the marketing mix for the next decade.
The one- or two-person team that could manage to build a weekly newsletter or daily promotion is no longer enough to handle the growing variety and technological, data, and reporting demands of a successful 21st century email program.
In Litmus' 2019 State of Email Workflows report, we found smaller teams (1 to 3 full-time employees) were working with 1 to 5 emails at a time, while teams of 11 or more have 21 to 25 emails in varying states of production. The email channel continues to drive results, so brands are looking to send more and better emails—and they're willing to spend more. In 2019, 33% of brands were planning to increase their budget for email team personnel.
"Email is being taken more seriously than it has been in past years. The C-suite is beginning to understand that investing in profitable email programs makes them even more profitable, rather than just settling for the returns they are getting from the channel.

Organizations are realizing that the people they hire to drive the marketing automation tool (email marketing specialists or managers) aren't the same people they need to truly leverage the technology to increase ROI. A higher level person is needed, either a full-time employee or a consultant, who develops and oversees email optimization strategy on an ongoing basis."

Jeanne Jennings, Founder and lead strategist, Email Optimization Shop
In the next decade, email marketers will need to make room on the bench for more players. Besides creative geniuses, teams will need technical marketers who understand the weirdness of the email channels and stay on top of new technological trends. Equally important will be strategists with the vision to look beyond day-to-day business needs to envision wider uses of email throughout the organization.
2. When email is part of a truly integrated program, email marketers must embrace other channels, too
It's not just channel specialists that will be in high demand. As marketing teams embrace a truly integrated mindset and brands begin to look at the email channel to drive cross-channel campaign success, there will also be an increased need for marketers that understand both the email channel itself and its interaction with other channels.
"As email teams prove their worth as effective marketers within the organization, it helps show the team as thought leaders and strategists for groups outside of marketing."

Lauren Kremer, Litmus
Pre, Post, Perform

There are three crucial pillars to email marketing success—and only when you master all three can you build a state-of-the-art email program that can positively impact your entire marketing mix.

In the next decade, having working knowledge in other disciplines will become more crucial than ever for people looking to take on leadership roles in email marketing. Prepare yourself and your team for future success by learning more about channels that are about to get more closely intertwined with email—social media, paid media, content marketing, just to name a few—to prepare for the decade of truly connected marketing programs.
"Good email marketers understand the email channel—but the best marketers understand how email integrates with all marketing channels and can power cross-channel campaigns that span the entire marketing organization."
3. You're never truly alone: The email marketing community will continue to thrive
The earliest email marketers had to teach themselves the art and practice of email. In the 2010s, that practical need spurred the creation of vibrant groups like Litmus' Community, the Email Experience Council, or the #emailgeeks Slack community. These and other email groups share a mission to promote best standards and practices for email, often bringing competitors to the same table to work out solutions for everything from back-end coding to C-suite strategy and management.
"Staying engaged not just with the new processes of technologies we use but also being active within the larger email community will be a big part of continuing to be an effective email marketer.

Email wasn't fine-tuned by just one person. Email marketing as effective communication wasn't led by just one person. Even if you're the only individual responsible for email at your company, there's a world of people that are always willing to share insights and tips to help shine a light on this truly impactful marketing channel."

Lauren Kremer, Litmus
In the next decade, the email community will grow stronger as it welcomes more and more members. If there's one thing we're certain of, it's that #emailgeeks are incredibly supportive of each other and knowledgeable about what they do. Much like the demand for email talent will grow, demand for help from others will grow, too. As email marketers are asked to learn more skills—AMP, interactivity, AI, the list goes on—they'll lean on each other and topic experts to grow their expertise. The list of community resources we have today is strong, and we'll see more additions to help the community feel connected in the future.
What does the future hold for email strategy, design, teams, and more?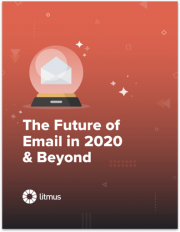 We asked leading industry experts about how some of the most crucial elements of email marketing will change in the next decade. In this ebook, you'll find their collective predictions on what the next 10 years hold for email design, strategy, teams, and more.