As a marketer either doing business in an EU country or holding data on EU-resident customers, the work that went into preparing your email marketing program for GDPR's May 25 deadline is just preliminary. GDPR has long-term effects that will require fundamental shifts in your email strategies.
Below are three skills that you'll have to master to be a successful email marketer a post-GDPR world:
1. Get compliant and stay compliant
GDPR came into effect months ago. However, that doesn't mean that all email programs are compliant yet. After the May 25 deadline, Litmus research found 38% of brands with EU-based subscribers were either only compliant in part with GDPR laws or not at all.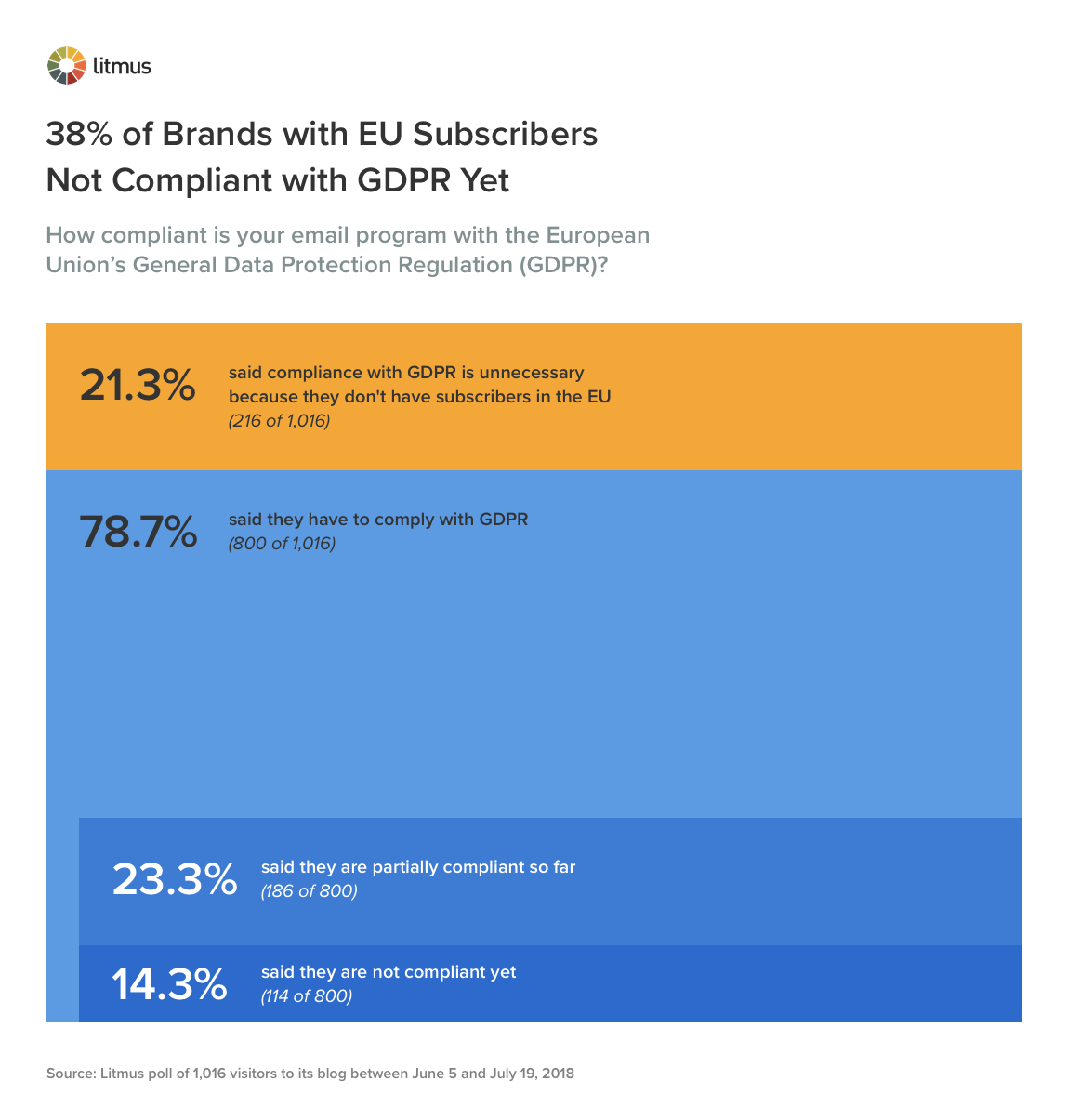 If you belong to the 38% of brands who are not fully compliant with GDPR even though you're subject to the regulation, you'll want to act as soon as possible. Identify areas of noncompliance and get all stakeholders involved to formulate a project plan to fix those issues before they lead to hefty fines.
Let's say you've got all the ground work done and your signup forms, landing pages, and email databases are up to GDPR's high standards. Even then, you can't lean back. Whenever you start a new project, you'll have to keep GDPR requirements top of mind, especially when it involves seeking consent to send marketing messages.
For example, ensure your team doesn't bundle consent with information requests or a download of an upcoming ebook, and make sure that every new landing page that includes an opt-in box has the box unchecked by default. Consider creating a GDPR checklist that reminds you (or your team!) of GDPR requirements—ideally in the planning stage of a new project.
2. Sharpen your acquisition tactics
Strict consent requirements mean that brands must not only remove subscribers for whom they didn't have GDPR-compliant consent but also abandon tactics that helped grow lists quickly that no longer meet GDPR requirements for explicit opt-in and data transparency. These include automatically opting in subscribers who download whitepapers and other content, adding people to your newsletter list who entered a contest, and similar tactics.
In fact, only few brands experienced a major cut in list size when GDPR came into place. However, if you see your list growth slow down, you'll have to explore new acquisition tactics, such as using organic or paid social media to grow your email lists, or adding opt-in boxes to forms that currently aren't designed to collect opt-ins. Litmus' State of Email Deliverability report lists the most popular subscriber acquisition sources. Test to see whether these new tactics are a good fit for your brand, and whether they deliver high-quality subscribers.
Plus, take a critical look at the email opt-in form on your website. Is it placed prominently enough? Does it emphasize the value your email program offers? Consider experimenting with a popover email signup form, but be sure to build in trigger logic that keeps it from becoming a nuisance to visitors who aren't interested in receiving emails from your brand.
3. Make subscriber retention a priority
With list growth likely slowing down, retaining your existing subscribers is more important than ever. Subscriber retention will become an important success metric for email programs—and a key priority for email marketers.
Keep subscribers engaged
Keep a close eye on engagement metrics to ensure content is relevant and your audience engaged, and monitor unsubscribes closely. Segmenting your audience and sending targeted emails based on each segment's unique characteristics and goals can help you send more relevant emails—and thus helps to keep your audience engaged.
But, you should also have a plan for how to handle subscribers that stop interacting with your emails. Consider launching reengagement campaigns, a well-timed strategic message that targets inactive subscribers, reinforces your value proposition, and helps reduce the number of unsubscribes.
Discover Litmus Email Analytics

See where your subscribers open and if they read, skimmed, or deleted your email. Track engagement, subscriber geolocation, and more and use these insights to power your segmentation.
Provide a preference center as an alternative to unsubscribing
With smaller list sizes and slower list growth, each unsubscribe will hurt more.
Instead of simply giving subscribers only one option–opting out–create a preference page that also allows subscribers to customize their subscriptions to their needs. For example, give your subscribers the opportunity to "snooze" the subscription for a set time period instead of simply opting out, allow them to customize the send frequency, or let them specify their content preferences so you can send them more relevant emails. This gives subscribers more control over what kind of emails they want to receive from you, and helps keep unsubscribe rates low.
GDPR is not the death of email
GDPR didn't kill email, but it does require fundamental changes in how you approach list acquisition and management. Master these skills, and you'll not only comply with GDPR, you will also build a stronger subscriber database—and in the email world, that's your greatest asset.