We've all heard the stats about how it's more expensive to attract a customer than retain them, but how exactly is this ongoing relationship so lucrative? Obviously, trust, a great customer experience, and a quality service or product are the bedrock for retaining customers. Ideally, though, your customer's relationship with your company will expand over time, as opposed to stagnating.
As you learn more about your customer and their needs change, you have the opportunity to present upsells. You need to tread lightly, though, or else you risk damaging your reputation with customers.
When to Use Upsell Emails
There's never a shortage of terms and jargon in marketing, so let's review a few words associated with upselling.
Upselling encourages a customer to buy a more expensive version of your product or upgrade their account.
Cross-selling suggests related products or services to complement what the customer has.
The differences between upselling and cross-selling in SaaS emails have to do with what you're suggesting and when. However, the best practices we'll cover below apply to both strategies.
Are cart abandonment emails a form of upselling? While the core action of encouraging a customer to buy more than they were going to is similar between these emails, they aren't the same. The upselling emails we're going to talk about here are aimed at existing customers or trial users.
When you're trying to wrap your brain around upselling emails, it's useful to think about them in context. Here are a few scenarios when you would use an upsell email.
After a purchase.

"Would you like fries with that?" is a classic upsell right before the sale closes. While you may choose to recommend upsells or cross-sells when someone is finishing a purchase on your site, upsell emails will come immediately after the sale.

At the end of a free trial.

Upsell SaaS emails come at the end of a free trial when it's time for a user to make a decision about rolling to a paid plan. Similarly, upsell emails are helpful to send when a user is nearing account limitations.

When a user hits a milestone.

Sending upsell emails isn't just a money grab: you're presenting the best solution for customers. If a customer has reached a particular progress milestone or anniversary, it might be a good time to prompt them about a more advanced solution.

When you launch a new product. I already own an iPhone, yet Apple sends me emails about their latest devices, in hopes of me upgrading. You can do the same!
4 Ideas for Upselling Emails
Deciding when to send an upsell email is only a part of the equation for reaching maximum conversions. You also have to figure out what to sell and how to present it. Here are some upsell email best practices to add to your mental toolbox.
1. Remind customers of their progress.
Context is essential for nailing upsell emails that convert, and you can use your email to set the stage. In the example from Grammarly below, the reader is shown what they've accomplished with the company. The subject line "You were epically productive last week!" alongside personalized stats about being better than other users give the readers a confident boost.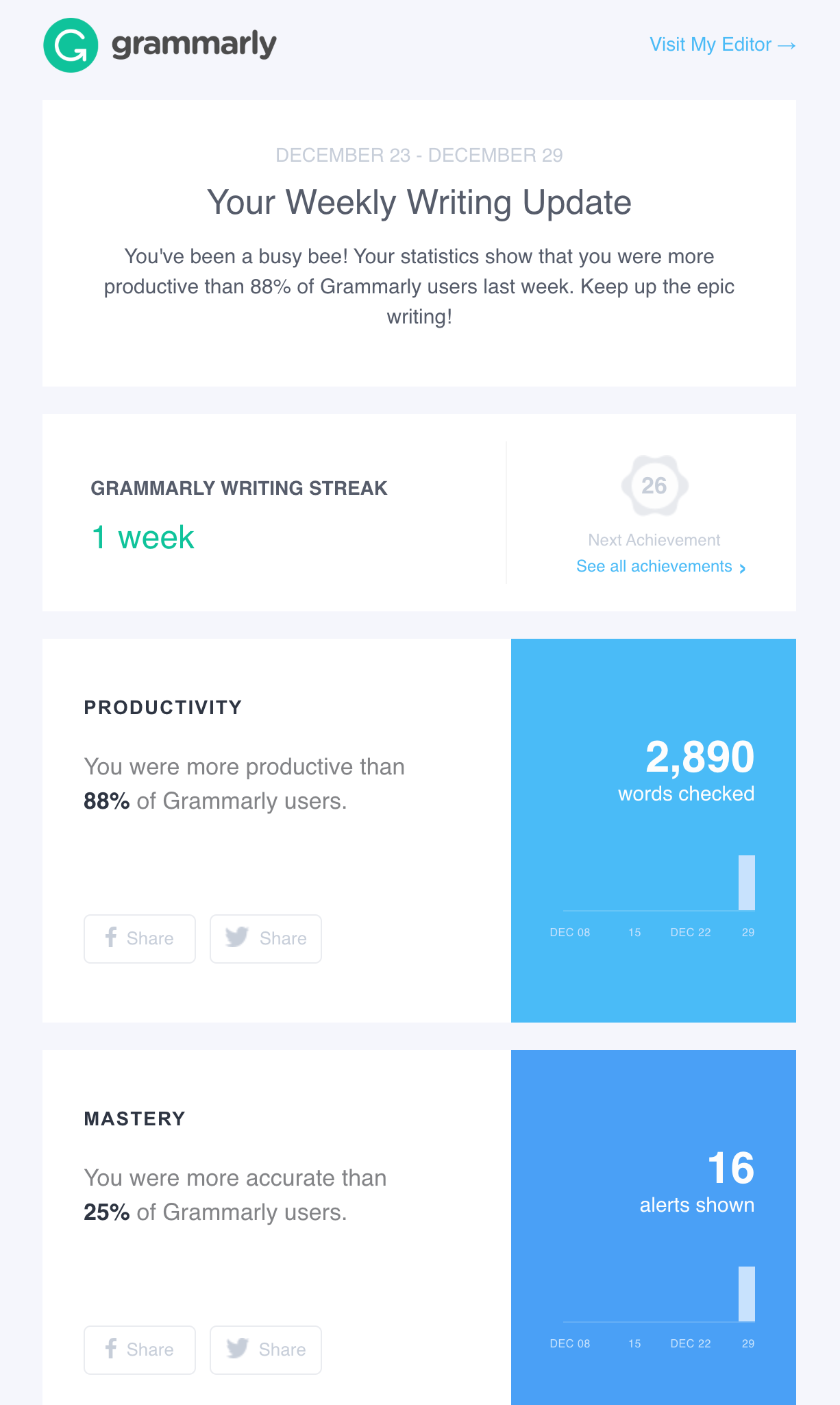 Towards the end of the email, there's a catch. Grammarly changes from reflecting on the past to looking ahead to the future. While the user has checked a lot of words with Grammarly so far, not having a paid account held them back. The offer to upgrade is positioned next to the advanced corrections that they missed out on this week by not having the premium account.
Another milestone that's perfect for sending an upsell email is when users are approaching account limits. Rather than sending an upsell email when someone needs to upgrade now or face an interruption in their workflow, you should give customers a heads up about what's to come.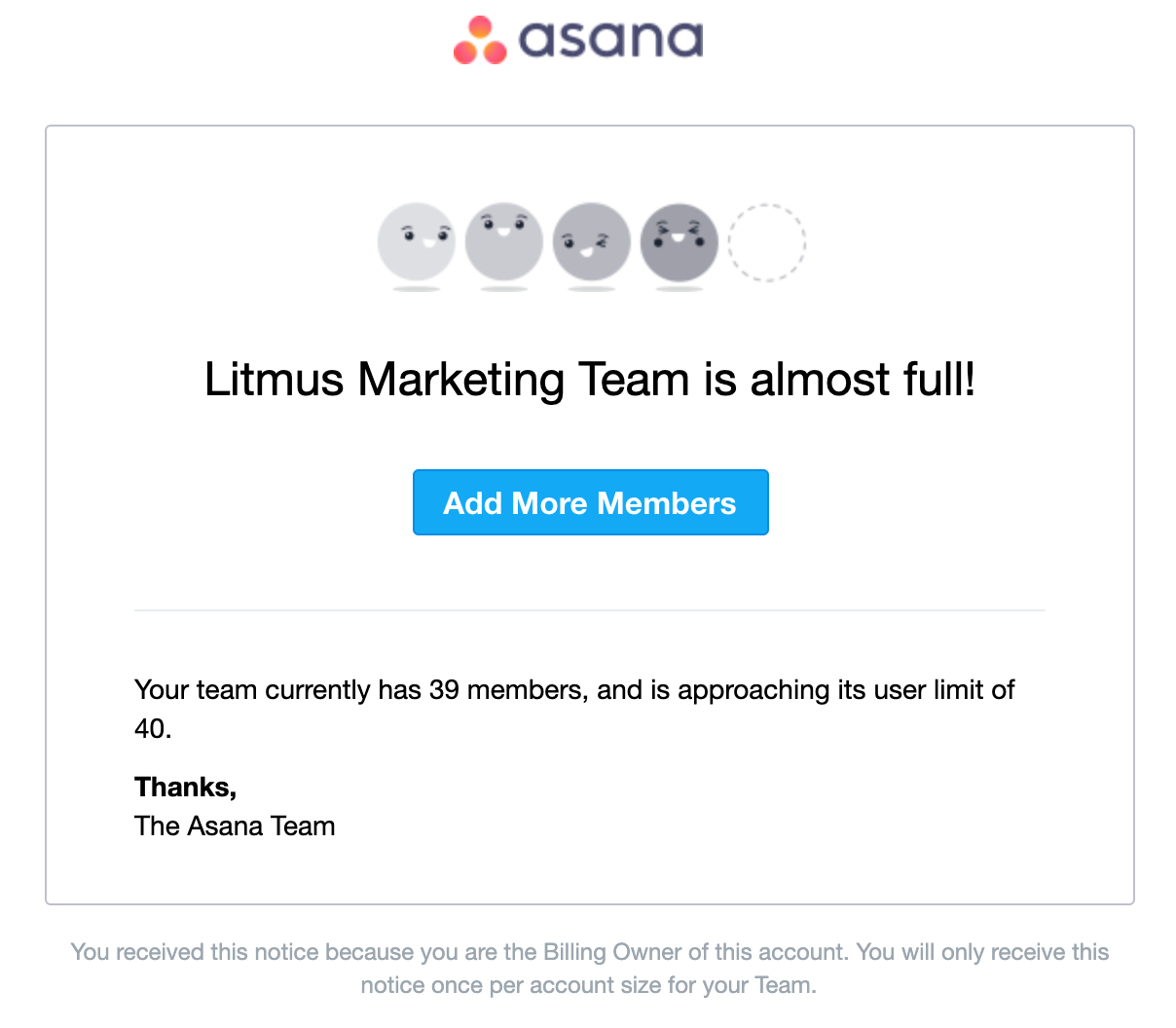 Asana did just that in the email above. The email is short and sweet, but it plants the idea in the user's mind that they need to upgrade soon. Then, when their account is at capacity, they aren't blindsided with an upsell decision.
How to steal this trick:
Remind the reader how great it's been being a customer before presenting the upsell. Highlighting how much value they've gotten from your products so far sets the stage for your ask for more.

Compare and contrast what can be accomplished with the customer's current solution versus the upsell.

For foreseeable upsell opportunities, like account limits, give users a heads up so they can prepare to upgrade.
2. Personalize emails based on goals.
The more you're able to personalize your upsell emails, the less it feels like an upsell. Take the example below from Freelancer. Based on the recipient's actions (and inaction) on the website, Freelancer can deduce that the user has hit a roadblock. So, they're using the opportunity to introduce their upsell recruiter service.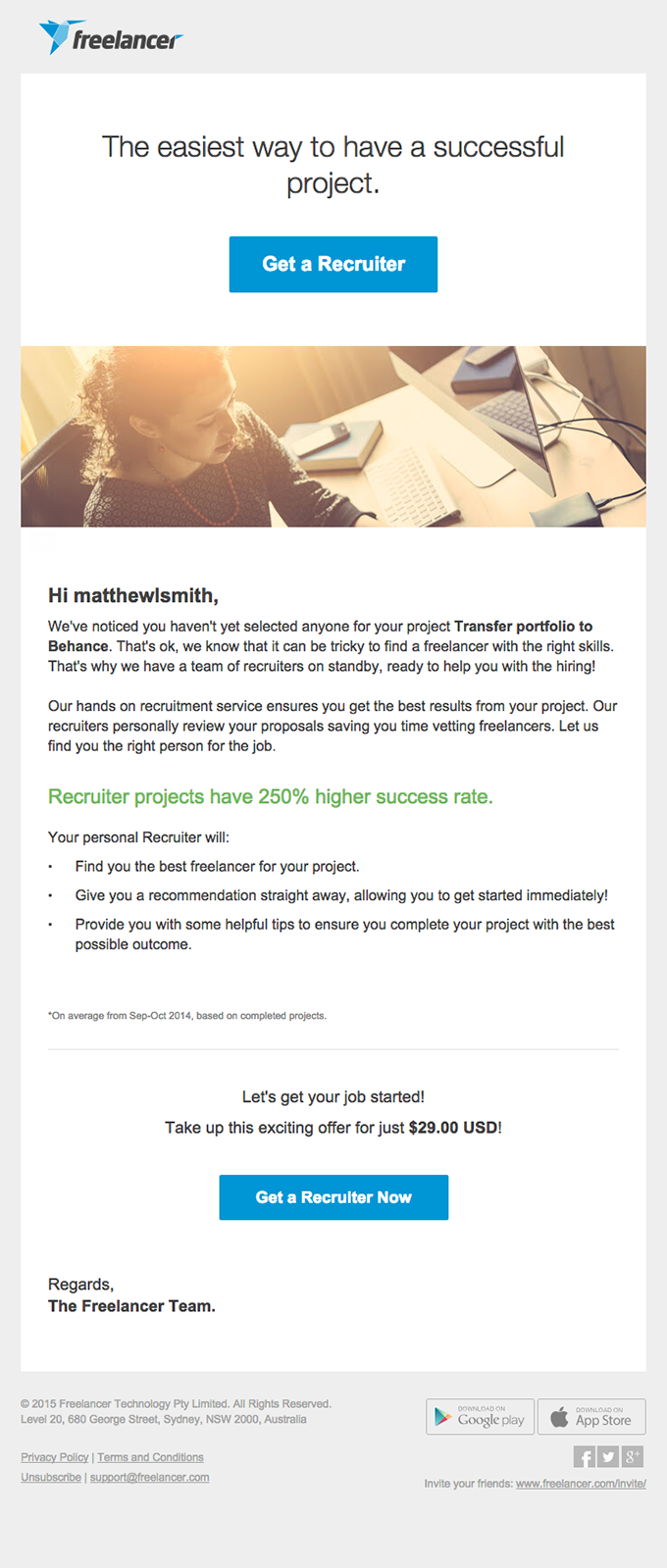 While the content of the email is good, the real magic here is the timing. If Freelancer tried to sell every new user on their recruiter service right away, it would feel very salesy. However, by personalizing the email for people who needed it most, they likely increased their conversions. Presenting too many upsell messages to customers who aren't ready to upgrade can get annoying quickly. Instead of sending your upsell emails to everyone, think about which segment of your customer base would benefit the most from the product and figure out how you can send a targeted message to that segment.
How to steal this trick:
Remember that

email personalization

goes way beyond sticking a person's first name in.

Send upsell emails sparingly. You'll see better conversions if you segment your list and send offers only to the customers who would benefit most.

Put yourself in your customer's shoes. Empathize with what a customer is going through and address the issues they may be facing.
3. Make upgrading as easy as possible.
Making the user experience as seamless, fast, and easy as possible is just generally a good practice. What does "easy" look like in upsell emails, though? Look no further than Dollar Shave Club. The company presents upsell options in an email that reminds a customer about their upcoming recurring order.

There are a few elements that make the upsell easier. First, the top of the email is a reminder about an upcoming order with the shipment date. That's already a done deal, no work needed from the customer. Then, my favorite line of the email: "Toss more in?" It's a casual phrase that makes it seem like it's no big deal to add a few small items to the order. There are also individual "add" CTA buttons for each item, making it easier to narrow down what you want to add. The ease of upselling needs to extend beyond the inbox, too. Think about all of the steps a person will have to take to complete the upsell, and where on your site the email takes them. The best case scenario is being able to click "add" within an email and being directed to a payment page with the item already in their cart.
How to steal this trick:
Be specific in your recommendations. Show a few single items as opposed to a general "shop more" that adds steps.

Send upsell emails when a person is already expecting to make a purchase or payment.

Consider where an upsell email directs a customer, and what steps they'll have to take to finish the purchase.
4. Use purchase momentum to educate (and upsell).
If a customer has just made a purchase or set up a paid account, you have their full attention. So what should you do with that attention before it moves on to something else? Show the customer the next step. What the next step is will vary between companies and customers, but you can take inspiration from big companies. First, there's Frontier. For budget airlines, the upsell is more of a business model than a marketing tactic, so they have experience with these emails. Within the order confirmation email, the company shows some upsell and cross-sell options.

What's clever, though, is that these additions are positioned as a checklist. While most of the checklist items benefit Frontier's bottom line, it's still useful for passengers who want to feel organized and prepared. Frontier has taken an upsell email and turned it into meaningful content.
Airbnb takes a similar approach. The email below is another order confirmation message, but there's a cross-sell for Airbnb experiences down below. In the days leading up to the planned trip, Airbnb will send more experiences available to purchase. Similarly to Frontier, these are cross-sells that look a bit like content marketing within an email.
Here's their confirmation email:

And here's an additional cross-sell email for the city you're headed to: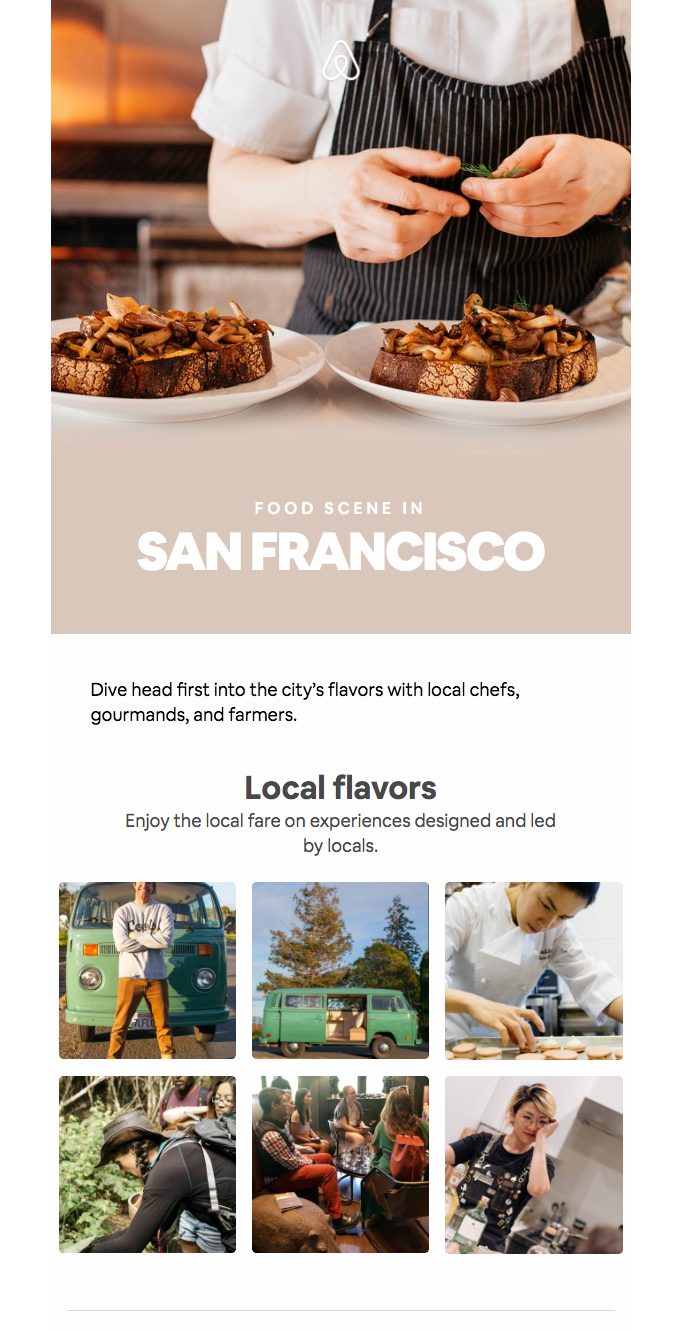 How to steal this trick:
Once someone has purchased your product, are there any add-ons that offer additional value to your customers? Consider adding those to your upsell email.

Use cross- and upsells with care,

especially

when you present them right after a purchase. Someone just purchased an entry-level plan? Celebrate their choice rather than highlighting what they're missing with their lower-tier product.

Cross-sells feel less like a marketing tactic if they're merged with resources and content.
Where Should You Start?
The secret to creating high-converting upsell emails is to find the perfect blend of when to send, who to send it to, and what to suggest. If only! Upgrading your upsell email strategy will take a little work, but here's how to prioritize where to start.
Do you have upgrades or cross-sells that customers are making on their own? Look for pairs of products that are purchased together or try to understand the context of a user upgrading their monthly plan. This will be your lowest hanging fruit.
When in doubt, start with your most engaged segments. If you're just venturing into upsell emails, start with your most active customers. Prioritize upsells for customer anniversaries, or when they're reaching account limits, or if they've made at least two purchases.
Start with the "what" and then figure out the "how." Even if you don't have data to link upsells or cross-sells that are already happening, you can likely make connections yourself. Think about your customer's goals and string solutions together that would help them on a logical path. Once you have an upsell that's valuable and makes sense, you can piece together when the most appropriate time to send it would be and how you want to position it.
Want to keep your new upsell email projects organized? Learn how to Simplify Your Email Workflow with the Litmus Power-Up for Trello.