When it comes to email, it takes a village. As you can see, team sizes vary dramatically: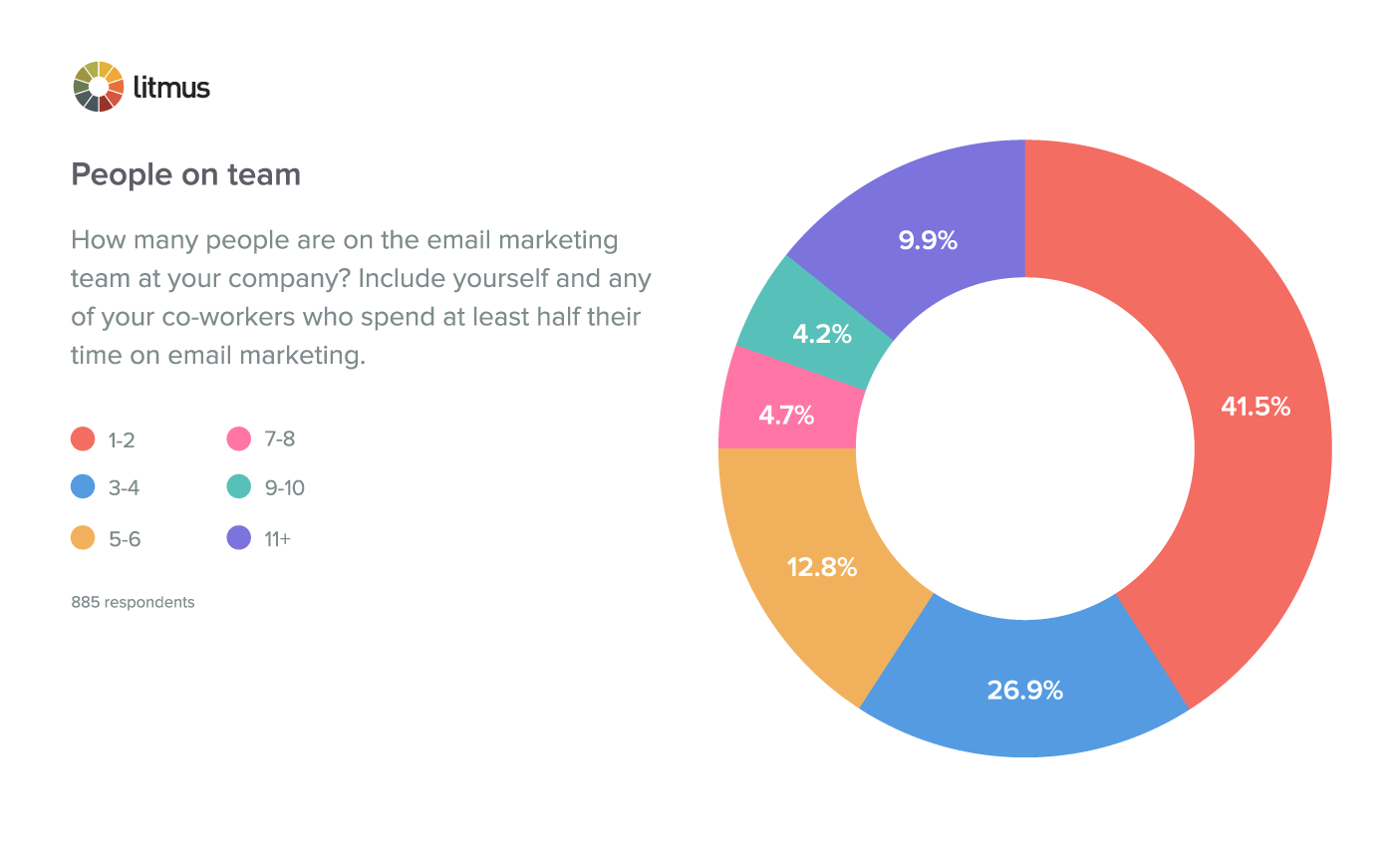 Whether you're the only one dedicated to email and matrix with designers, copywriters, and approvers or you're a part of a huge email marketing enterprise, it's easy to use Litmus with teams. Here are four ways to incorporate Litmus into your existing workflow and improve your teamwork.
Keep Track of Who Made Changes To Your Email Code with Timeline in Litmus Builder
As you're building your email, it's important to keep track of your code. Like any creative process, building an email requires patience, diligence, and a lot of good editing from your team.
However, version control can be an issue if you're working with a lot of people. Everyone has had that "Oops!" moment when you realize a critical piece of code, design, or copy has disappeared—forever.
Needless to say, we've had those moments. So we created a safeguard to keep track of your email's history in Builder: Timeline. Timeline shows you who made changes to your email and when, and lets you view any version of your email in both a code and design view. Restore any iteration at any time, with a simple click of a button—so you can rest assured that no piece of code will ever be lost again.
Make Emails and Test Results Available to Your Team or Clients with Sharing Links
Once the email is built, get feedback easily from the team using the sharing button in the top right hand corner of Builder and Checklist.
You can even email it directly to your stakeholders, so they can get a first view and can provide feedback before the email goes any further down the line, saving you a lot of work on the back-and-forth.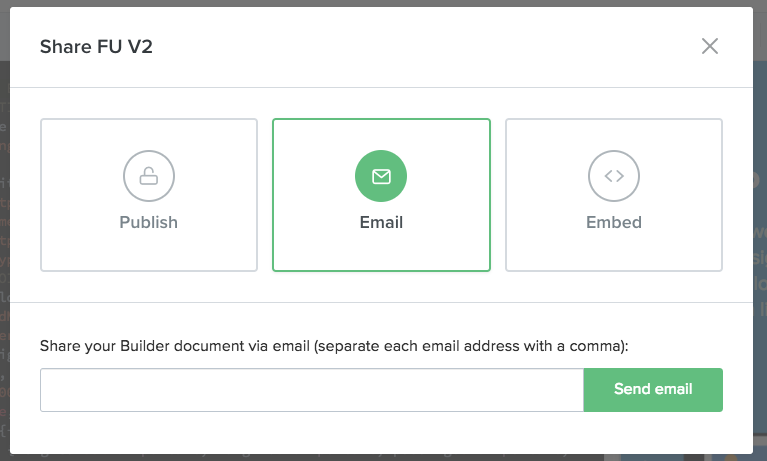 For instance, here at Litmus, we often use the sharing setting internally to share specific emails with our email team. That way, if we're struggling with tricky email clients (ah, email!) we can easily show how it's rendering and get some assistance troubleshooting with our email gurus.
We understand that you may not want to share your email code. In this case, include your previews from Litmus Builder, or share the results directly from Litmus Checklist, which shows exactly how the email appears in 70+ email clients.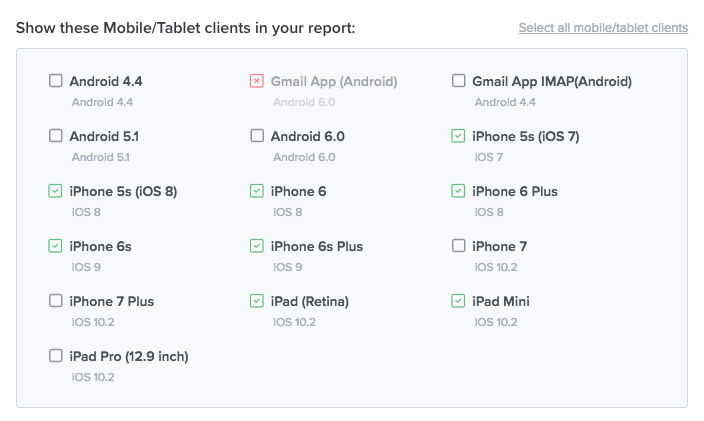 One final note: We've built this functionality into all of our products, because we know inquiring minds from the team want to know how things are going throughout the workflow. So whether you've just run a Spam Test or have pulled the latest reports from Email Analytics, it's easy to share the results with your team.
Tailor Your QA Process with Approvals and Custom Checklist
Approval in Checklist
The email's built and feedback from the team has been addressed, it's time for one final check on the details that can make or break your email—things like broken links, broken images, and whether or not your email has link tracking all determine the success of your email. Whether you're a team of one or 50, it's a good idea to have multiple eyes on an email before it goes out.
Most email marketers who work in a team require some form of approval before they're able to hit send. According to our research, companies with 500 or more employees have 3.3 people approving emails on average, compared to 2.9 people on average at smaller companies.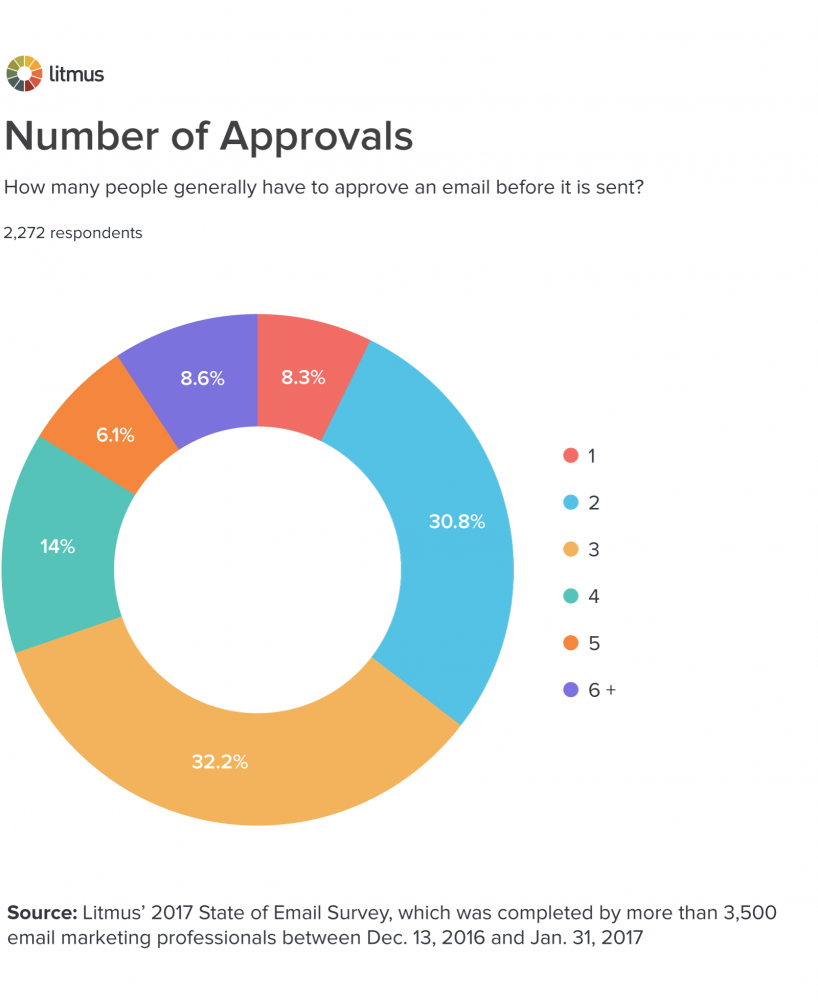 One way to ensure approval is received and clearly communicated is to use the Approvals section of Litmus Checklist, available in all Litmus plans. As you navigate through each section—images, links, etc—you'll be able to choose "Approve" for each section.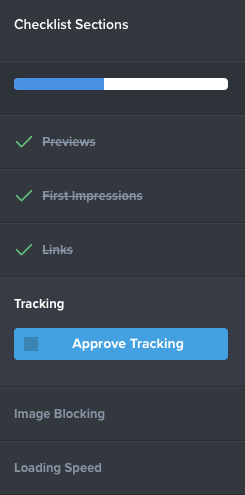 Team members can also unapprove specific sections if issues are found and need to be addressed.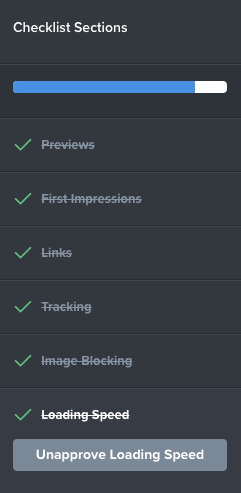 Custom Checklist
While we believe that there are some aspects that belong in every testing process, we also know that when it comes to the details, every team has their own set of criteria. Teams deal with emails proofs, testing, and quality assurance in different ways.
With Custom Checklist, a special addition to Checklist for Litmus Enterprise plans, you and your team can add specific rules, lists, approvals, and production notes to Checklist. Whether your team needs to double-check dynamic content in your message, or your CEO wants to see every email before you send—Custom Checklist gives you the ability to customize Litmus Checklist to your specifications by adding those steps to your process.
You can even see when items are completed and who completed them, giving you more visibility into the quality assurance process specific to your team.

You can configure your Custom Checklist settings in your account settings. We've put together a sample checklist for inspiration, but it's up to your team what you want to test.
Manage Your Team or Clients with Subaccounts
As your email marketing team expands, different members may focus on completely different product lines, brand experiences, or business units—and organizing the variety of campaigns that comes with that can become a challenge. With Litmus' subaccounts (available on our Enterprise plan), you can organize your account by department, product line, or client, and manage users and permissions for each subaccount.
That way, each smaller team has all of their assets in one place, along with team-specific processes like targeted email clients or their own Custom Checklist.
And if you're an agency marketer, you can easily create subaccounts for each of your clients, allowing them access to their email campaigns without giving them visibility into other clients' emails.
Make Teamwork Work with Litmus
With email, there's a lot of moving parts, especially as your team grows. You can use Litmus in every step of the way, from building the email to getting it ready for the final send.Streamline your email workflow with our scalable solutions built to meet the ever-changing needs of email marketing teams.
Litmus for Enterprises

43% of the Fortune 500 rely on Litmus' email testing, deliverability, and analytics tools—plus our workflow, team visibility, and security features that are designed explicitly for large email programs.
Most Popular
Don't Miss Litmus Live 2022 this Fall!

The Premier Email Event by Email Pros, for Email Pros.
From Anywhere–and Any Budget.

Learn More