Read Time: 8 min
4 years ago, we asked leading experts for their email predictions for 2020. Were they right?
"How will email marketing change by the end of the decade?"
We asked this question back in 2016 to 20 leading industry experts, and we have to say, some of their predictions felt pretty wild at the time. But how do they hold up now, a couple of months in to 2020? Were their predictions on personalization and dynamic content, interactivity, integration, and privacy on point, or better made for 2030 instead?
Let's take a look at a few.
Personalization & Dynamic Content
"By 2020, hyper-personalization in marketing will reach a significant level, along with rule-based triggers, assimilation of the mobile channel, and connecting data from other channels and platforms." ~Jill LeMaire Redo
Personalization and dynamic content have without a doubt grown in popularity and use. Almost 60% of marketers say they always or often use personalization or dynamic content in their emails.
Email subscribers expect their emails to be geared for them—"one-size-fits-all" campaigns simply don't resonate anymore. If your email campaign doesn't connect with your audience, you won't get the results and ROI you wished for.
But personalization is so much more than using someone's first name or company name, even though that's the most popular method of personalization in the industry right now. It's also the easiest to implement. But there are so many other ways to hyper-personalize your emails and make your messages relevant—past purchases, past email interaction, geolocation, and more.
There are brands that already do a stellar job using data from different sources to create truly personal experiences, like GasBuddy:

By using specific user data from their app, GasBuddy provides valuable tips for the subscriber based on that data to improve fuel efficiency. Really cool to see and useful and hyper-personalized for each subscriber and his or her driving habits. This is a perfect example of using data in a smart way—but the majority of brands still have some room for improvement.
Interactivity
Our experts predicted that by the beginning of this email decade, the inbox would transform to power truly interactive experiences:
"Subscribers will be able to make purchases right inside a marketing campaign, without ever leaving their inboxes. Campaigns will offer more of an app-like experience, too, with embedded video and other interactivity." ~Tom Klein

"Expect the inbox to continue to morph into a more dynamic environment mirroring the web. Great tools and innovations will move email from a static, 'been there, sent that' state to a highly customized message that can adapt based on marketing and subscriber elements." ~Simms Jenkins
Interactivity is a very hot topic for email, but due to inconsistencies across email clients and devices—and ESP support—not a lot of marketers actually implement interactive elements in their emails. Our latest research found that only 23% of marketers have used interactivity in the past—and 45% don't even have interactivity on their radar.
Again, there are some brands that continue to push the envelope of what's possible in email and use advanced interactive techniques to transform a static email experience into a dynamic, engaging one. Harry's sent out an in-email quiz that you can interact with in your inbox to determine which body wash and soap sent might be best for you.

Harry's does an incredible job here, but interactivity hasn't reached email marketing mainstream—yet.
When it comes to emails that provide more app-like experiences, let's turn our attention to AMP for Email. Love it or hate it, everyone is talking about it. Ever get an email notification when someone commented on your Google Doc? Notice how you can now comment back directly in Gmail, providing feedback without ever leaving your inbox? That's AMP for Email in action.
To use the power of AMP, marketers have to work with an ESP that allows them to send that additional MIME type. Plus, the subscriber must open the email in an inbox that supports AMP. Limited support on both the sending and receiving side is the biggest hurdle for AMP adoption. Building an AMP email means more work. Email marketers have to create a separate MIME type that powers the AMP email. Spending additional development time for an email type that can only be seen by a limited number of subscribers might not pay off. So for 2020, we aren't quite there yet with super interactive, AMP-powered emails—but the next few years might change that.
Privacy
"Now that Canada has shown several enforcement actions under their anti-spam legislation, the United States government is definitely looking at what CAN-SPAM is doing in light of some of the data breaches and people's email addresses being made available." ~James Koons
How we wish this one were true.
Here at Litmus, we believe that CAN-SPAM's low bar for consumer protection, especially its failure to mandate opt-in for commercial messages, is woefully out of step with subscribers' expectations and spam regulations in most other countries. This sets US brands up for failure in global commerce. An update to CAN-SPAM could have improved the standards for commercial emails nationwide. Unfortunately, that didn't happen and the US Federal Trade Commission concluded its two-year review of CAN-SPAM by voting to retain the rules and make no changes.

But just because CAN-SPAM didn't get touched doesn't mean the predictions about an increased focus on consumer privacy were wrong. In the US, we're now seeing individual states step up to raise the bar for more consumer protection. As of January 1, 2020, the California Consumer Protection Act (CCPA) went into effect and is considered a precursor to a national standard.
On the other side of the pond, the European Union has proven that it doesn't shy away from issuing significant fines to brands that don't follow the strict privacy guidelines set under the General Data Protection Regulation (GDPR):
Entering 2020, regulations to protect consumer's privacy worldwide are stricter than ever before, putting subscribers in control of what marketing communication they want to receive and when. That's great news for marketers—and a trend we hope to see continue in the decade to come.
Email and Your Marketing Stack
"In the next 5 years, however, email will be seen as not just a high-ROI channel by itself but rather a platform that integrates with and makes other channels more successful." ~Loren McDonald
First thing's first: email is still your most valuable and measurable channel, with the latest ROI numbers coming in at $42 for every $1 spent on email. So the good news is, the 2010s didn't kill email, like so many said it would.
The step many brands haven't quite reached is sharing their email marketing learnings with the rest of the marketing organization and beyond. Your email subscribers can teach you about the content that resonates most, whether or not your emails lead to a conversion, how long they engage with your email, and so much more. These insights are valuable for every team.
Our latest research shows that a third of marketers don't consider email to be integrated with the rest of their marketing program. That's a missed opportunity. For 2020 and beyond, many brands still have room to grow when it comes to email helping other channels become more successful.
Preparing for a New Email Decade: Here's What the Next 10 Years Have in Store for Email Marketers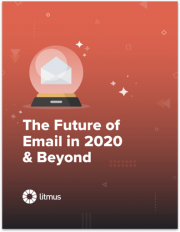 Looking into the future has become a tradition here at Litmus, so together with fellow industry experts we're taking a look into the crystal ball again and dive into what the next decade will bring for email marketers.
Curious how email strategy, design, privacy, teams, and email marketing technology will change in the years to come? Download your copy of "The Future of Email Marketing in 2020 and Beyond."
Most Popular
Don't Miss Litmus Live 2022 this Fall!

The Premier Email Event by Email Pros, for Email Pros.
From Anywhere–and Any Budget.

Learn More