Read Time: 6 min
How to Win Subscribers Back: 5 Tips for Creating Effective Re-engagement Emails
Think about your own email inbox. How many emails did you get in the past day? The past hour, even? How many did you actually look at and enjoy, and how many did you just delete without opening or unsubscribing?
Your subscribers are inundated with thousands of marketing messages every day, so it's easy for messages to get lost in the noise. If they haven't engaged with your emails for a while, maybe it's because they're getting lost in that noise—or maybe they're just not interested in hearing from you anymore, but haven't unsubscribed yet.
This is exactly where a re-engagement email comes in. Re-engagement emails can serve a few different purposes: letting your subscribers know what they're missing out on with your content, giving your subscribers options to opt-down or officially unsubscribe, or just seeing why they haven't been engaging with your emails. You'll learn more about what your subscribers want from you and why they haven't been engaging—and if you lose some subscribers along the way, that's okay.
Here are 5 tips for creating re-engagement emails that will bring your subscribers back.
1. It's not about you, it's about them. Don't make your subscribers feel guilty.
Of course, the ultimate goal with re-engagement emails is to get your subscribers interested in your emails again. But it's important to think about what your subscribers want to get out of their relationship with you. Is it product updates? Email-only deals? An amazing, curated list of articles to read? Use your re-engagement email to remind your subscribers of the value they get out of your emails.
Android Authority does exactly this with their re-engagement email. They pull you in to engage with the email with the subject line "Are you there? " to see if you're still interested in hearing from them. They remind you what you'll get with the subscription—Android news, reviews, giveaways, and deals—and allow you to update your email preferences or unsubscribe from the list entirely if you just aren't interested.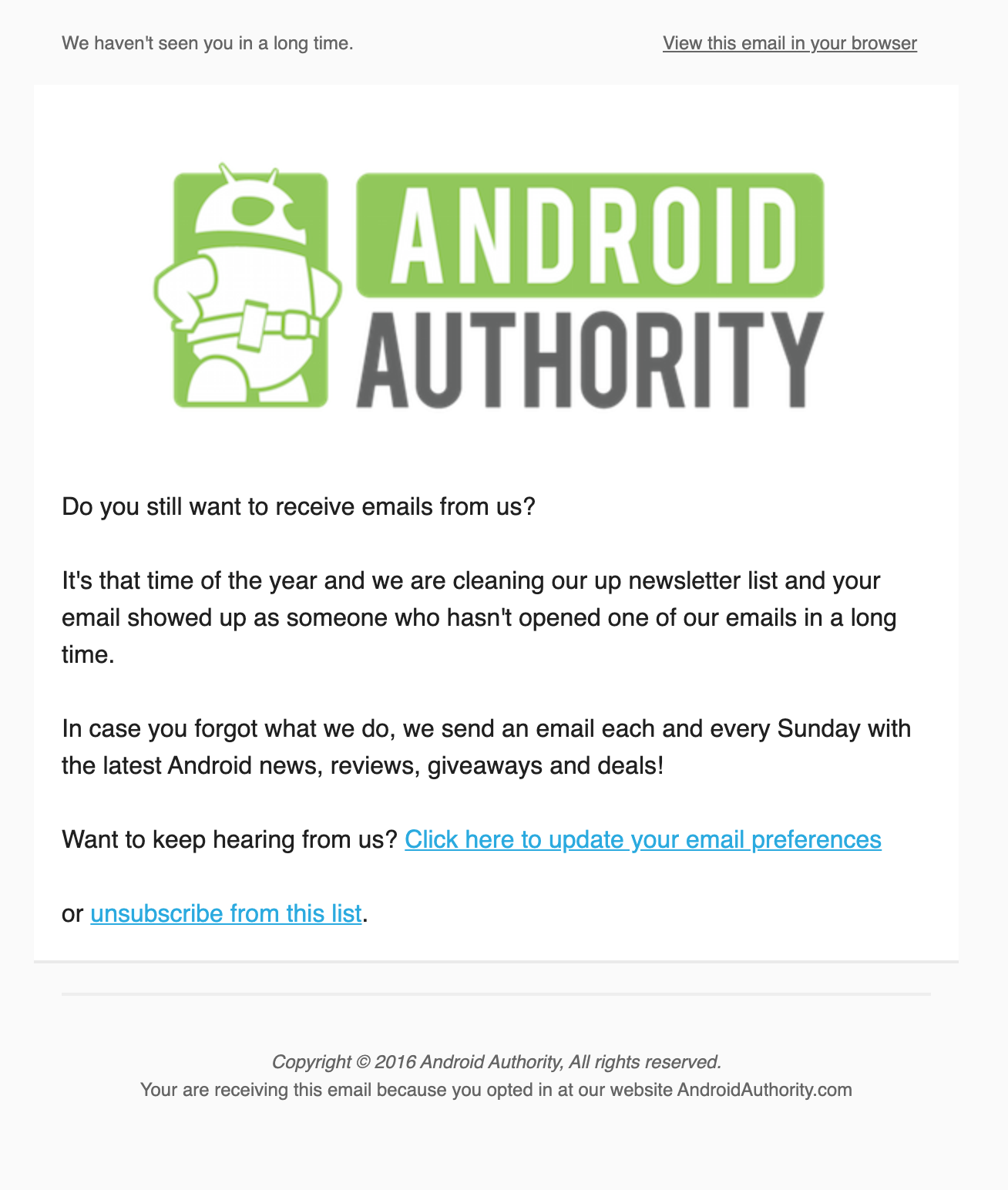 The line between promoting the benefit of being a subscriber and making people feel guilty can be a thin one. Take this example from Framebridge: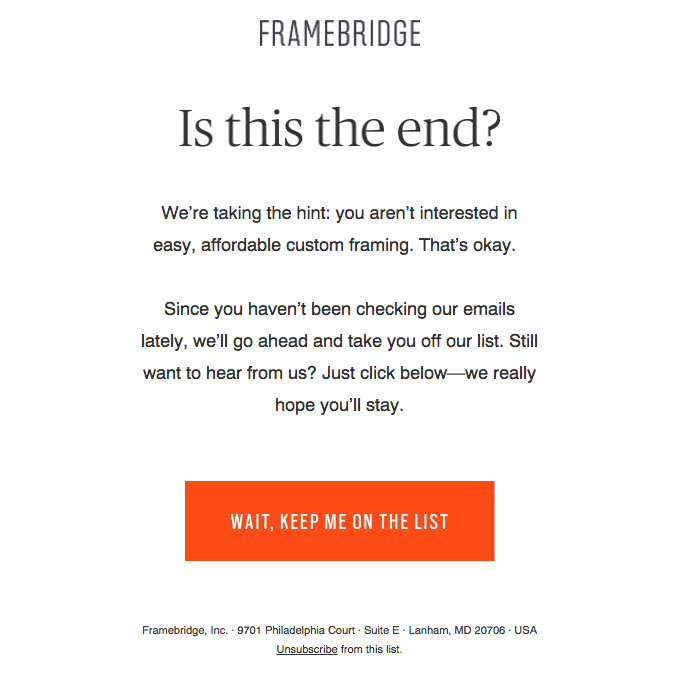 While it may be effective, it flirts with dark patterns. It's one thing to say you'll miss a subscriber if they go, but to say that, just because they're not engaging with your emails means they aren't interested in the product you have to offer, is too far. There are other ways to try and re-engage your subscribers and keep a little brand creativity without making your subscribers feel guilty for leaving or afraid they're missing out on something.
2. Give your subscribers a few options. It shouldn't be an "all or nothing" deal.
Maybe your subscribers have stopped engaging because they were only interested in some of your seasonal promotions, or you're sending them too much email. It's possible they haven't unsubscribed because they still want to hear from you, just not this much.
In this case, providing your subscribers with an opt-down or an email preference center instead of "Unsubscribe or Bust" is a good bet. Maybe your subscribers aren't interested in your product updates or offers, but engage with every single webinar or ebook email you send out. Give them the opportunity to stay subscribed to the emails they're interested in, like Animoto does in this example.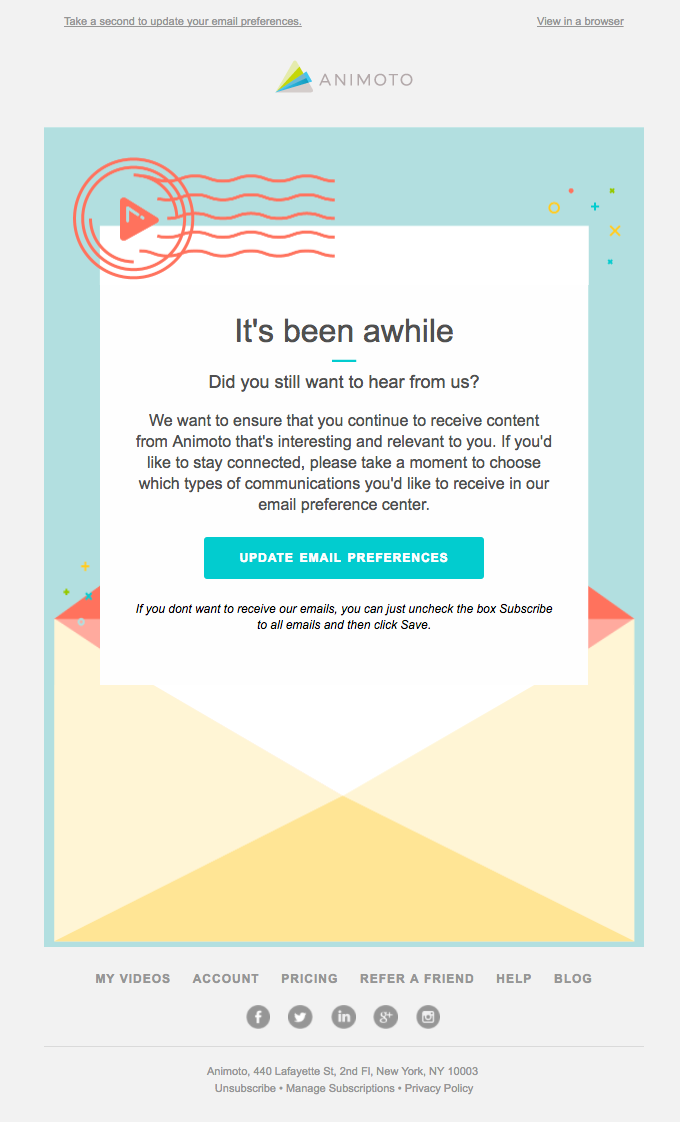 3. Keep your brand's personality intact.
Nothing says "unsubscribe" like a really, really boring re-engagement email. If you have a distinct brand personality, chances are that's a big reason why your subscribers wanted your emails in the first place, so why would you drop that for your reengagement email?
Really Good Emails does an excellent job of checking in with you to make sure the information they have on you is correct. Maybe you've been engaging with their emails all along, but maybe not—and making sure they can get their personalization correct for you is an excellent excuse to get subscriber engagement. The look and feel of this email matches what you've come to expect from RGE: conversational, quirky, and a little off-kilter. Exactly the reason you subscribed in the first place.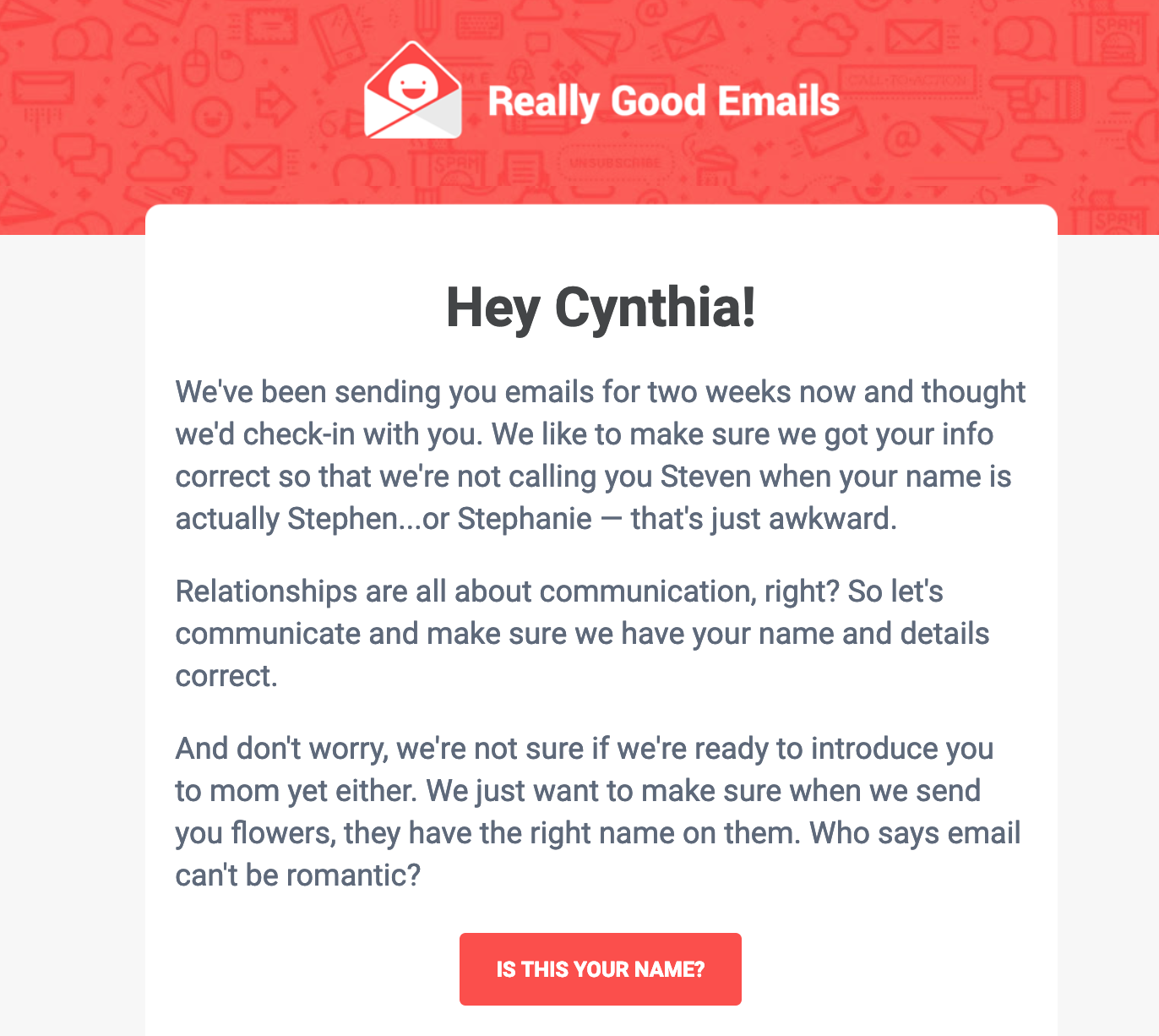 Curious how to inject some more brand personality into your re-engagement emails? Check out our latest blog post for 5 small ways to make your emails more fun.
4. Let your subscribers know what they're missing out on—and maybe sweeten the deal.
It's easy to forget why you may have subscribed to emails. Maybe you were interested in the product or app at first and your interest dwindled, maybe you signed up for a one-time deal that you cashed in already. Whatever the reason, your subscribers may have forgotten exactly why they signed up for your emails in the first place. A re-engagement email is the best way to remind them.
Udemy uses their re-engagement email to remind subscribers of what this subscription really gives them—exclusive deals, course updates, and even personal recommendations based on interest.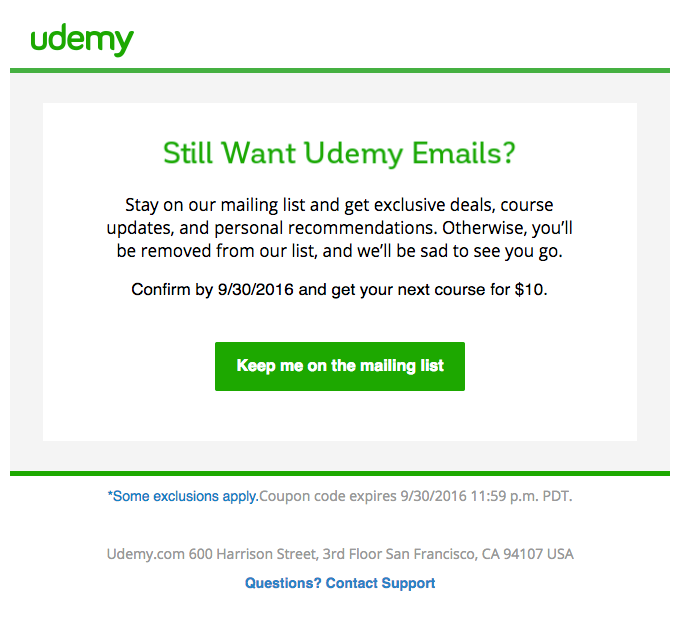 But to sweeten the deal, Udemy adds an incentive—your next course for $10—if you confirm your mailing list subscription. They send a reminder email, too, and a closer look shows that the "deadline" for confirmation is extended a bit. Udemy wants to provide a "thank you" for remaining a subscriber, complete with a gift.
5. If you aren't sure why they aren't engaging with your emails, ask them.
It seems obvious, but sometimes it's easy to forget: if you aren't sure what your subscribers want out of your emails, ask them! Re-engagement emails are a great place to do so. Maybe you're sending out a lot of content about one topic, but your audience is really interested in another one. You won't know that unless you ask them.
Bespoke Post does a great job of asking its subscribers what they're interested in with their tagline, "Turn our boxes into your boxes." By allowing each subscriber to say whether or not they're interested in things like hiking or watersports, they can tailor more relevant emails to them. Steal that idea for your re-engagement campaign.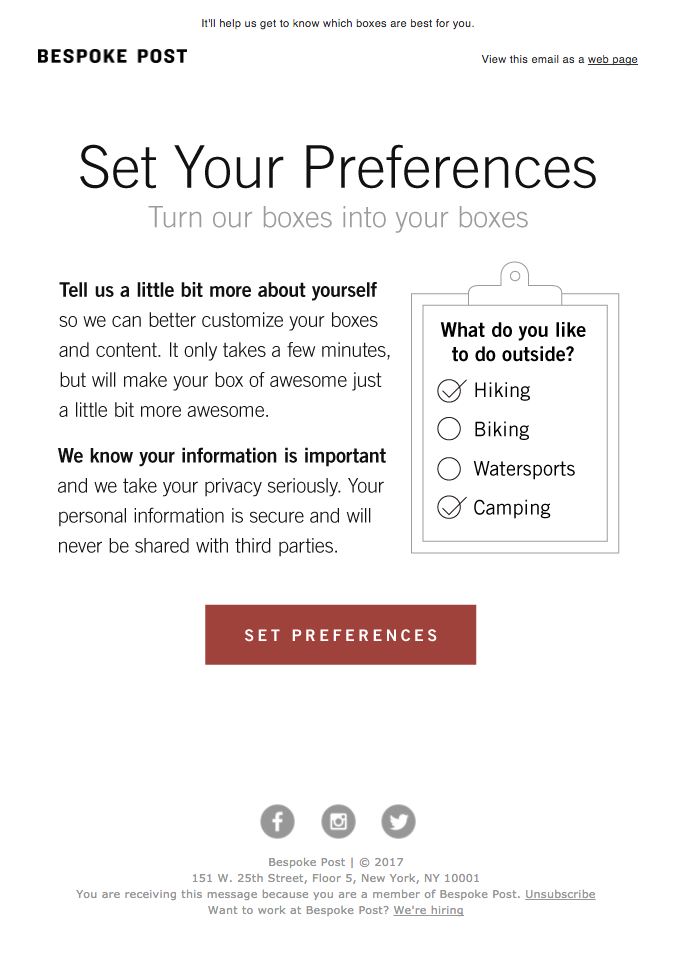 Have any other tips for creating and sending excellent re-engagement emails? Let us know in the comments!