It's harder than ever to win over new customers, so now is the perfect time to focus on keeping the ones you already have. Email marketers, let's make customer retention your number one priority.
Even during less challenging times, it can cost up to 16x more to acquire a new customer than retain a current one. Retention consists of many moving pieces, channels, and metrics, but overall it boils down to one main goal: increasing engagement and deepening your customers' connection to your brand.
Email is your most powerful marketing channel and one of the best ways to strengthen your bonds with customers—and now, when customer acquisition is slowing down, those relationships are more valuable than ever. So let's run through five top ways you can lean on email to keep customers.
---
1. Audit your automated emails
Take a look through the copy and tone of your automated messaging to make sure it matches the tone of the current times and speaks to your existing customers. This is also a good time to evaluate your current customer journey and every outgoing campaign through the eyes of an existing customer to see if you can provide any extra support or thoughtful touches via email.
Here are some customer-first examples of emails that could take your nurtures to the next level.
Thank you and appreciation emails

With a thought to over-cluttering inboxes, a well-timed and executed thank you note can go a long way, particularly post purchase. You can also use this opportunity to point out additional resources, highlight support contacts, or offer a discount on the next purchase.

Here's a great example from Classic Specs: a great thank you message, handy tips for their purchase, and some helpful FAQ. 10/10 would read again!

Usage digests or reports
Letting customers know the exact value they're getting from your product through regular usage update emails is a great way to increase engagement. (Bonus points if you can tie usage metrics to a specific ROI.)
This is a fun example from Swiftype; they provide a nice and nerdy rundown of your typing activity with updates on your weekly changes: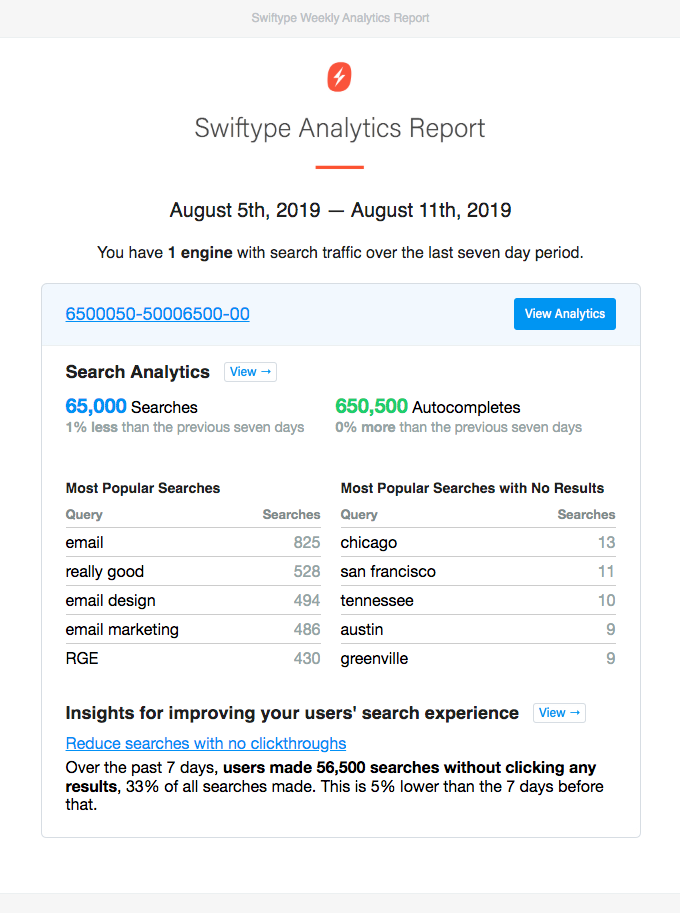 Targeted campaigns based on past interaction with your brand

Know your customers well? Show them! Use previous purchases to suggest similar products or create a tailored offer that's just right for them.
This example from Zillow is a nice way to easily bring customers back with a list of previously viewed homes: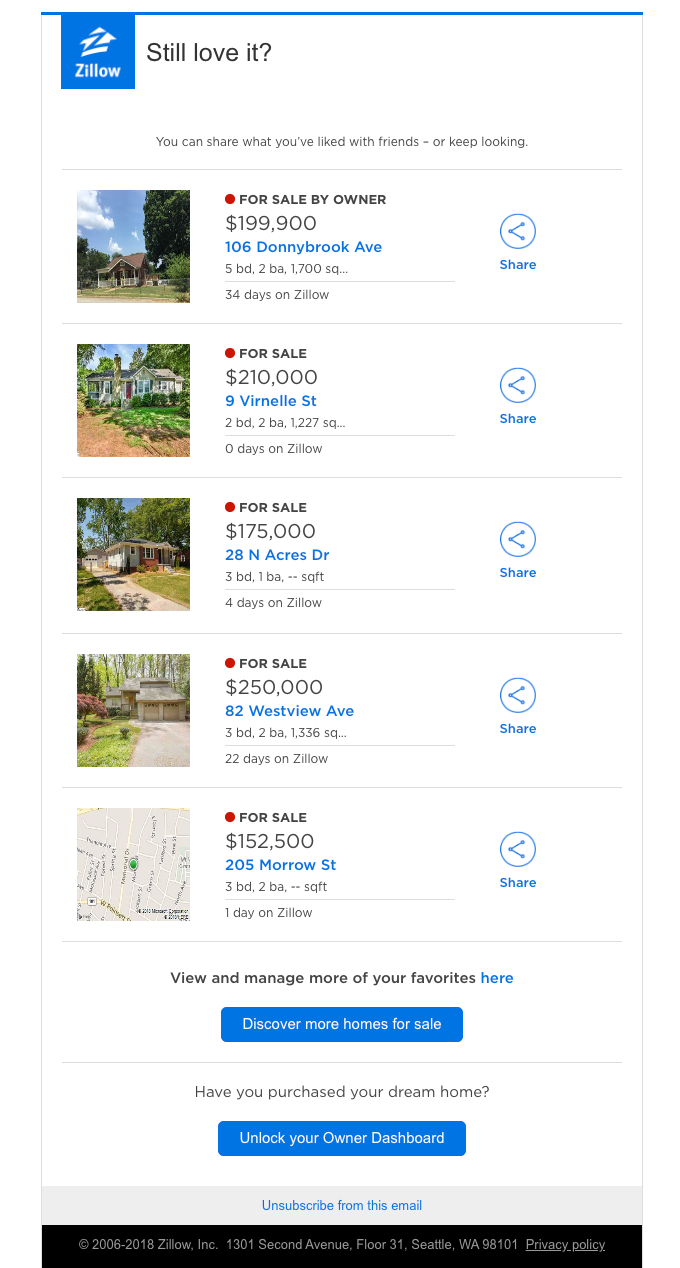 Here's a good one from Crate and Barrel as well that incorporates a thank you and some recommendations for future purchases: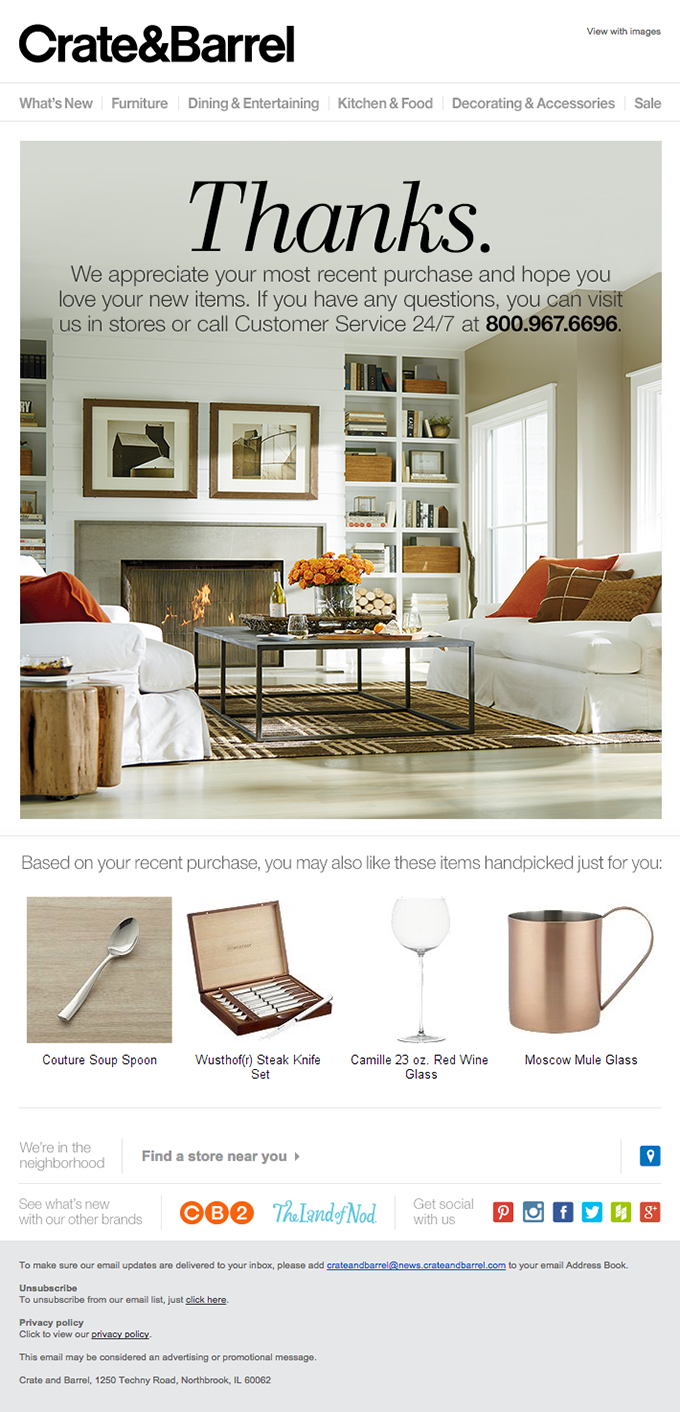 Nonpayment and dunning emails

The last thing you need right now is losing a customer who's otherwise ready to pay because of an expired credit card, or similar issues. If you already have emails in place to address failed payment, it's a good time to check these to ensure your tone is friendly and helpful and you offer different ways to complete payments.
Putting a simple series of dunning emails in place to collect payment can save your support or finance teams lots of time, prevent your customers from losing access or service, and help you reduce churn. Consider adding a custom discount or save offer to the end of your series—even if it's temporary—to sweeten the deal for customers you might lose otherwise.

This example from Benchmark has the perfect balance of support and compassion while letting you know that your credit card payment failed: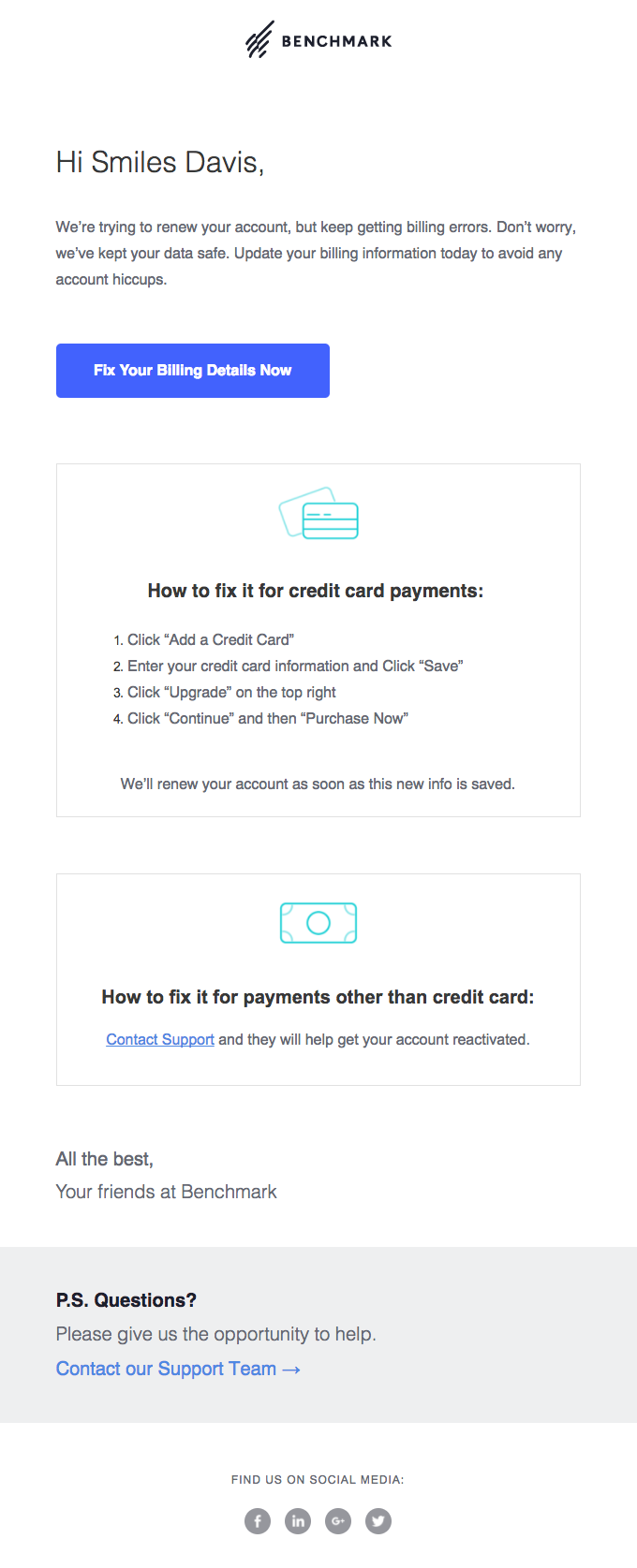 2. Build your segmentation based on customer activity
We're all being inundated with emails right now. Double-check your list segmentation or adjust your levers to make sure you're not overwhelming folks who aren't as engaged with you right now. Don't worry, there's an opportunity at the other end of this to bring them back into your world, but for now, err on the side of caution. According to research by Mailchimp, list segmentation has an incredible effect on overall email marketing engagement and keeps your lists healthy, wealthy, and wise. There are so many ways to segment your audience, but segmenting by customer engagement can be a helpful way to slice your audience with retention goals in mind. Here are some starting points for all kinds of organizations.
Promoters, very active users, active buyers

Your biggest fans should get the red carpet treatment with personalized emails based on their actions or purchases—just like David's Tea does with this wonderful campaign:

Passives, semi-active users, occasional buyers

Those folks who aren't super connected to your brand might need to learn more about you, and this gives you the chance to learn more about them, too. What would make your passives turn into loyalists? This email from Prezi does a great job presenting a new template and makes it easy for the reader to dive into the product—and that might bring inactive users back to Prezi.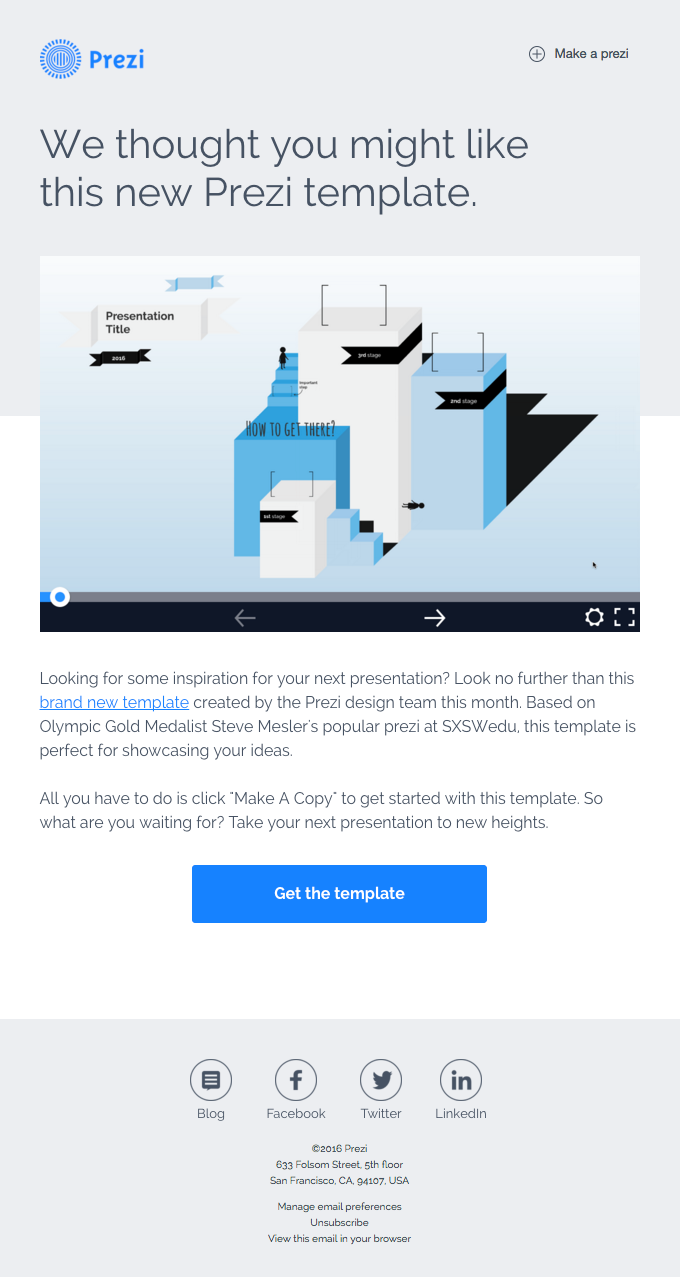 Detractors, inactive users, infrequent buyers

People who haven't had a chance to get to know you or might be a little skeptical need a special touch. Using education to drive people back to your site is an effective strategy for all types of businesses. Remind your subscribers of the value of your product and how easy it is to get started—just like Google does in this email for Google ads: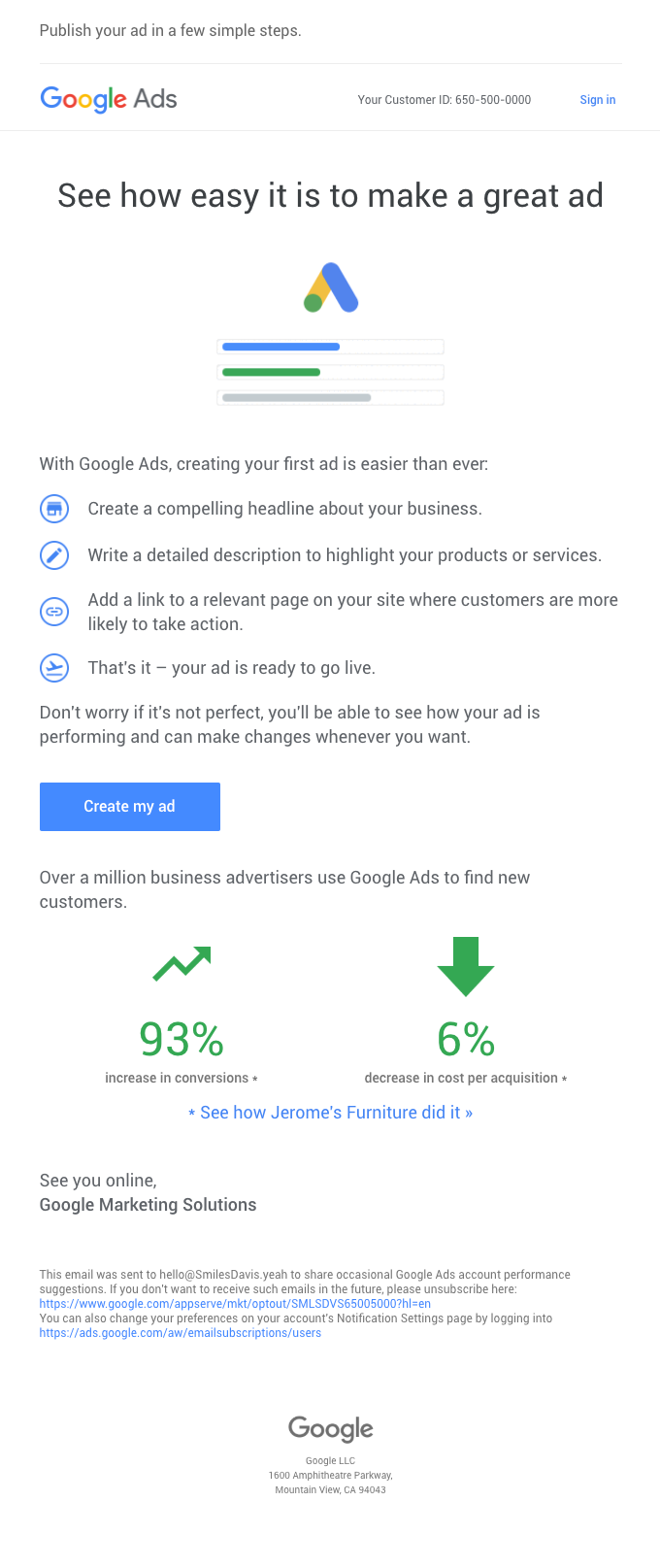 It may also be the time to decrease communications to this group; everyone is getting a lot of communication right now and your less engaged customers may need a break—and that's ok.

3. When you can't use email to win their business, use it to win their hearts
As a brand marketer, it's important to remember that while your subscribers and customers might not be buying right now, everyone is listening and learning. If the current times make it hard for you to drive revenue, think about ways you can use email to pay-in on the brand trust bank. Build an emotional connection with your subscribers that keeps current customers from leaving and makes prospects want to support you whenever budgets are available again.
Provide helpful resources that go beyond your product

What content can you provide that helps your customers navigate these challenging times? This email from Asana offers helpful, relevant, and timely resources that their customers need right now: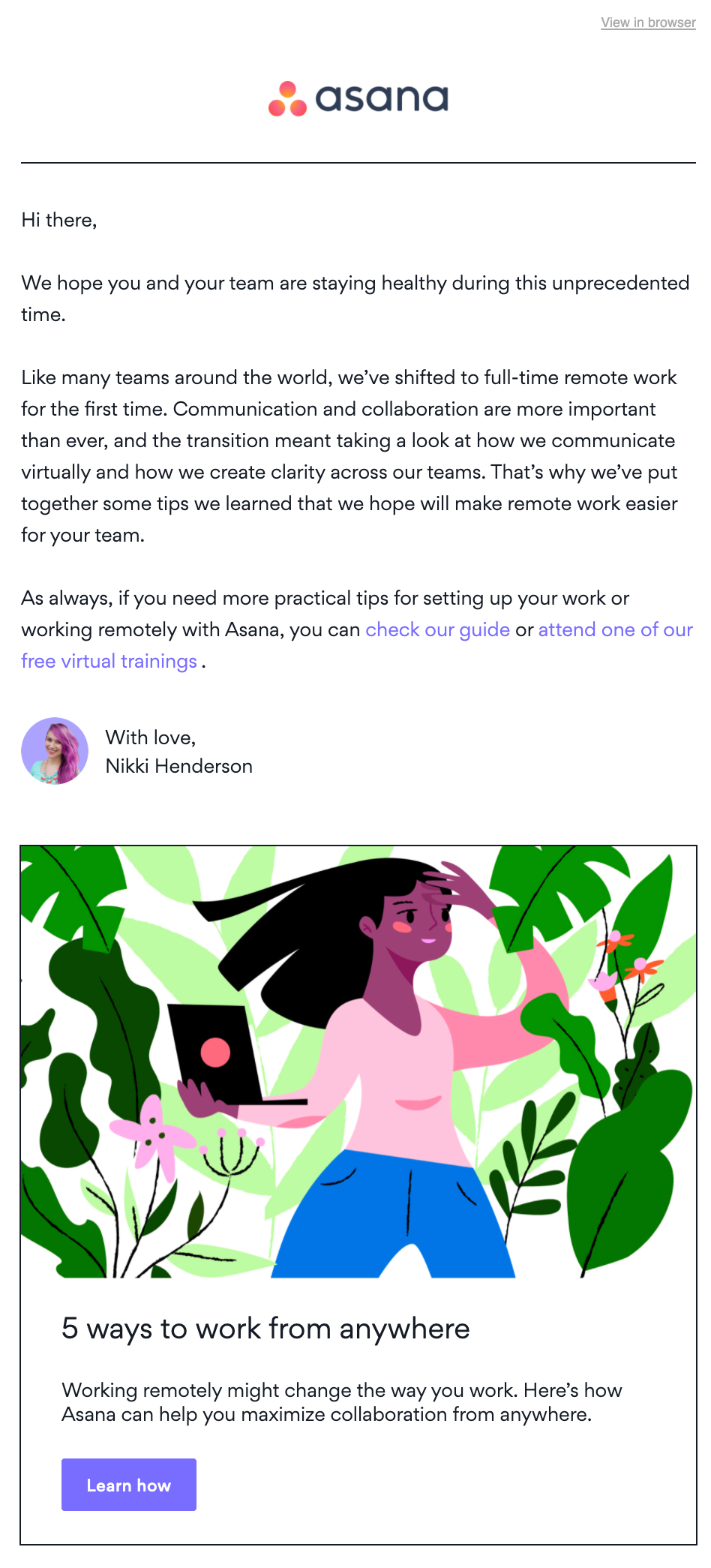 Show how your brand takes responsibility

What does your brand do to support your team and the community in these trying times? Customers are less likely to leave you if they support your mission, so use the power of email to show how your brand is making a difference. This email from Everlane is a wonderful example:

4. Leave on a good note
Whether you're in SaaS, hospitality, travel, or retail, many companies are losing customers right now. And while seeing a customer leave might hurt now more than ever, it's crucial you're handling this step of your customers' lifecycle with grace and empathy.
Optimize your cancellation confirmation emails

You never want your customers to leave with a bad taste in their mouths, so ensure your cancellation confirmation emails are friendly, thoughtful, and offer opportunities for your customers to get in touch with you.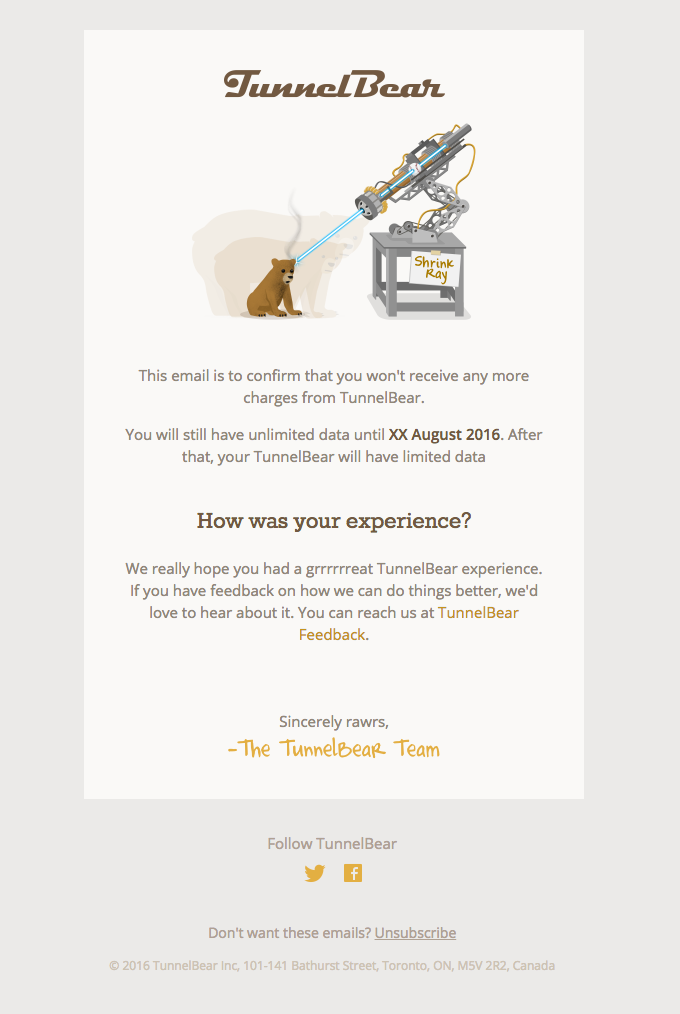 Give your customers the chance to let you know why they're leaving

Having good insights into cancellation reasons is the first step to successful win-back campaigns. Are your customers leaving because of budget cuts caused by COVID-19, or are they leaving because your product didn't meet their needs? Knowing this will heavily impact future reactivation campaigns.

5. Think about how to bring lapsed customers back when the time comes
Here's the good news though: Some of that churn will come back.

What's your plan for turning churned customers into active buyers again? When the time comes, having a strategy already in place to bring back your customers in a thoughtful, compassionate way gives you a chance to quickly ramp up your business again, providing a good cushion when retention or activation goals might still be less than desirable.
The best winback or reactivation campaigns are founded on good segmentation. You may want to use the general lists detailed out earlier in this post as a starting point; or, if you have cancellation reasons that folks select when they leave, you may want to segment your communications by those reasons.
Here are some good examples of winback emails based on segment.
We miss you

Sometimes just a gentle reminder, with an incredibly easy way to sign back up or make a repeat purchase, is a great way to bring customers back whenever they're ready.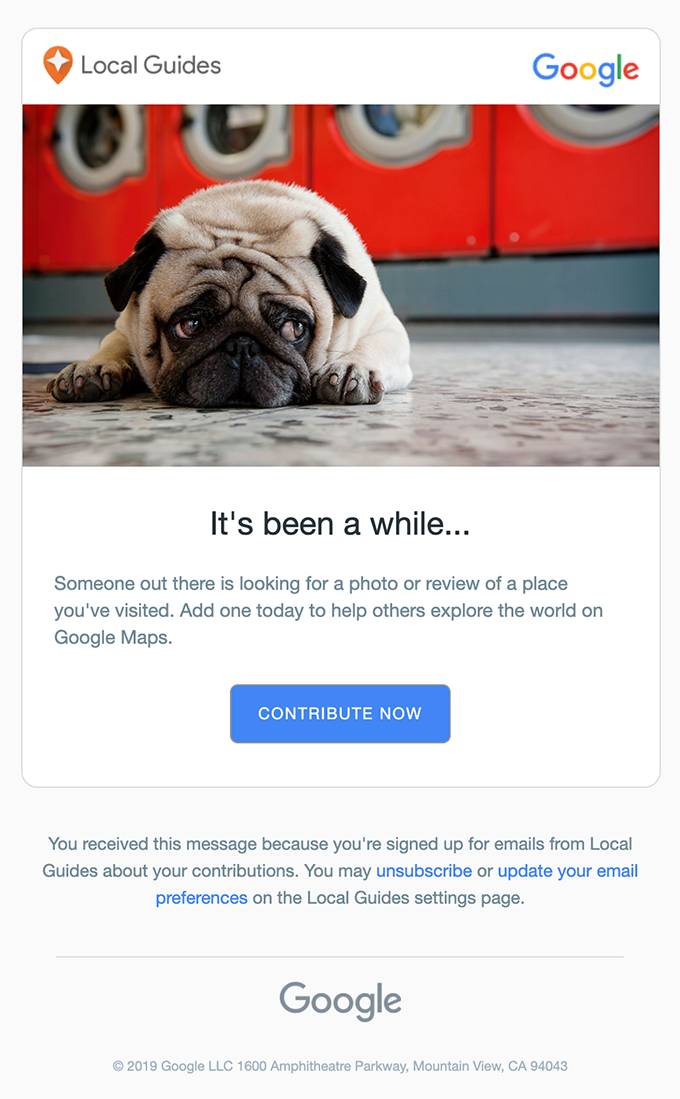 Incentives and discounts

This works great for folks who were high purchasers. If you're a SaaS company, consider an incentive or discount for someone that selected cost as a reason for cancelling.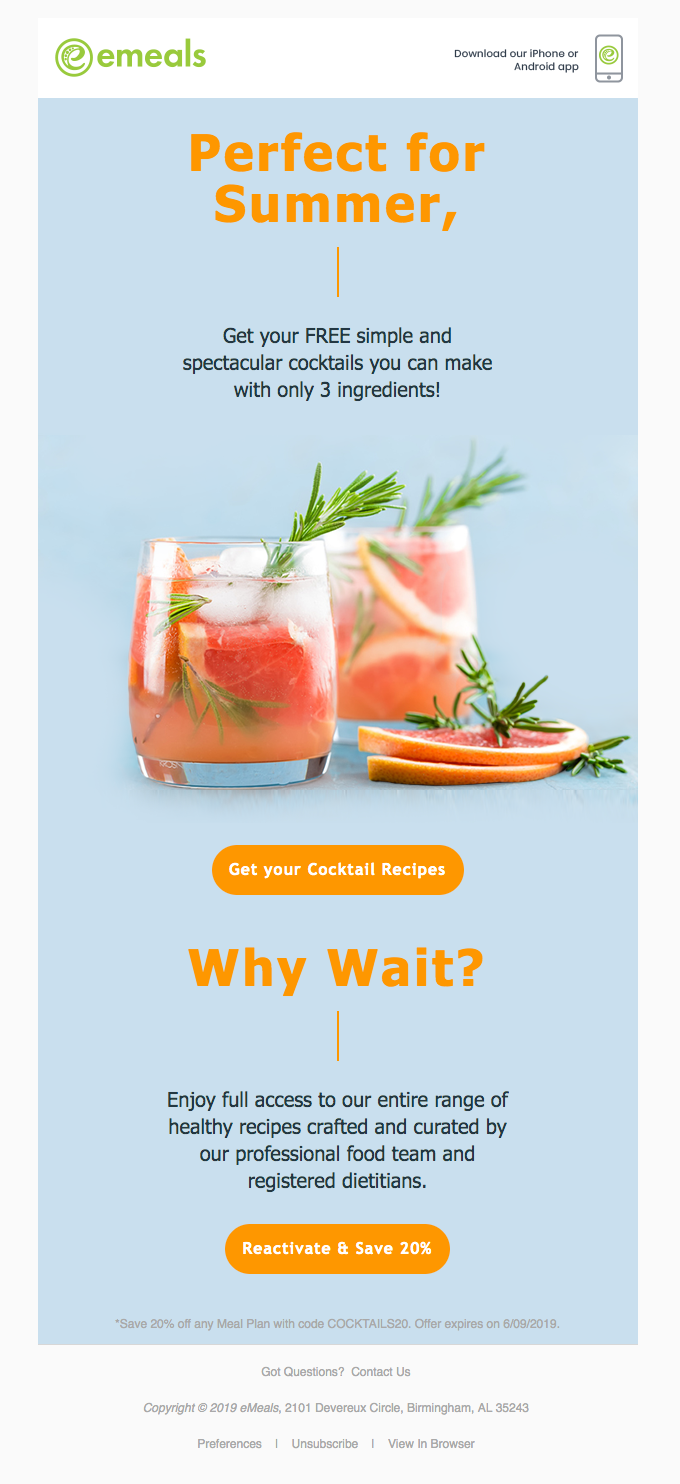 Product updates

If you've made a big update or addressed customer feedback, why not let them know? This might be the nudge a lapsed customer needs to come back.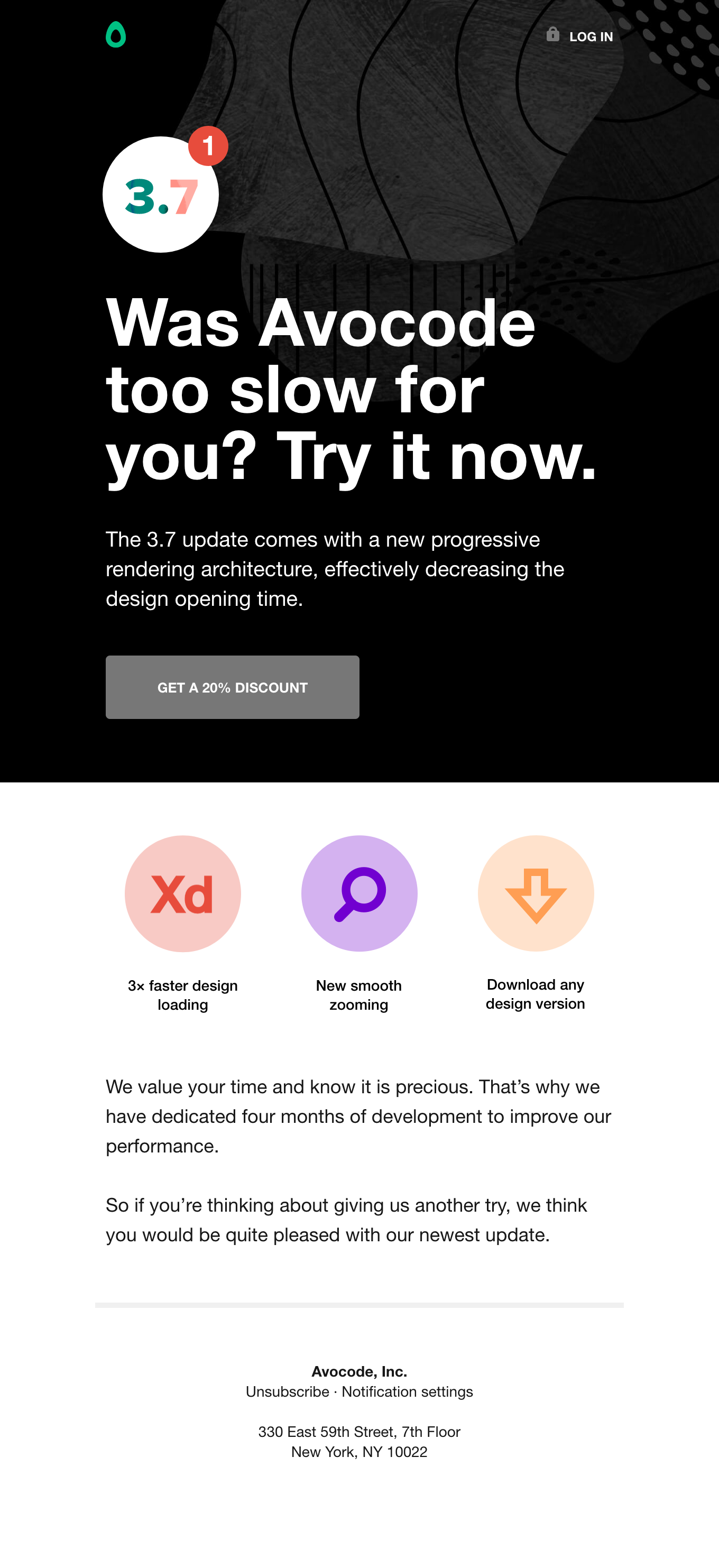 ---

Keeping customers is tough, but moving forward with empathy and reminding your customers that you're here for them in trying times is the first step towards building goodwill. Building a strong email program to support customers has to start with making tough decisions to put your customers first—and then you can back that up with first-class marketing.