When it comes to new subscribers, first impressions speak volumes. Your first outreach sets expectations for the new relationship, and how you go about it matters. Now more than ever, subscribers are looking for personalized content right when they ask for it, so setting up and maintaining an onboarding email or welcome series is vital to subscriber retention and success.
But how do you create the perfect onboarding email?
On our own mission to find what makes a great welcome email, we've analyzed dozens of onboarding emails submitted by your peers and shared our reviews in our Onboarding Live Optimization webinar and the Live Optimization notebook.
Live Optimization: Welcome & Onboarding Emails

Learn how to build trust and create a great onboarding experience when you explore these welcome emails from your peers, along with our expert advice, feedback, and suggestions for improvement.
What did we find? There are a few common mistakes many brands make in their welcome emails. To make sure it doesn't happen to you, we've compiled five key tips to creating successful onboarding emails.
1. Present one clear CTA—what's the next best step for your new subscribers?
Focus is key for every marketing email—and it's no different with onboarding emails. When you think about creating your onboarding email, think about the number one thing you want your subscribers to do. Then, design your email around that goal. Focused, single-topic emails tend to perform better, so try and keep to one primary CTA per email. If you have multiple, this might overwhelm your subscribers and cause them to disengage. If there's a lot you'd like to say, consider a welcome series that highlights one CTA at a time.

This email from Alamy does a great job putting the readers' focus towards the primary CTA, getting them to visit their My Alamy account.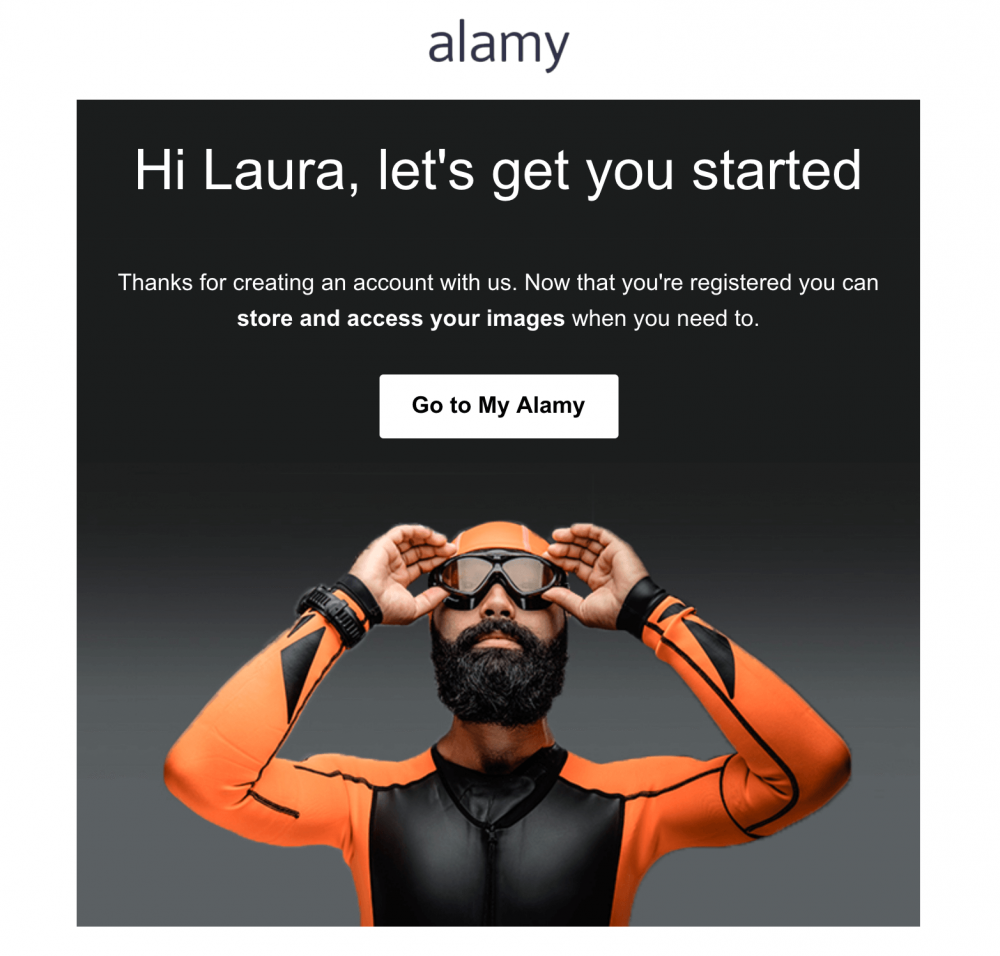 2. Send out your welcome email immediately.
Never delay the send of your welcome email. When subscribers fill out a form to hear from you, they are actively engaged—so why not reward that interest as soon as you can? The cadence of the rest of the email series depends on your audience, but it's important to get that first email out quickly, no matter what day of the week they sign up.
3. Remember your ALT text.
Shorthand for alternative text, ALT text is the text that displays in place of an image if an email client can't display the image itself—for example in cases where the user's settings or a bad internet connection prevents images from loading. Including ALT text is now standard practice to give subscribers some context if images aren't loading, and it's also used by screen readers for your visually impaired subscribers. ALT text is becoming increasingly important for the accessibility of your emails.

If your welcome emails don't include ALT text and new subscribers either view in an email client that blocks images by default or use a screen reader, your first impression will be far from perfect.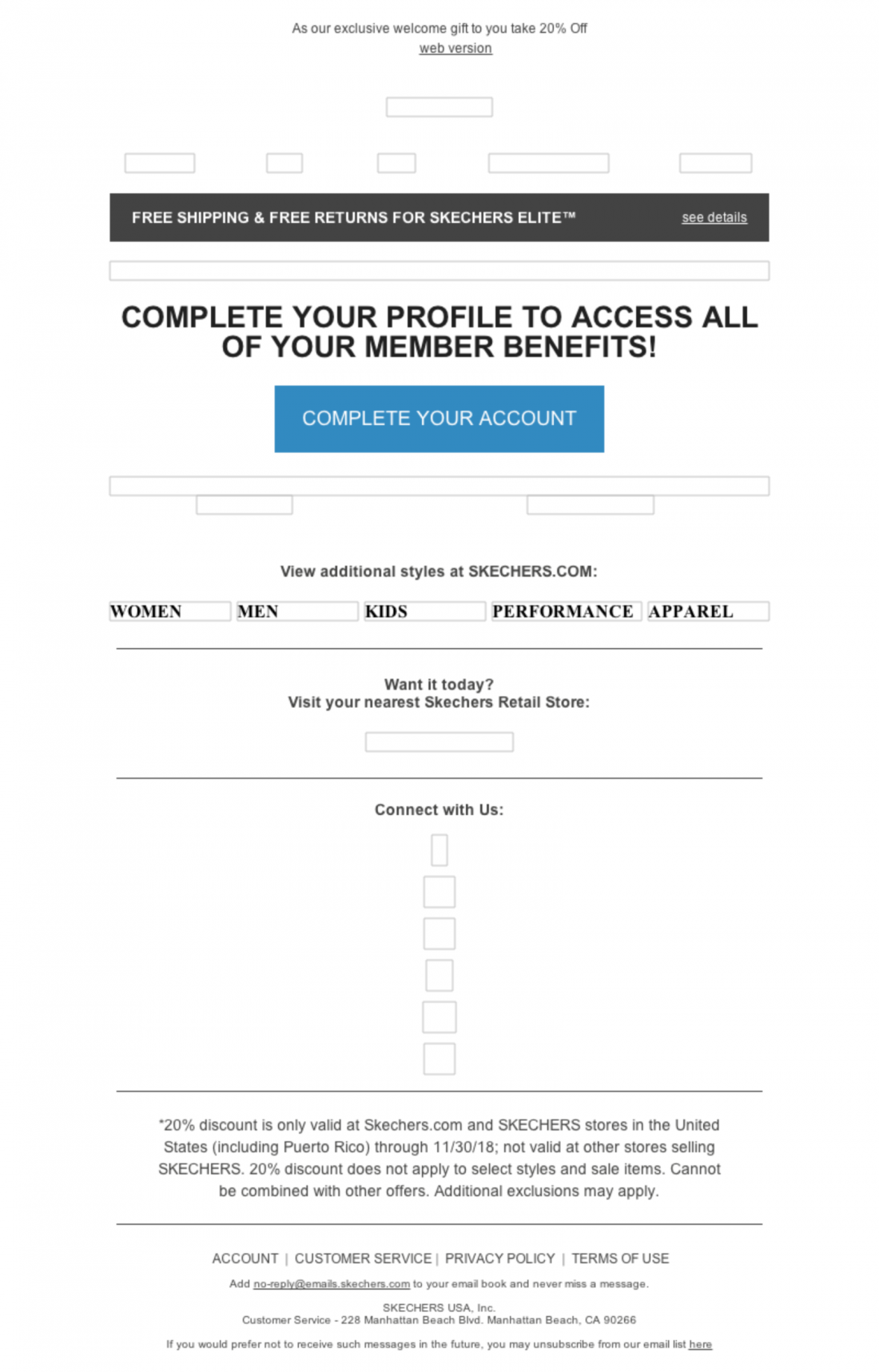 Include ALT text in your onboarding emails so you can communicate your message when the images cannot. Try and provide value with your ALT text without being redundant—if you can't, consider not including it at all. No ALT text is better than "Header image." If possible, also try styling your ALT text—if you're stuck on how, check out our guide to styled ALT text.
4. Use your welcome email or series to ask questions of your subscribers.
Many brands use a set of content blocks in their welcome emails to get an idea of what subscribers are interested in. This email, for example, features content blocks for different categories of bikes: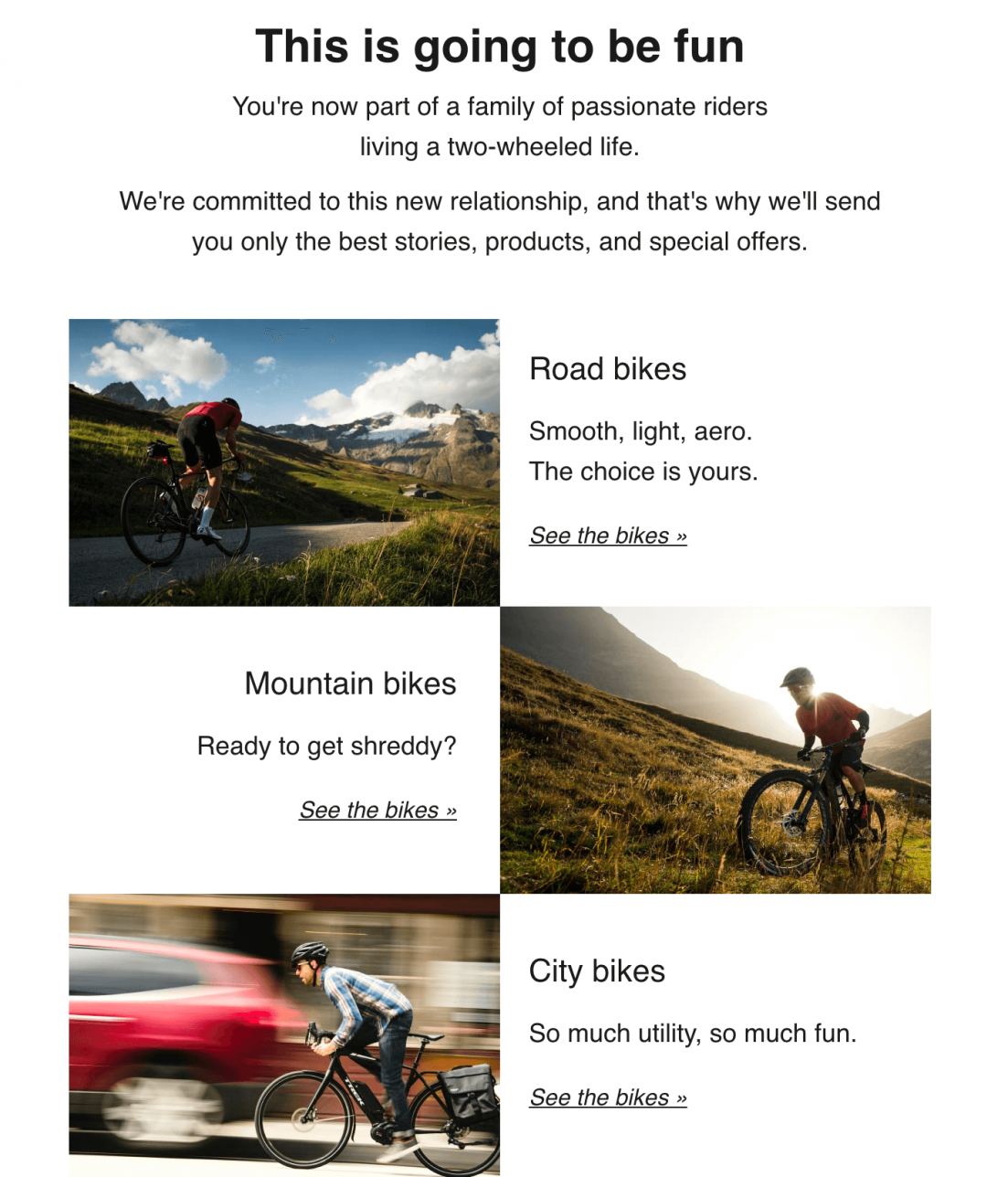 While this can work, it's not the most reliable approach to building subscriber profiles. Instead of guessing their interests, ask them! By doing this, you demonstrate your value to the subscriber and keep them interested in your emails. If they know their opinion was taken into account, they'll be more engaged with your brand.
5. Part ways with the traditional "Welcome to Company X" subject line. Mix it up!
"Welcome" is a very common subject line keyword. While there's nothing inherently wrong with including "welcome" in the subject line of your welcome email, the most important thing to remember is that your subject lines should directly relate to the action you want them to take. Reference your call-to-action in the subject line with something like "Let's get going!"

If you're having difficulty parting ways with using "welcome" in your subject line, you can always use A/B testing to determine what your audience responds to best, or include a traditional welcome phrase in your preheader instead, in tandem with an alternative subject line.
Get more advice on sending great onboarding emails with our Live Optimization ebook
Many email marketers go through the difficult process of creating onboarding emails—you are definitely not alone! We've compiled in-depth analysis and insight from the Litmus team and onboarding email expert Val Geisler on eight emails submitted by the Litmus Community in our Live Optimization Notebook on Welcome and Onboarding Emails that can help you get started.