From the first campaign idea to hitting send, getting an email out the door involves a multitude of steps, tools, and stakeholders. But what's the secret to keeping the moving pieces together to shape a well-oiled email marketing machine? It's building a bulletproof process! 
It's easy to underestimate the power of process. Sure, "process optimization" doesn't sound all that exciting. But every week, we talk to dozens of brands about how they get campaigns out the door and work as a team, and if there's one thing we learned from all those conversations, it's this: If you're looking to scale your email program, getting the process right is crucial.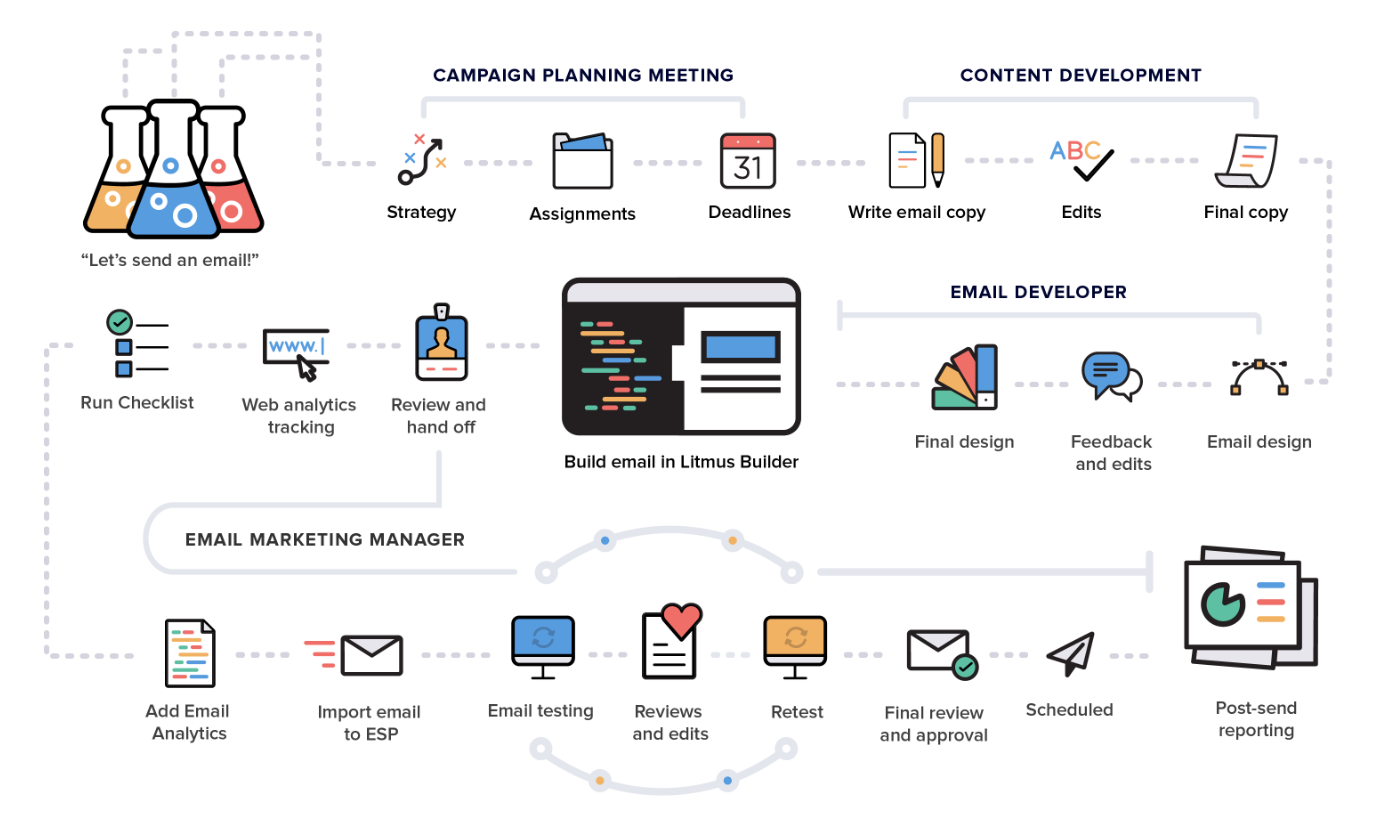 A watertight email process keeps projects moving quickly, helps keep stakeholders in the loop, and ensures high-quality output. A broken process, on the other hand, can be damaging to your program—and your team. 
How do you know if your workflow needs improvement? Here are a few telling signs that show your email process needs some love. 
1. You discover errors in your emails—after the send.
Mistakes happen. Email is so complex, turn-around times so short, and frequencies so high that it's impossible to avoid mistakes completely. We are all human, after all. If they happen frequently, however, that's an indicator that your email process is failing you. 
Consistency and quality go a long way in maintaining your brand's reputation and building trust with your subscribers. A well-designed email process has the checks and balances in place to catch errors before the send and includes a QA step that ensures each email that hits a subscriber's inbox meets your brand's quality standards. In most cases, a large number of mistakes means that a brand's QA process is flawed—or doesn't exist at all. This doesn't just open up room for errors but can damage the relationship you built with your subscribers.
Catch issues before you send with Litmus

Litmus Checklist gives you a guided check of the critical elements that impact email performance. Preview your email in popular apps and devices, validate that links, images, and tracking work, and create an incredible email experience every time.
2. Your approval process is slowing your team down.
Email marketing is a team sport, and getting feedback and sign-off from all stakeholders is crucial to make sure all needs and goals are met. But too often, this process is painful and eats up significant amounts of time. Our research shows that marketers spend an average of 3.9 hours on getting an email reviewed and collecting approvals. That's more time than teams spend on email copywriting, development, or any other component of email production.
Most teams simply have a lot of people involved in the process. 61% of marketers need approval from three or more people before hitting send, 15% need sign-off from more than five reviewers. In an agency setting, juggling feedback from internal teams and your clients adds an additional layer of complexity.
But it's not just the number of people involved that makes collecting reviews and approvals hard. It's also a question of how you do it. If your review and approval process involves tracking changes, progress, and sign-offs through a blizzard of emails, group messaging, paper mockups, and voicemails—generally without insight into what others have suggested, changed, or commented on—you're likely wasting too much time in this step of the process.
Streamline your email review process with Litmus Proof

With Proof as your centralized tool for collecting feedback, you can improve collaboration, get better visibility, and cut review cycles.
3. You do a lot of manual copy and paste work.
Mundane, repetitive tasks slow down your team and introduce room for error. So if you and your team are doing a lot of manual work on repetitive tasks, it's a sign that your email process needs improvement. Brands that do email right find ways to replace manual work wherever possible—that boosts productivity, leaves less room for errors, and saves time and money.
Your team codes every email from scratch or inlines code by hand? You do a lot of copy and paste work to get your code from a code editor to your email service provider to your testing tools? This means there's room for improvement.
Litmus seamlessly integrates with the tools you use the most

Litmus works seamlessly with your email service provider and the collaboration tools your team relies on—so you can get more done, faster.
4. You don't know how your emails render on your subscribers' devices.
Email rendering is complex and changes without warning. Unlike web development, where a handful of browsers impact rendering, the heavily fragmented email landscape causes every email to have more than 15,000 different potential renderings. The challenge is to manage and control that variability through savvy coding and design. And you can't do that if you're not testing the rendering and functionality of every email you create.
Ensuring compatibility across clients and devices is one of the key challenges for email marketers—and your email process must be set up to help your team tackle this challenge. If you don't know how your email renders across platforms or if you only have limited insights into a handful of inboxes that you test manually, you're exposing your brand to the risk of delivering a sub-par subscriber experience to a portion of your subscribers. Emails that don't render well and look broken won't perform—and all the time your team spent on copywriting, design, and development will go to waste.
See what your subscribers see

See screenshots of your emails across 90+ apps and devices to ensure compatibility in all environments with Litmus Email Previews.
5. There's no time and resources for creativity, experimentation, and innovation. 
Lean email teams can get a lot done if the process is right. If it's not, even well-staffed teams can quickly get stuck scrambling to get the next email out the door, pacing to hit the next deadline. A team that's constantly fighting to keep their heads above water won't be happy in the long-term. Plus, it's keeping your team from one of the aspects of email marketing that's most exciting: experimentation.
Getting your process right means providing your team with breathing room to mix up the day-to-day tasks with projects that break the routine. This can be a set of A/B tests, experiments with new coding or design techniques, or a chance to design a one-off email that's different from your standard template. Every experiment—successful or not—provides an opportunity for your team to learn and be challenged.
My email process is broken. What now?
You've nodded your head yes to any of the warning signs above? The good news is that recognizing your email process isn't perfect is the first crucial step to making it better. And we're here to help. Reach out to a Litmus expert and learn how Litmus can help you streamline your email workflow so you can get better emails out the door, faster.
Most Popular
Don't Miss Litmus Live 2022 this Fall!

The Premier Email Event by Email Pros, for Email Pros.
From Anywhere–and Any Budget.

Learn More