We've been tracking email opens for more than 4 years. And it's incredible to see how behaviors have changed over time. Mobile email was barely a blip on our radars in 2011, and made up just 8% of email opens. Fast forward to 2014, and nearly half of emails are opened on smartphones and tablets—a 500% increase in four years.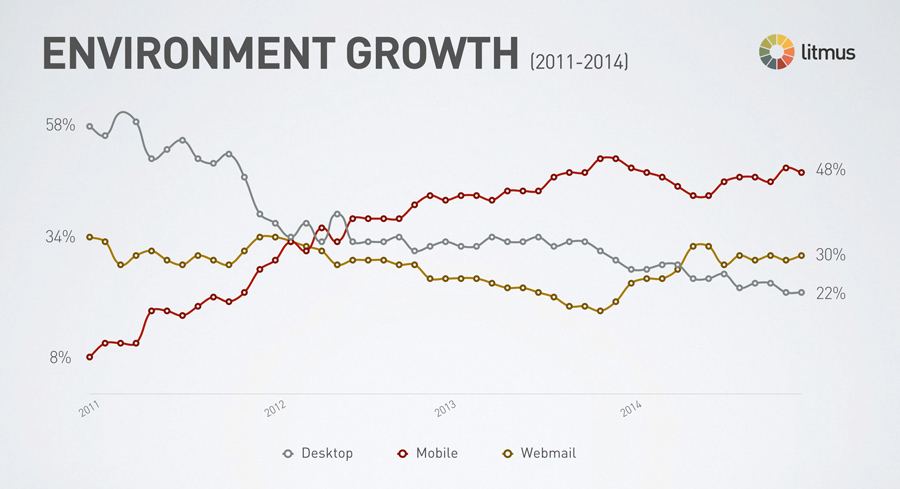 Over time, desktop email has slowly been replaced by mobile and web apps. Businesses are shifting email away from expensive desktop suites and moving to scalable services like Outlook 365 and Google Apps. And people everywhere—both in business and consumer settings—have been steadily opening more email on mobile.
GMAIL'S IMPACT TO EMAIL OPENS
2014 was a big year for email, and especially for how the industry tracks email opens. Changes in Gmail had a huge impact—leading to spikes in webmail opens, a dip in mobile, and redefining how we need to look at email client market share stats.
Throughout 2014, Gmail automatically downloaded images for emails viewed in a web browser and Gmail mobile apps. This behavior, combined with a change to the way Gmail manages images in email, meant that all opens in Gmail look like they're coming from the same place—even though some are coming from web browsers and others are coming from mobile apps. All opens from Gmail now fall into the "webmail" category. Because of these changes and the ambiguity of opens coming from Gmail, you'll hear us referring to "detectable mobile opens," and showing you how Gmail opens alone compare to opens in desktop, webmail, and mobile. There's a detailed explanation of the changes to Gmail and how they affect open reporting in our Help Center.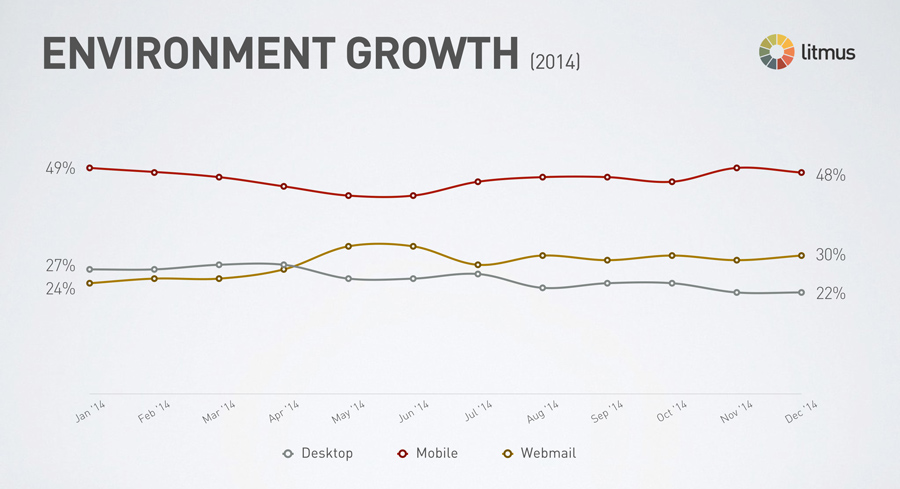 After mobile opens rose to a record peak at the end of 2013, we started to see the impact of these changes to Gmail. Because some mobile Gmail opens are now reported as webmail opens, detectable mobile opens steadily declined until May, where they evened out at 43%. Things started to pick back up in June, and mobile opens once again began to rise. We ended 2014 with 48% of opens coming from detectable mobile sources, 22% of opens in desktop, and 30% in webmail.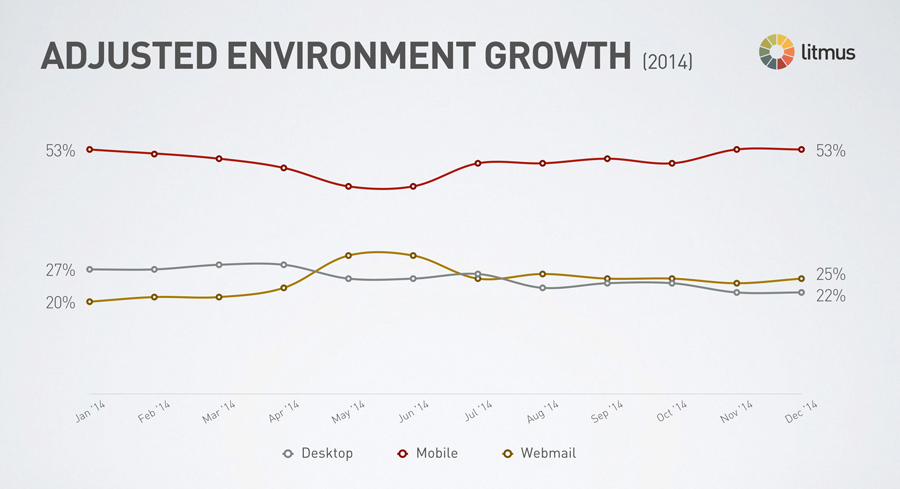 By looking at historical trends for mobile growth and the difference in Gmail open counts from before and after the updates, we can try to account for the lost mobile opens being counted as webmail. On average, it appears as though mobile opens are probably 3–5% higher than what is currently detectable. Looking at adjusted figures for 2014, this puts year-end open rates at 22% for desktop, 25% for webmail and 53% for mobile.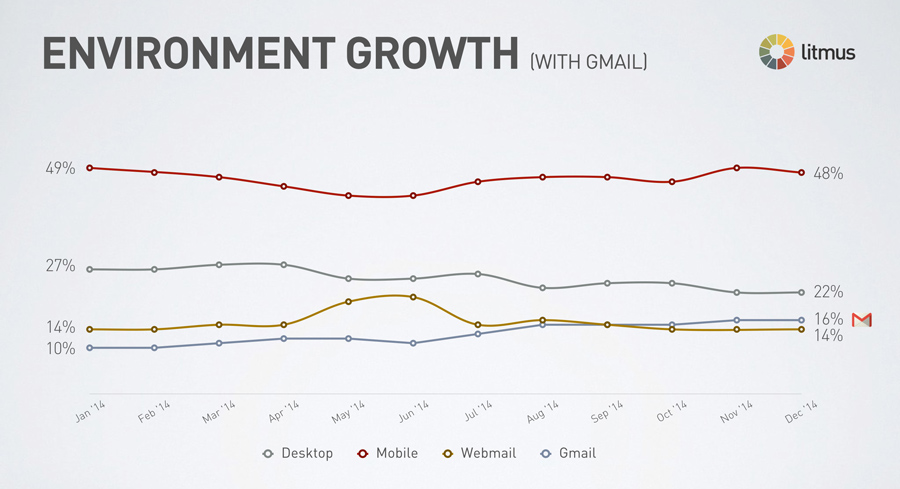 We can also examine Gmail as a unique category and see that Gmail opens steadily increased throughout 2014. They finally surpassed all other webmail opens in September and ended the year with 16% share—and a total increase of 72% for 2014.
MOBILE OPENS: ANDROID IS DOWN; IPHONE IS UP
Other notable changes include a 40% decrease in Android opens—also due in part to changes in Gmail tracking. Opens that were once attributed to Android in the mobile category are now tracked under Gmail in the webmail category.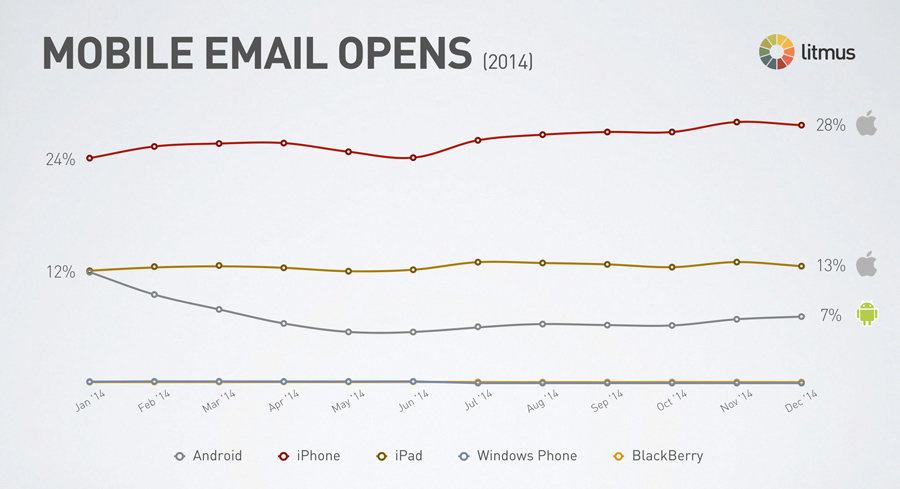 Meanwhile, iPhone opens increased slightly—rising from just under 25% to 28% over the course of the year. iPad opens, on the other hand, were flat—starting the year at 12.18% and ending at 12.68%.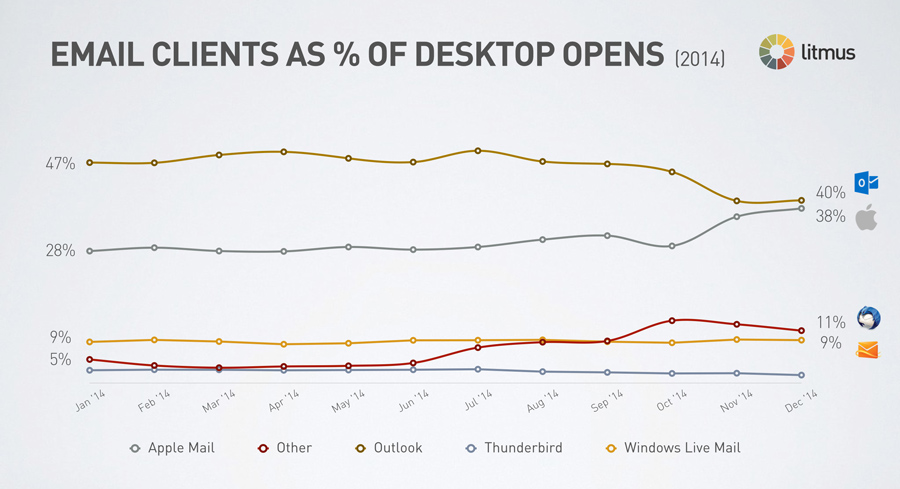 The big news for Apple this year was the release of the Yosemite operating system on October 16th. Apple Mail opens picked up the pace after the launch, increasing from 32% of desktop opens in September to 38% of opens by the end of the year.
Outlook, on the other hand, didn't fare so well. Opens decreased from 13 to 8.7% of total opens over the course of the year. While Outlook 2013 saw a steadily increasing open rate (mostly at the expense of Outlook 2010), all versions took a hit, with a drop corresponding to Yosemite's launch.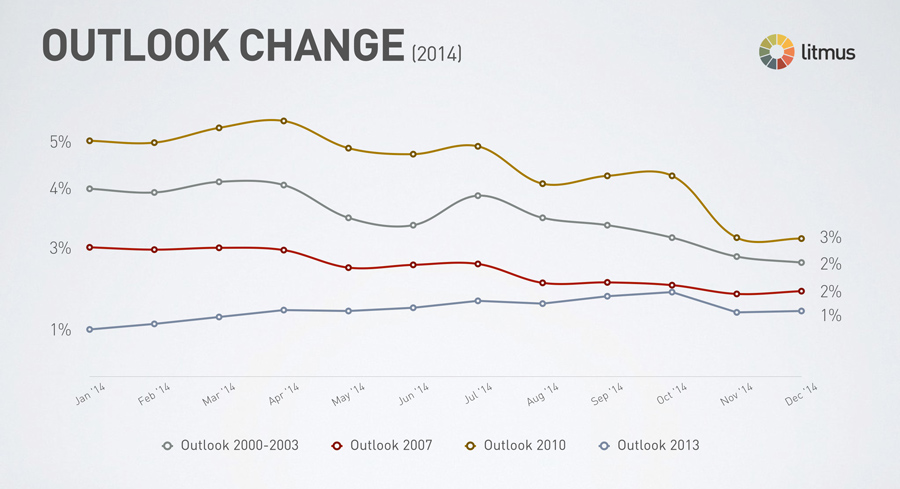 While we suspect that Apple grabbed some market share from Microsoft, we also attribute the decrease in Outlook opens to businesses shifting to online services such as Google Apps.
2014's TOP TEN EMAIL CLIENTS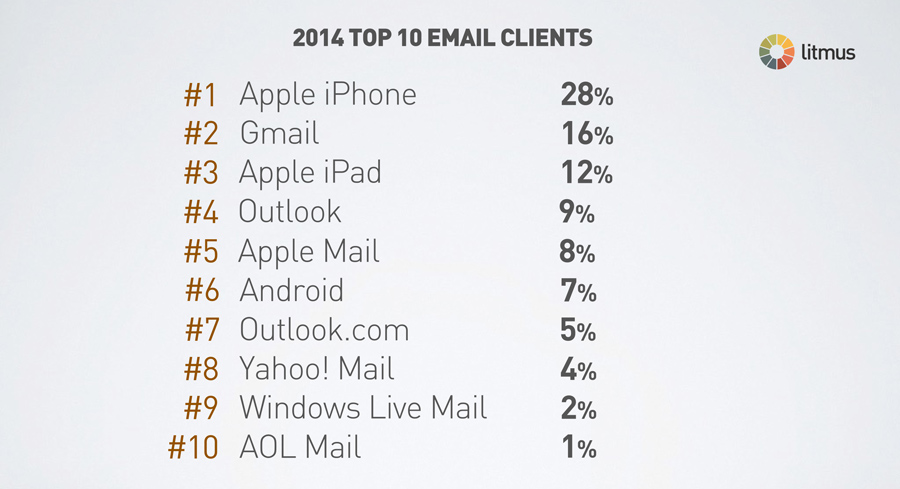 2014 wrapped up with Apple dominating in the top 5, with 48% of market share between Apple Mail and iOS opens. Gmail took the number two spot, while Outlook's decreasing numbers bumped it down to #4.
WHAT'S YOUR TOP TEN?
Email marketing works best when it's tailored to your audience. Find out where people open the emails you send with Email Analytics.
Data in this report is based on nearly 12 billion worldwide opens collected with Email Analytics between January–December 2014. Some email clients may be over- or under-reported due to automatic enablement of images and/or image blocking. Tracking trends over time is the best way to monitor open data for email. Learn more about how image caching and automatic downloads in Gmail affect open rates.