When you're building an email, there are a lot of elements to keep track of. You need to make sure your subject line and preview text aren't too long, links aren't broken, ALT text for images shows up—and that's just the beginning. What about making sure your emails sound intelligible on a screen reader? Are you on any blacklists? Does your email take too long to load?
Phew—that's a lot of things to check for before you send that email.
If you don't have a checklist that you use to guide you through each email, some things might get lost. Our research shows brands that use an extensive pre-send checklist see a substantially higher ROI (48:1) than those who don't (38:1)—and that might be due to a missed broken link, a terrible accessible experience, or maybe your email got caught in the spam folder and didn't reach your subscribers in the first place.
Most email marketers agree that extensive pre-send testing improves email quality and effectiveness. But at the same time, manually testing each email can be cumbersome and overwhelming.
Here's the good news though: With Litmus, you can speed up your pre-send testing process and enable your team to send error-free emails that perform, faster. Curious how? Here are 6 time-consuming email QA tasks that you can automate with Litmus Checklist.
1. See if your email triggers spam filters
Even the best copy and the most beautiful email design can't have an impact if your email is delivered to the spam folder. That's why pre-send spam testing is crucial. Ensuring you aren't on any blacklists and double-checking your DMARC record is set up correctly is now easier than ever. We've brought the power of Litmus Spam Testing right into Checklist.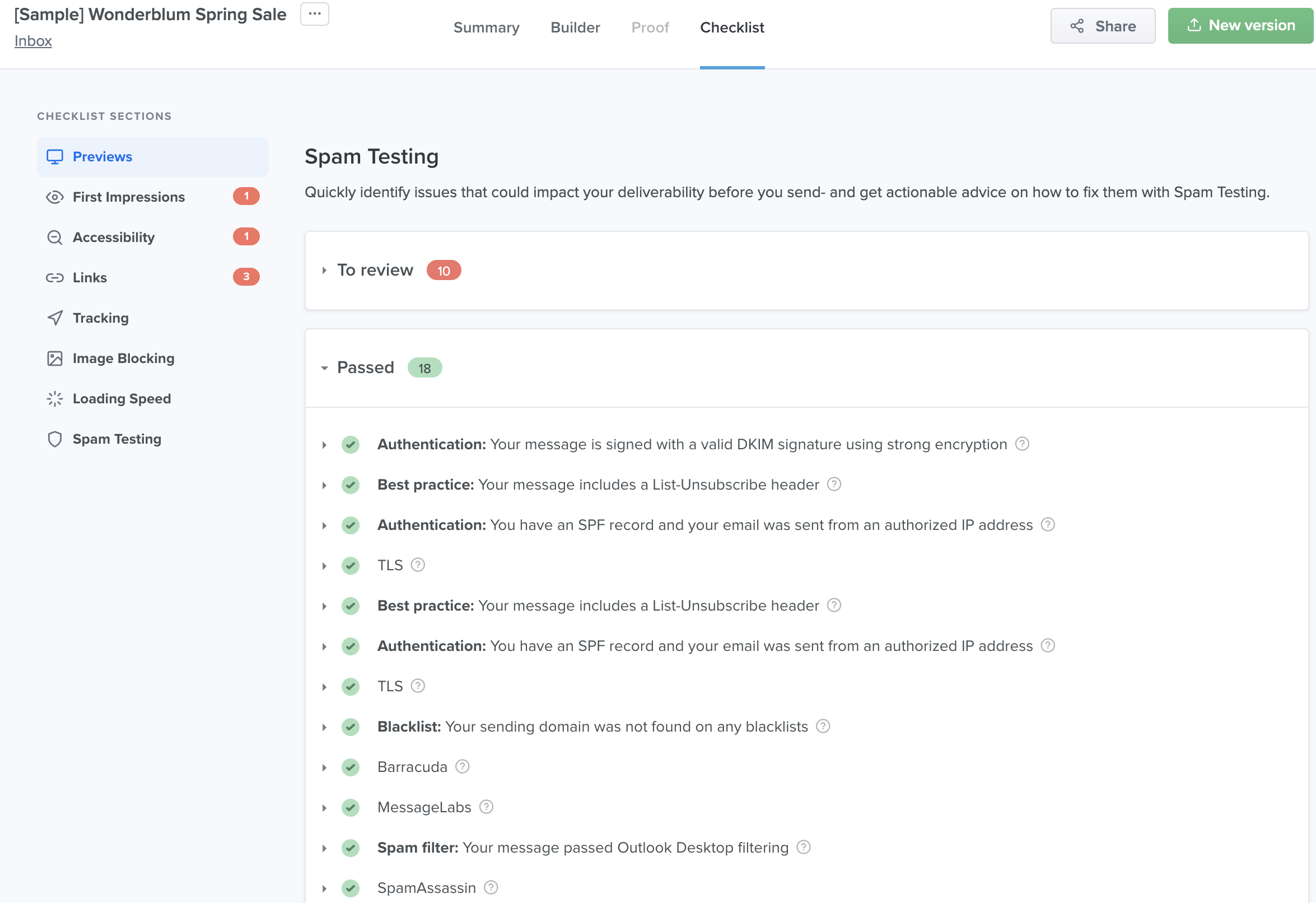 Get a guided check of the critical elements that impact your deliverability before sending. With Spam Testing in Checklist, you can instantly see whether or not your IP addresses and domain names are on any blacklists and double check your email's authentication. And if there are any issues, we'll give you actionable advice on how to fix them.
2. Ensure your emails follow key accessibility best practices
Making your emails accessible for all of your subscribers is incredibly important. As screen readers—and listening to emails on screen readers—rise in popularity, you should think about how your email sounds. With Accessibility Testing in Litmus Checklist, that's now easier than ever.
https://litmus.wistia.com/medias/oakdtmrwjs
Litmus Checklist checks your email against accessible design and coding best practices—like language tags, table roles, and content hierarchy—and will highlight things that could use improvement. Available exclusively in Litmus Checklist, you can also listen to how your email sounds to a screen reader with an audio recording and transcript.
Not loving how it sounds? Make the necessary edits in Litmus Builder, push your updated code to Checklist, and head back to that audio recording. Litmus Checklist will update the audio recording so you know exactly what your email will sound like to your subscribers that use screen readers.
3. Ensure your emails look great in all email clients
Want to double-check that your email looks great across 90+ apps and devices? You want to be sure that all of your subscribers will have a great experience when viewing your email, and we want that to be as easy as possible for you. We've brought Litmus Email Previews into Litmus Checklist so you can make checking previews a seamless part of your pre-send process.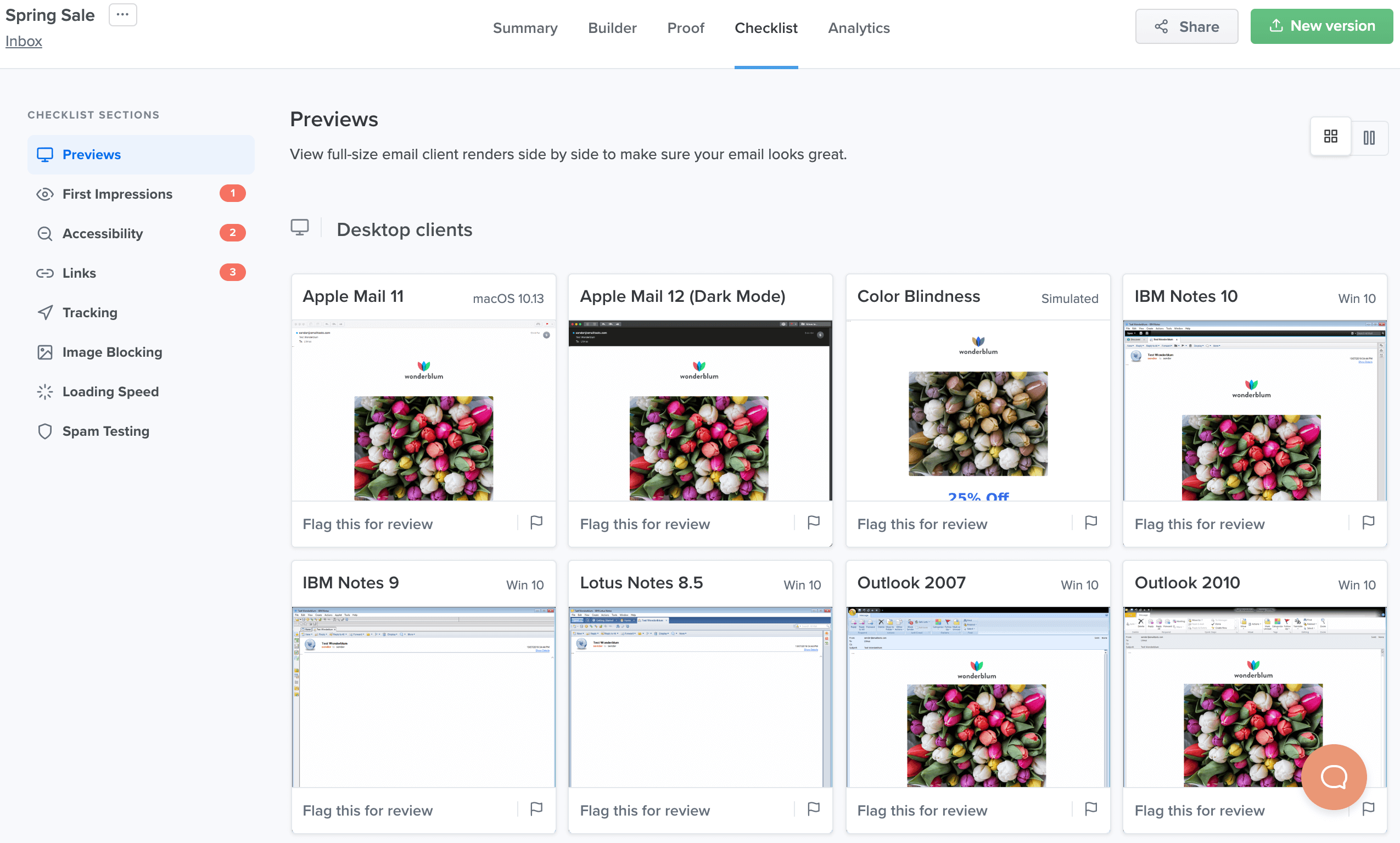 You can flag certain previews for review directly in Litmus Checklist. Plus, if you see that your email looks off in a certain email client, you can edit the code in Litmus Builder and then head back to Litmus Checklist to make sure those edits made the difference.
4. Verify your subject line and preview text are optimized
Make a great first impression with every email by checking your subject line, from name, reply-to address, and preview text with Litmus Checklist. Get notified if your subject line is a bit too long or hard to understand.
5. Catch broken links and verify clicks are being tracked
Let's say your email has an amazing subject line and you've piqued your audience's interest. They click through your email and they're excited about the main CTA—but that click takes them to a 404 page. Oops!
Automated link checking and tracking in Litmus Checklist will test all of the links in your email for you and make sure they lead to the right landing pages. Gone are the days of manually clicking every link in your email.
Plus, you'll want to know if your tracking is working properly—Litmus Checklist can handle that for you, too. If you're tracking clicks with Litmus Email Analytics, Google Analytics, or your email service provider (ESP), Litmus Checklist has your back.
6. Double-check ALT text and loading speed
Sometimes, images can prove to be too large for an email to properly load. Maybe you're including retina images for high-DPI displays, maybe you're sending out an email entirely made of images—whatever the reason, you want to make sure you're optimizing those images for your subscribers. If your images take took long to load, your message may be lost, and your subscribers may abandon your email. With Litmus Checklist, you can double check how quickly—or slowly—your images load to see if you need to reconsider using certain imagery or consider compressing those images.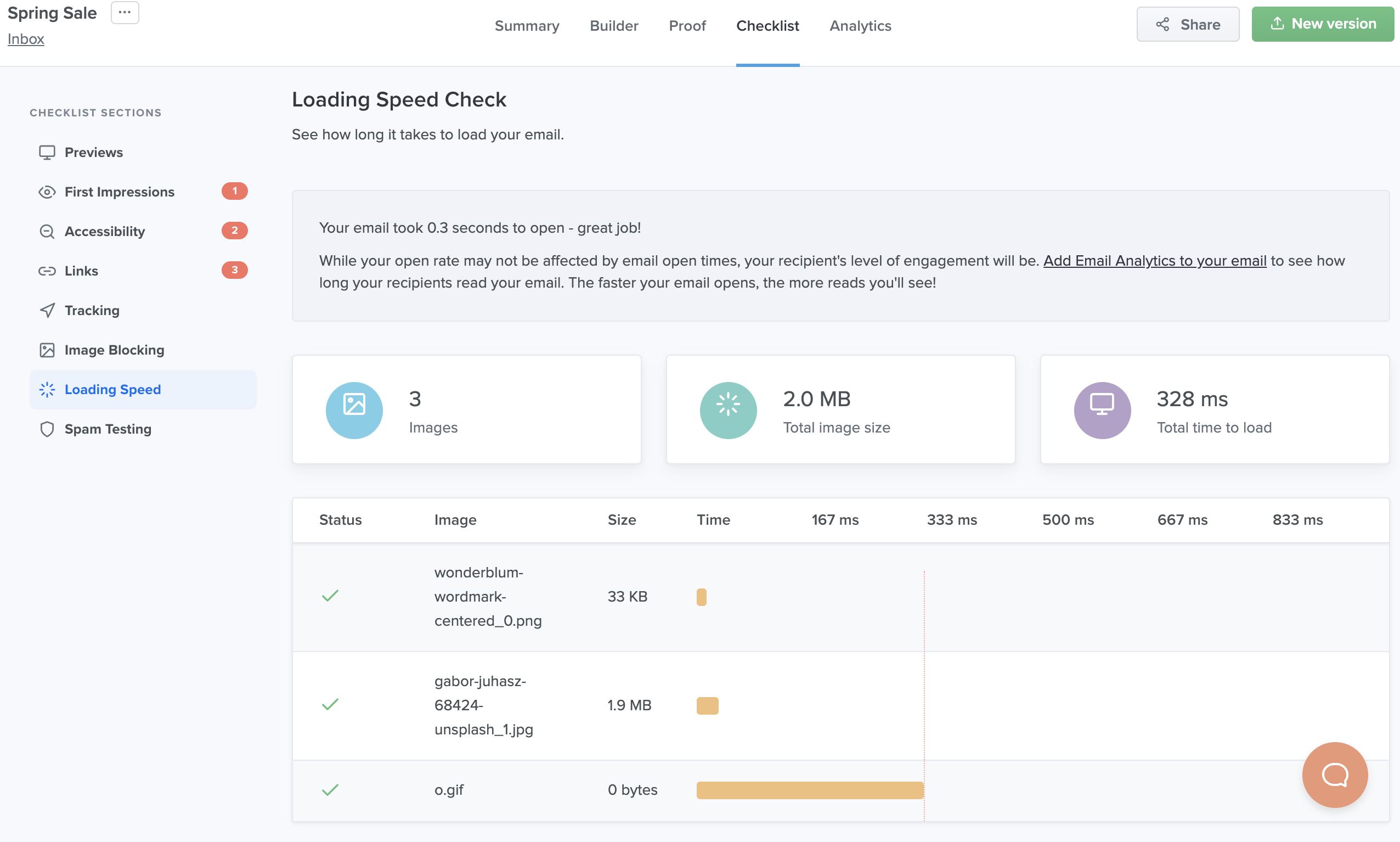 You may optimize them to load as quickly as possible, but you may still have some subscribers that have images off by default. In that case, you want to make sure to add ALT text to any image that would add value for the subscriber. In Litmus Checklist, you can turn images off to preview your email and how it would appear with any ALT text you have set up. You'll also get notified when images are missing ALT text entirely.
Are you ready to bring your pre-send testing to the next level?
Start testing your emails with Litmus Checklist today. Not a Litmus customer yet? Start a free trial.
Most Popular
Don't Miss Litmus Live 2022 this Fall!

The Premier Email Event by Email Pros, for Email Pros.
From Anywhere–and Any Budget.

Learn More