As the spread of the coronavirus evolves into a global health pandemic, many marketers are struggling to understand what the crisis means for their email program. Can you keep sending promotional emails or do you need to adjust your email program? And if so, how?
In this webinar, we shared the email marketing best practices that help you stay connected with your audience in uncertain times, along with some of our favorite examples of brands that have mastered the art of sending empathetic, personal, and helpful emails in times of crisis.
Didn't have a chance to watch the webinar live? Don't worry. You can access the full recording above—and read the Q&A below.
Unsure how to adapt your email marketing during this crisis? You're not alone.
If you and your team are struggling with what to say and how to say it, you're not alone. According to our quick webinar poll, only about a quarter of email marketers feel confident they have a solid communication plan in place right now. 49% say they've got a plan, but are unsure if it's the right one. Over a quarter of email marketers say they don't have a plan in place at all.

Resources to help you navigate these trying times
In addition to the webinar recording, we wanted to share some additional resources you might find helpful:
---
Q&A
A big thank you to everyone who chimed in during the webinar with a question! Here's a recap of our answers to the most popular questions, along with our take on some of the questions we didn't get to during the live webinar. Have any additional questions? Please leave them in the comments.
Should we pause all promotional emails immediately?
Jason Rodriguez: Maybe, but probably not. The key is to look at those promotional emails and see if they make sense in the context of the COVID-19 crisis. If your promotional emails are sensitive to the situation and provide real value for people dealing with a global pandemic, then keep sending them. They can provide some semblance of normalcy in an otherwise chaotic world.
If they don't take into account the pandemic and people's current and evolving needs, then yes, pause them. You can always revisit them in a few months after (hopefully) things have normalized some. As with any email—COVID-19-related or not—ask yourself if it's something you'd like to receive. Or if it's something your subscribers will actually use. Or if it aligns with your brand's values. Take a look at all of your promotional emails through that lens and then decide which to pause, and which to keep sending.
We polled our webinar attendees about how their email send volume has changed in the light of the crisis, and the results show that the majority of brands (58%) have decreased their email sending volume, pausing sends that just don't feel appropriate right now.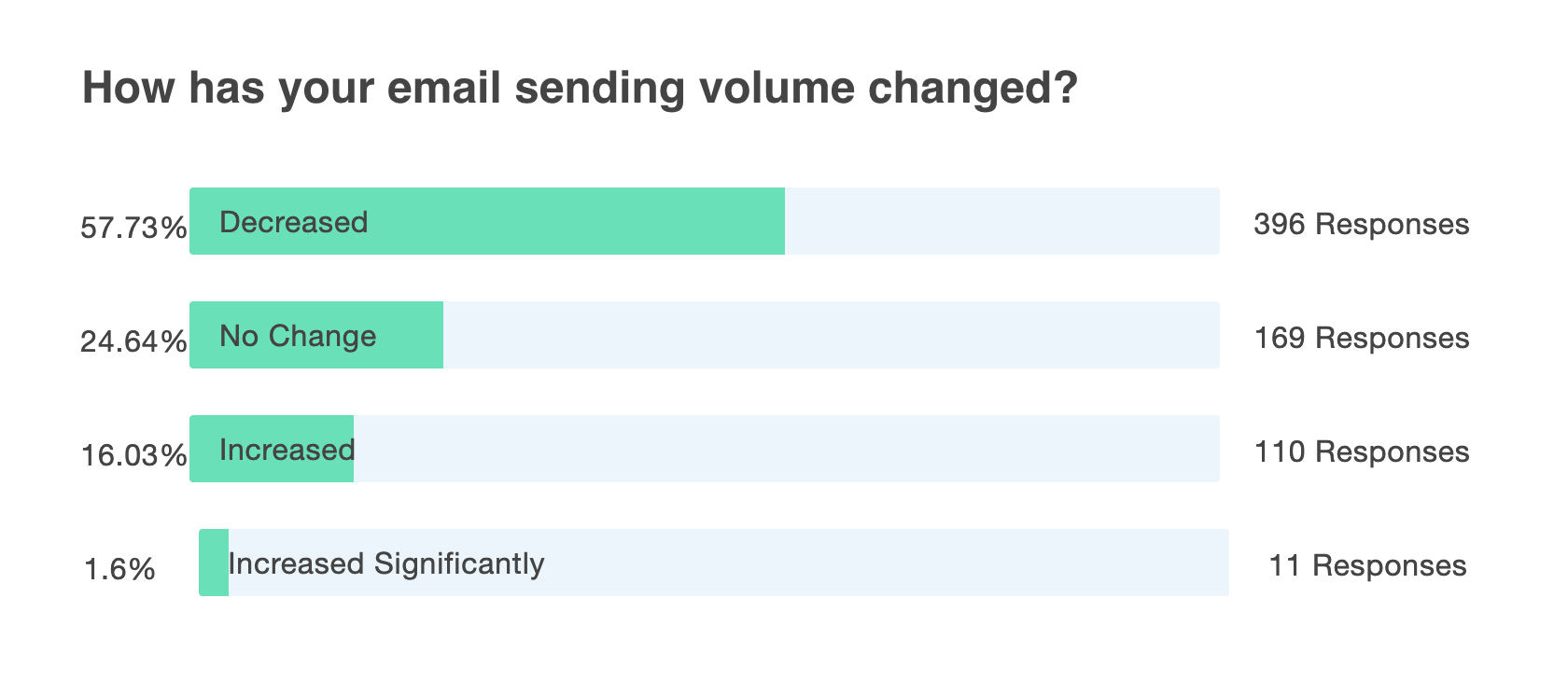 Should I turn off my onboarding emails? Monthly newsletters?
Jason: Just like with any email you're sending, you want to review them first to see if they still make sense for subscribers and customers in the wake of COVID-19. More often than not, it's a matter of adjusting some copy or content in your lifecycle emails or newsletters as opposed to turning them off wholesale.
Everyone is bombarding inboxes with the actions their business is taking during the time of crisis. How can a brand stand out from the communication clutter?
Jason: The best way is by providing real value for subscribers and displaying your own compassion for their situation (which is all of our situation). Too many companies are sending knee-jerk emails that do nothing more than signal virtues without providing actual help or resources to subscribers. If you want to stand out from all those, then don't send one of those emails.
Take the time to think through what—if anything—your subscribers need from you right now. Sometimes, silence can make you stand out. If there isn't an urgent need for them to hear from you, then not sending an email can speak volumes since you're actively trying to prevent clutter and free them up to think about more important things than your brand.
If we haven't sent a COVID-19 email yet, is it too late?
Jason: Nope! If anything, the delay has allowed you to absorb more of what's going on and better understand a very fluid situation. It's also given you time to see how other email marketers are addressing the pandemic. Use that time and extra information to figure out what—if anything—you should be sending to your subscribers.
As doctors and leaders learn more about the situation, it's looking like we're all going to be contending with COVID-19 for the next few months, not just the next few weeks. We all have time to figure out the best way to message and help our subscribers.
What should a travel company do for email marketing during this time of crisis?
Matthew Smith: These groups are one of the toughest to hit I think. I can imagine this is really difficult. I think the first thing you can do is to listen to your customers and ask some good questions about how they are feeling or doing. This might be a survey. This might be reaching out to 100 people from different segments. You could interview people about where they are dreaming of traveling when this whole crisis ends. You could interview people to tell their favorite travel stories. These stories and this learning translates into you listening to your customers where they are. You can share these stories in long form emails or snippets of cute shares. Imagine reading about Lisa and Katie who are stuck inside with their little dog Ginger. They're tired and have been fighting about little stuff in the last week, but are finding some solace planning their next big trip to Peru when the airlines open up. Another thing you can do in this industry is to reveal more about your own team. Imagine seeing a post about what each of you are doing to weather the storm. I think I'm going to promote this over at RGE 🙂
I know you can do it. Think about what you'd do if your family were stuck in a snowstorm for a week. You'd figure out ways to connect and love each other. Do that. We need more of that!
This kind of opportunity will lead to connections and bonding between customers and business that will help dig you out of the hole we are all inevitably falling into economically.
Will halting email sends for a while affect email deliverability?
Jason: Completely halting all of your emails for a prolonged period of time could adversely affect your future deliverability, but I'd caution against taking that approach. It probably makes sense to turn off some emails, but your customers will still appreciate transactional emails and relevant updates from you, so keep sending them.
A potentially bigger risk is continuing with business as usual. It should be clear that, globally, nothing is business as usual anymore. Over the course of a very short period of time, what feels almost like overnight, the world has changed. All of us are left coping with that change, and senders treating things like they haven't changed—sending the same, sales-y emails—risk offending subscribers, leading to unsubscribes and spam reports. I'd be more worried about that than reduced sending volumes or servers left cooling for a few weeks.
Once the dust settles and plans can start in order to bring operations fully back online, what recommendations are there to appropriately ramp up marketing efforts?
Jason: I'd recommend taking things slowly and continuing to respect your subscribers and what will be their shifting priorities. Even after the worst of the pandemic passes, things continue to change—whether that's back to the office after a few weeks or months at home, scrambling to find a new job to replace the one you lost, or reduced income due to business closures, subscribers will still be struggling to feel normal. Their routines and habits will be disrupted, so you need to ease back into building those habits.
Hopefully, you're keeping in touch with your subscribers throughout this—in a considered way—so you can start to reintroduce things like newsletters and promotions. But do it slowly with a focus on their needs and how those needs have changed since the coronavirus completely disrupted life around the world.
What is the right content strategy during this time across channels, not just email?
Jason: In my opinion, it's compassion. My favorite definition of compassion, from the American Heritage Dictionary, is:
Deep awareness of the suffering of another accompanied by the wish to relieve it.
Regardless of which channel you're using, I hope you're striving to understand the problems of your customers and doing what you can to relieve it. That can take a lot of different forms, but I believe it's the lens with which we should view all content strategy, inside of email and out.
Bettina Specht: Email marketing should never happen in a silo—and now more than ever it's important that your brand is communicating the same information with a consistent tone and voice across channels.
How exactly that communication and content strategy looks will heavily depend on your brand and audience. If you're a travel company, your communications will look different from a fashion retailer or a healthcare provider—and even in the same industry, different brands might take different approaches to their content strategy right now.
Looking at what other brands in your industry are doing can provide you with inspiration, but in the end you should focus on your brand and your audience. Come together with your team—your marketing leadership, customer support, your sales and communications leaders—to look at what your customers need right now, and how your brand can help cater to those needs.
How can we get traditional C-suite stakeholders to understand the value of empathy and empathetic digital messaging during this time?
Kristin Bond: Just like any other time when you're trying to convince others to follow best practices, data is your friend. If you've already sent an email about COVID-19, look at its performance. It may have a higher open rate than normal, but that doesn't necessarily mean you need to keep sending them. It's the most popular topic in the world right now—of course people are hungry for information.
If you're continuing to send other promotional emails right now, look at how they're doing. If conversions are lower right now, that doesn't mean you should be sending more emails. While people might be less likely to spend right now, that won't always be the case. You don't want to lose subscribers over out-of-touch marketing now, because then you won't have them later when things are back to normal. Insensitive messaging right now could also tank your deliverability if people are upset and mark it as spam. Don't sacrifice long-term subscribers for short-term gains.
Other resources you might not have considered: your colleagues. Talk to your social media and customer care teams, as they're on the frontlines and likely to have a pulse on your audience and how they react to any messaging your brand puts out. In my team's creative meetings, any time someone floats a potentially risky idea, our social media team immediately knows exactly how our audience will likely react, and they help us craft the message in the best way possible—as well as plan out responses for any potential things people might not like. The same is true for your PR or communications team. They're specially trained for crisis communications, and they understand the importance of a good brand story—and the damage a bad one can do. They can help craft messaging to ensure it's sensitive and appropriate, while still meeting your business needs.
How can a B2B supplier promote products to clients without being tone-deaf about potential decrease in demand?
Jason: As with other types of email, just try to be respectful and honest. Understanding that you need to take advantage of what little demand is still around to make money, try to start a conversation with those businesses to see if they actually need your products right now. If they don't, then try to hold off a bit so you don't come off as insensitive. There might be other resources you can provide apart from your products that are more valuable to them today, even if they're free. If you're being truly helpful, they are more likely to remember that help when demand has increased again and buy from you as opposed to a competitor.
From a very practical standpoint, use the people you're trapped at home with to help gut check your emails. If you are sending something, read the copy out loud to them and watch their reactions. Ask them if it comes across as tone-deaf or actually helpful. Don't worry about them not being in the email industry—the feedback from non-marketers is almost always far more valuable than what comes out of our own industry bubble.
What imagery is appropriate to use in email campaigns right now?
Bettina: Empathy is crucial when deciding what to send and how to write your copy—and the same is true for other email creative, too. When looking at your existing emails, take a close look at the images you're using to make sure they're still appropriate. Be careful with imagery showing crowds or people holding hands—visuals that were absolutely fine just a few weeks ago might come across as insensitive today.
When sending notifications directly related to the epidemic, it can be hard to find the right image to support your message. That's why you'll see that many brands opt for a letter-style, text-based approach. Check out some examples on Really Good Emails.
Is a COVID-19 announcement a transactional email that I should send to my entire list?
Kristin: As always, you should only send an email as transactional if it meets the legal classifications of a transactional email. Chances are, your COVID-19 announcement email is not a transactional email you should send to your entire list. If you need to send a message that's specifically about a transaction a customer has made with your company, then you can send that as a transactional email to the affected customer(s). Examples of that might be event cancellations or postponements, or other relevant changes to service such as shipping delays. I don't think general retail store closures warrant a transactional email, but could be sent as a commercial email or posted on social media.
Most Popular
Don't Miss Litmus Live 2022 this Fall!

The Premier Email Event by Email Pros, for Email Pros.
From Anywhere–and Any Budget.

Learn More