Brands tend not to spend much time thinking about their deliverability until it's an inferno and many of their emails are being blocked. Faced with huge losses of revenue and engagement, brands then race to assemble an email remediation plan and try to do the right things to get back in the good graces of inbox providers and blocklist operators.
Learn from your peers who neglected their email lists and infrastructure and watched them go up in flames. Do the right things—before you have deliverability problems.
Don't wait for a deliverability meltdown
In all of our research, we noticed an interesting pattern: Many of the technologies and behaviors that are known to improve deliverability are actually used at higher rates by brands that have been blocklisted than by brands that haven't been. These behaviors include:
Using an email address verification service
Using SPF authentication
Using DKIM authentication
Using DMARC authentication
Using encryption
Using spam filter testing
Sending re-engagement campaigns
Sending win-back campaigns
Removing chronically inactive subscribers
Using deliverability monitoring
Using third-party deliverability monitoring tools or services
This makes sense, as those are all potential parts of a good deliverability remediation plan that you'd use to recover from a blocklisting.
But this is more than a remediation plan checklist.
It's a checklist for deliverability success and the safeguarding of future email marketing revenue. That's because marketers who describe their email programs as successful are more likely than less successful programs to use each of those tools and tactics.
So don't wait until you've had your hand burned by a deliverability meltdown. Set your email program up for success by learning from those who have been through that unpleasant and costly experience, and from those who have built successful email programs on a foundation of solid deliverability practices.
See how brands manage deliverability (and other analytics)

Want to build a best-in-class email marketing program? You need to understand what works and what doesn't. And arm yourself with the right data. Find out how you stack up against your peers in our State of Email Analytics report.
How to avoid blocklists and spam
Here's a closer look at each of the behaviors and tools that are part of a good remediation plan and help ensure deliverability success.
1. Email address verification
Not many brands use an email address verification service to check that the new addresses they're adding to their list are formatted properly, don't contain any common domain name typos, and more. Having bad email addresses on your list results in high hard bounce rates, which can get you flagged as a spammer by inbox providers.
So you might want to consider email address verification as a way to build a clean email list.
2. Authentication
Brands should use all three authentication methods available to them—Sender Policy Framework (SPF), DomainKeys Identified Mail (DKIM), and Domain-based Message Authentication, Reporting & Conformance (DMARC)—as they each do something different.
SPF and DKIM help identify the sender and the domains that can send email on behalf of that sender, and DMARC tells inbox providers what to do with mail that fails SPF and DKIM checks.
More than 58% of brands use SPF while 58% and 44.4% use DKIM and DMARC respectively.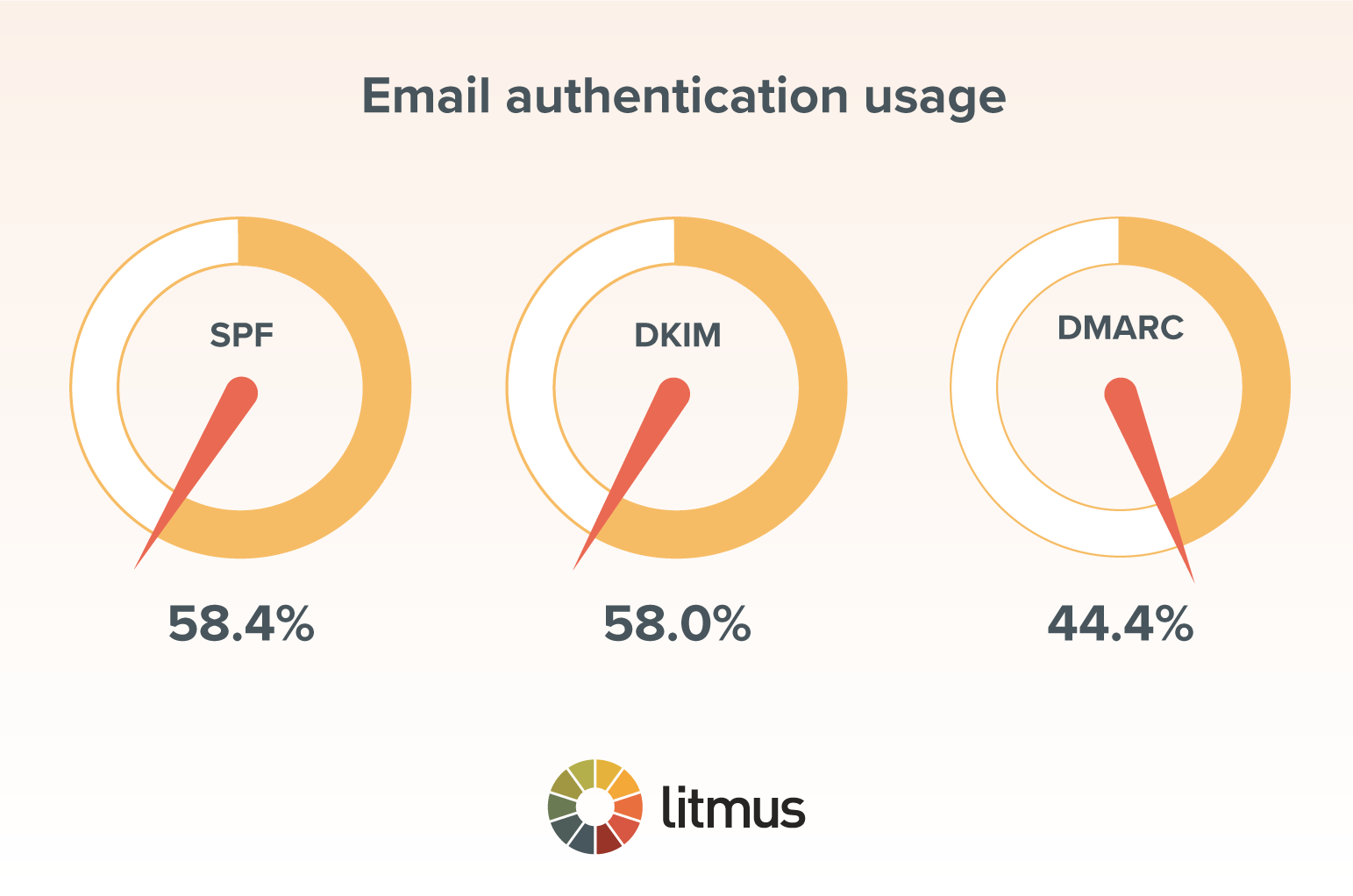 Among brands that have been blocklisted in the past year, 76.6% use SPF (vs. 62.6% of brands that haven't been blocklisted recently); 76.6% use DKIM (vs. 65.0%); and 61.7% use DMARC (vs. 48.3%).
3. Encryption
In-transit encryption doesn't have a direct effect on deliverability (yet), but unencrypted emails are flagged with a red unlocked padlock in Gmail, so it's a trust factor. That, along with its alignment with authentication, is surely why encryption is popular among brands that have been blocklisted recently.
Recently blocklisted brands are 78.4% more likely than other brands to encrypt their emails (29.8% vs. 16.7%). On average, though, only 16.5% of brands use email encryption.

4. Spam filter testing
Tools like Litmus Spam Testing empower marketers to see how spam filters will react to their emails before they send them to their list. This allows them to make adjustments and address any warnings or red flags that are raised.
On average, 63.1% of brands do spam filter testing.

More than 65.4% of brands that have been blocklisted recently sometimes, often, or always use spam filter testing—compared to 55.6% of brands that haven't been blocklisted recently.
Plus, those that run their emails through pre-send spam filter tests see a 39% higher return on investment (ROI)!
Make it to the inbox—not the junk folder


Litmus Spam Testing scans your emails against 25+ tests, identifies issues that might keep you from the inbox, and provides actionable advice for how to fix them.
5. Inactivity management
To land in the inbox, subscribers have to not only tolerate your emails but also at least occasionally engage with them. This is particularly true at Gmail, which pioneered engagement-based filtering.
As a result, it is an absolute necessity to manage your inactive email subscribers.
Brands can indirectly address the problem with win-back campaigns that target inactive customers. Nearly 30.8% of brands that have been blocklisted often or always send win-back campaigns to customers who haven't made a purchase in a long time, compared to 22.4% of brands that haven't been blocklisted recently.
However, a much more direct way to address inactive subscribers is to send re-engagement campaigns to subscribers who haven't opened or clicked an email in a long while, with the goal of getting them to simply open or click an email.
Since re-engagement emails are a better remedy than win-back emails for inactive subscribers, brands that have been recently blocklisted are more likely to often or always send re-engagement campaigns (38.5% vs. 20.4%).
If re-engagement efforts fail, then eventually, chronically inactive subscribers have to be removed from a brand's active mailing list. This is a psychologically painful act, as no marketer likes to see their list shrink. This is why 45.1% of brands rarely or never cut chronically inactive subscribers. But on average, 65.4% eventually do.

The good thing? This tends to be a financially painless act, as these subscribers aren't generating revenue via email since they're not opening or clicking.
In fact, the improvements in deliverability and slightly lower sending costs generally increase email revenue. That's why brands that have been blocklisted recently are 13.7% more likely to cut inactives at all (73.1% vs. 64.3%), and why successful email programs are 25.6% more likely to do so (68.6% vs. 54.6%).
6. Deliverability monitoring
Lastly, brands that have experienced a blocklisting recently are more likely than those that haven't to always monitor their deliverability or inbox placement (42.3% vs. 35.2%). It makes sense that if you've had problems with your deliverability, you'd monitor it more closely.
In general, though, 77.3% monitor deliverability—even if rarely.

There's an even more marked difference when it comes to the monitoring tools used.
While the deliverability monitoring provided by email service providers dominates, brands that have been blocklisted are 67.7% more likely to use third-party deliverability monitoring tools or services (48% vs. 28.6%).
Learn from others' mistakes
Getting blocked and blocklisted is painful and costly. Don't wait until your brand suffers serious problems before adopting a deliverability remediation plan. Proactively adopt the behaviors and tools that can help you avoid trouble. Learn from those who have already been burned by a blocklisting and be sure to…
Use email address verification.
Authenticate and encrypt your emails.
Perform spam filter testing.
Manage your inactive subscribers.
Monitor your deliverability rate.
In addition, as part of any email remediation plan, be sure to examine how you build your email list, as our research also found that some subscriber acquisition sources are highly problematic and are closely associated with deliverability problems.
Identify issues that may land your emails in junk

Get an automated check to see if you're blocklisted, if your emails have been authenticated, and if you might get caught in a spam filter. Plus, access hands-on advice to fix issues!

Originally published on August 21, 2017, by Chad S. White. Last updated September 27, 2021.