Canada's Anti Spam Legislation (CASL) is one of the world's strictest anti-spam laws, and it has been keeping email marketers busy since its introduction in 2014. Over a quarter of email marketers say that CASL has had a significant or dramatic impact on their company's email marketing program, according to a Litmus poll.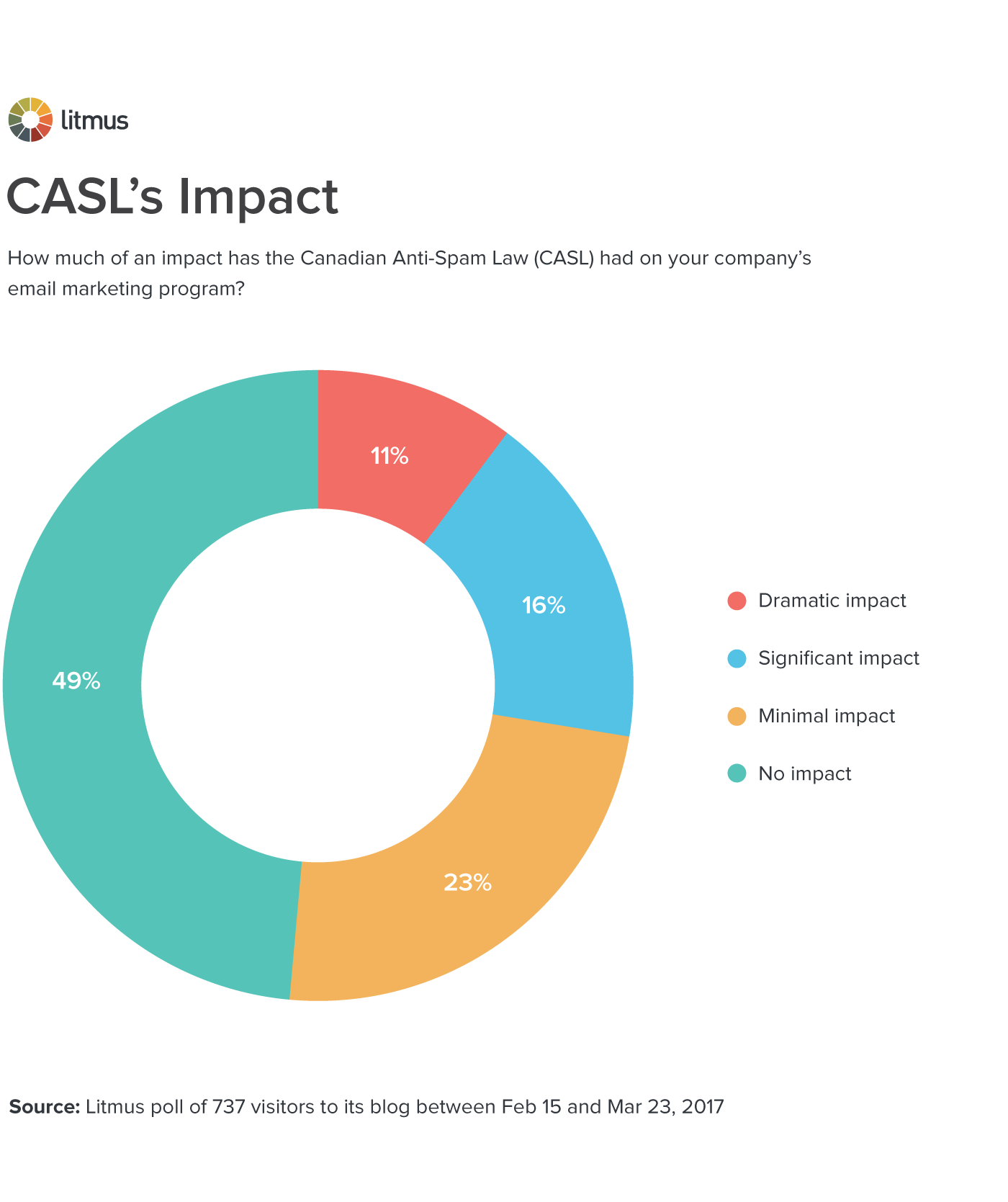 This July, CASL enters the final phase of its multi-year rollout. With that, we'll not only see changes to how marketers must handle implicit consent, but also see a shift in how individual recipients can defend themselves against unsolicited email.
Here's everything you should know to get your email program ready for CASL in 2017.
A Brief Refresher: What is CASL?
To protect its citizens from unsolicited messages, Canada passed CASL in December 2010. Coming into force in July 2014, the law sets clear requirements for all commercial emails.
For example, promotional emails must include a working unsubscribe link, and it must be easy for the recipient to identify the sender of an email. But most importantly, CASL is an opt-in law, meaning that brands are only allowed to send email to people who've agreed to receive messages from them.
Even though it's a Canadian law, it doesn't only apply to Canadian brands, but to all senders that send email to recipients based in Canada. Charged with enforcing CASL, the Canadian Radio-television and Telecommunications Commission (CRTC) works hand in hand with its international counterparts—including agencies in the U.S., U.K., and Australia—to investigate and enforce violations of CASL by international senders.
Where are your subscribers located?

Get to know your audience and dive into detailed geolocation data with Litmus Email Analytics.
Understanding Consent
CASL is distinguished between two types of consent:
Express consent
Express consent means that a person has clearly agreed (orally or in writing) to receive email from you. Express consent does not expire. It's valid until a recipient withdraws his or her consent.
Implied consent
Even if an individual hasn't given express consent, certain activities can imply consent and allow marketers to send email to that individual, too. For example, if someone purchased a product from a brand or inquired about a brand's services, this is considered implied consent under CASL, and the brand is allowed to send promotional emails.In contrast to express consent, however, implied consents expire. For a purchase, the implied consent is valid for 2 years. If it was an inquiry about a product or service, the consent is valid for only 6 months. If the subscriber hasn't "renewed" its implicit consent during that time frame, for example by buying from the brand again, the implied consent expires. In this case, the brand won't be allowed to send promotional messages to that subscriber anymore.
CASL requires email marketers to keep a record of the permissions they gain from subscribers, including information on when and where consents were collected. When a brand is challenged in court, the burden of proving permission always lies with the sender. Especially if a brand relies on implied consent, keeping track of the date of consent and the expiration date is key for remaining CASL-compliant.
What's new in July?
July 1, 2017 marks the final phase of CASL's rollout. Seven years after the law was passed—and after a period of gradual implementation and transition—the law will finally be fully implemented.
For email marketers, the summer of 2017 brings two major changes:
All implied consents now have an expiry date
While CASL makes it clear that implied consent expires after a specific time, the Section 66 transition period provided marketers with some extra time to bring their current subscriber base up-to-date. While every implied consent collected after the introduction of CASL in 2014 is subject to the expiration dates for implied consent, the transition period (July 1, 2014-July 1, 2017) gave marketers a little more wiggle room for implied consents that were collected before that date. Brands that had built their email lists on implied consents collected before July 2014 were allowed to continue to send email to those recipients during the transition period.Starting in July, this transition period ends and marketers are only allowed to email recipients with either express consent or implied consent that's valid under CASL—that is, 24 months after a purchase or six months after an inquiry.
Individuals can now sue brands that send spam
Up until now, individuals were able to file complaints when receiving spam, but it was ultimately up to Canadian governmental agencies to pursue the cases. Starting this summer, the Private Right of Action comes into force, allowing individuals and organizations who receive email that violates CASL to sue the sender for both actual and punitive damages.Not complying with CASL may result in fines of $200 per violation, up to $1 million per day. With that, penalties might well exceed the fines we've seen in the past.
What does this mean for email marketers?
Brands who've heavily relied on implicit consents to build their lists in the past will likely have to remove large numbers of addresses from their lists this summer—at least if they don't manage to renew consents in the next few weeks. This might be the last chance to run a campaign to (re-)collect consent—ideally expressed one—and keep those subscribers on the mailing list.
Here's how cosmetics brand Lush reached out to its subscribers to collect express consent: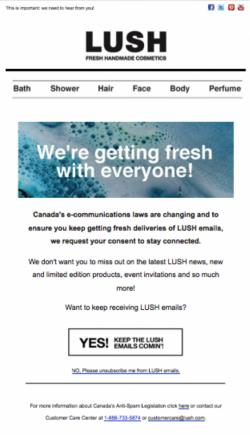 If you're sending to Canadian subscribers, it's time to take another close look at your email program to make sure that…
You provide your business name, postal address and either a telephone number or email address in your emails so your recipients can easily identify you as the sender.

You're only sending to subscribers who've agreed to receive email from you (be it via an express or implied consent)

You keep records of your consents, be it implicit or explicit, including the date and time of the consent.

You're removing email addresses from your list as soon as their consent expires.

Your emails contain a working unsubscribe link and that you honor unsubscribe requests as quickly as possible. This cannot take more than 10 business days.
Act now to ensure you're prepared for the final phase of CASL to kick in on July 1.
Learn more about CASL
Disclaimer: This post is intended to provide you with a high-level overview of CASL and the upcoming changes, but is not intended, and should not be taken, as legal advice. Please contact your attorney for advice on email marketing regulations or any specific legal problems.
Want more resources like this?
Subscribe to Litmus Weekly to get your weekly dose of email inspiration, tips, and tricks, right in your inbox.