The Community Spotlight is a blog series highlighting some of the amazing members of the Litmus Community.
This time we're chatting with Ted Goas, a product designer and the brains behind Cerberus, a set of responsive patterns for HTML email. Be sure to follow him on Twitter and check out his posts on Medium.
Who are you, where are you from, and what do you do?
I'm Ted Goas. I'm a product designer at Stack Overflow, where I split my time between web and email design. I work remotely from my home in northeastern New Jersey, US.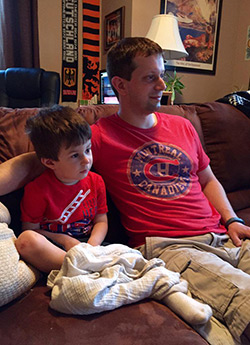 When did you first get involved with email marketing?
I started my professional career in 2001 as a web designer. I sent out the occasional text-only "email blast," but my work focused on websites. Over the years, I've worked on a number of small teams where folks wore multiple hats, and email has always been something that needed to be done. What started with "I'll take a crack at email," progressed to "I have experience with email," and eventually got to "I'm pretty good at email."
What do you see as the biggest challenge in email today?
Getting past things like this:
"If you don't want to learn anything and want job security, be the person at your company in charge of HTML email." @zeldman #aeaorl

— Sean Tubridy (@tubes) October 3, 2016
It bothers me when I see someone ridicule HTML email like this. There are millions of designers and developers worldwide evolving what's possible in web and product design, yet email design is a small niche that few folks seem to enjoy even though it involves many of the same skills. Our little email geek community has accomplished so much (especially in the last few years), but imagine what we could do with 5x or 10x more people pushing email forward.
And what's been your biggest challenge in email?
Optimizing large email systems. I work mostly in the product world, and every organization I've worked with either had no email program or the program was largely neglected. Many times email isn't deemed a priority amidst other product bugs and features, so I've had to sell the importance of optimizing email and do all the design and development work. It's a lot to take on for someone not solely focused on email.
I joined Stack Overflow earlier this year, which is my biggest challenge yet.
Cerberus–your set of responsive email patterns–made quite an impact on email geeks. Did you expect it to be so popular when you created it?
Absolutely not. It started as, and continues to be, a solution to my own email problems. I'm both happy and humbled when I hear from folks who've learned from studying the code.
What do you think email will look like in five years?
I think we'll get better with our data. Ticketmaster sending an email about that concert you're interested in at the perfect time. Medium sending a personalized email digest of just the right posts. Some folks are getting pretty good at it now and I hope this will continue.
Ultimately I don't know what email will be like in six months, much less five years. But one thing's for sure: people will still be predicting the death of email.
What's your favorite email hack?
My favorite hacks involve either making emails work for more people (eg. hybrid coding, accessibility) or reducing the amount of code it takes to create an email (eg. Mark Robbin's table structure). I typically don't target email clients unless it's to make something super basic work.
Has there been an email campaign or email design that's caught your eye recently?
I like the type of emails that Charity:Water and Hoefler&Co are sending out. Short message, solid typography, one or two vivid images.
Oh and Action Rocket's April Fools email, I'll never forget that one!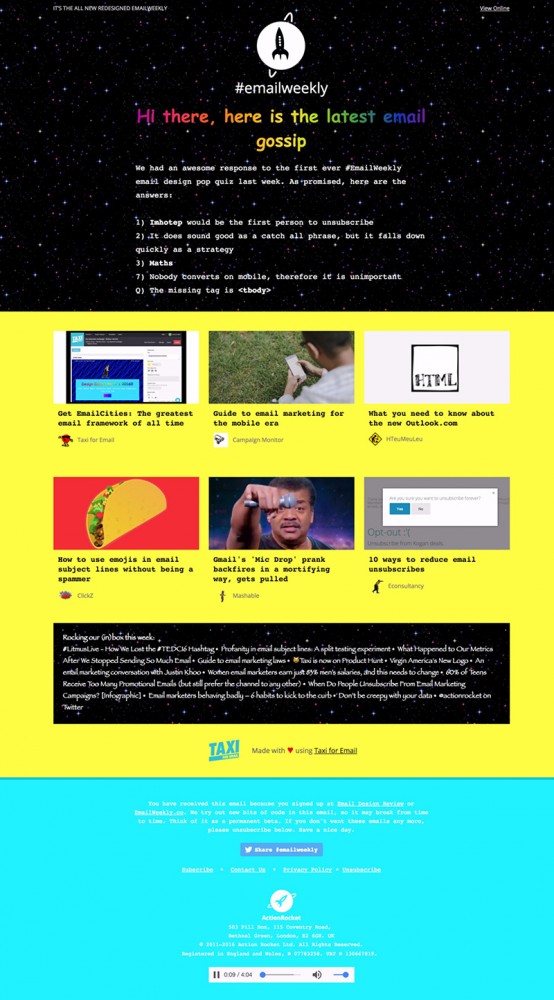 What email client do you use?
Apple Mail, iOS Mail, and iOS Outlook. Until recently, I used Outlook 2010 every day; perspective.
Outside of the email world, what else floats your boat?
I have a young family, so I spend most of my free time with my son, daughter, and wife. I enjoy reading and playing video games when they're asleep. I like getting out of the house whenever possible, whether it's heading into the city for a concert or just eating at a restaurant down the block. I'm hoping for a snowy winter so I can get out on my snowboard.
Favourite film/band/TV show/color/day of the week?
Film: American History X
Band: Pearl Jam, The Pixies, Interpol
TV: Old episodes of The Simpsons
Color: I don't have a favorite, but the Open Color project recently caught my eye.
Favorite Day: Friday, because I have the most energy! By the time Sunday rolls around, my kids have completely worn me out and I'm ready to go back to work.

Previous Community Spotlights

Rémi Parmentier
Justin Khoo

Join the Community

Not a Litmus Community member? Join the best minds in the email industry as they discuss the latest email news, cutting-edge techniques, and solutions to even the trickiest email design problems.