Read Time: 6 min
Current Email Program Resourcing Levels Have Many Marketers Feeling Under-Supported and Disrespected
With brands sending more email and investing more in email marketing technology because of high return on investments, email marketing is feeling the love. But that's not the case with many email marketers, who are feeling under-supported, underappreciated, and misunderstood.
The core of many marketers' frustrations revolve around resources—in terms of technology, staffing, and time. More than one-third of marketers say their email programs are "under-resourced" or "very under-resourced," according to Litmus' 2017 State of Email Survey, which was taken by more than 3,500 marketing professionals.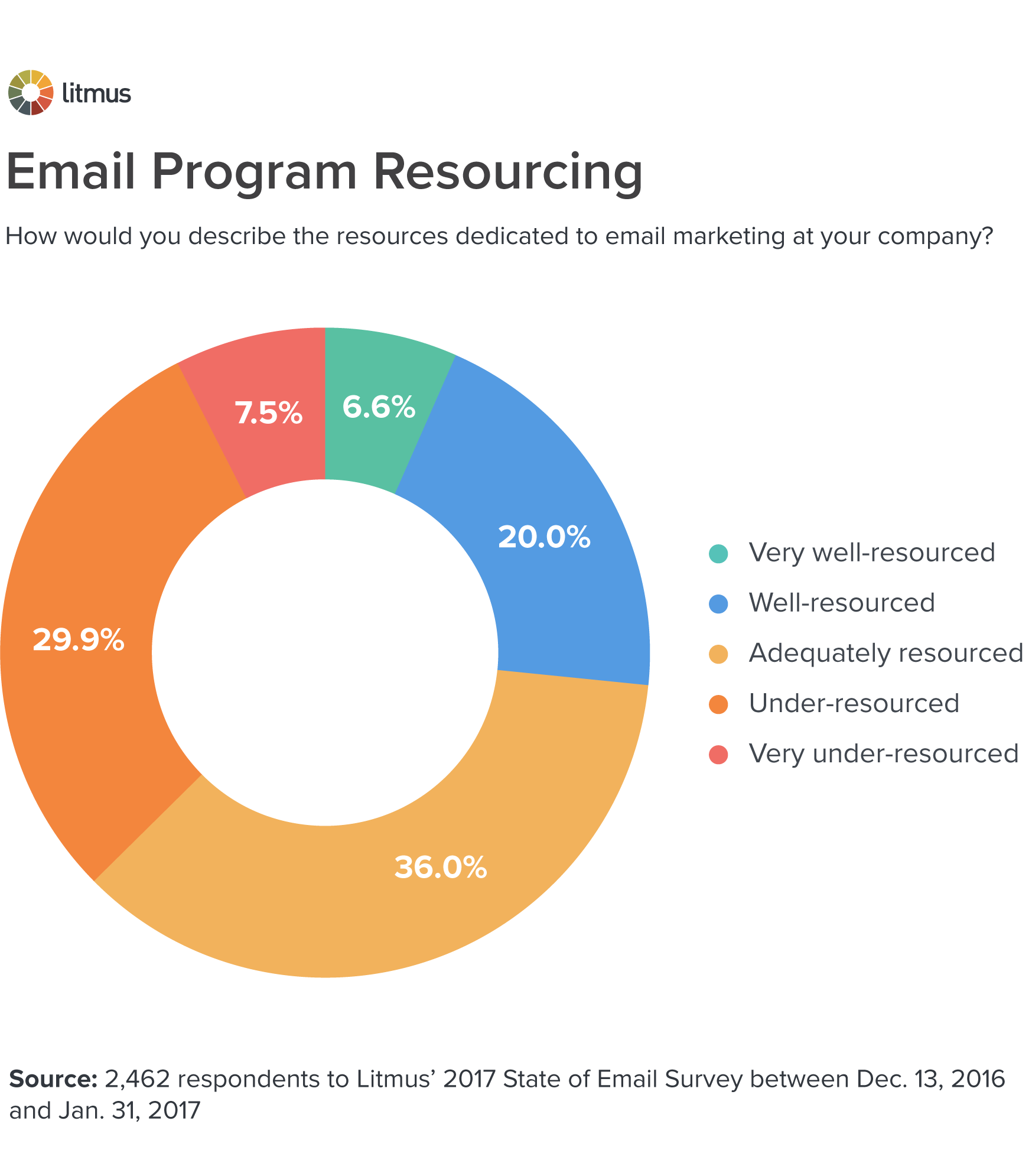 Unsurprisingly, the level of email program resourcing reported by marketers correlates strongly to the level of email program success that marketers report, so companies should be concerned about whether they're investing enough to be competitive.
Well- and very well-resourced email programs are 91% more likely than others to be successful or very successful (74.9% vs. 39.3%). [Tweet this →]
"It also takes a real commitment to funding and resourcing the technologies and teams that make a world-class email marketing program possible," says Melissa Shaw, Co-CEO and Co-Founder, Shaw + Scott.
Ryan Phelan, Vice President of Marketing Insights at Adestra, agrees. "Executives don't understand the channel and what it can accomplish," he says. "Here's my question for executives: If you make this much money with little or no investment in email above operating costs, how much more could you make if you truly invested in it?"
Jeanne Jennings, VP of Client Strategy and Creative Services at Red Pill Email, says that she sees organizations that are not executing well make a 100% ROI when they could easily boost that return to 200%, 300% or more with a little more investment.
And Jose Cebrian, Vice President and General Manager of Email and Mobile Messaging at Merkle, quipped, "I don't think I have ever seen a company that overfunded their email team." So there's very little risk of over-investing in email marketing.
Under-Staffed
While overall email program resourcing is seen as inadequate by many, staffing levels are even more of a sore spot. The majority of marketers say that email marketing is under-staffed or very under-staffed at their company, according to Litmus polls.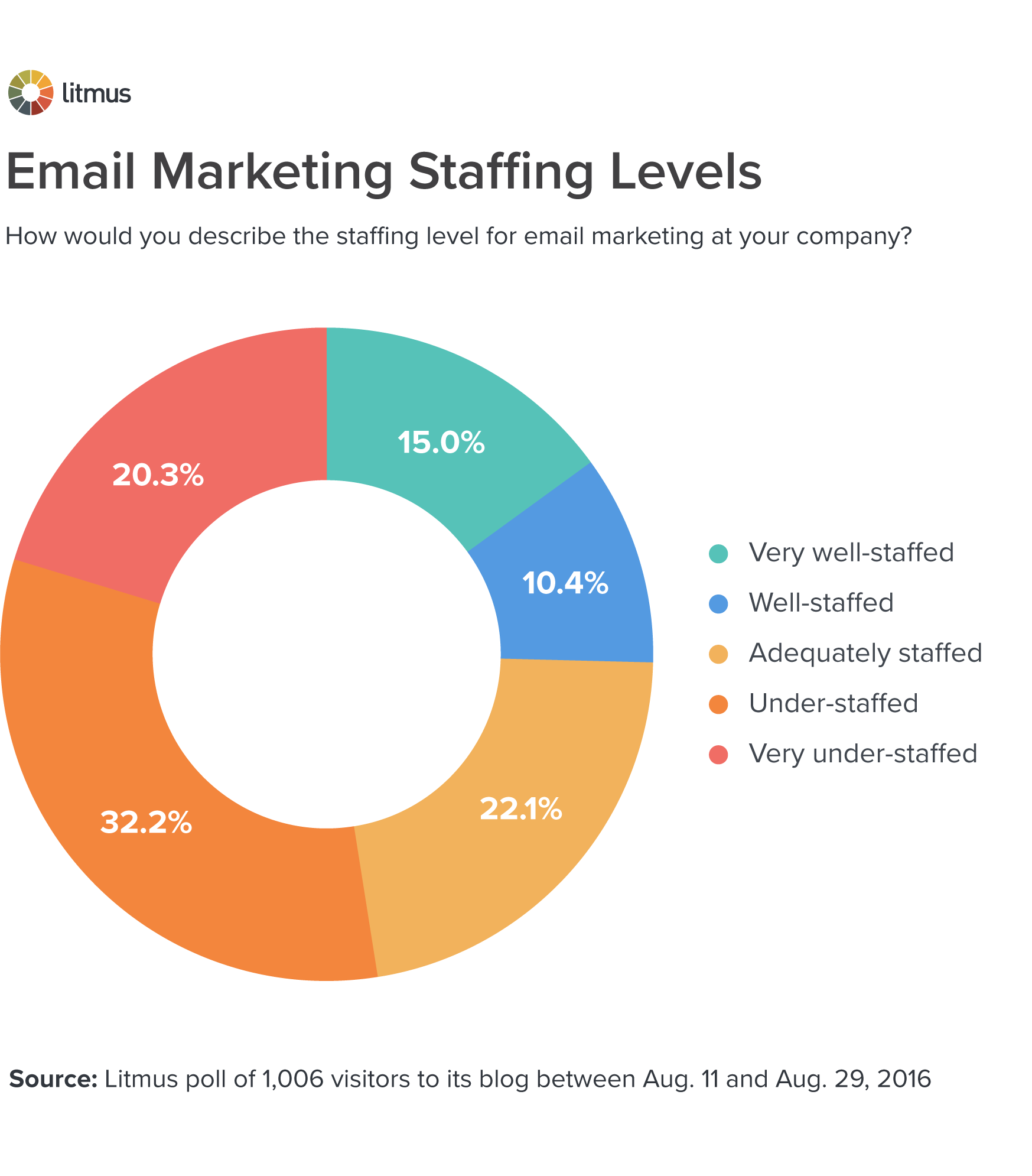 Given the growing level of complexity in email marketing, there's a corresponding growing need for specialization across the primary email marketing tasks of copywriting, email design, email coding, planning, strategy, and performance analytics. An overly small email team means fewer opportunities for specialization and more instances where team members are doing tasks that they're less skilled in.
"Too many email marketing programs are led by people with no background in email," says Jennings. "They hire someone who does design and coding and think that's enough to make the program successful. It's not. You need a team or at least a person who understands the nuances at a strategic and tactical level."
One bright spot is that companies are fairly supportive when it comes to continuing education for their email marketers. Nearly 78% of marketers say their company is "very supportive" or "somewhat supportive" of their email team attending conferences and webinars, taking online courses, and doing other things to improve their skills, according to a Litmus poll. Only 22.5% said their company was "not supportive."
Fear & Disrespect
Given how poorly supported many email marketers feel, big mistakes seem inevitable. In the best of circumstances, email marketing mistakes are unavoidable. The channel is just too fast, too high volume, and has too many moving parts to be perfect every time.
When brands under-resource and under-staff their email marketing programs, they're throwing the doors open and inviting mistakes to slip through. The fear of pressing send is big enough, but feeling that you've been set up to fail makes that fear even more acute—especially if you feel that your job is on the line, as many email marketers do.
In addition to companies creating high-risk, high-stakes email marketing environments, executives further undermine trust when they strongarm their email marketing team. The majority of marketers say executives at their company have forced the email marketing team to do something they were strongly against doing, according to a Litmus poll.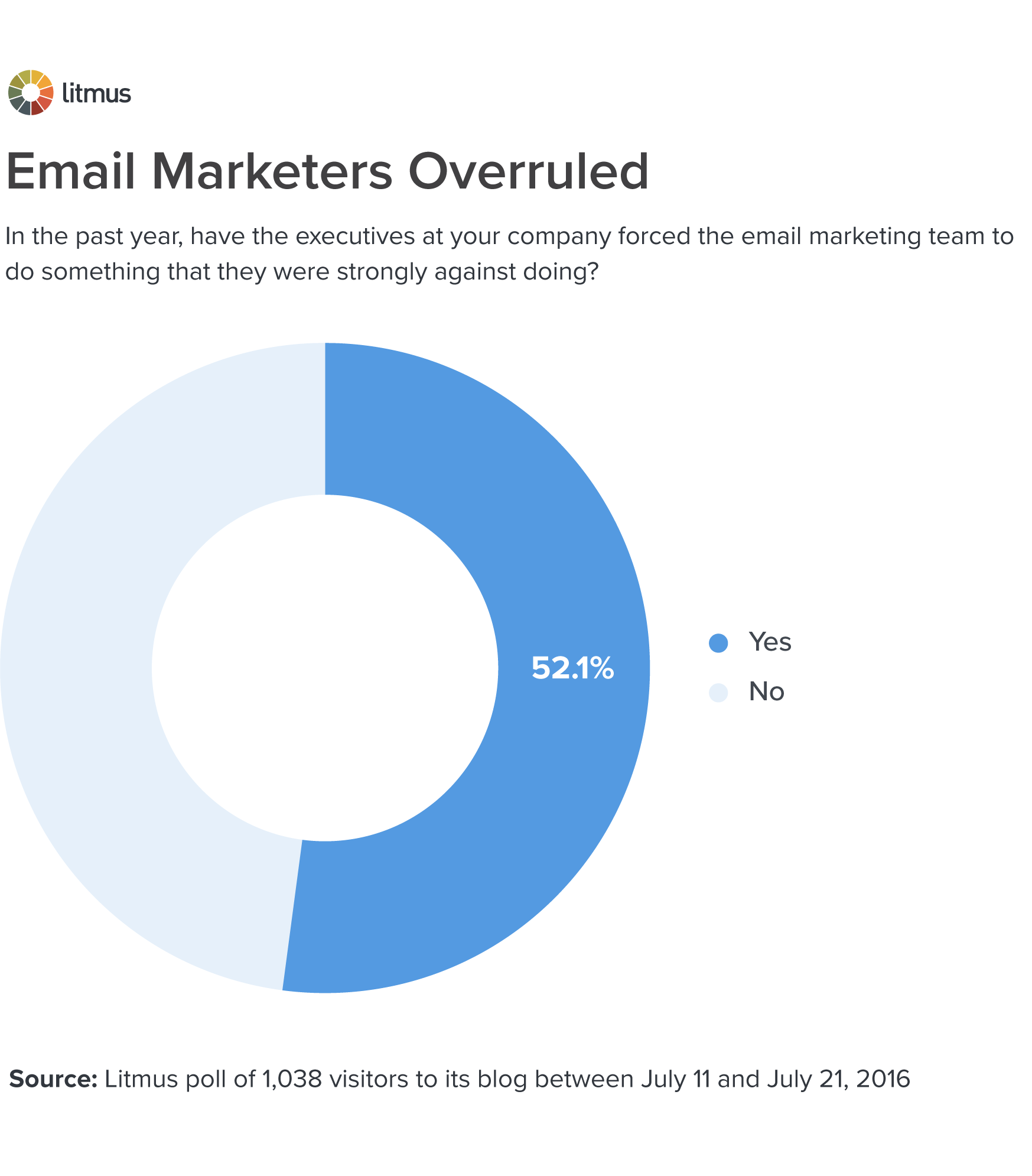 "Executives can set the tone for whether or not a company's marketing is customer-centric or exclusively company-centric," says Shaw. "The companies that ultimately struggle have executives continually push quick and dirty tactics like sending one more email to our entire population just to meet this week's targets."
Jennings says, "There's also a perception that email marketing is 'easy'—and as such, executives think their marketing department is too cautious. Executives will do things like demand that send frequency be doubled, without considering unsubscribes and the long-term health of the list."
Instead of intervening in execution, leadership should stay focused on goal-setting. "Invest in a marketing team that has expertise in the email channel," says Jennings, "and then trust them to do their jobs."
Root Cause
Email marketers and executives are clashing and have a trust deficit, in large part, because they don't communicate well with each other and don't have enough common ground.
For their part, email marketers don't always do a great job of advocating for themselves and couching their successes and goals in a way that resonates with leadership. As we discuss in 8 Ways to Get Executive Buy-In for Larger Email Marketing Budgets, Besides ROI, they don't always connect email marketing to larger strategic goals and do a poor job of celebrating their successes and fostering champions.
At the same time, marketers don't think executives understand the email channel well. In fact, more than one-third say that the executives at their companies understand email marketing "poorly" or "very poorly," according to a Litmus poll.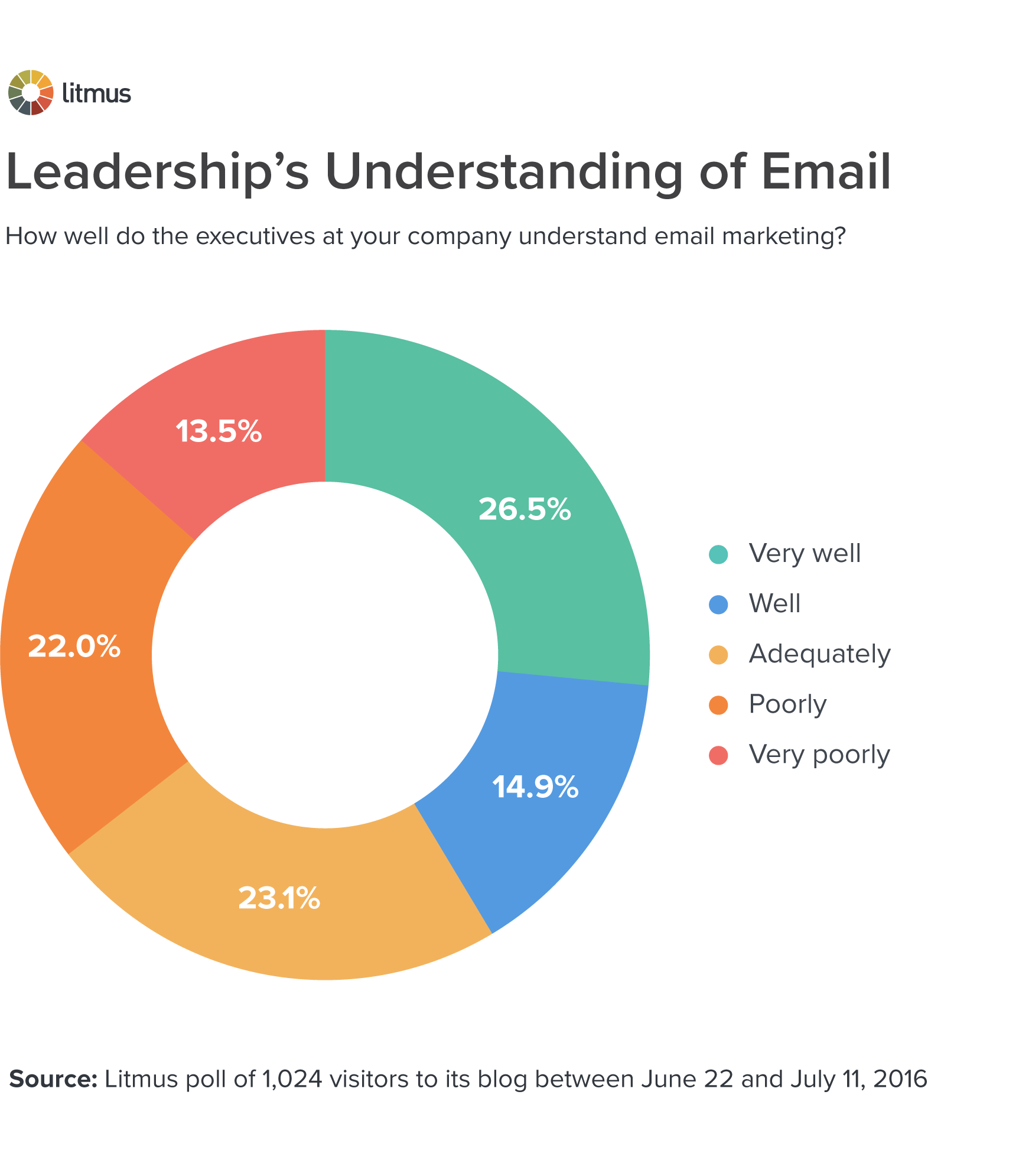 "There are a lot of details in email marketing," says Jennings. "Executives who came up through the marketing department—those who actually had to roll up their sleeves and do marketing at a manager level—understand email. But those from the other business disciplines, not so much."
We'd like to help.
Company leadership doesn't always fully understand the value of email marketing, and that creates unnecessary tension and underperformance. Litmus has identified a number of key email marketing topics and assembled executive summaries that marketers can share with management, including one on Email Marketing Staffing and Resourcing for Success.
Other executive summaries from Litmus' Email Marketing Leadership Series include:
Better Staff Your Team

In this 7-page executive summary, email leaders get data-driven advice on how to best staff and resource their email marketing team to maximize their chance of success.
Most Popular
Don't Miss Litmus Live 2022 this Fall!

The Premier Email Event by Email Pros, for Email Pros.
From Anywhere–and Any Budget.

Learn More