Who's feeling like there's a lot on your plate right now? 🙋🏻‍♀️ You're not alone. More than 40% of companies say that email marketing is under-resourced, yet only 12% plan to add full-time email staff according to our most recent State of Email Report. No. Wonder.
So if adding extra team members isn't an option—and even if it is—consider email marketing automation.
Automating your emails maximizes team productivity while also driving significant email marketing results. And in a lot of ways, it's like adding another set of hands (or two) to your team. What a relief. So those innovative ideas you've been pushing to the side? You can finally work on them!
But email automation only works with the right strategies and tools in place. So, we got together with our friends at Benchmark Email to share:
Five ways email automation creates efficiencies
We all have jam-packed schedules and tons of tasks on our to-do lists. Email automation gives time back to you and your team without derailing your strategy. Let's dive into the ways email automation makes your life easier.
1. Makes outreach a breeze
You can easily create and schedule emails, newsletters, nurture campaigns, and sales outreach. Once you create your triggers, put your emails together, test them, and schedule their cadence, you're all set. Forget manually sending out emails to your entire list, which can take loads of time and eat into other essential strategies. Email automation ensures your nurture flows stay consistent so you can focus on everything else you have to get done.
2. Breaks down performance
You don't have to dig through tons of data to find how well your emails are resonating with your audience. Your email automation tool gathers how your emails are performing for you so you can focus on what is (or isn't) driving success instead. You can access metrics like open rate, click-through rate, conversions, and unsubscribe rate—giving you a clear understanding of campaign performance and what you may need to adjust.
3. Organizes and segments your audience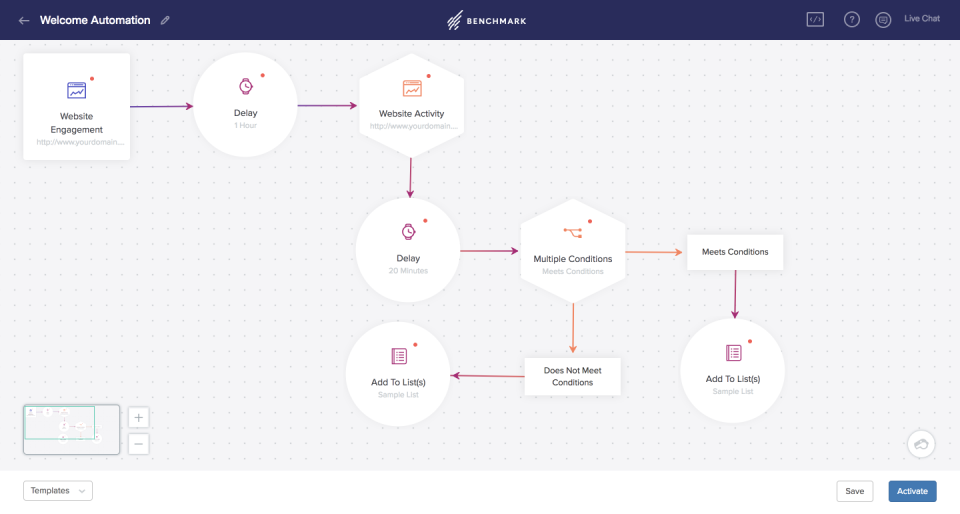 Actions speak louder than words. Email automation gives you real-time insights into your subscriber's behaviors and how they may change. Organize your contacts and create different lists based on various qualifying factors and demographics. This sets you up to better understand their needs and be more tactical in your sales strategies.
4. Takes the guesswork out of personalization
Ninety-one percent of consumers say they're more likely to shop with brands that offer relevant recommendations. When you're able to segment your subscribers based on intent data, you can easily tell which emails you should send to each segment.
Crafting personalized content that nurtures your audience from awareness and interest to decision and action is a breeze. With email automation, you no longer have to manually slice data and worry about human error.
5. Provides a direct line to your audience
Most consumers are doing their own research before making a purchase decision. This means you have many people visit your site daily—providing you with various opportunities to engage with them.
To make the most of those visits, you need a way to reach out to them. Email automation is one piece of that puzzle, but it's an important one. After you set up a way to capture site visitor information, your email automation tool empowers you to directly reach out to them to further deepen their relationship with your brand.
Why automated email testing is a must
As you can tell, email automation does wonders for speeding up email creation, analysis, and personalization. You work so hard to create the perfect emails in record time. But moving that fast leaves you more prone to mistakes. That's where thorough, quality assurance (QA) testing comes in.
Email testing is a QA process that makes sure your emails look and function the way they're supposed to. And yes, this can be automated, too! Here's why it's important not to skip email testing—even when you're in a rush.
Prevent errors and broken emails The most obvious reason why email testing matters is to prevent broken emails. When an email is broken, it serves as a roadblock to the action you want your subscribers to take. In other words: Your conversions and revenue take a hit.
Email errors to watch out for include:
Broken personalization strings or merge tags (%%first_name%%, anyone?)
Inconsistent rendering across email clients and devices
Images that don't display at all
Spelling errors and typos
Broken links
What causes broken emails?

Dig into the most common email mistakes, why they're damaging, and how you can prevent them in the first place. Learn how to send on-brand, error-free emails in our ebook, The Anatomy of a Broken Email.
Protect your brand reputation
Brand consistency has been shown to increase revenue by 33%. Why? Not only does it make it easier for your audience to remember you, but it also builds trust and credibility.
Mistakes throw your email off-brand.
A broken email makes your subscribers question your business. Or worse, gives the impression that you or they have been hacked. This is especially important when it comes to industries with sensitive information such as ecommerce, financial services, or healthcare.
Email testing protects your brand reputation—and your customers' loyalty.
Ensure a great subscriber experience
Errors give your subscribers a poor email experience, making them more likely to delete your email without reading it or go straight to marking you as spam.
This kind of negative engagement impacts your ability to land in the inbox.
Mailbox and internet service providers (ISPs) have gotten more sophisticated and use subscriber behavior in their spam filtering algorithms. So when they see your emails aren't being clicked on and instead are being deleted or marked as spam, they take it as a sign that your emails belong in the junk folder instead.
Save time and resources
Taking the time to test your emails actually saves you time.
When mistakes are caught after an email has been sent, you end up spending more time and resources doing damage control than if you just QA tested the email in the first place. And when you automate the testing process? It takes almost no time at all.
So it's a no-brainer that automated email testing goes hand-in-hand with email automation. Perhaps even more so. It's easy to think of email automation as "set it and forget it," especially when you're moving so fast, but that's a dangerous trap to fall into. Automated email testing is a must.
Automatically catch issues before you hit send

Get a guided check of the critical elements that impact email performance—with Litmus Checklist. Preview your email in popular email clients and devices; validate that links, images, and tracking work; and protect your brand reputation every time.
How to find the right email automation tool
Ready to dive into email automation? Finding the right tool that works for your business shouldn't be taken lightly. You want to make sure whatever you're using helps you get the job done in quicker and simpler ways (after all, it's about working smarter, not harder). It's crucial to have an easy-to-use platform, so you can spend more time using it and less time figuring it out.
Overall, you want to increase your conversions so your business will grow—without wasting too much time in the process.
Let's walk through the main steps for finding and using a tool that works for you.
Establish your needs
First and foremost, you need to establish your needs. Obviously, the need here is to get emails out the door, but let's get more specific by digging into other options that may be important for your marketing needs.
Some questions you might want to consider are:
Are you just looking to send newsletters, or do you want to send more advanced, personalized drip campaigns?
How important is access to responsive email templates?
Do you need to create signup forms to grow your email list and generate new leads on your site?
What kind of list management and segmentation features are you looking for?
Do you need a customer relationship management (CRM) feature? And if so, do you prefer a tool that has a built-in CRM or one that integrates with a CRM you already have?
Which email metrics do you need to measure success and optimize your strategy?
Then, you may need to dive deeper into a specific need.
For example: If you prefer a tool that has a built-in CRM, you'll want to dig into the benefits the CRM provides. Is there a way to score your leads to determine which are the most qualified? How are you able to segment your lists? Does it break down how customers are interacting with your on-site content?
Lastly, keep in mind how many people from your team will need access to this software. Many providers have a user limit for their package options, a limit on the number of emails you're allowed to send, and the amount of contacts you can manage.
Review and vet solutions
Once you identify your needs, it's time to start researching viable email automation solutions.
The internet is vast, and it can be hard to figure out where you should even start. A simple Google search will yield a lot of results, but it's best to go about this more deliberately.
Look at product review sites. Product review sites like G2 or TrustRadius are great for finding the right software, as well as what current and previous users think of it. There's nothing like first-hand accounts to give you the best idea of what's possibly in store for you, should you use that particular product.
Read software tool roundups. Every day, thought leaders and content creators are writing articles that round up the best tools to try this year or the easiest-to-use software for a specific strategy. Go to your favorite online marketing publications like EmailToolTester to search for roundups on email marketing software, and see what these influencers are recommending (or not recommending).
Ask your partners what they're using. Ask around and see what your partners and other brands are using. Do they like their email tool and does it help them achieve their goals?
Budget is one of the biggest driving forces behind why a tool is chosen over another. Make sure you know ahead of time any monetary constraints you have so you can select the tool that gives you as many features as you need—without breaking the bank. If you need to keep your budget lean, check out our list of the best free email marketing software tools, many of which include automation!
How to get started with email automation
When it comes to email automation, getting started is the hardest part. Diving into your chosen software and implementing a plan of action requires many moving parts. But don't fret; we're here to make getting started easy by outlining each step you need to take to become an automation pro.
1. Create an email marketing strategy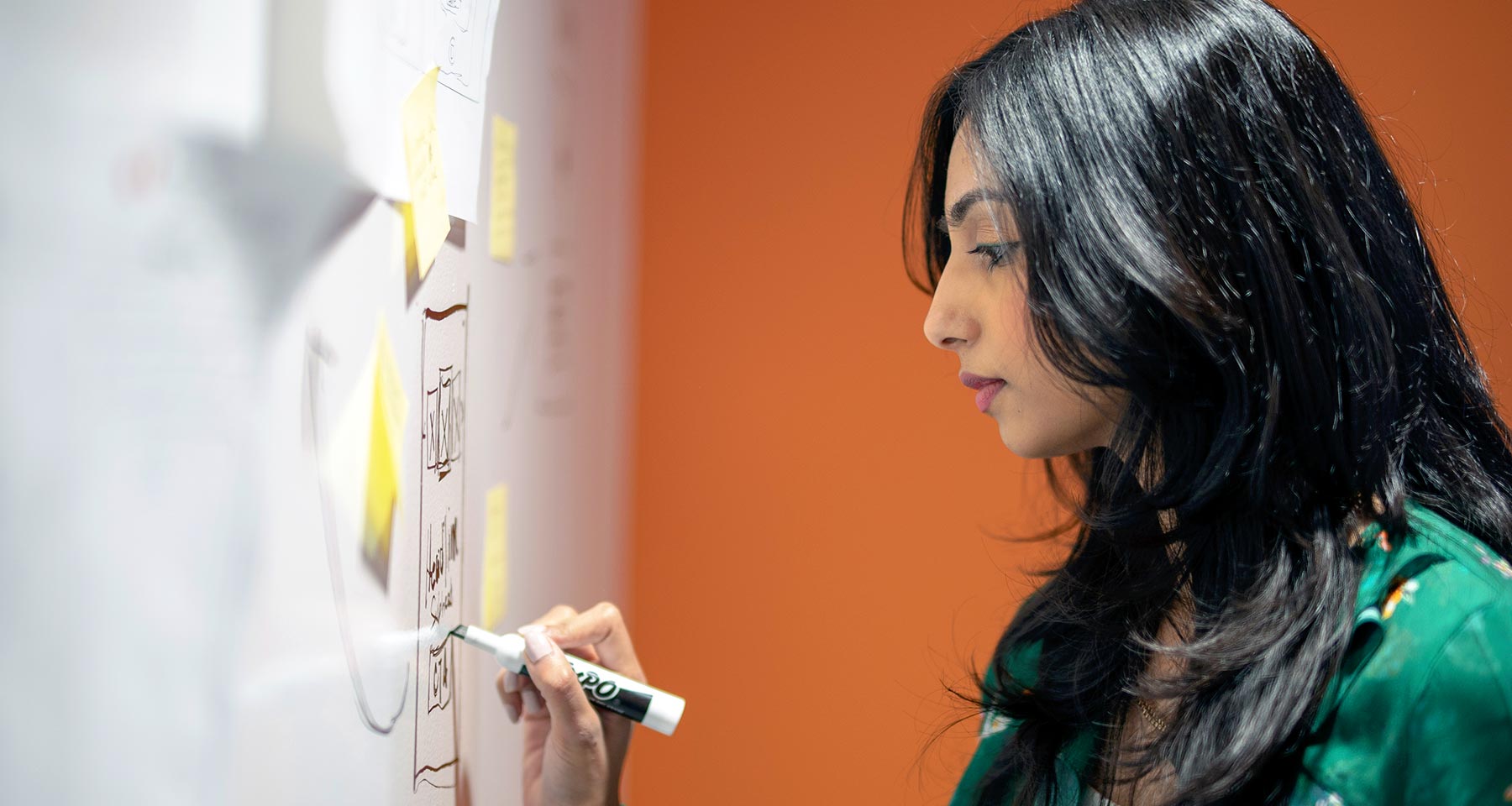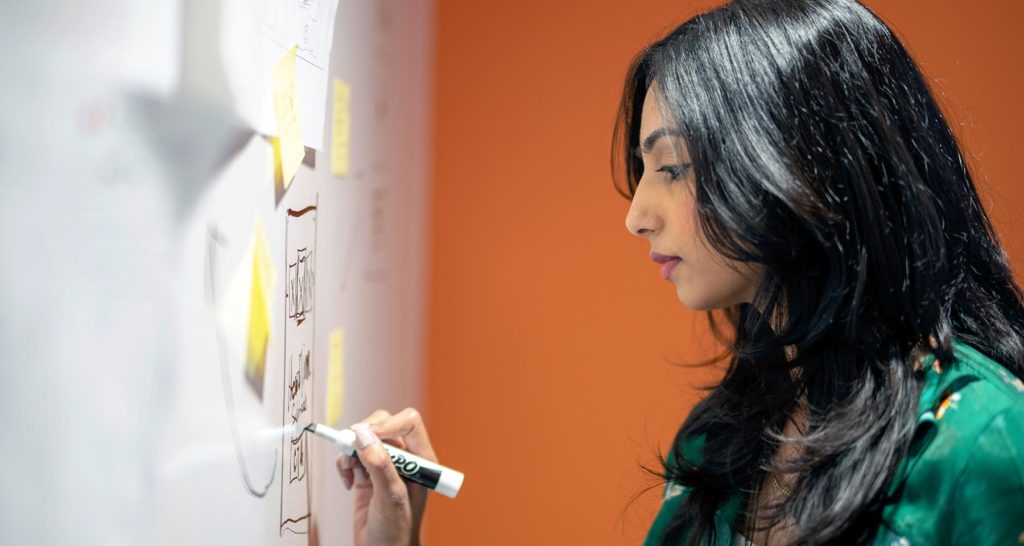 Having a documented email marketing strategy is a great way to keep your team aligned, and it provides a reference point in case you need a refresher on your goals.
Suppose you already have a content marketing strategy or a marketing strategy document of some kind. In that case, it could be as simple as tweaking it or adding to it to include email marketing. Either way, you want to make sure that the following is outlined:
Determine your audience personas
Who is your core audience? Nailing down the specifics of who you want to reach is crucial to directing your messaging. Identify characteristics like industry, job title, region, budget, and who they report to. Ask yourself what their main pain points are. What are the problems they're trying to solve? Answering these types of questions will help you uncover why they need a solution and what they're looking for.
Establish your goals
What are you hoping to achieve with your email marketing strategy? Do you simply want an easy way to stay top of mind with subscribers? Or, are you wanting conversions? You don't have to land on just one goal. The beauty of email marketing is that it can help you achieve a variety of goals at once. Some goals could include:
Increased website traffic
More revenue
More educated leads
Building a more robust list
Shorter sales process
Outline your metrics
How will you measure the success of your email campaigns? Identifying your goals first will help tremendously in knowing which metrics make sense to keep an eye on. And just like goals, there are a few that will help you tap into how well your emails are doing. For example:
Open rate: Out of the emails you sent, how many opened? You want this to be high because if people aren't even opening your emails, then they aren't going to engage further.
Click-through rate (CTR): This tracks how many people click on the links within the email. If you have multiple links, your automation software can help you determine which link received the most clicks.
Bounce rate: You want your bounce rate to be low because it calculates the percentage of your recipients who didn't receive your email. A high bounce rate could land you in the junk folder, so be sure to keep your email list strategy in check.
Unsubscribes: While no one loves being rejected, unsubscribes mean you aren't wasting time and effort on people who aren't going to convert from your emails. And the chances of them marking you as spam or negatively affecting your deliverability in another way decreases.
Length of sales process: If you're able to shorten the sales process for multiple people, that's a lot of steady revenue. Email automation can help you sell to subscribers while you're busy doing other things, leading to a shortened sales process over time.
Conversion rate: The email conversion rate measures how many email recipients perform the desired action after receiving your email. Every email you send should have a call-to-action (CTA), and your conversion rate tells you how well that CTA performs.
2. Identify the kinds of email you want to send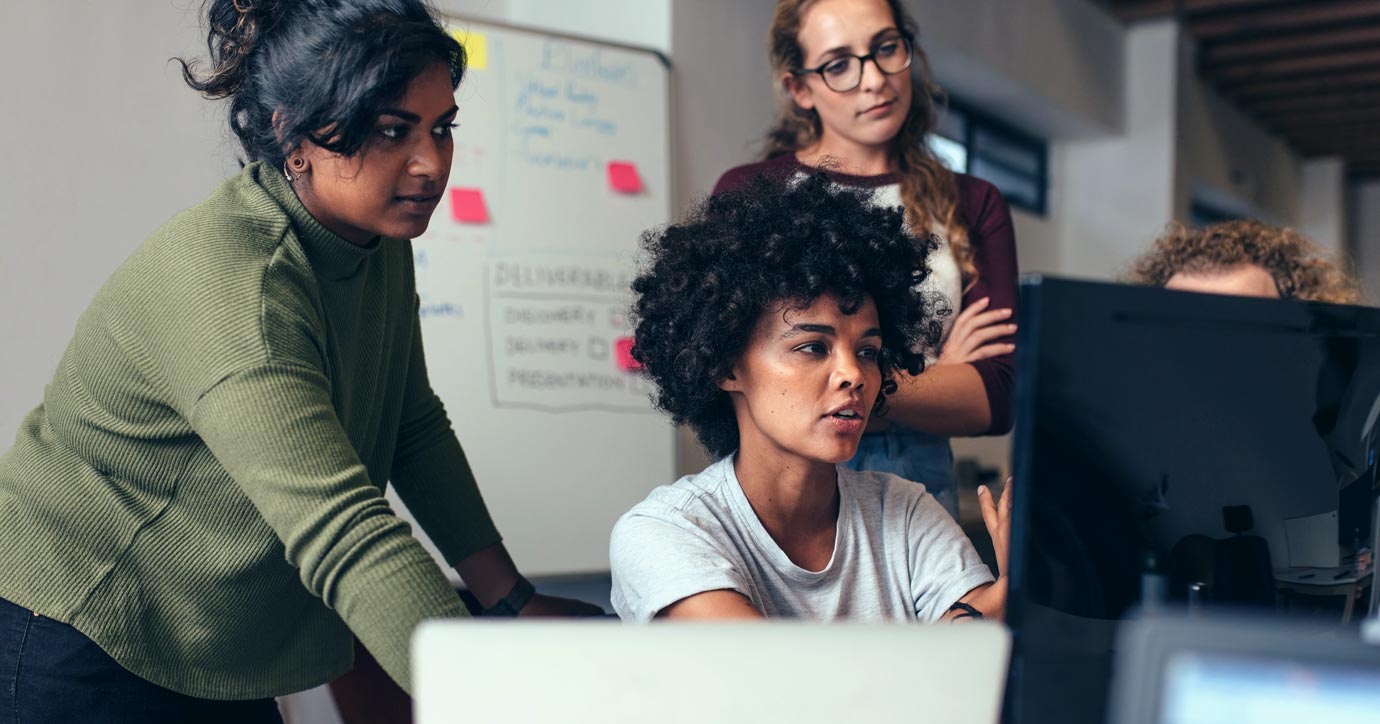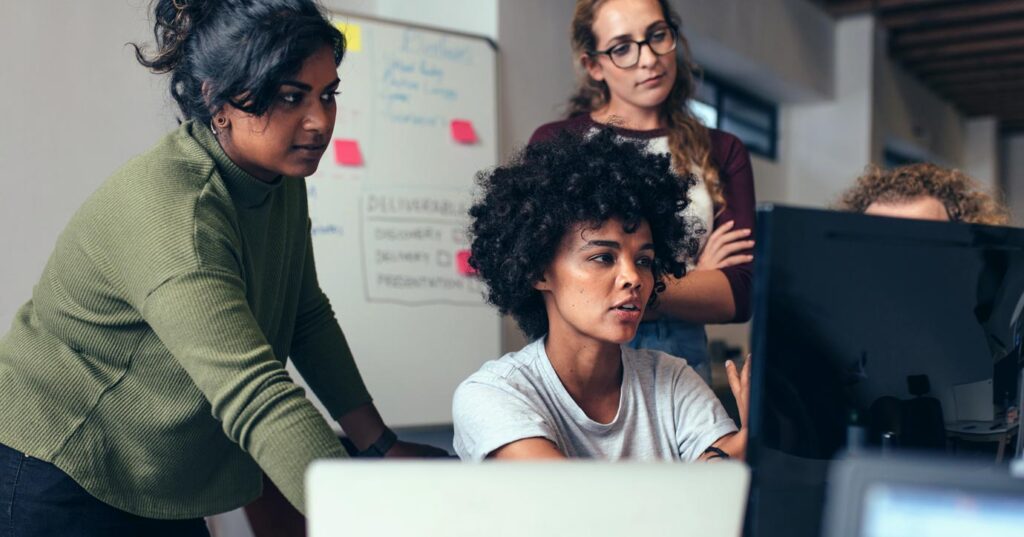 Email automation gives you the ability to send email journeys or cadences based on particular schedules or actions triggered by your audience (like downloading a whitepaper or abandoning an online cart). Craft these experiences around your audiences' motivations and level of knowledge regarding your products or services.
Break down the various types of emails you should be sending and what each one will help you achieve. Here are a few to consider:
Welcome emails: Welcome emails have a high open rate and are a great way to kick off a new relationship. Double down on this increased engagement by including important information or a promo or discount.
Newsletters: When you want to keep your subscribers in the know on what's happening with your company, offer helpful tips and content, and stay in touch, newsletters are the way to go.
Drip campaigns: Drip campaigns are a series of emails that are great for nurturing your subscribers over time, keeping your brand at the top of their minds, and moving them closer to a sale.
Promotions: These are any kind of email aimed at promoting a special rollout, discount, or feature. Promotional emails can excite your audience and offer them incentives to engage with your brand more. And right now.
Transactional emails: If your business is online, your emails must be set up for safe transactions such as account password information, purchase confirmations, and shipping notifications.
Abandoned cart emails: These emails are sent to people who were just about to make a purchase, but for whatever reason, exited before sealing the deal. They're great at increasing revenue by re-engaging and reminding folks to follow through.
Re-engagement or winback campaigns: These are campaigns sent to your unengaged or inactive subscribers. They stopped opening, clicking, or buying. Think of ways to bring them back before you stop emailing them for good.
News or update emails: Did something exciting happen with your company, and you want to get the word out? Create a dedicated email to send subscribers the news, which can help build advocacy and engagement.
3. Speed up your email creation process
Now that you've got your toolset, email automation strategy, and automated emails nailed down, it's time to rethink your email workflow. There's no point in email automation if it's still going to be bogged down by a slow, overburdened process.
Our suggestion? Agile email marketing.
Adopting an agile email marketing workflow creates efficiencies to save you time. The point is to be able to pivot quickly as the needs of your subscribers change. With automation top of mind, think through which parts of your email workflow can be automated. For everything else, how can it be streamlined?
Here are some tips for going agile:
Create your content and design strategy—and share it. Sharing is key to keeping everyone involved on the same page. This alignment gets rid of miscommunication and confusion that usually results in more work and time wasted.
Standardize email development. Take advantage of reusable code modules like snippets, partials, and email templates to quickly create emails within your email automation tool. Our own email developer can create emails in 10 minutes!
Write, design, and build at the same time. With strategy and standardization in place, no more waiting for copy to be done before moving onto design. This can all be done at the same time and then popped into your email template. Or you can use scripts to automatically push your content into your email template.
Automate QA testing. With the right email automation tool, you can see email previews while you're building emails and scan them for potential spam triggers. And tools like Litmus Checklist guide you through an automated check of critical elements like link and image validation, load time, and accessibility before you hit send.
Automate email reporting. Use your email automation tool to automatically send you email data after a specified time period. You can even hook up this data and other conversion metrics in one dashboard like Google Data Studio to track engagement in real time.
Want to send more effective emails faster?

Learn how agile email marketing can help your team be more efficient. And get all the tips & tricks for going agile, even in the smallest ways to win over your most stubborn stakeholders.
Final thoughts
Email automation and automated email testing are great ways to be more efficient, especially if you're under-resourced or have a small team. Now, you can get more done in less time. And with your saved time, focus on innovation and new strategies to drive even more results. 🙌