When we last reported on the email client market share, the big news was that Apple's iPhone continued its increase in market share. Apple Mail is the dominant player in the mobile space (and on desktop, too), while Google's Gmail is the king of webmail. But how does that hold up over the last month?
We dive deep in our annual email client market share blog post. And in a new, monthly series, we're going to look at how the email client market share continues to change and pull out key insights for marketers like you.
Outlook.com overtakes Samsung Mail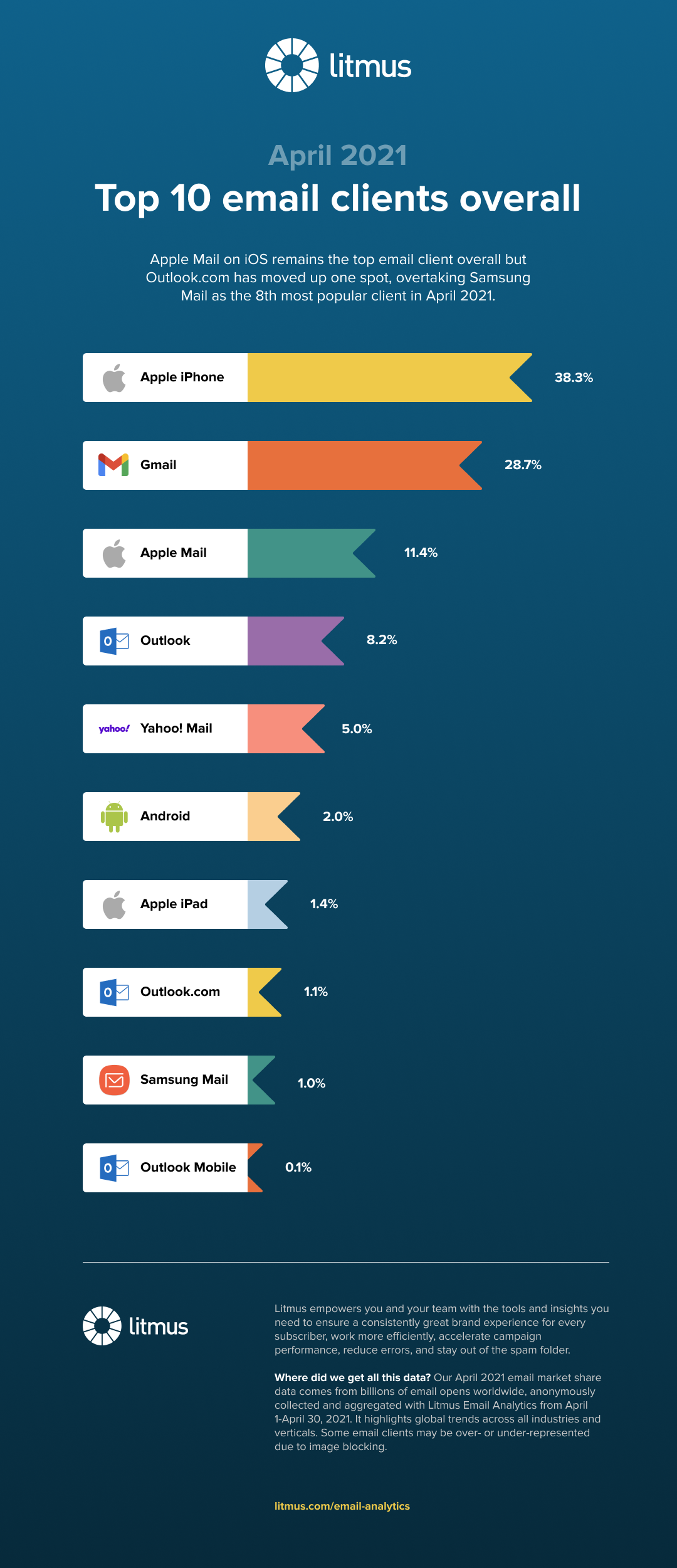 Overall, the email client market share in April stayed relatively the same. The big players, like Apple, Gmail, and Yahoo! all held onto their positions in the top 10 overall clients. The only major news to report is that Microsoft's Outlook.com overtook Samsung Mail, moving from 9th to 8th place in the top 10.
It's hard to say what caused the switch in market share—or if it's just temporary. My hunch is that, as the pandemic drags on, more subscribers are using their desktop and laptop computers, hence the preference for Outlook.com's webmail interface over Samsung Mail on mobile devices. Either way, it shouldn't impact email marketing efforts, as they both still enjoy relatively small market share and have similar capabilities.
The good news is that most of the major email clients we track have good support for HTML and CSS in email campaigns. And the ones that don't—not naming names here—have well-documented bugs and workarounds.
Understand your own market share
Our email client market share stats are pulled from billions of opens. While they provide a good high-level benchmark for the industry, every email audience is unique. With Litmus Email Analytics, you'll get valuable insights into your own audience, including engagement time, reading environment, and more. Try Litmus and start understanding your own, personal email client market share today.