The email industry is known for frequent—and mostly unannounced—changes that can affect marketing team's workflows, email performance, and customer experience (and not always for the better).
Let's dig into what what Litmus Email Analytics has taught us about email clients so far in 2017—watch the video above and get our full analysis below:
The rise of webmail
In 2016, mobile steadily dominated email client market share, beginning and ending the year at 54%. While mobile still claims the majority of email opens, opens in web-based email programs has been on the rise—growing 4 percentage points in the past year to a total of 31% of all opens.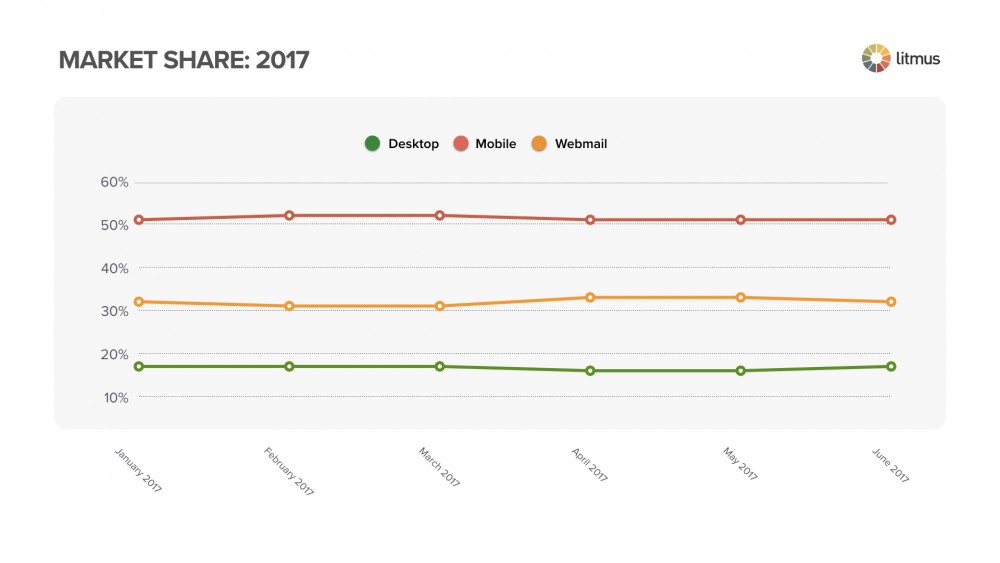 This is largely driven by Gmail, which has grown to claim 21% of market share (up from 16% a year ago). With over 1 billion monthly users, both businesses and consumers are choosing Gmail, especially as companies look to move their email hosting to cloud-based providers.
As Gmail rises in popularity, there are some keys you should keep in mind. Gmail has finally rolled out support for responsive design, improved font styling, and better support for many CSS properties. This means it's now possible to build more accessible campaigns, have faster turnaround times, and troubleshoot less bugs, especially for a client with so much market share.
With this rendering update, more than 95% of emails are now opened in clients that support embedded CSS. This may be a good time to decide if inlining CSS is still worth it, or if it's time to experiment with a new process. With so many changes in the email industry, it's important to always know your audience with Litmus Email Analytics—and to build consistent testing into your workflow to catch any rendering changes that occur without warning.
The top 10 email clients of 2017 (so far)
Gmail's rise may be partially due to other changes in the industry. With iOS 10 and improvements to rendering in Gmail, users are migrating to their email apps of choice—and deleting the stock apps that come with their phones and tablets.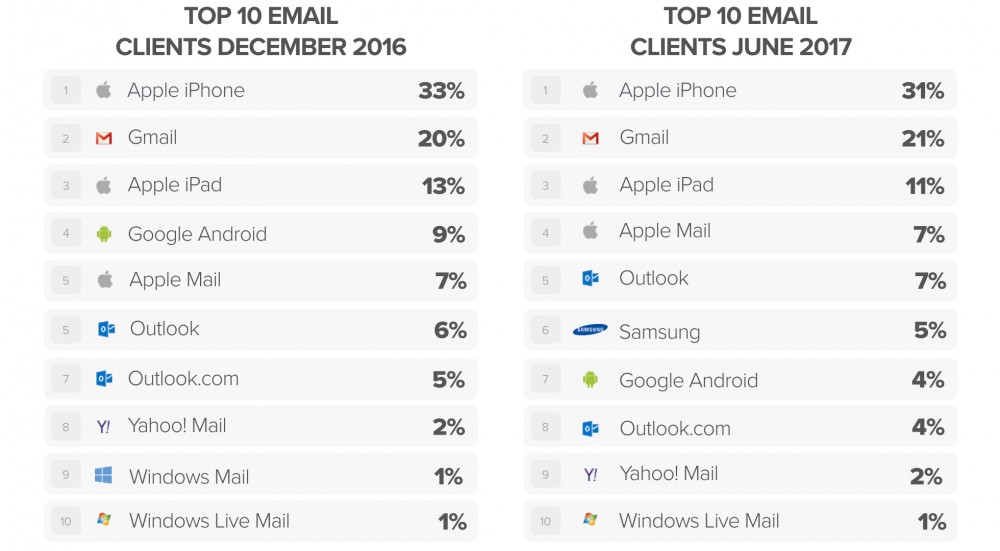 You'll also see a newcomer debuted in the #6 spot. Samsung is the most popular Android manufacturer in the world, and represents 5% of email opens. Breaking out Samsung shows a more detailed look at Android behavior, especially since Samsung has its own share of quirks. To get a complete picture of Android email market share, combine Samsung and Android—you'll see that the total Android market share hasn't changed since December, holding at 9%.
WHERE DID WE GET ALL THIS DATA?
This data is derived from billions of email opens collected worldwide with Litmus Email Analytics. It highlights worldwide trends across all industries and verticals. Some email clients may be over- or under-represented due to image blocking. Tracking trends over time is the best way to monitor open data for email!
WHICH EMAIL CLIENTS ARE MOST POPULAR WITH YOUR AUDIENCE?
Remember that benchmarks are great to set a baseline, but what really matters is your audience. Take Litmus' own email list. Our subscribers open on mobile about 14% of the time, even though the industry average is over 50%. That's a big difference when it comes to strategy and execution—without Email Analytics, we might know opens and clicks from a specific campaign, but we'd never know where to focus our efforts for the next one.
Available in our Plus plan, Email Analytics helps you understand your audience to improve performance and optimize your campaigns. You can also pinpoint subscriber geolocation, see how long subscribers spend reading emails, and track forwards and prints—so you can deeply understand your email marketing performance and tailor your email strategy to maximize your return on investment.
Take Litmus Email Analytics for a spin and start making data-driven marketing decisions for your next email. You'll get the insights you need to provide your customers with an incredible email experience that drives incredible results.