Read Time: 4 min
New in Litmus: Email Client Recommendations, Image Support in Proof, Dynamic Content Testing, and More
In October, we announced the all-new, redesigned Litmus platform. We put your email at the center of Litmus, and now we're making the experience even better. Our latest update comes with features that will help you test wherever you build, ensure you're testing the email clients and devices your subscribers care about most, and streamline the email design review and approval process.
Here's what's new:
1. Simplify your email design reviews and approvals with image support in Litmus Proof
Reviewing and approving email designs can be a painful, laborious process. Our latest research shows that the graphics and design stage of the email workflow can take an average of 4.1 hours to complete—and if you're a larger team, it can take an average of 6+ hours.
Litmus Proof is the best way to collect feedback all in one place. Ever since we introduced Proof in 2018, one of the most popular requests was to add support for images. We listened—and now, Proof supports both PNG and JPEG files in addition to HTML.

Designers can now take advantage of the power of Litmus Proof by uploading their designs for review and approvals, cutting review time and improving collaboration across teams.
Learn more about Litmus Proof →
2. Get email client and device testing recommendations in Litmus Checklist
Email clients and devices constantly change and it's hard to know where to focus testing efforts. And, if you aren't testing the clients that are crucial to your audience, you risk errors, poor performance, and negative subscriber experiences.
With new Email Client Recommendations in Litmus Checklist, you can get live insights on what your subscribers are using so you can focus your attention on the email previews that matter most to your audience.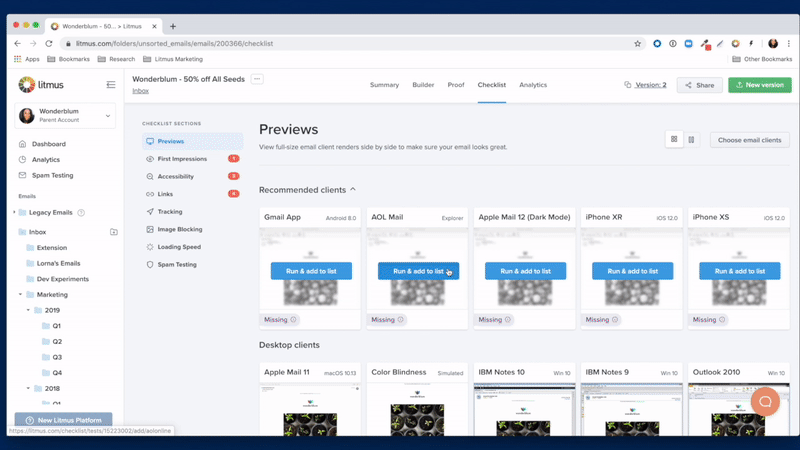 Plus, you'll now get notified of any new clients and devices we add, so you never miss a new addition—and can rest easy knowing you're always checking your campaigns in the latest environments.
3. Test dynamic content with the Litmus Extension
The Litmus Chrome Extension lets you preview, test, and troubleshoot emails alongside an ESP's builder or a standalone code editor directly on your desktop—eliminating the need to switch between tools. With our latest updates, we've made our Extension even better. Now, you can test dynamic content with a single click in Salesforce Marketing Cloud, Adobe Marketo, and Oracle Responsys.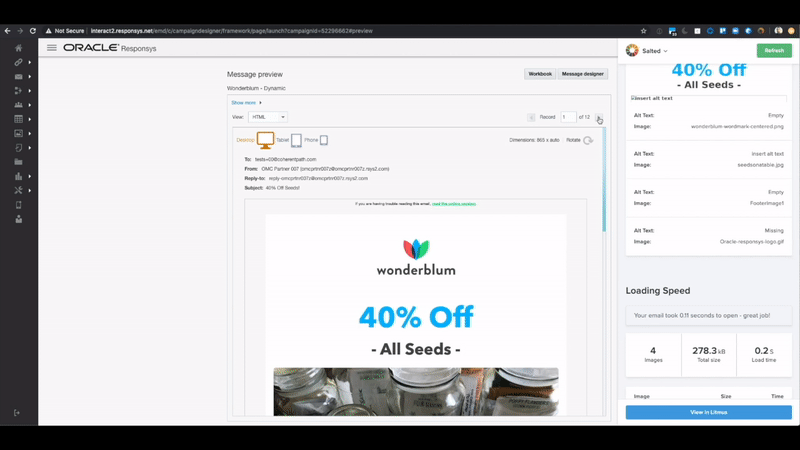 Testing dynamic content can be a tricky and slow process—but with the Litmus Extension, it's easier than ever. Ensure every subscriber has a great email experience, no matter the dynamic content or personalization they receive.
Download the Litmus Extension →
4. Streamline your email workflow with the Litmus Power-Up in Trello
Last month we announced our new email workflow template in Trello, and now we have even bigger news—Trello now supports a Litmus Power-Up!
You can now easily attach your Litmus emails to Trello cards and stay up-to-date on due dates, statuses, and more right inside Trello. Plus, it's easier than ever to streamline your email workflow without having to jump between tools—you can create a new email in Litmus from a card in Trello. If you make any updates to the email in Litmus, those changes will be reflected on the related card in Trello.
Activate the Litmus Power-Up →
5. New email clients in Litmus Email Previews
Over the past few months, we've updated Litmus Email Previews with these new and updated email clients and devices:
Apple Mail 13 in Dark and Light Mode

iPad (Gen 7) in Dark and Light Mode

iPad Pro (11 inch)

Outlook 2016 120 DPI
See all supported email clients →
Ready to take our new features for a spin?
If you already have a Litmus account, get started with these updates today. We can't wait to hear what you think!
Not a Litmus customer yet? Start a free trial.