Email footers are like bookends—they appear at the end of your email content and keep it neatly contained. 
Effective email footers have a lot of moving parts—unsubscribe links, addresses, promotional content, and social media handles. All these elements need to work harmoniously for your email footer to have a measurable impact on your subscribers.
In this article, we will look at the essential elements of an email footer, best practices for designing an email footer, email footer best practices, and some design inspiration.
What's an email footer?
An email footer is the bottom-most portion of your email. It comes after the body content and your email signature.
What key elements are required in an email footer?
Email postmasters dictate that unsubscribe links, preference centers, and mailing addresses always be included in the email. Without them, your emails are much more likely to end up in the spam folder or be reported as spam by your recipients. Since it has become common practice to look for these elements in the footer, we suggest placing them there to avoid confusing your subscribers.
1. An unsubscribe link
A clear unsubscribe link makes it easy for readers to opt-out of receiving your emails. (Keep reading to learn how to craft unsubscribe links). 
2. Preference center
An email preference center is essential because it allows subscribers to choose how often they want to hear from you. A 'Manage Preferences' link makes it easier for people to reduce the frequency of your emails rather than opting out of them altogether. 
3. Your mailing address 
Emailing without a physical address in the footer is illegal for commercial brands in the United States and Europe. Mailing addresses also establish the reliability of your business. Besides being legally compliant, they help your readers easily get in touch with you. 
4. Company details
The complete company name, registration number, and VAT number are legally required to be added to the footer in most European countries. 
5. Contact details 
Contact information, customer support emails, and phone numbers make it easier for your customers to get in touch with you.
Note: Include your email with a 'mailto' link so your customers can quickly write back. 
6. Your logo and branding
These are popular email footer elements because they strengthen the subscriber's connection to your brand. 
7. Social media buttons
Social media buttons allow you to move your subscribers from one platform to another—enhancing their relationship with your business. These are especially important if social media is an important marketing channel for you. 
8. Seasonal offers and elements
Seasonal offers such as holiday sales, end-of-season discounts, or promotional offers make your footer dynamic. They add variety while conveying revenue-enhancing information.
You can experiment with other seasonal elements, including quotes, sign-off notes, and recent achievements, 
9. Product updates 
Product updates are especially important if you're selling software or a renewable tool or service. Product updates in the footer can help remind customers of changes to your product or similar news they need to know.
Note: social media buttons, seasonal offers and elements and product updates are optional elements. 
12 best practices to follow
Here are a few best practices you should keep in mind when creating your email footers:
1. Add an unsubscribe link
We understand that you don't want your readers to unsubscribe. But actively preventing them from doing it confuses, frustrates, and distances your audience. To prevent this, add an easily-identifiable unsubscribe link to your footer. 
This example first addresses a customer pain point ('Don't want to receive this email?') followed by a clear call to action (unsubscribe here).

When adding an unsubscribe button or link:
Make it conversational and add a note before/after the unsubscribe link such as:

"Do you need to go? You can unsubscribe here, but you'll be sorely missed."

Remind them they can rejoin any time. Example:

"We're sad to see you go, but you can join back whenever you want through our website or social media channels."
Mistakes to avoid when adding an unsubscribe link:
When adding a click-to-action (CTA), don't hyperlink 'here', 'click', or other surrounding text. This will take your readers longer to locate the unsubscribe link because the relevant text won't be highlighted.
Don't use synonyms for 'unsubscribe'.

Email subscribers are familiar with the term 'unsubscribe'. If you change it to 'remove me from your list', or 'exclude me from further emails', it'll probably take your readers longer to complete what they want to do. In turn, they could just mark your

email as spam

.
2. Tell subscribers where they signed up
Telling subscribers where they signed up reminds readers of their connection with your brand—whether it's your website, social media channel, or store. When readers have this reminder, they're less likely to report your emails as spam; they know they opted in voluntarily. 
Our Litmus Weekly newsletter tells subscribers where they signed up and gives them an option to update their preferences.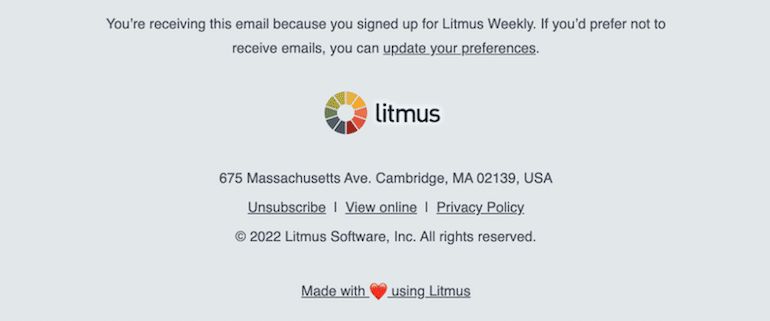 Not sure what to say? Here are a few ideas:
"You signed up via our [social media channel] page, and we love having you in our community of amazing people!

You signed up via our exclusive email list, so we work doubly hard to get you the best offers. 

You signed up via our website, and we're glad to have you. (Psst! We share our best deals here.)
3. Ask readers to add you to their address books
Being added to a subscriber's address book prevents your emails from ending up in the spam box. When your subscribers do this manually, it indicates to the postmaster that your emails are valuable to your readers.
This example gives the option directly after the mailing address.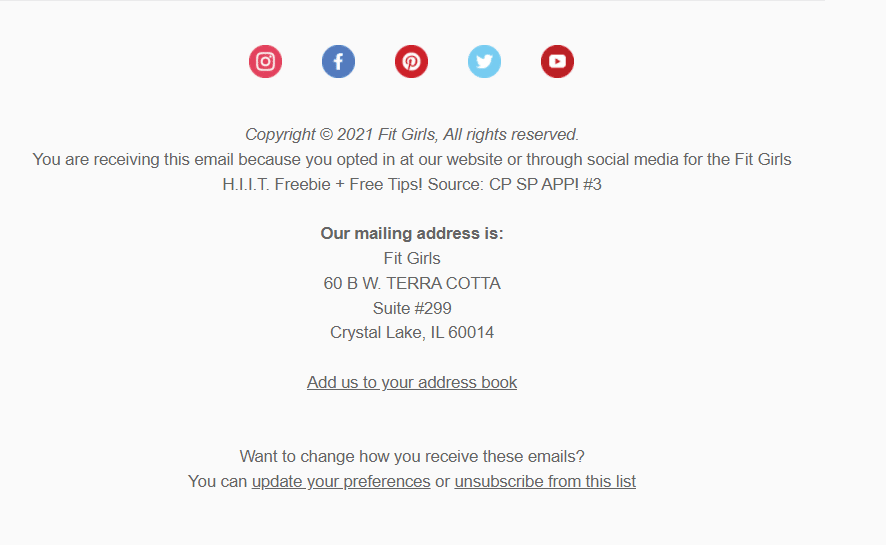 Not sure what to say? Here are a few ideas:
To make sure you don't miss our emails, add us to your address book. 

We love curating special offers for you. So to make sure those don't end up in your spam folder, add us to your address book.

To make sure more great deals land in your inbox, add us to your address book. 
4. Specify details and restrictions on offers
If your email contains promotional offers or discounts, it's a good idea to include details in the footer. 
Doing this gives your readers clarity on the offer's duration and terms and conditions.
For example, this email footer example adds details about shipping, order totals, and sale items.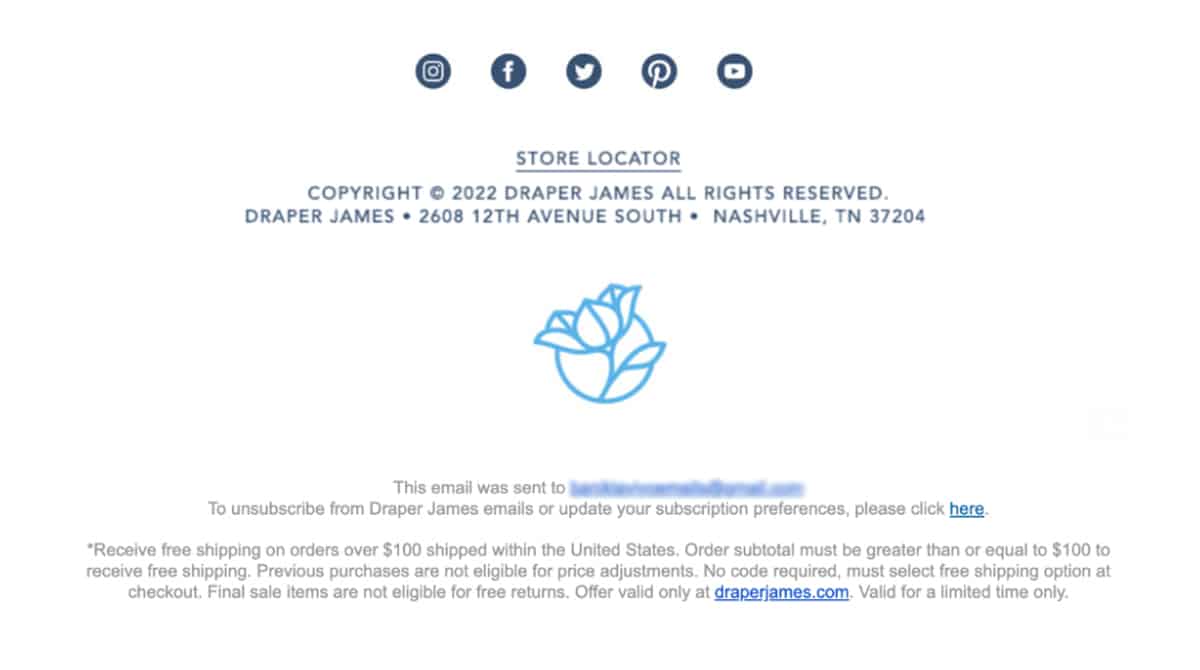 This example keeps it simple with just two important notifications:
"Prices are marked" and "Select sale items are final sale."

5. Add a personal touch
Personalization is especially important in the email footer. This is your last chance to make an impactful impression on your readers and leave them on a high note.
Here are a few ideas:
Add a hand-scribbled email signature. This stylistic enhancement adds personality to your footer. 

Source: Mrs. Book

Add a sign-off note.

Source: Harlow

Not sure what to say? Here are a few ideas:

"We love hearing from our users/customers, so write back if you have an interesting story to share."

"We are always watching our inboxes for replies from our amazing customers."

Tell your readers a bit about yourself or your organization. This helps them relate to you and reply to you.

Source: Tracey Wallace's Contentment

Attach a short note to the unsubscribe link, telling readers they'll be missed.
Assure subscribers that you won't take it personally if they unsubscribe.

Not sure what to say? Use these suggestions:

"We love having you here, but we understand that life gets busy. Unsubscribe if you must"

"We're sad to see you go, but we'll be here if you need us. Unsubscribe."

"We understand if you want to unsubscribe. We loved having you and hope to see you back someday (soon)."

Note: When adding personal touches to your email footer, ensure they are in line with your brand and community guidelines. For example, quirky notes work well for small and medium businesses, but might not be a fit for larger corporations.
6. Menus
Menus let your email subscribers explore different parts of your brand. They can shop sales, view new arrivals, and learn about your company—all through an email footer menu. A menu also gives your subscribers more control because they can navigate to the parts they like.
This email footer lists 'Trending', 'Sale', 'Holidays', and 'New' in their menu. The links take subscribers to the website, where they can browse and purchase more merchandise.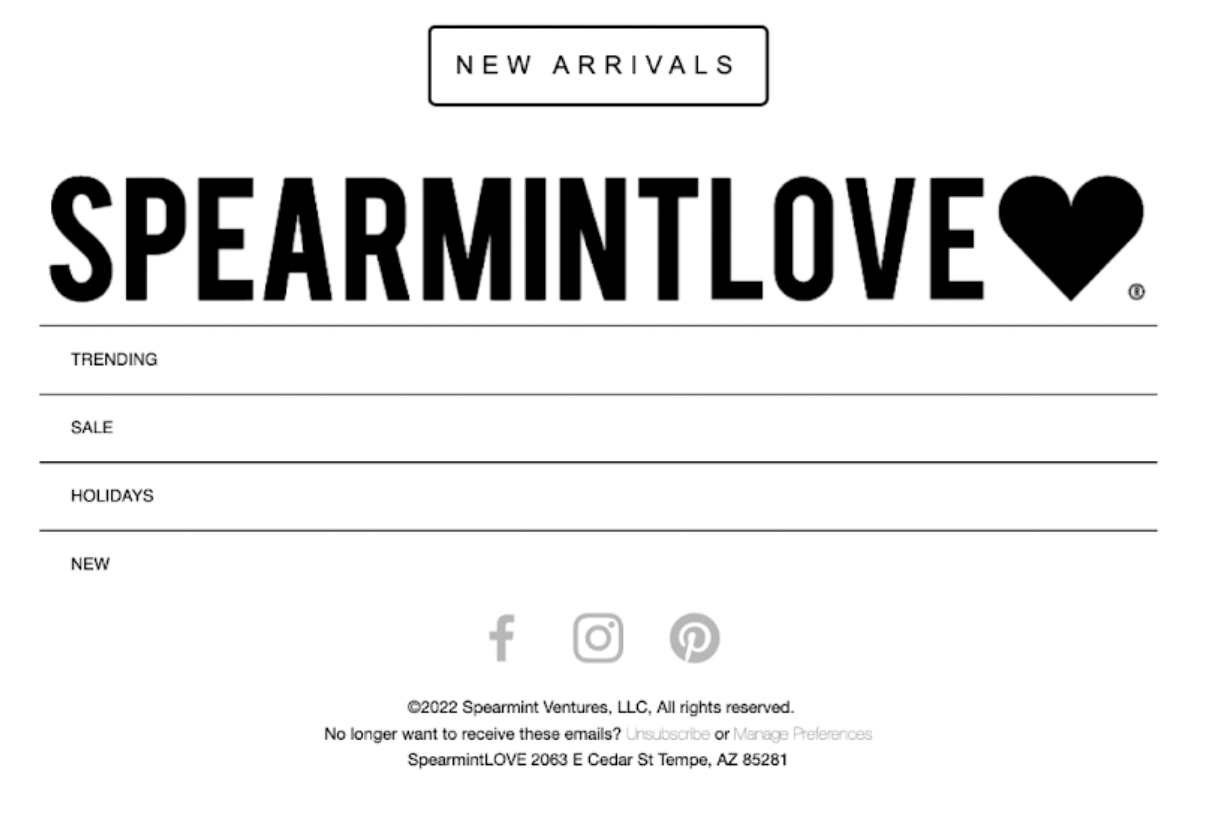 Note: When you want your subscribers to follow a specific CTA—like joining a waitlist or attending a webinar—refrain from using a menu. Menus encourage browsing but aren't effective when you want your subscriber to perform a specific action.
7. Add social media buttons
When your audience connects with your social media channels, it gives them an inside view of your customers, products, and processes. Social media icons are a great way to encourage your email subscribers to connect with you on other platforms. This gives them multiple ways to reach out.
When adding social links to your footer, give your readers context.. "If you're putting social media buttons in, you need to give people a reason to go there," says Carin Slater, Email Marketing Specialist at Litmus. 
This example is a snippet of the brand's Instagram feed in the email footer before the handle.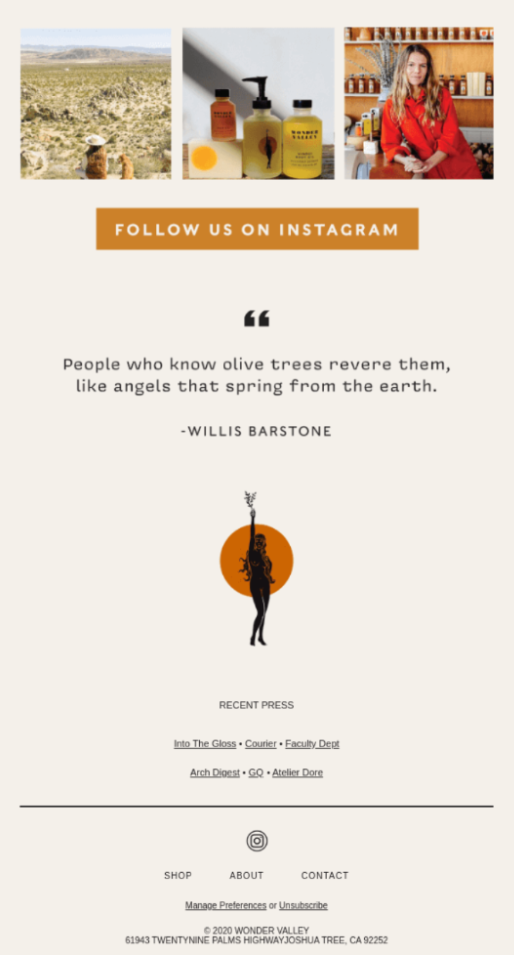 Not sure how to add social media links conversationally? Use these ideas:
Our Instagram account is where we share [what you share on Instagram]. To stay updated with [what you share], follow us there!

Facebook brings together all our amazing customers. To tune into [brand] community chatter, join our Facebook group. 

Twitter is where we share memes. Come say hi!
8. Optimize your email footers for mobile
Mobile optimization ensures that your email footer works as well on a mobile device as it does for those using a desktop.
When footers are not optimized for mobiles, there's a chance your message will get clipped. Your reader might lose out on relevant data, or worse, your contact details. 
9. Add plain text to your footers
Plain text is text added directly to the email copy and not embedded within images.
It makes your footer text easily downloadable, even over slow internet connections. Virtual assistants can also read plain text—making your emails more widely accessible. 
10. Ask subscribers to rate your email
Asking subscribers to rate your emails with polls encourages engagement. You can choose a sliding scale or a thumbs-up/thumbs-down rating system. We implemented this at Litmus and saw a significant uptick in the number of people engaging with our emails. 
We also started sharing with our subscribers how other people liked our emails with a happiness scale.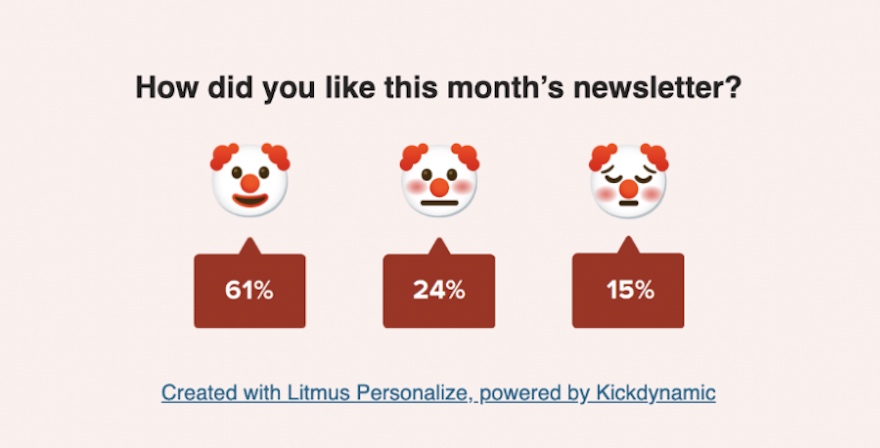 Not sure how to word it? Here are some ideas:
We thrive on feedback and yours means a lot. Tell us how we did this month. 

If you liked this email, give us a thumbs up. If you think we can do something to improve, let us know.

Tell us how you feel about our emails by rating us from one to 10.
When you ask subscribers for feedback, make sure your email address accepts replies and that someone is monitoring it.
11. Update your email footer periodically
By updating your email footer periodically, you can keep your emails fresh and your audience interested. It's even more important to update your email footer when your brand has undergone a revamp, or you've made some changes to your branding. Unified branding and messaging across all channels builds your company's recognition. 
At Litmus, we update our email footer once a year. 
12. Add app download buttons
Much like social media buttons, mobile app download buttons give your subscribers a way to interact with you on another platform. Adding app buttons to the email footer is a subtle but relevant product plug.
This footer example encourages readers to download their app from the App Store or the Google Play store. All the clickable buttons are placed together in this footer, making it easy for subscribers to access them from one place.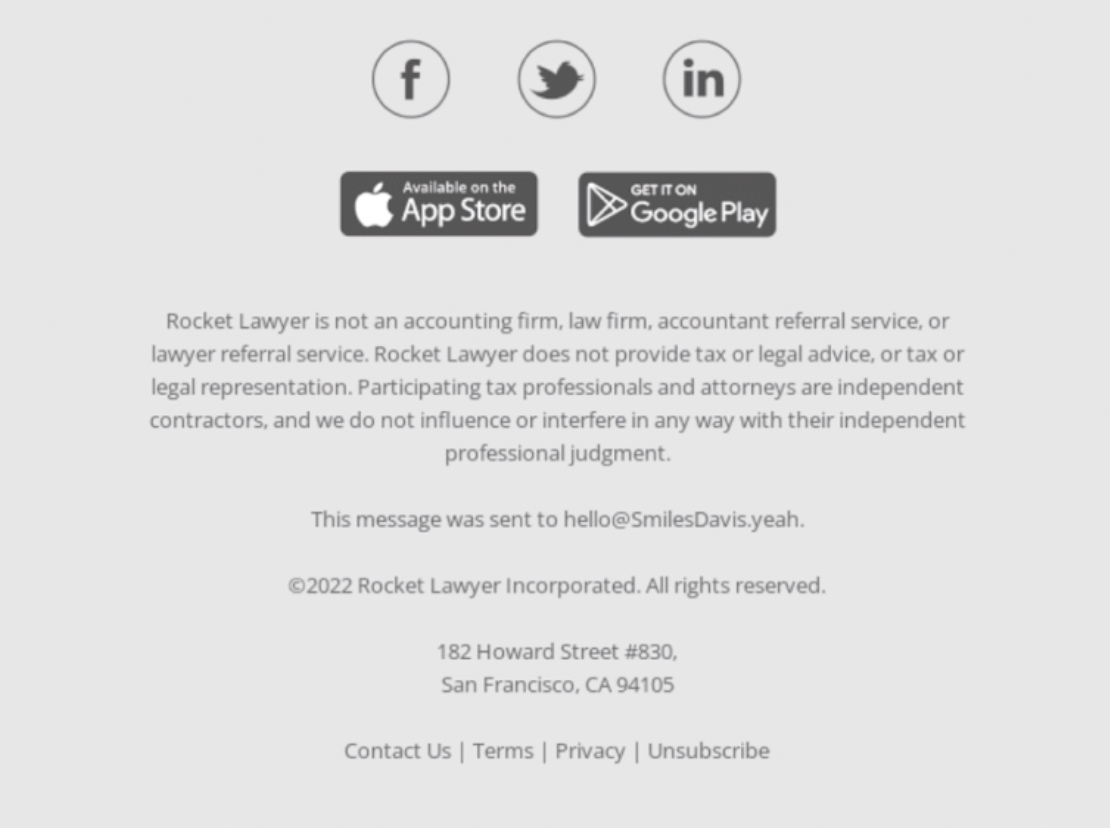 Here are a few ideas on how to add personality to your app download buttons:
Like us? Give us a rating on the App store or the Google Play store. 

Do you enjoy the content we share? We'd love it if you were to rate us. 

Don't want this email to end? We got you! We put out a lot more such content on our app's newsfeed. Click here to download. 
Examples of GREAT email footer designs to copy
Good email footers come in all shapes and sizes. Some are short and snappy, others are long and thoughtful. In this section, we share our favorite email footers and what we like about them—to get your creative juices flowing. 
1. The Black Ballerinas
We love that this footer ends on a personal note. The founder, Vae Savage, is excited about sharing her upcoming moments with readers, which makes people feel like a part of her journey. The hand-drawn email signature design adds even more personality.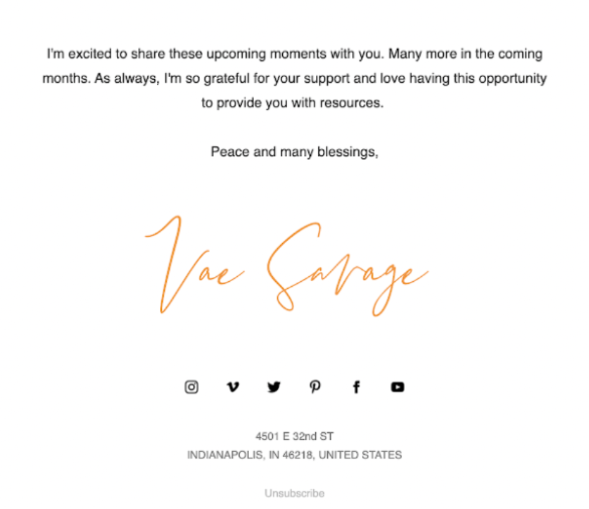 2. Roots
This email from Roots introduces what is happening on their Instagram page before introducing the social media buttons. They even add three of their latest Instagram pictures to give readers a sneak peek.
According to Slater, "An interactive and descriptive social media mention in the footer works better than just adding social media buttons."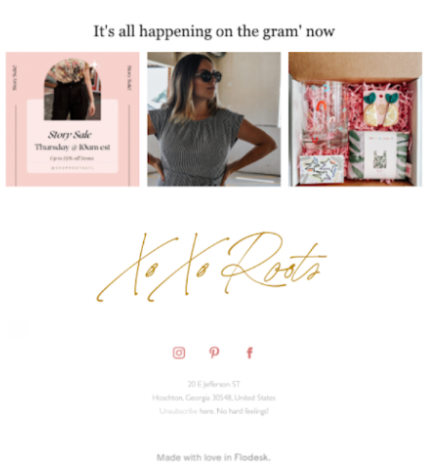 3. Litmus
We developed this footer after a lot of tweaking and testing. What we like about the final design is its simplicity and the clear hierarchy of text.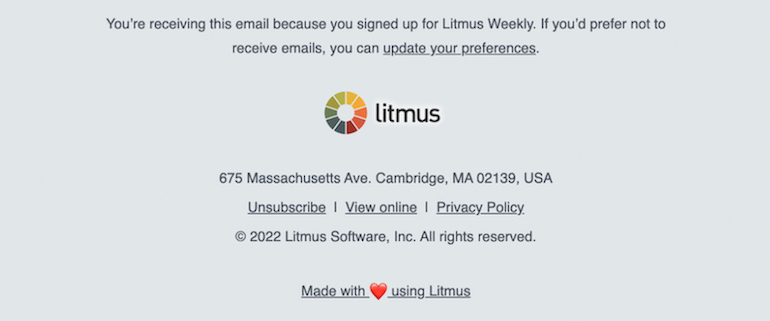 4. Methodical Coffee
Methodical Coffee's footer tells its readers how important their email community is to them. They also tell their readers what they share via emails—important information, special offers, and updates on products. 
This helps customers understand what to expect from the brand. 
The different color hierarchy from bold white to grey is an impactful way to convey which part of the email is the most important.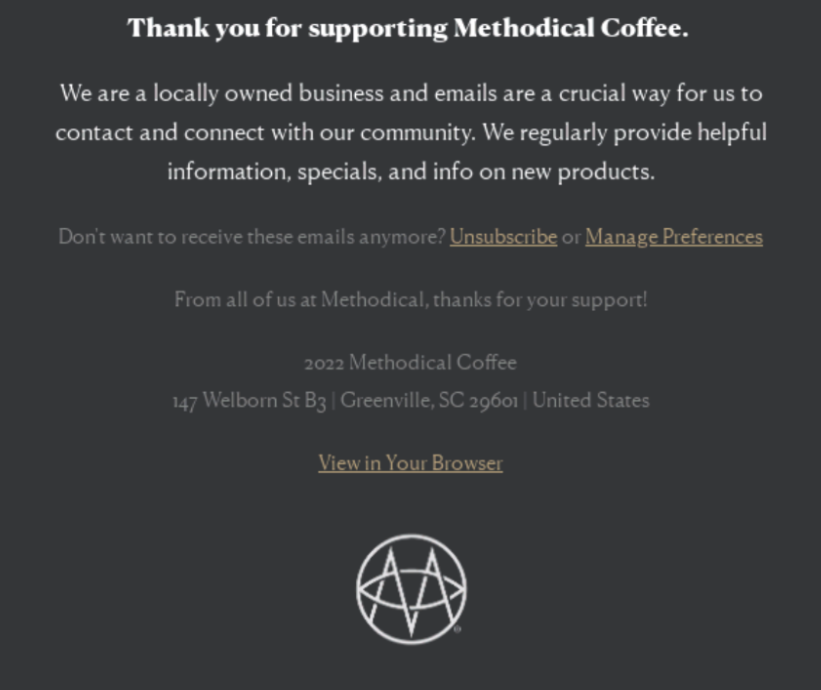 5. Greatist
This email footer from Greatist adds an important disclaimer to their footer. They mention that the advice shared in their emails is just informational and should not be substituted for medical advice. They also add a link to the complete disclaimer. 
Adding a disclaimer to the footer is a good practice for any brand that curates content on physical or mental well-being.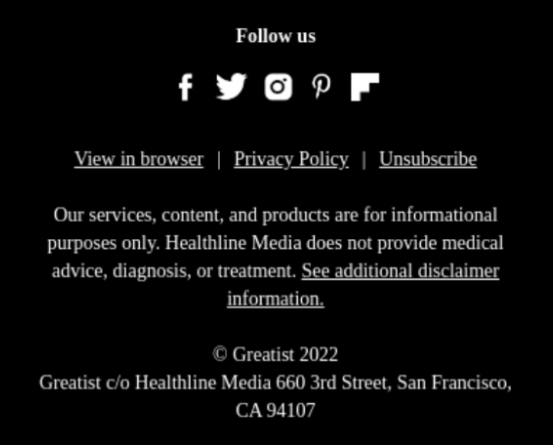 6. Moo
This email footer from Moo shows readers they're important by saying: "we'll move metaphorical mountains to make sure you love your order". This makes their email human, personalized, and considerate.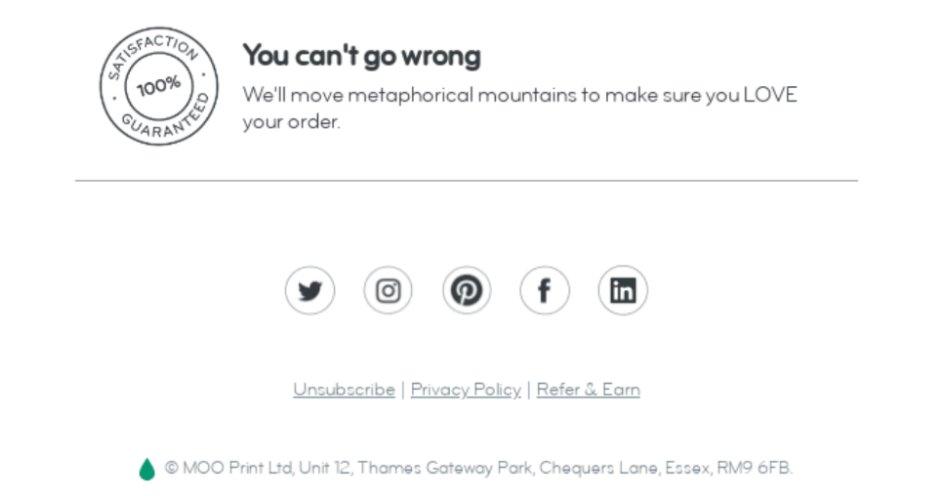 Here are some other ideas you can use to make your customer feel seen:
Tell them a bit about your business and acknowledge their contribution.
For example: "Three years ago, Stephanie and I came together to create cushion covers from high-quality fabrics. We can only continue to make them because you support our little business. So from all of us here at Zeya Cushions, thank you ❤️"
Share a recent milestone. 


For example: "After 8 years as interior designers, we were nominated for the Modern Interiors award and it couldn't have happened without your love for our brand. Thank you for getting us here.

"When you share an achievement, do it in an interactive, customer-centric way—don't brag", says Slater.
Take your email from good to great with your email footer
Armed with email footer best practices and design inspiration, you can make quite an impact with your email footer.
Experiment with multiple footer types and add a personalized touch to every email campaign using Litmus!