After you've worked hard on your email campaigns, sent them to your subscribers, and analyzed the results… what's next?
Email marketers, it's time to look beyond the email channel on its own. The best email marketers don't just send great campaigns and evaluate what's working. They also communicate the power of the email channel across the marketing organization and beyond.
Use the power of email across marketing channels
Email marketing is your most measurable channel. You can measure overall campaign performance—like open, click-through, and conversion rates—but an email address as a unique identifier also lets you get a glimpse into each subscriber's behavior and preferences. For each subscriber who interacts with your messages, you can learn what content resonates the most, how long they engage with your email, and whether or not your email leads to a conversion. You can learn about your subscribers on an individual level. No other channel provides that level of insight.
Plus, your subscribers have actively opted in to hearing from you; they're looking to learn about your brand, your product, and your promotions. They're the most closely aligned to your prospect audience and best able to show what they most want to hear about.
Email marketers have access to invaluable data with the power to inform and optimize marketing activities across the organization. But too often, those learnings don't make it across the borders of the email team.
Poor integration keeps marketers from sharing learnings across channels
According to our research, 73% of marketers consider email important to their companies' success, but a third of marketers don't consider email to be integrated with the rest of their marketing program.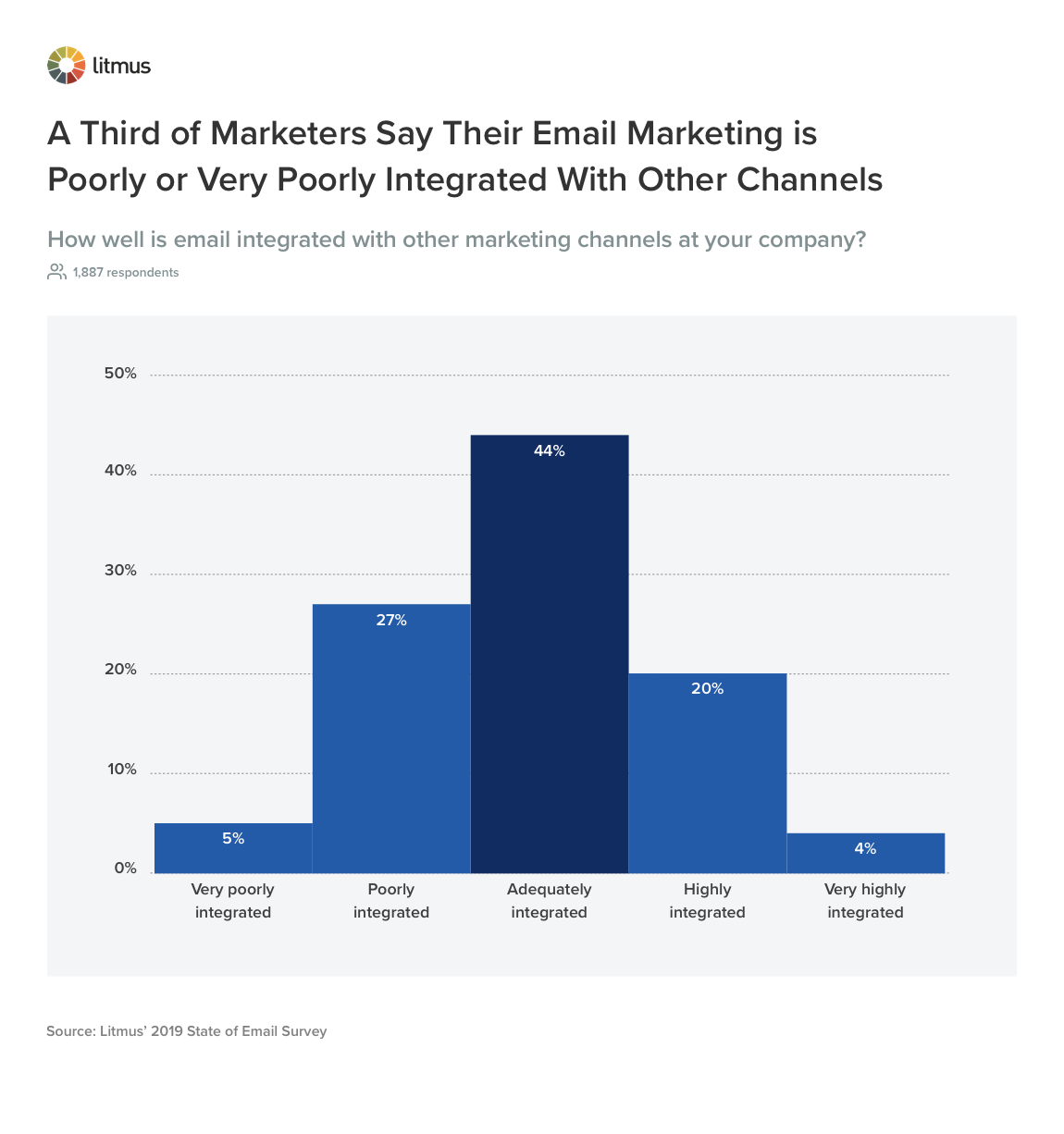 The best email teams use email to empower the entire marketing organization
Great email marketers know how to use the power of the email channel to drive an incredible ROI of $42 to $1. But the best email marketers don't just send perfect emails, monitor their performance, and use this data to improve the next campaign—they also break down silos, sharing insights about what's working in email with their strategic leaders to help improve the effectiveness of other marketing channels.
Pre, Post, Perform

Learn more about the three pillars of successful email marketing.
You know how valuable email is, so why not take those hard-earned insights and apply them to your other marketing channels? Whether it's strategic approach, content type, intended message, or visual design, the engagement insights you learn from email and your subscribers can inform what will best engage your audience—and help you be most effective in any channel.
A subject line triggered more opens than ever? Maybe similar language can drive results on paid. A post in your newsletter got more clicks than any other content piece? Your content team will love those insights to help shape future content.
How Litmus applies email learnings to inform other channels
For example, here at Litmus, we saw that this blog post generated incredible engagement in one of our newsletters. When our email team shared those results with the larger team and our VP of Marketing, it didn't just inform our content strategy (there are more blog posts on email design trends, with more to come), but we also decided to promote this same topic via a paid media campaign.
The result: We more than doubled our average click-through rate, making this one of the most successful ads we've ever run.
Start sharing your email learnings with these tips
No matter your team's size, everyone has room to grow when it comes to integrating email with other marketing channels—and making your email marketing learnings and performance data accessible throughout the marketing organization is the first step towards breaking down marketing silos.
Too often, teams that handle different channels are in competition with each other rather than focusing on how those channels can work together for the best overall results. Don't fall into that trap. Share your learnings and collaborate across teams by implementing routines like these:
Make email reporting dashboards accessible to everyone

to make it easy for your team to see which campaigns resonated with your audience—and which didn't.

When reporting on email results, start a habit of

writing up what campaign learnings might be interesting for other teams

. Not sure where to start? Looking at the past year's email performance can be a valuable exercise.

This template can help

.

Set up monthly meetings with leaders across marketing channels

so you can share key learnings from email—and to get insights from other channels that can inform future email campaigns.