Read Time: 3 min
Email Marketing Budget Changes in 2019: Where Email Teams Invest More—And Where They Cut Back
Whether email marketing is a new part of your business or an established component, building your budget for the year—and deciding how exactly you'll spend it—can be a daunting task.
Did you ever wonder how your peers spend their email marketing dollars?
In our State of Email Survey, we asked thousands of marketers how their email marketing budget would change in 2019 and whether they're looking to increase or decrease investments in omnichannel integration, their email marketing tech stack, their staff, and more. Here's what we found.
46% of brands are increasing their overall email marketing budget
Overall, nearly half (45.9%) of marketers plan on increasing their email marketing budget in 2019. That's a great sign that many brands recognize that email is not dead after all—in fact, its return on investment is growing year after year, coming in at 42:1 on average.
What leads to better returns?

In our CMO's Guide to Email Marketing ROI, we analyze email programs from hundreds of brands to examine which factors correlate with high email marketing returns—and which don't.
Our research made it clear that many brands plan to focus on integrating email with their other channels first in 2019, closely followed by an increase in email education, conferences, and training, as well as growing the size of their email team. We're focusing on this at Litmus too—we've recently grown our email team from a mighty team of one to a dream team of four!
On the other end, we're seeing indicators of more brands bringing email marketing in-house: only 14.5% of marketers say they're looking to increase their spending on agencies, consultants, and freelancers, down from 16.2% in 2018. This explains the increase in brands looking to expand their email teams, as well as 30.7% of respondents saying they intend to increase their spend on additional testing and analytics tools.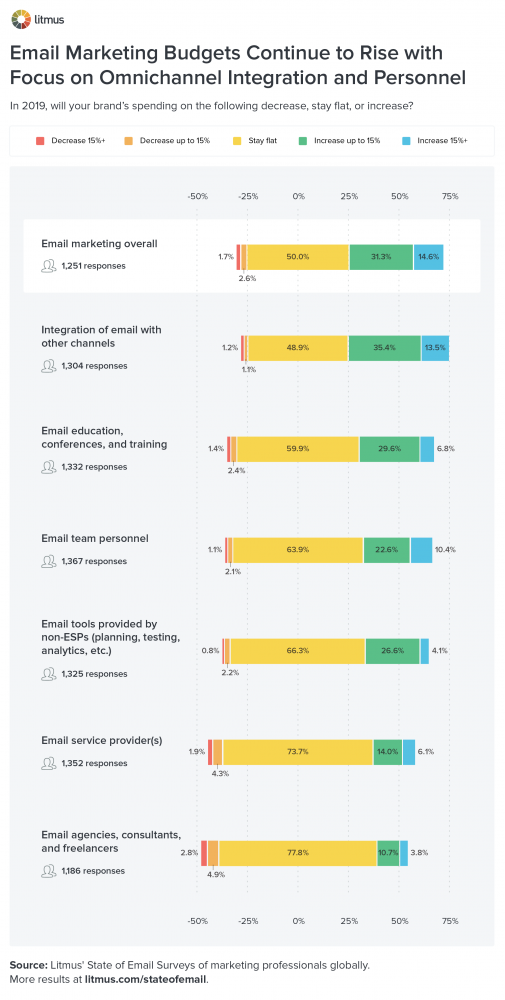 These are all great signs that brands recognize two key things:

Email is consistently worth investing in.

The vast majority of brands intend to either maintain or expand their investments in email marketing in 2019, as email's ROI continues to increase and outperform other channels like direct mail.

It's crucial to provide your email teams with the tools and knowledge to succeed. Adding analytics and testing tools to your email marketing tech stack is proven to increase email marketing returns—and brands are investing more in those areas.

Your competition is investing in email. Are you, too?
Staying at the forefront of the ever-changing email marketing landscape means staying ahead of the competition. Our research shows that the majority of brands continues to invest in the tools, teams, and resources that help bring their email programs to the next level—which ultimately allows them to reach their audiences more effectively.
With brands continuously investing in advancing their email channel performance, that also means brands that don't are at risk of falling behind quickly. It's easy to say that the current status quo is good enough—especially since email marketing delivers positive returns for most brands, even the ones with mediocre programs. But the truth is, if your competition is doing it better, then the risk isn't only losing new subscribers—it's losing customers, too.