You may have heard the triumphant story of how we embedded a live dynamic Twitter feed in our "Save the Date" email for our Litmus Live conference (formerly The Email Design Conference, or TEDC), but what you haven't heard is the story about how it all went wrong when we pressed "send" the first time. We learned a lot about what to do in an email crisis.
Kevin Mandeville, Kevin Thompson, and the rest of the marketing team spent weeks designing the email and putting safeguards and fallbacks in place. Any tweet with the #TEDC15 hashtag would appear in the email anytime it was opened or refreshed—except those tweets that contained images and ones with certain profane keywords. And if the feed got too unruly and off-brand, then we had a nuclear option in place where only tweets we'd favorited would appear in the email.
When the day came, we were ready—but we were also more than a little excited and tense and anxious, as you can see by the discussion in our marketing channel in Slack: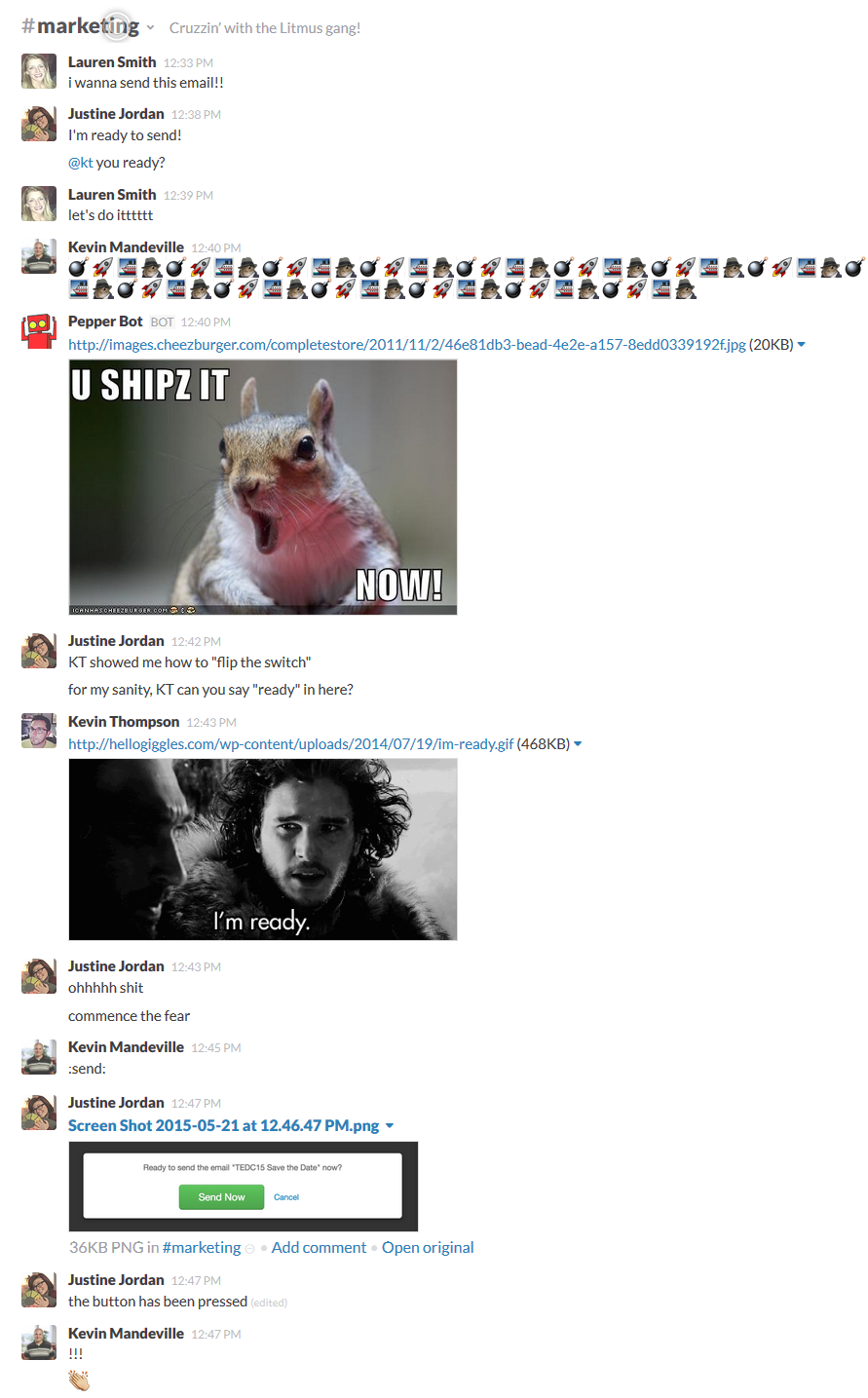 But the celebration was short-lived. Within 5 minutes of pressing "send," it became clear that the email wasn't working as planned.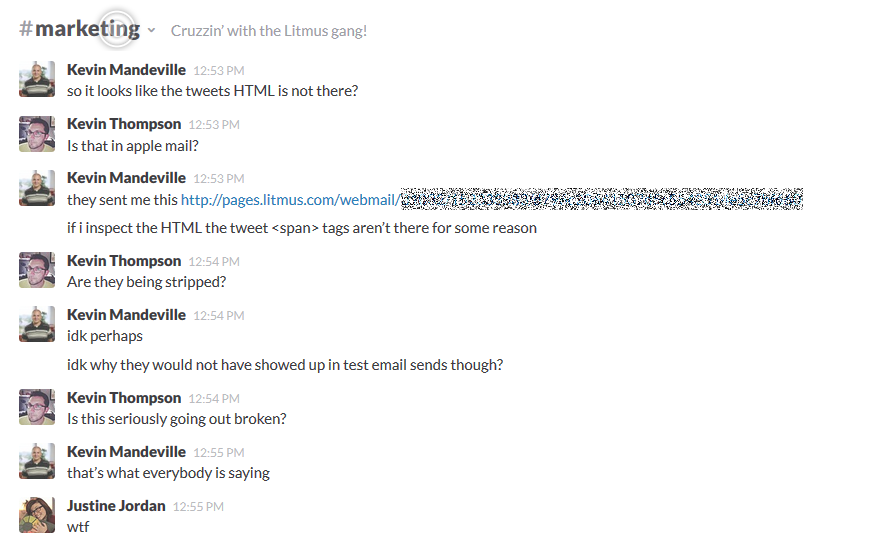 The "everybody" was our email subscribers on Twitter, so the mistake was already more than a little public. Screenshots of the malfunctioning email, like these ones, were starting to slowly circulate.
@litmusapp something went wrong… #TEDC15 pic.twitter.com/IFU3t4L4y2

— Elliott Rounsavall (@elleeott) May 21, 2015
@meladorri @KevinMandeville Look at what everyone is saying: pic.twitter.com/CJfwQJtCan

— Fabio Carneiro (@flcarneiro) May 21, 2015
While mortifying, it gave us valuable feedback. It quickly became clear that our email service provider had somehow altered the code of our email. So 11 minutes after initiating the send, the decision was made to halt it.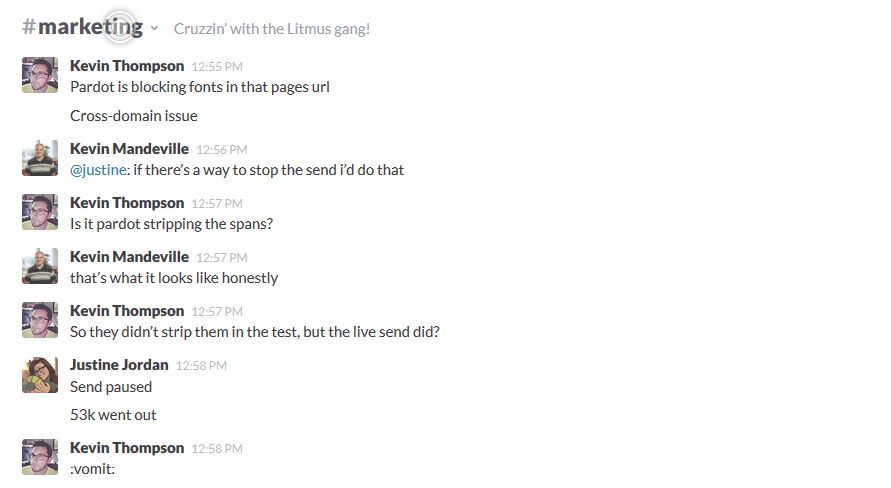 Further investigation revealed that we'd stumbled upon a "quirk" that changed our email code in a way that was fatal to our live Twitter feed.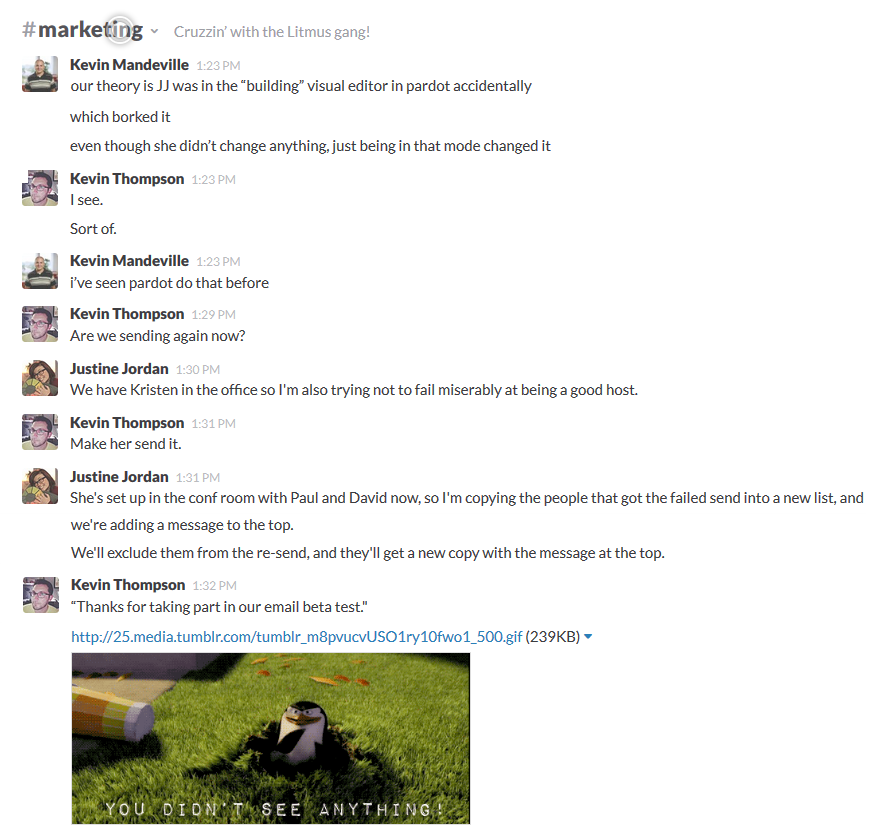 Kristen Luongo, who is now our events manager, just happened to be in the office interviewing for the job on this day. So Justine Jordan, our marketing director and fearless leader, was juggling that interview on top of this marketing crisis. (Full disclosure: We did not make Kristen resend the email.)
Ultimately, roughly an hour after pausing the campaign, we started it back up. We sent the unborked version with a brief apology message out to the 53,000 who got the broken version, and then emailed the rest of our subscribers.
The rest of the story you mostly know. We breathed a huge collective sigh of relief and spent the rest of the day watching everyone on Twitter have (mostly good-natured) fun with the email.
5 Email Crisis Learnings
Email marketing mistakes are not a matter of "if," but "when." Email is too dynamic, too complex, and too quick of a medium to avoid mistakes completely. The best you can hope for is to keep mistakes small and infrequent—and when you're not able to do that, you hope to manage them quickly and recover with a degree of grace. I think we did that in this instance.
Here are a few things that you can learn from our mistake:
1. Recognize that your ESP is potentially an active player in how your emails render. In my book, Email Marketing Rules, I talk about how email rendering is affected by a number of factors, including the subscriber's operating system, email client, web browser (if webmail), and device/screen size, and whether they've blocked images or not. Well, this episode makes it clear that your ESP can also affect email function and rendering. Try to discover if your ESP ever alters your email code and then make adjustments as needed.
2. Monitor other channels after sending an email. Comments and feedback from our Twitter followers were extremely helpful in both recognizing that we had a problem and identifying what the problem was.
3. If you can recognize a serious mistake quickly, pause the campaign. Email is not instantaneous, not when you're sending a message to tens or hundreds of thousands of subscribers or more. That means there's a window for you to halt a campaign send before it completes. Take advantage of this window to minimize the damage from a poor subscriber experience when you can identify it in time.
4. Once you have a fix, double- and triple-check it. Once we thought we'd figured out what had gone wrong, we retested the email in Litmus and sent multiple rounds of test emails from our ESP, which was key in this particular case.
Years ago I received a blank promo email from a retailer, which shortly thereafter sent a "corrected" email that was also blank. While you want to get corrections out quickly, be absolutely sure you're not following up a mistake with yet another mistake.
5. When a mistake seriously impacts conversions, brand image, or the subscriber experience, resend the email with a brief apology at the top. Keep in mind that many of your subscribers will not have seen the initial email with the error, so avoid over-explaining the mistake and distracting from the message of the email.
Do You Have an Email Marketing Confession?
We hope that you learned something from our mistake, and we invite you to share your own email marketing mistakes and learnings in our Community. As the 18th century poet Alexander Pope once famously said: "To err is human; to share that email marketing mistake so others can learn from it is divine."
Looking for this year's Litmus Live?
Litmus Live (formerly known as The Email Design Conference) brings the email community together to celebrate their craft and give email professionals a platform to learn, share, and grow. With sessions covering everything from marketing strategy to innovative email development techniques and production processes, you'll take away actionable advice that will have immediate impact.
Most Popular
Don't Miss Litmus Live 2022 this Fall!

The Premier Email Event by Email Pros, for Email Pros.
From Anywhere–and Any Budget.

Learn More