"Surprise and delight your subscribers!" It's a phrase email marketers read and hear often. A popular option for brands to do just that is a birthday email—an automated email sent on the subscribers' birthday. But what makes an effective birthday email?
I celebrated my birthday this month—and my inbox was chock-full of emails from brands helping me celebrate. But there were a few that stood out. Here are the five birthday emails I loved the most and what tactics you can steal from them to really surprise and delight your subscribers on their birthday.
1. Experiment with the right timing
Most brands send their birthday wishes on the subscriber's actual birthday. Make your campaign stand out by sending them a coupon or offer before the day.
Pizza Express sent me this email 17 days before my birthday:

With such an early lead time you're guaranteed to actually surprise your subscriber! However, sending too early may alienate or confuse them—which makes this the perfect opportunity to run an experiment, collect some data, and learn what the best time would be to send an early birthday message to your subscribers.
2. Give Something Away for Free
Who doesn't like getting something for free on their birthday? Alamo Drafthouse offers a free movie ticket to their subscribers the day before their birthday: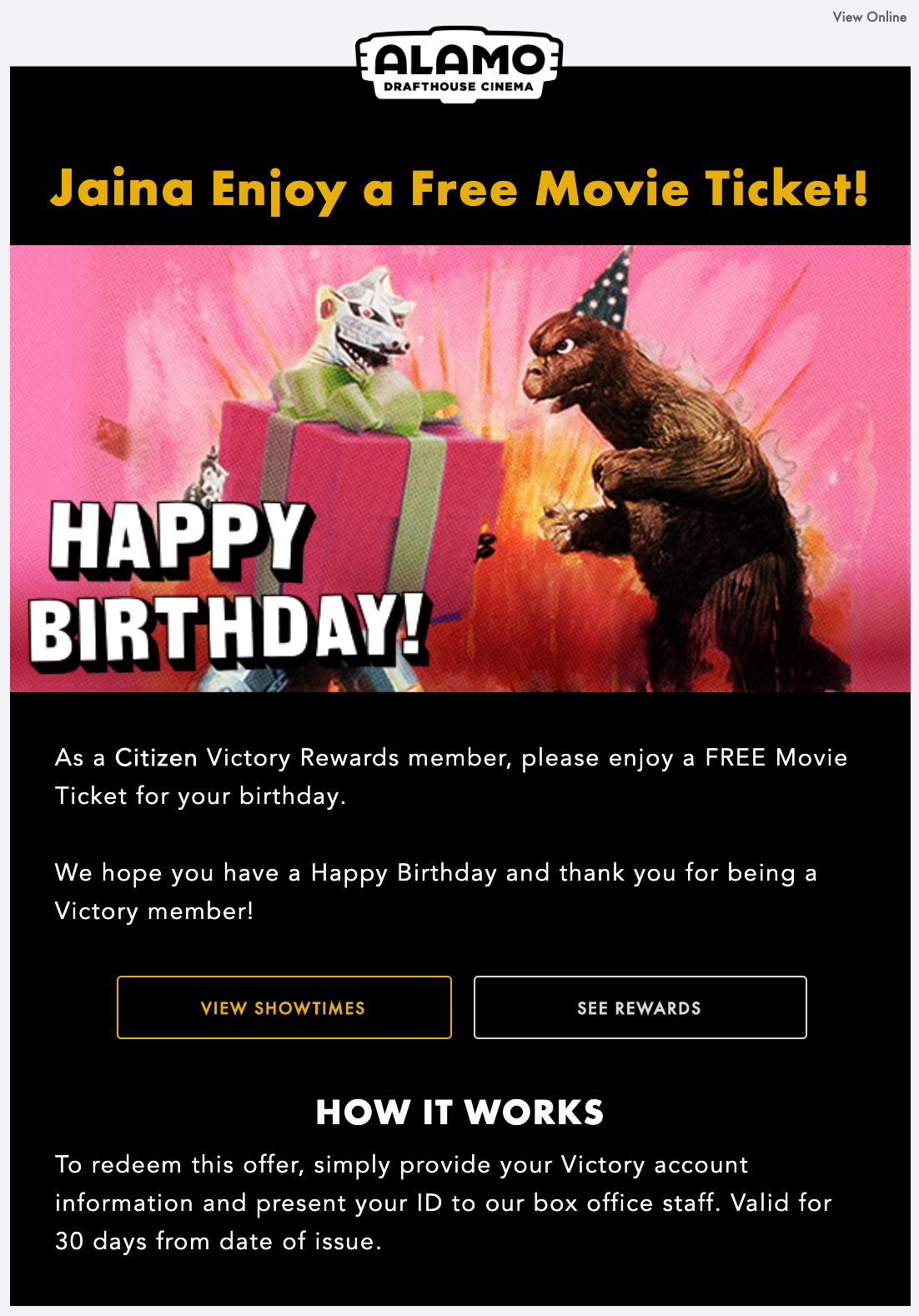 And it's valid for 30 days, giving subscribers plenty of time to redeem the offer.
3. Create a Series
Email marketers are probably more familiar with onboarding emails as a series, but how about creating a series of birthday emails? That's exactly what Lumberjaxes did. Their birthday email series consists of three emails sent one month before, the day before, and the day after the birthday.
1 month before: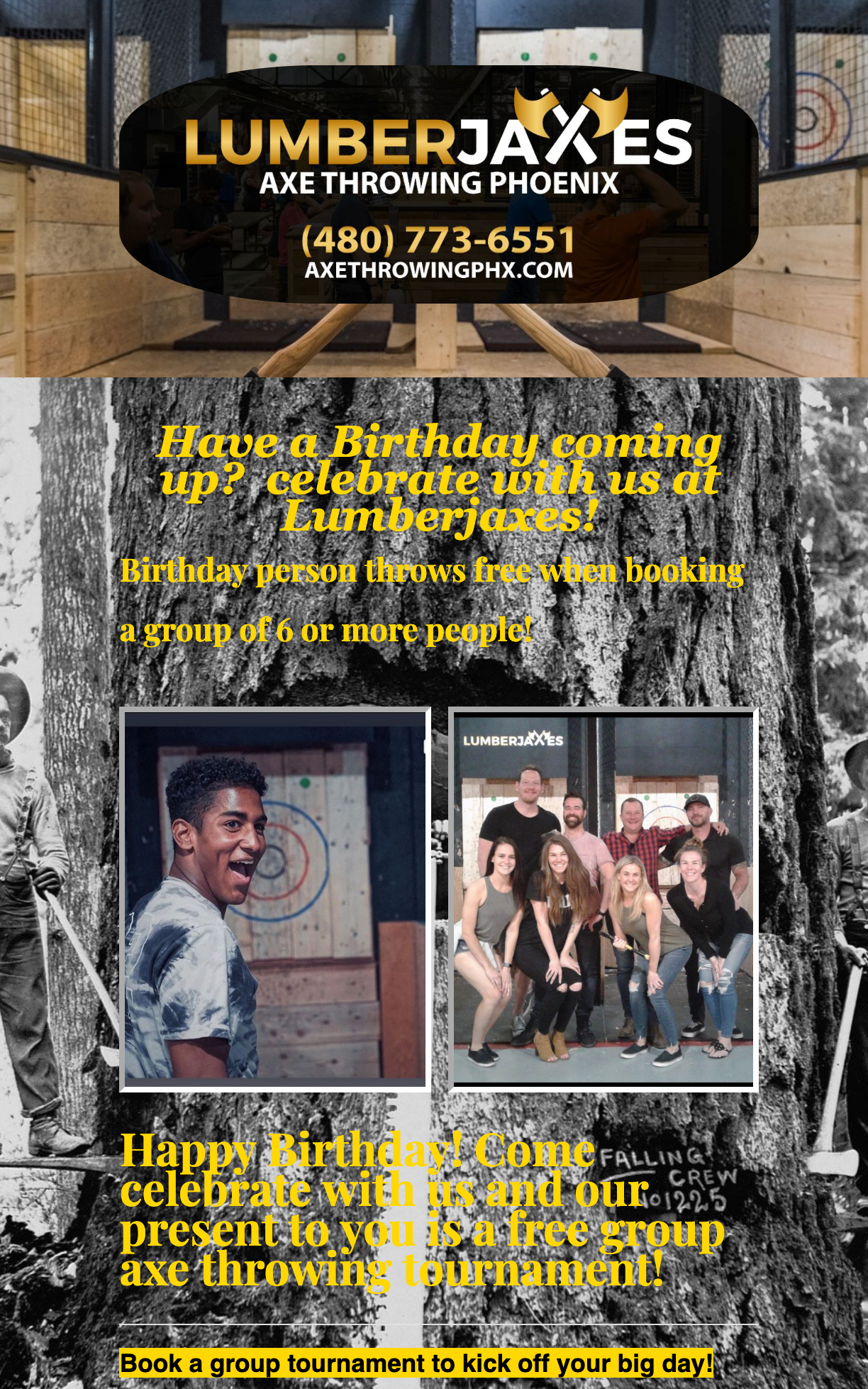 One day before: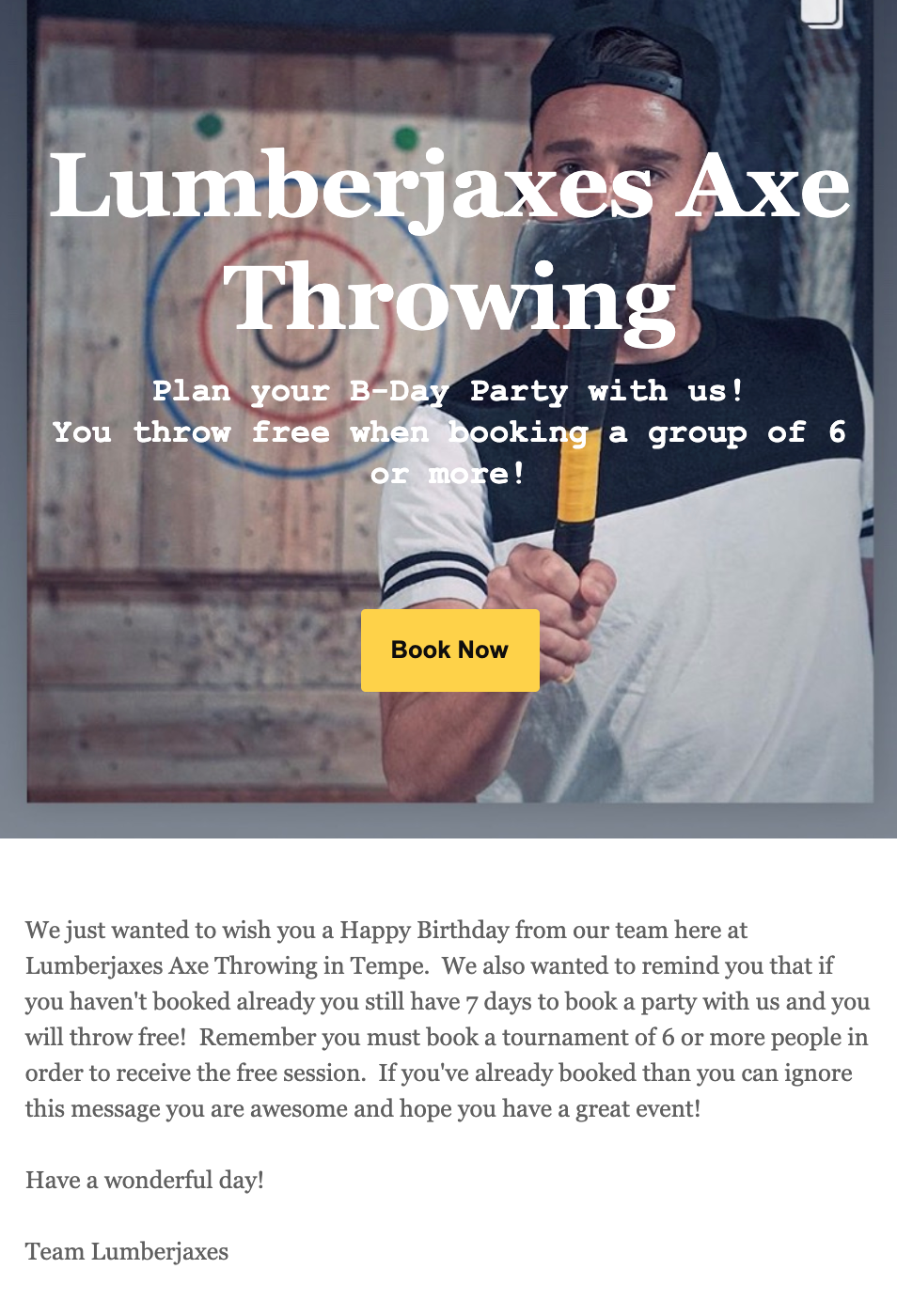 The day after my birthday: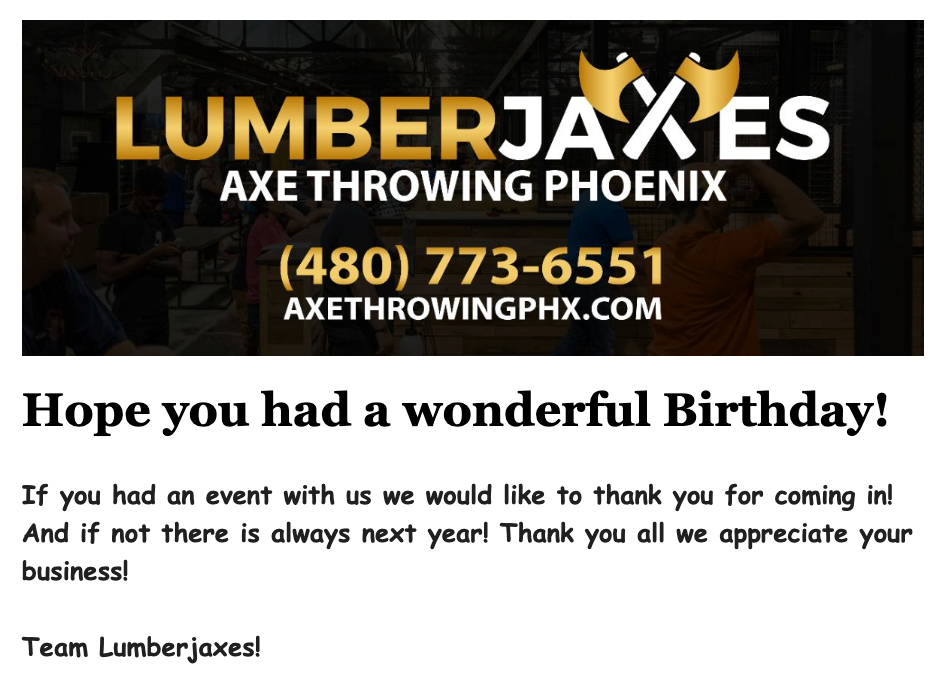 I loved this approach because if I wanted to go axe throwing on my birthday, I'd need plenty of advanced notice for myself and anyone who I'd be inviting. The additional emails in the series are a type of reminder email—however, positioned around my birthday they felt less like they were bugging me to take action.
4. Celebrate the Subscriber (not your brand)
Chubbies' birthday email can only be described as 100% on-brand using incredibly fun animated GIFs and copy that is designed to make you smile.

Chubbies also include a coupon for $5 off your next purchase. But what made this an effective birthday email is that the email felt more like a celebration of the birthday rather than the brand trying to get you to spend money.
Southwest brings a friendly face to their birthday emails to wish you a happy birthday: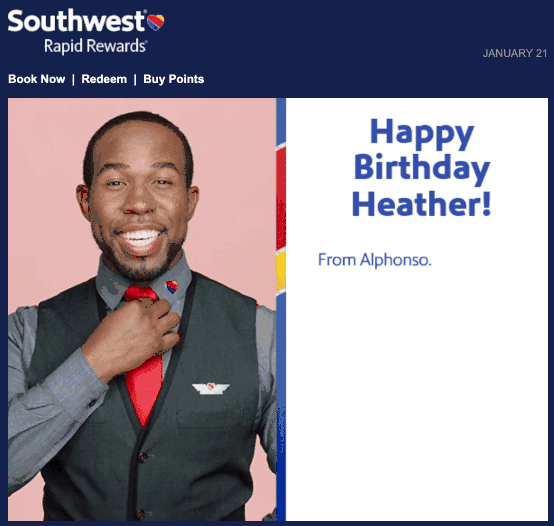 The email feels warm and genuine, and sometimes that's all you need on your birthday. Be careful about trying to tie-in a message like this with a call-to-action that asks the customer to make a purchase—this may cheapen your genuine well wishes. Make the email about them, not your brand.
5. Don't know when your subscriber's birthday is? Ask them
Of course, the first step in successfully delighting your subscribers on their birthday is knowing when your subscribers' birthday is. But how can you convince subscribers to give you that information?
Rewarding or incentivizing subscribers to share their birthday with your brand is one tactic.
BuddyBrew hints at a special offer for the subscriber if they submit their birthday information: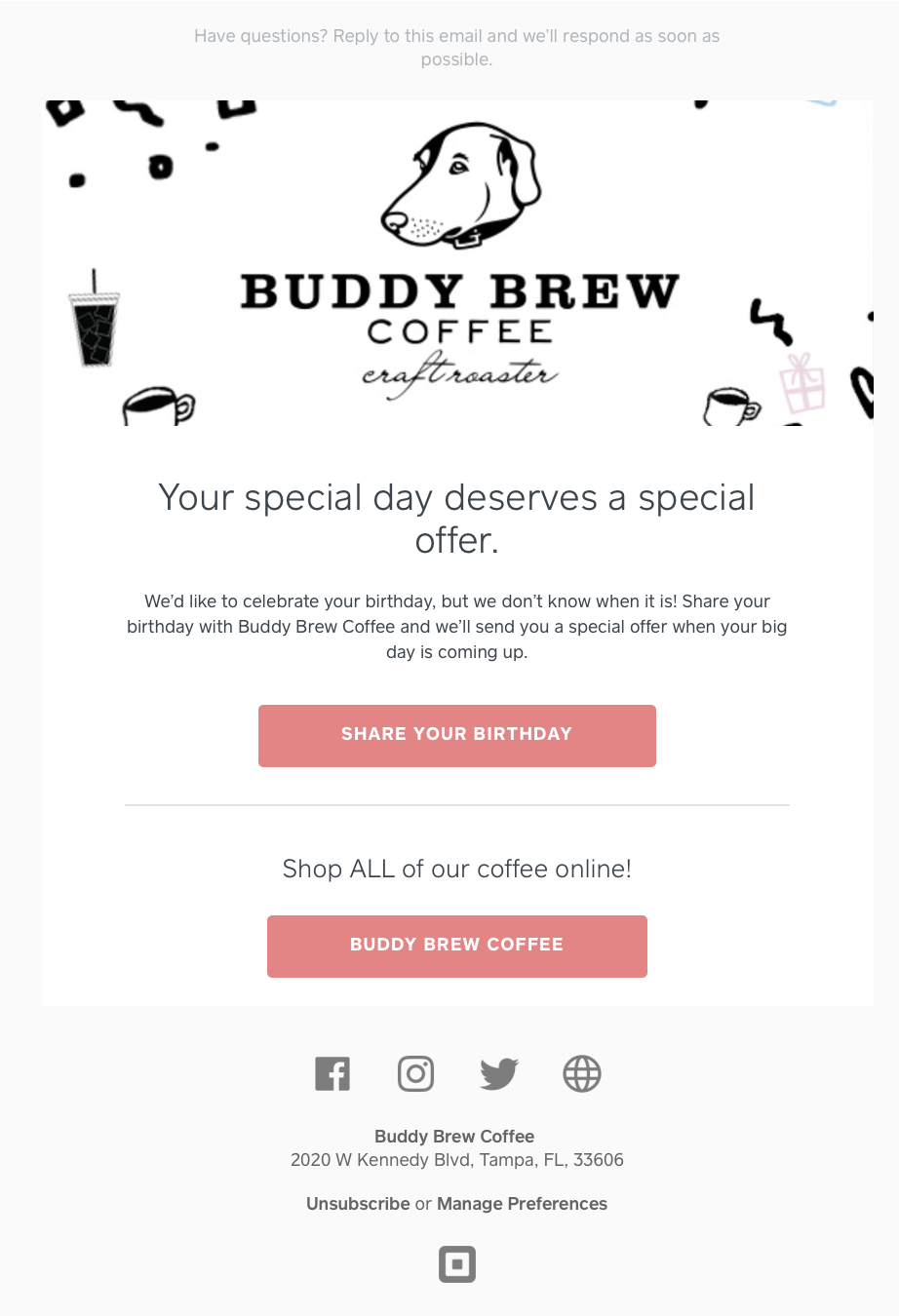 Colgate uses the same tactic, too: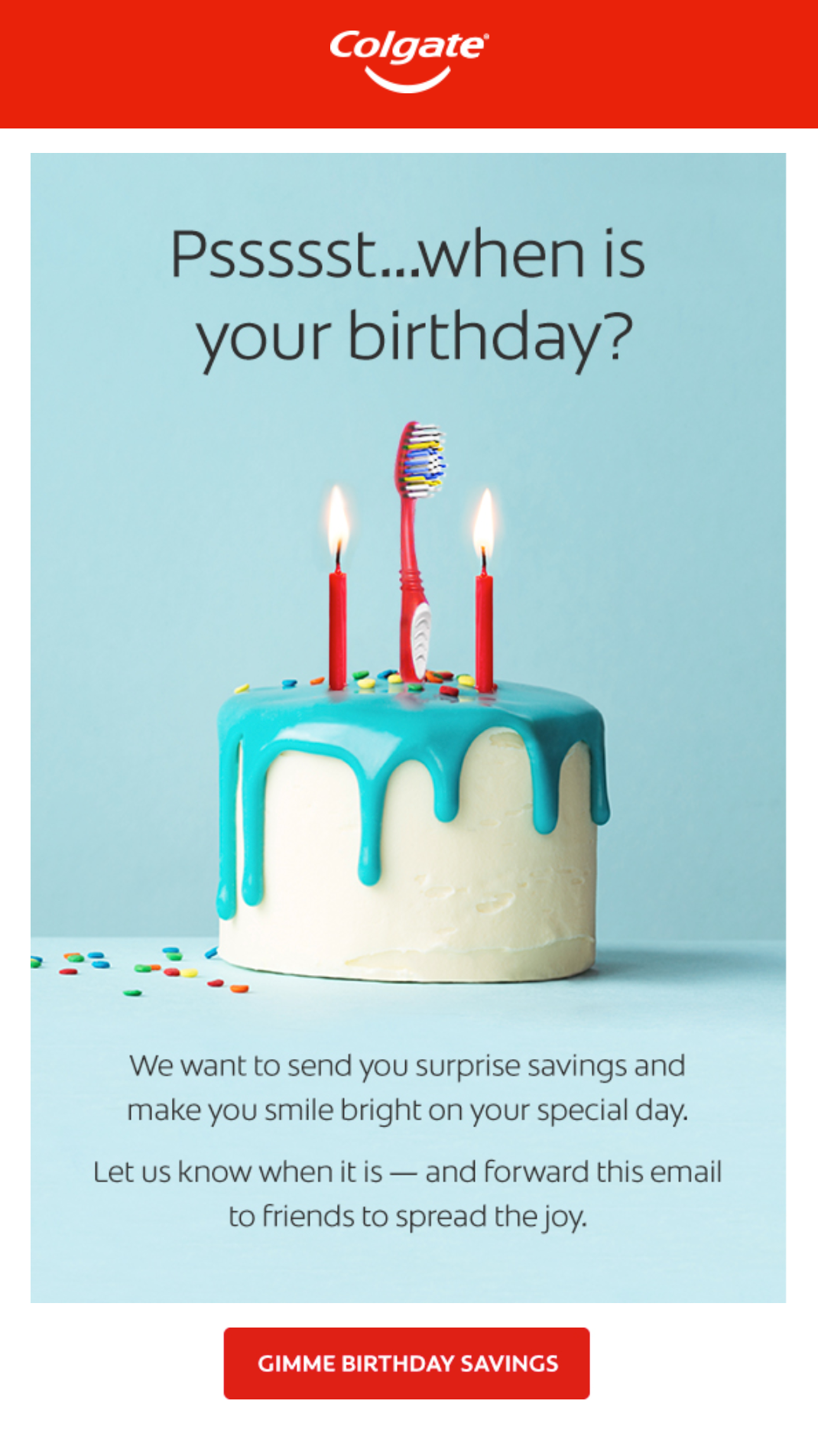 These emails could easily sit within an existing customer onboarding or nurture flow to ensure you get the subscriber's information as early as possible their lifecycle.
Alternatively, asking for this information could be something you embed in your email's footer like Chubbies do:

Including this message consistently across all your emails can ensure your subscribers will see it at some point. What makes this messaging effective, even if it is a little hidden in the footer, is the language they're using—it's on-brand, eye-catching, and funny.
In a nutshell, great birthday emails:
Have a goal and the content supports the goal

Considers the goal when it comes to timing the send

Surprise and delight subscribers with a valuable and genuine offer

Are the perfect excuse to remind your subscribers of your brand
Received a great birthday email? Share it in the comments below and tell us why you like it—we'd love to see it!